March 22. ATHENS Our ferry ride from Crete was much more comfortable than our ride from Piraeus to Santorini. Sleeping on the floor with a bunch of snoring Greeks doesn't sound very glamorous but people kept their distance from one another and with our sleep pads we were able to sleep much better than when we tried to stretch out on the seats on the Santorini ferry. Unfortunately the ferry arrived on time which meant we were at the dock in Piraeus by around 6:20. Nobody moved very quickly to get off. We waited until we knew the boat was docked and saw people emerging from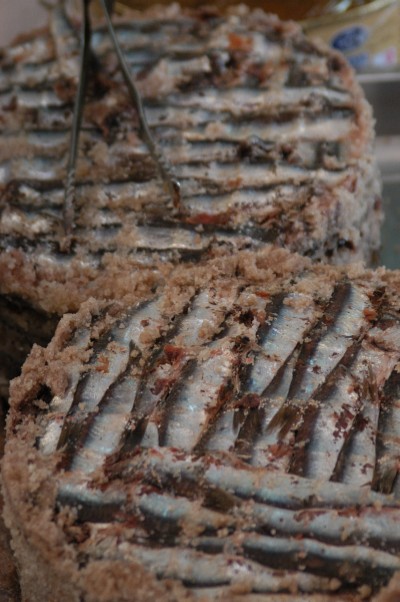 the cabins with their luggage before we rolled up our pads and got ready to leave. We caught the subway into central Athens. The torn up subway stations from still looked the same.
We were tempted to stay in our same hotel again but the price was now up to 48 euros so we looked into the budget options. A small place in northern Plaka called John's Place was the next best option. It was convenient to the bus stop where we had to leave early for the airport and was only 35 euros (without breakfast). There was construction going on across the street but even with all of the noise we managed to catch a couple of hours of sleep before going out in search of some breakfast.
We'd had our fill of Athens at this point and had little motivation to do very much so we just killed the afternoon doing some shopping. The big book shop with its massive collection of travel books was always a good place to spend some time. We picked up a book on Andalucia and remembered the young Spanish couple we had met on the airport bus when we returned from Cairo. They raved about Seville and Granada. When we looked up the festival section we learned that Anadalucia celebrated Easter with a long series of religious processions called Semana Santa. It was one of Spain's biggest festivals. We began to think that perhaps Spain was a better place to spend Easter than Morocco and since we had decided to exclude West Africa from our itinerary (for many reasons) we had some extra time to spend somewhere. Why not Spain? We bought the book.
In spite of our criticisms of Athens we had been there enough times now that it was comfortable and easy. We could easily find whatever we needed. We shopped for Olympic pins. While we weren't going to be in Athens for the Olympics (probably a good thing) it was shaping up to be a historical event several reasons. Not only was it the 100th games in history and the first time it had returned to Greece since its inauguration, it was going to be an act of Zeus for the Greeks to get everything completed in time. Naturally they weren't very concerned about it, exuding a sort of take-it-as-it-comes attitude, but the unfinished state of the stadiums and public transport were becoming regular topics for the international media. Only five months from the big event, how where they going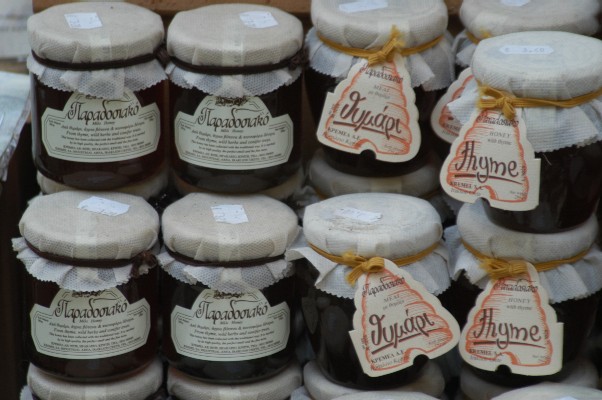 to do it? So perhaps this would be the first Olympics that does not come off with everything in tact, or even worse, does not come off on time. Only time would tell but they will probably surprise us all.
Of course our day in Athens wasn't complete without dinner at Thanasis for some slouvaki and Greek salad. The restaurant never failed to hum with activity even when its neighbors were silent. It was delicious as usual.
We hoped to get to sleep early but found that even at nearly 8:00 the construction across the street was still in full swing. When Rob asked the reception desk what time it would stop he was told that it would probably be late but nobody really knew. They kindly moved us to a rear room so we could have more peace and quiet but that was soon disturbed by the restaurant downstairs and their noisy fan that banged away until late at night. The beds sank in the middle like tacos and I could feel every spring digging into my back. Getting out my sleep pad helped but I had to wonder how expensive it was to actually get new beds once every ten years!