February 23. AMMAN We woke up to the prayer call from Husseini Mosque and the weird red glow that the curtains in our room gave off when the sun shined through. We were both just eager to get over to the Toledo so we packed up, dropped off our key, and caught a cab to Abdali Station. The hotel had an entrance at the level of the bus station, which was basically an elongated circle in the middle of the two directions of traffic, but the lobby was actually on the top floor where it met another street. It was like two different worlds. The bus station was your typical bustle with not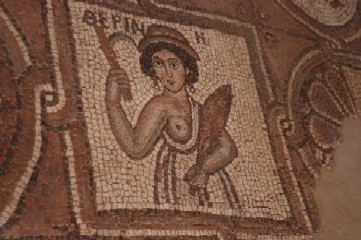 much nice around it except for the big blue domed King Abdullah Mosque about a block away. But the neighborhood up the hill that we stepped into from the lobby of the hotel was actually quite nice. The architecture was still very uninspired but unlike the white concrete these homes were made of white stone blocks, a much classier neighborhood. They gave us a room at the back of the hotel, away from the prayer call of the large mosque. It was a long room with both a king sized bed and twin bed and a couch area at one end. We never regretted the extra investment.
We were still tired from our day on a bus in a sandstorm and didn't plan to do very much. A nice cafe, California-style according to our book, was supposed to exist on the other side of down town. We caught a cab from the hotel to get there but he seemed to be taking us via the long route so we cut the ride short and got out. He just laughed. We decided to just walk instead. A man dressed in military uniform kindly pointed us in the correct direction but we found
walking across Amman to be a tiring exercise. The city was made up of a set of valleys (wadis) and the roads made long switchbacks across one hill and came back in the valley to turn again and make another switchback up the next hill but very few roads cut across the valleys. Stairs were woven into the hills between the homes so we took those up and down and up again to get to the neighborhood where we would find Books @ Cafe. At the 2nd circle, a large traffic circle on one of Amman's major thoroughfares we saw a busy little shwarma stand (kebab sandwiches) that had the largest spit of meat that we had ever seen. Just out of curiosity we gave it a try. The were delicous! We dodged traffic to cross to the middle of the traffic circle where there was a small park and we could eat our lunch in peace.
Leaving the 2nd circle we went in search of an HSBC ATM that turned out to no longer exist before finding our way to Books @ Cafe. It didn't look like much from the street but after passing through a small courtyard we entered a good sized book store stocked full of all foreign books and magazines, covering everything from Buddhism to the Israeli-Palestinian conflict. A few computers were lined up for Internet access and a stairway led up stairs to the cafe. The walls were brightly decorated with large 60's-style flowers painted all over. Wooden tables and chars covered much of the multiple room area but one section had walls of couches. A bar stood at the far side as we came up the stairs and a deck opened up to the right, over the bookstore. The back of the cafe was a sort of atrium. We ordered a couple of coffees and ended up sitting at the cafe all afternoon. There was practically nobody there and it was a peaceful place to do some reading and plan out our trips from Amman.
Leaving Books @ Cafe we walked down a winding road to a long set of stairs that dumped us back into the old downtown area. We walked past the mosque and towards the large Roman amphitheater where the Amman Tourist Information Office we supposed to be located. We checked everywhere around the amphitheater including the spot identified on our map but only found an dark empty office. A group of money vendors had blankets sprawled out at one end of the theater and Rob checked their supply of Iraqi notes and currency from other Middle Eastern countries. It was getting darker and very cold so we just returned to Cairo for dinner. It was just as good as the night before but Rob spotted a rat poop on the outside of my soda can that sort of dampened our enthusiasm for coming back again. It probably just came from wherever the cans were being stored because the restaurant looked very clean but it was hard not to be put off a bit.
We walked back through the market area of central Amman before catching a cab to our hotel. Having satellite TV was always a treat and we caught the odd American TV program, movie, and news.
February 24. AMMAN Somehow we awoke from a good night's sleep at the Toledo Hotel more tired than we had been the day before. Perhaps it had been too many busy days in a row or maybe all of that dust still had us feeling a bit unhealthy. We took advantage of the simple buffet breakfast at the hotel and just gave into spending much of the day napping and lounging around the room. We hadn't had such a nice place to stay since Nuweiba and it felt good.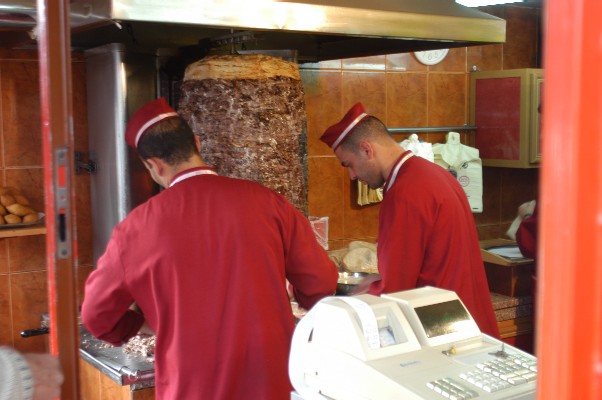 We finally got ourselves out in the afternoon and caught a cab to the 2nd circle where we repeated our shwarma lunch from the day before and walked up to the 3rd circle to check out a bookstore. This bookstore had a better collection of foreign language books and we each found something we were looking for. I found a book on Arabic script and Rob found a book on Middle Eastern carpets. Retracing our steps back to the 2nd circle we turned off to go back to Books @ Cafe where we read and did some journal writing. To catch a cab back to the hotel we hiked down to the center of town where we could get a straight shot back to the hotel.
Unlike Cairo in the evening Amman got quiet early and many of the shops were already starting to close. Rob stopped at the same little store that he gone to before to buy some bottled water for our hotel room. Like many other street side shops and cafes in Amman this one served piping hot Jordanian coffee out of two tall metal coffee servers. The stood a good three feet high and had designs etched into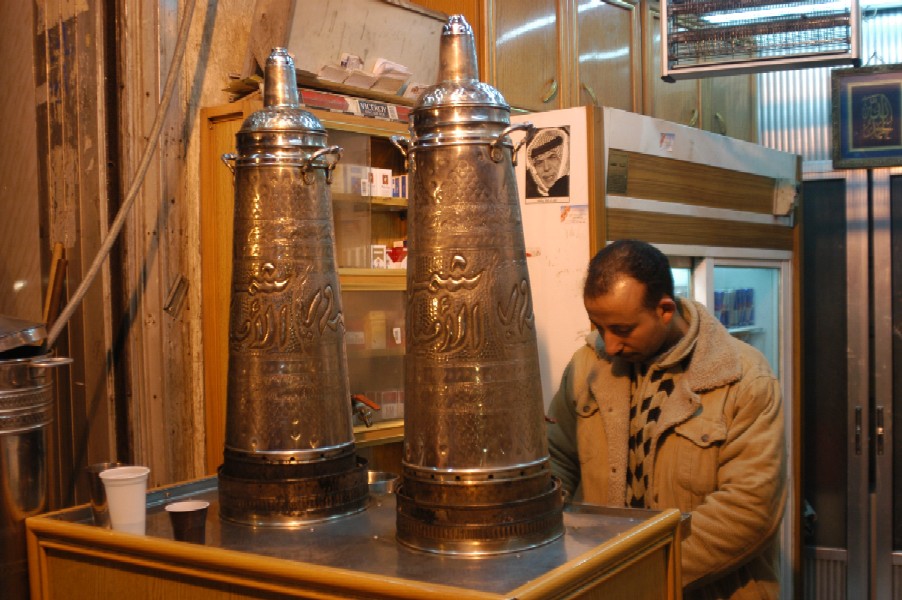 their sides. There were always two because one held an extra sweet version of the coffee, typical of the region, while the other held unsweetened coffee. We had a mixed cup that still came out pretty sweet. They guy behind the counter told us that the sweetened one had as much as one part sugar to one part coffee grounds! That is more like a syrup than coffee. But the real treat of Jordanian coffee is the distinctive taste of cardamom that is ground right into the coffee before it is prepared. We became addicted to this flavor of coffee.
Back at out hotel room service made up a good burger and sandwich for dinner that was just as inexpensive as our Cairo diner. We were able to kick back in front of an episode of Friends and have a comfortable meal.