February 29. AMMAN It was Sunday and we figured it would be a good day for shopping in a Muslim country. From our hotel we walked into downtown, passing a row of commercial of shops selling everything from restaurant supplies to plastic organs for science class, passing the familiar Central Bank where a small group of typists had set up shop on the sidewalk to help people fill out forms required by the bank, passing our HSBC ATM, and finally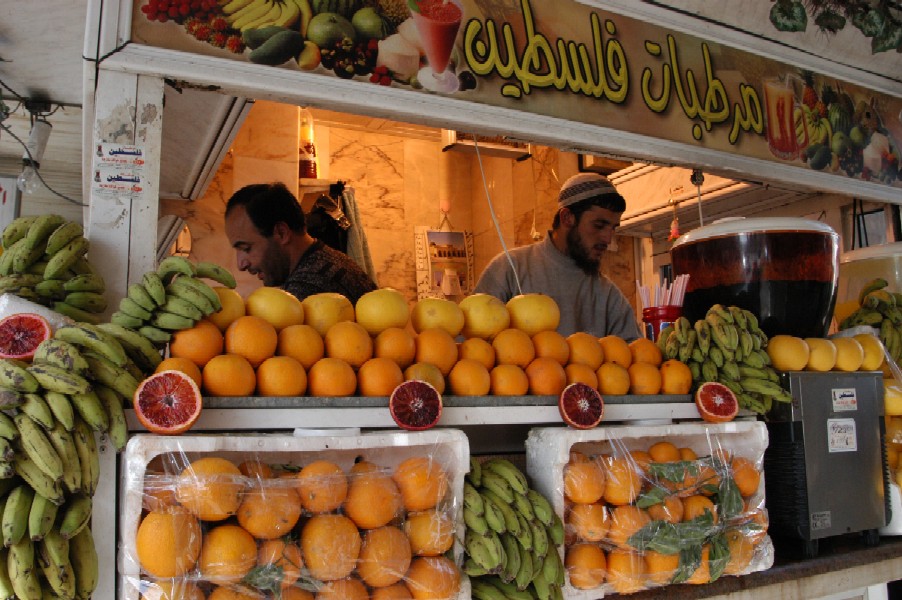 arriving in the bustling souk area of downtown Amman. A colorful cafe called the Eco-Tourism cafe over hung the busy street. We sat ourselves on the balcony and ordered a couple of Turkish-style coffees, heavily flavored with cardamom of course, and casually read for a couple of hours. The cafe didn't serve juice so Rob went a got some fresh squeezed blood orange juice for nourishment. By the time we got ourselves going to look at the gold souks we discovered that even Muslims take a holiday on Sundays. The souks were only open until 1pm on Sundays and we arrived just at the tail end of things. Frustrated by our miscalculation of events we just wandered around until the doors started rolling closed. Some of the other shops in the downtown area remained open but they were mostly just daily wares. We passed the juice stand and bought two more delicious blood orange juices, watching him squeeze the juice into the glasses right in front of us.
From downtown we caught a cab back to our favorite shwarma stand and had lunch. There was a nearby crafts shop that was still open so we peeked in quick look. They had a great selection of jewelry, pottery, carpets, clothes, and knives but all of it was a bit pricey, perhaps due to the shops proximity to the Inter-Continental Hotel. Walking back down the hill towards downtown we passed a smaller shop selling inlaid furniture and Jordanian coffee pots. The owner spoke good English and chatted with us for a bit. But, unlike all of the tourist shops in Cairo none of these people badgered us to buy anything. They were just patient and polite.
Once we reached the downtown area Rob ducked into an Internet cafe while I went to the Eco-Tourism cafe to do some writing. As the sun started to go down I got restless and went to see if Rob was finished. He was thoroughly engrossed in his research so I made my own little adventure out hiking up to the Citadel for the sunset. It was a short but steep hike up from downtown via scatter sets of stairs. When I reached the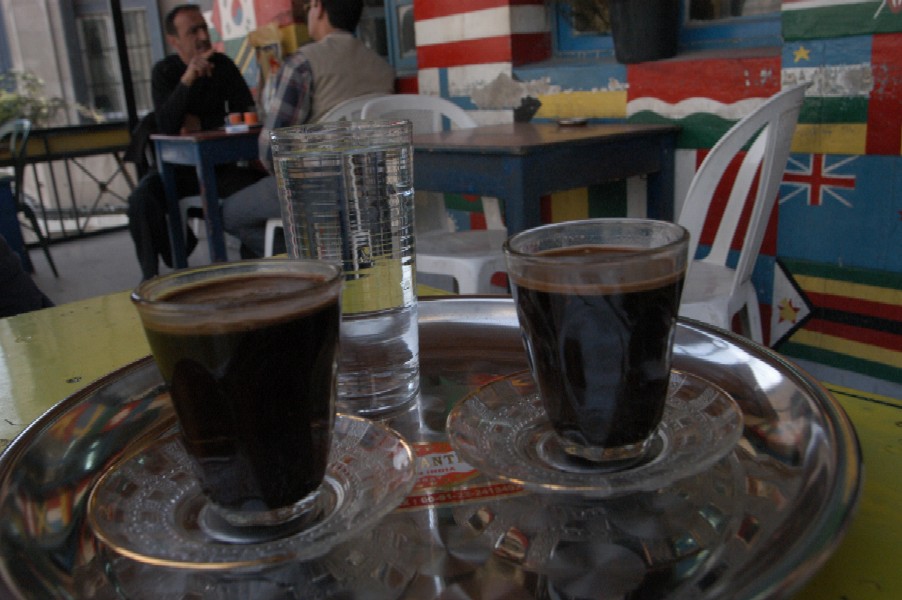 backside of the Citadel I scrambled up a grass hill and found myself standing at the entrance of the old Umayyad Palace, a former Byzantine building that forms the shape of a cross. It was getting dark so I didn't explore much of the ruins but walked over to remaining columns of the Temple of Hercules where local people were gathered for the evening, eating snacks and talking as they looked out over the city. It was a great view of downtown Amman with solitary minarets peeking out amongst the city's white architecture. The sunset was obscured by a hazy sky, giving the city a very gray and cool appearance. The mood of Amman's white buildings could be easily changed by the temper of the sky. On clearer days we watched the setting sun create a warm orange glow across the city that made it feel like a cozy and comfortable place.
Before the sun set completely I headed back down the hill to meet up with Rob. A few children greeted me with "Welcome to Jordan" or "Where are you from?" but as I came back down to the busy downtown streets my peripheral vision picked up leering looks and even a blatant kissing gesture from the men I passed, accompanied with occasional sassy remarks. I could feel them looking when I was with Rob but they were more discreet and rarely said anything. Western women were a novelty so it wasn't really a surprise to be noticed but it was still uncomfortable. I was wearing a loose long-sleeved shirt that was buttoned to my neck and baggy travel pants, and still I had to endure unwanted attention.
After I met up with Rob we walked up another hill, between the 2nd circle and the Citadel, and visited the lovely Darat al-Funun, a tranquil sanctuary in the middle of the city that was a cafe and small modern art gallery. We wanted to try a new place for coffee before heading back to our hotel but found ourselves thrown into the opening night of an art exhibit. It was an upper class crowd with mostly modern dress and hardly any headscarves. We were greeted at the door with a complimentary coffee and shown into the start of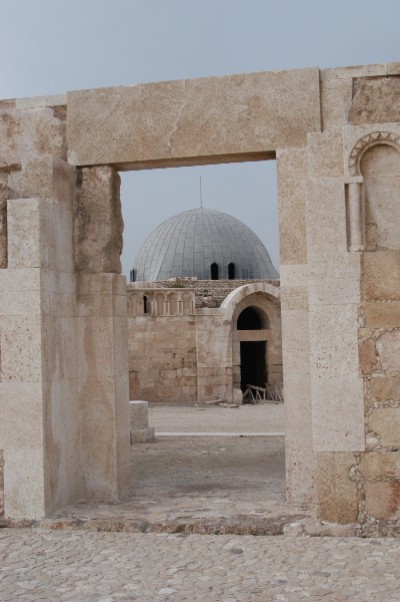 the exhibit. We felt a bit out of place, not exactly being dressed to the same standards as everyone else, and tried to politely excuse ourselves so we could go hide in the cafe. But, it turned out that the cafe was closed for this special event. Rob was determined to get something to drink so we walked back downtown while I stayed to peruse the art show.
The works on display were by Suha Shoman, the founder of Darat al-Funun and wife of one of the founders of the Arab Bank. Her work was concentrated on images (photos and paintings) inspired by Petra. Having just visited Petra it was easier to appreciate her work. The small complex which surrounded a green courtyard, consisted of three old houses. The first house displayed an interesting arrangement of videos in three rooms. They were all of natural scenes; water, birds flying, a country road, each accompanied with soothing sounds. The second house had a collection of her oil paintings, about half of which were inspired by the Siq. The last house was a tribute to her husband and a collection of Petra photos with a set of paintings that had been texturized with colored sand. Even filling all three houses the exhibit wasn't very big but was a nice amount of work to digest. Rob returned to the gallery and we sat in the courtyard for a while to watch people come and go. A nice older man approached and introduced. His wife was the manager of the gallery and he wanted to know how we'd found out about the event and what we thought of it. We had to confess to being unworthy critics but that we had enjoyed the exhibit, especially her images of Petra.
The man walked out with us and we said 'good-bye' in the street before taking the stairs back into downtown. We stopped at a ba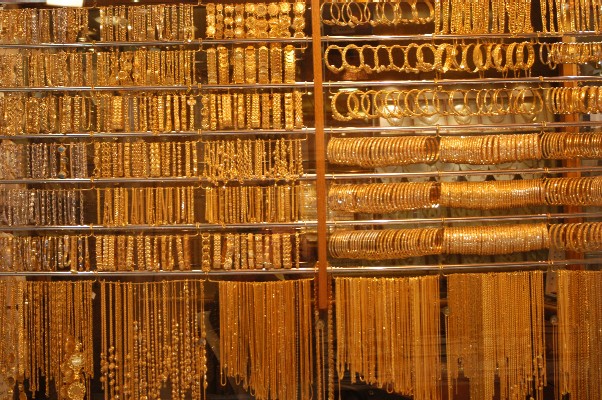 kery and picked up an assortment of sweets to eat for dessert before catching a cab back to our hotel and ordering up room service - tuna sandwich and a burger.
March 1. AMMAN It was probably a day too long in Amman at this point. We were even getting a bit tired of our hotel. There was every intent to provide good service and they did pretty well but we had a noisy neighbor in the next room and through the thin connecting door we could hear him too well. The breakfast was getting a bit old as well and some days we got all clean towels and other days we didn't. And, every time we ordered room service and told them it was 513 they kept trying to deliver to our noisy neighbor in 512. It was time to move on....
With our final day in Amman we did little more than hang out at the atmospheric Eco-Tourism cafe. The walls on the balcony were painted with a collage of different flags and it drew a regular stream of customers who lingered over coffees and sheesha pipes. We liked it much better than Books @ Cafe mostly because it felt like we were in a different country. Books @ Cafe was very nice but really too familiar to be interesting. We left the cafe four hours later and did some shopping in the gold souks. For dinner we popped into a recommended little diner in downtown. I had a good order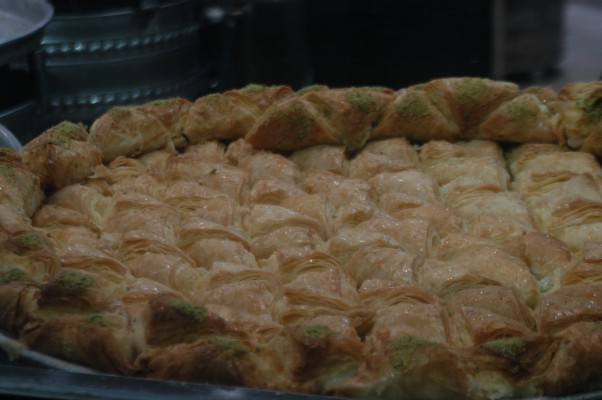 of mensaf, boiled mutton with rice and yogurt sauce, but Rob tried what the waiter suggested, their dish of the day, stuffed intestines. Sausages are basically stuffed intestines as well but this rendition just didn't pass the visual evaluation. Instead of being stuffed with meat they were stuffed with rice and not neatly stuffed so they looked like white lumpy intestines curled up in a dish. Rob was a good sport and ate a good portion. He said they didn't taste so bad but it was hard to get past the looks and they didn't seem very nourishing.