March 17. IRAKLIO - HANIA (CRETE) We were looking forward to moving on from Iraklio but still indulged in our breakfast ritual at the morning market before checking out and heading to the bus station. It was about a two and a half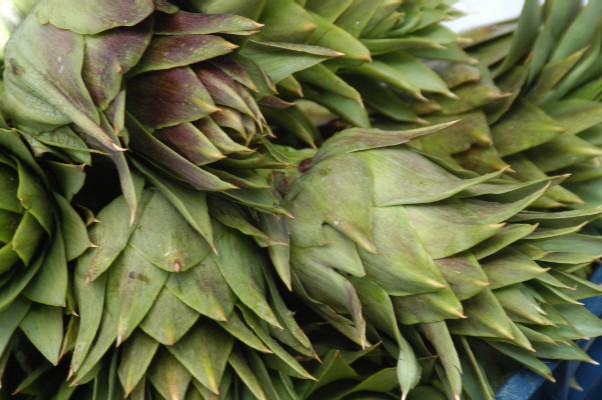 hour ride to Hania. The scenery was pretty but rather stark. When we pulled into the bus station in Hania we immediately reconsidered our plans to stay a few days. The newer part of town was not appealing. We walked towards the old town and felt a sense of relief when we found the quaint cobblestone streets of Hania's old Venetian quarter.
The search for a hotel was the repeat of our Santorini and Iraklio experiences. Places were closed or they wanted too much money for being one of the few places open. It was early in the day so we made a thorough search before we were ready to take one of the places that we had seen. This family seemed to have a good share of the apartments for rent in old Hania and didn't even bother to have someone at the different addresses. Instead we were faced with a phone and a note giving us a number to call. It actually worked out fine and we were initially just glad that they were renting rooms. A young girl named Sofia showed up and gave us a tour of several rooms. They weren't great rooms but we did find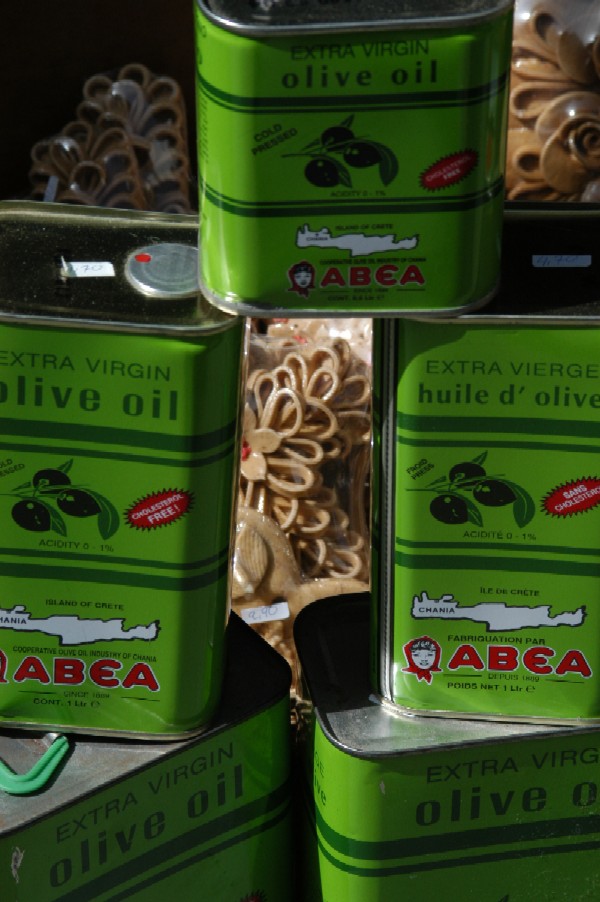 one that was within our budget and had a bathroom and some kitchen facilities (a burner and fridge). We called Sofia back but when she came to settle us in we were informed that the room we wanted actually didn't have a lock on the door and asked if we would like the room at the back instead. The room at the back had a refrigerator that rattled loudly and no sunlight so we said "no". Fortunately, luck turned out to be in our favor this time. While we stood waiting for Sofia, Rob noticed a little old lady a couple of doors down. She was beckoning us to come look at her rooms. When it didn't work out with Sofia's room we went to see what this little old lady had to offer. It turned out to be a two room apartment with a kitchen, bathroom and bedroom. She had originally offered 20 euros but was a slicker than appearances suggested and tried to up it to 25. We got her back down to 20 for five nights. She then admitted we were the first people to rent from her this season and proceeded to make very sure when knew how clean she kept everything. The apartment even had satellite TV. We were very happy.
Feeling very satisfied that we had secured such a good place to stay, we went out to get a late lunch. There was practically nothing open but a few expensive restaurants along the waterfront so we headed back towards the bus station and found a crepe shop. For dinner we were happy to cook in and watch some T.V. The apartment got very cold at night and we didn't have heat but with our sleep sacks we were comfortable.
March 18 - 21. HANIA (CRETE) Hania was also in the midst of emerging from its long winter's nap. In just the few days that we were there we saw more places open up for the tourist season. It felt like an amusement park about an hour before opening time but, in our case, it never fully opened. The restaurants recommended in our guidebook as "popular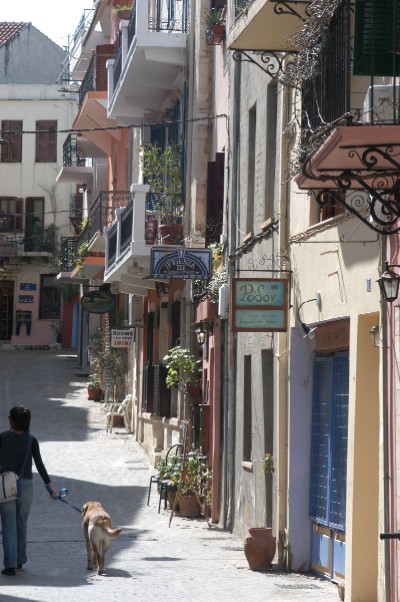 with locals" weren't popular enough to stay open outside of the tourist season so we were fortunate to be able to cook on our own. I used the time to catch up on the journal while Rob did some work on the Internet. In between we made jaunts to visit the few sites in Hania.
Hania is a north facing harbor town on the western end of Crete. It is Crete's second largest city but still has historical remains to make it interesting. Like the Iraklio area it had been settled since Minoan times. It also flourished under Hellenistic times and continued to prosper under Roman and Byzantine rule. It became a Venetian city in the 13th century until it was taken by the Turks in 1645. The remains of its Venetian history are Hania's most attractive feature but bits of Ottoman architecture also remain. One church has even incorporated a minaret from the former mosque, erecting a tower on the opposite corner of the church to give it a peculiar symmetry. Other minarets could be seen sticking out amongst the homes in the old Turkish area, Splantzia, and the protruding wooden facades of the Ottoman buildings are being restored along with the old Venetian buildings. At least there is not so much animosity in Greece for their former Turkish rulers that they are letting these bits of history become lost. An old mosque along the waterfront has lost its minarets but its domed rooftop still gives it away. It stands across the harbor from dilapidating Venetian lighthouse.
Walking around the Venetian and Splantzia areas occupied most of our sightseeing time in Hania. The narrow winding alleyways made for fun exploring and yielded the occasional church, minaret, craft shop, or well preserved old home. In the afternoons we sometimes planted ourselves in a cafe and watched the Aegean roll into the bay and observed the people whiling away their time over frappes. It was no wonder that those worry beads were so popular. They were a great way to release anxious energy. Even the younger men had a modified version with just two beads. They positioned one the inside of their hands with the string falling between their fingers. The other bead would whip in and out of the palm of their hand clicking with the first bead each time. The older men still favored the full set of beads that always reminded me of a small rosary or set of Buddhist prayer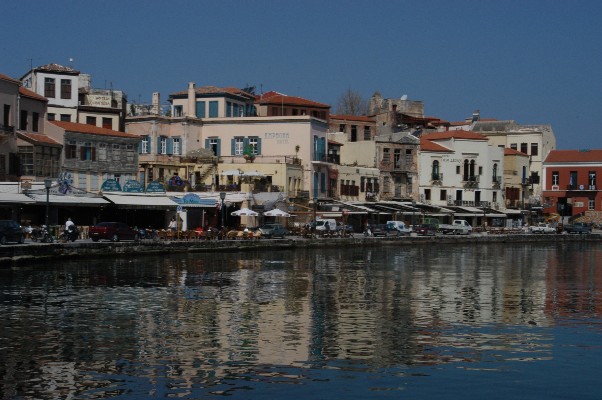 beads. They could be flipped, tossed, or fiddled with in any number of way to keep your fingers occupied. I recalled the old men in China that I saw sitting with two large metal balls in their hands. They rolled them around and around and claimed it massaged their palms. It also gave them something with which to occupy their nervous energy. They were worlds apart but not so very different. In the U.S. men used the remote control and channel surfed.
We paid several visits to the little central market in Hania. It was situated in an old market building. The high windowed roof covered a cross shaped collection of stalls. There were fishmongers, butchers, cheese vendors, and a couple of cafes but also too many tourist targeted shops. The old style charm of the little market was somewhat lost in the preponderance of shops selling tourist books, olive oil, wines, and thyme honey. They were all local products but the spiffy commercial style of the shops was in contrast to the humble and functional shops catering to the local shoppers - the more "authentic" looking shops. Hania was a very pleasant little city and the people were nice enough but we never quite shook that feeling that we were guests that arrived to the party too early. Some of the numb looks on the faces of people said "Are you here already? Is it tourist season again? And, I still have to paint the graffiti off of the wall and repair that window. Here we go again. Sigh...." It was hard not too feel a bit sorry for them and their dread of the chaos that was to come. When we had our fill of wandering Hania, I would retire to our apartment and write while Rob found an Internet cafe.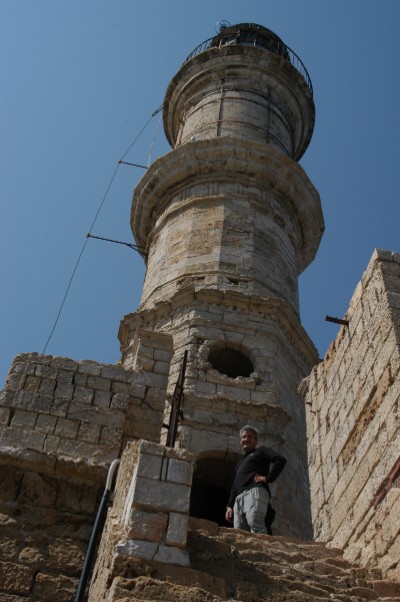 In the mornings we always found the little old lady that managed our apartment sitting outside the front door in the sun. She didn't live in the building but came to look out for new prospects and kept working on us as well. She lured us into her family owned grocery store down the street where we bought a few things out of kindness since it was more expensive than the market we had been using regularly. She would inquire about when we were leaving. What time was our ferry? Did we want to keep the apartment until the ferry left? If so it would be a little bit more otherwise she wanted us out by 11:00. When we asked if noon was okay she pondered for a moment and then threw up her arms and said "Okay, Okay, no problem." We did try to draw more tenants in for her. When we saw two men with bags standing out in front of Sofia's building we went and plugged our landlady. It turned out that they were two American military men on leave and were just waiting for a taxi. They had stayed at the rather posh boutique hotel on the next street. There was a NATO base on Crete and we had noticed a few military types wandering around. These two had been "here and there" after spending time in Georgia...
Meals turned out to be mostly home cooked while we were in Hania. Our few attempts to search out recommended restaurants resulted in locked doors with chairs on the tables and visible amounts of dust. For lunches we frequented the crepe shop or a gyro chain that was sadly below standards. On our last day we spent many hours in cafes. Our ferry wasn't until late at night and we had no where else to go. The travel agent that we had used to buy our ferry tickets had kindly let us leave our bags at their office but having had more than our fill of coffees we finally decided to splurge on a nice dinner. We walked along the waterfront until we found a place towards the end where there a few people dining. We ordered the grilled seafood platter with an order of olives and fresh cheese floating in olive oil. It was a ridiculous amount of food with all kinds of fish and seafood piled high. Unfortunately it was more fried than grilled. The grilled octopus on top was delicious and the assortment of fried squid and octopus was good as well but much too greasy for us to eat all of it. If we had known that most of it would have been fried we might have made another selection. With such fresh seafood available is just seemed a shame to fry the flavor out of it, not to mention the heartburn that came later. The soft fresh cheese in olive oil was probably the highlight of the meal. The quality of olive oil was excellent in Greece, the flavor was strong and rich and the color a luscious pale green. The Cretans are known to use more of it than other Greeks and they claim that it contribute to their long life expectancy. In spite of the high calories it is a relatively healthy form of fat and adds a wonderful flavor to almost any food.
Gorged with fried fish, cheese, bread and olives we waddled back to the travel agency and collected our bags, not buckling them around our waists. A bus conveniently took us to the ferry docks about 5 miles north of the town. We arrived early so we had plenty of time to stake out a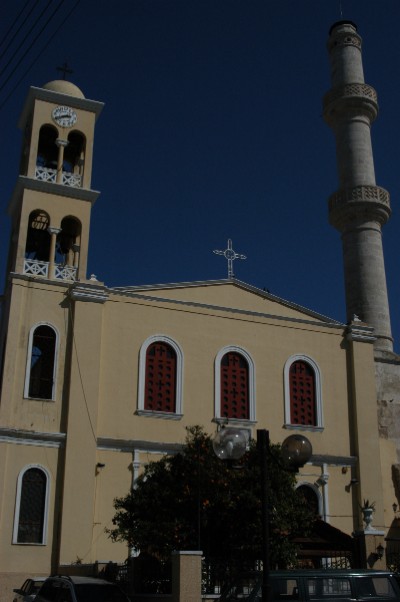 comfortable spot, having learned our lesson. This ferry was all together different from either of the other two that we had ridden on - they were all owned by different companies. The "airline" seat section for deck class passengers was small and had two large TVs situated on either side of the room, one already cranked up to a deafening level with two men stretch out watching sports. There would be no sleep to be had here. Up the hallway we found a smaller room with just one TV. Perhaps we could just knock that plug out and sleep in there undisturbed, we thought, but the door was locked. When Rob inquired he was told that it was the room used to transport convicts. We wondered if committing a crime on the ferry would count. The rest of the boat was mostly cabins, discos, bar lounges, and a cafeteria. Many people had landed a spot in the bar lounge and it was already swirling with smoke. We spotted a lobby area next to the stairs that had a small snack bar. In the corner, near the hallway to some cabins, was an isolated corner. Across the lobby, in an alcove that would have been used by a shop in the daytime, was a family of four children with their mother. We decided to stake out the corner with our bags and I waited while Rob went and looked at other options. He returned with nothing better so we rolled out our sleep pads and stretched out across the floor. The snack bar eventually closed and other people took spots here and there to sleep for the night. An older couple was directly across the hallway entrance from us and just stretched out in their clothes on the carpet and went to sleep. Once the boat started to move the mother of the family group pulled big blankets out of large plastic bags. She laid one blanket out on the carpet and rolled one end up into a pillow and laid the other blanket on top. One by one the children, ranging in age from around ten to 16, took off their shoes, hid them behind the curtain, and crawled under the blanket. The reminded me of the saying "like bugs in a rug", all nestled cozily together, the two older boys on the far end then their sister and then the smallest boy. The mother tucked a pillow up under here head next to the smallest boy and stretched what was left of the blanket over her knees and they all went to sleep. We locked our bags next to our heads and went to sleep as well.