February 18. NUWEIBA - PETRA The weather was beautiful so we ate breakfast on the patio in front of the dining room. Lamenting that we couldn't stay another day we planned for our departure. A bus left at 11:30 for Taba, on the Israeli border. The alternative was a ferry ride directly to Aqaba in Jordan. The latter was much more expensive so we set off for Taba to cross through a sliver of Israel and into Jordan.
It was fifteen minute walk from our hotel to the bus stop on the highway. A taxi tried to persuade us that there weren't any buses to Taba but we knew otherwise. At the bus stop we chatted with a young man that turned out to run a gift shop at the hotel we had just been staying at. He was from Luxor and had only been in Nuweiba for two months. He was terribly homesick. It was hard not to feel sorry for him. But, his work in Nuweiba would be done in a couple of more months and he would be heading back to Luxor. Taxis tried repeatedly to take us to Taba and one acted almost offended that we would chose the bus over his taxi, "Why the bus? Why not me?" he asked. There seemed to be the perception that our money was something they were entitled to and we shouldn't have a say in the matter. But, when the bus arrived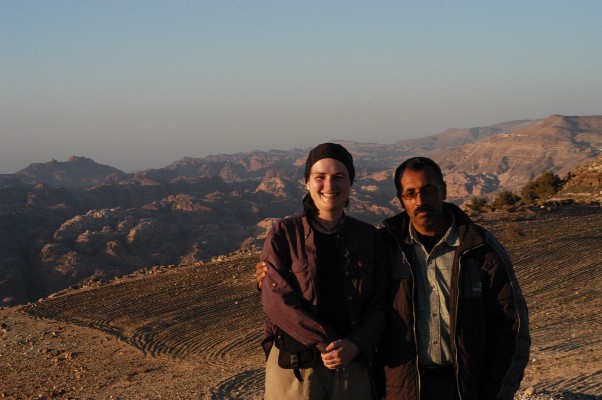 we were glad we hadn't given in to the taxis. Not only was the bus less expensive but it was air conditioned and comfortable. The young man from our hotel only passed along a package to our driver to be delivered at the next stop- a kind of bus mail. As we drove along the coast in the daylight we could see one abandoned set of bungalows after another - the unfortunate result of the tourism downturn.
It just took an hour to get to Taba and then we had a five minute walk to the Egyptian border. We paid a nominal departure tax and then headed towards the security check. I waited while Rob went to change money and then we cleared security. The immigration guy was missing so we waited while he went to the "bathroom" according to one of the other officials, or more likely while he was having tea. From the Egypt border check we entered a no man's land for about 200 meters before reaching the Israeli border check. Their security was very thorough but they were courteous about it and pretty efficient. Immigration was smooth (we hadn't been to any other Arab countries) and then we went to catch a bus to the Jordanian border. A taxi driver convinced us that it would cost about as much for us to take the two buses to get to the other border as he would charge us for a ride. We figured he was right and the bus wasn't scheduled to come for another hour so we just went with it. In about five minutes we were on the other side of Israel's Red Sea resort town of Eilat, a compact collection of massive hotels wedged between Egypt and Jordan. We were charged a heavy $16 departure tax from Israel - per person - and then entered another no man's land until we reached the Jordanian security and immigration. We expected to have to buy a visa but they gave us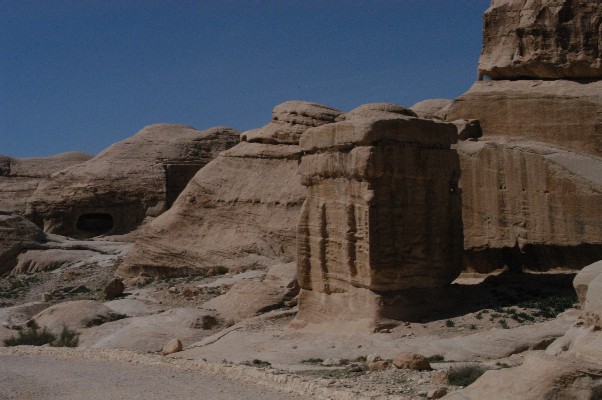 one for free, handed us some maps, and sent us on our way.
The taxis on the Jordanian side were drooling at the sight of us. The posted fee was 1JD per person or 4JD for the whole cab. They wanted 5JD and said if other people showed up they wouldn't let us take the same cab anyway. I almost checked my passport to make sure we hadn't re-entered Egypt again. They tried to guilt us with the fact that they had been waiting for seven hours. My question was if no body was coming across the border for seven hours why would six taxis stay pooled up all day. Perhaps it was too much work to shark around town all day to look for fares as opposed to getting a chance at unsuspecting tourists coming over the border. Anyway, we didn't have much of a choice but to cough up our 5JD for a 5 mile ride (nearly US$7). The driver tried to negotiate a ride to Petra but, even if we did take a taxi to Petra it wasn't going to be with the same guy, not after their sleazy treatment at the border. Unfortunately the buses for Petra had already left for the day so we either had to take a taxi or we had to stay a night in Aqaba. As soon as we unloaded at the bus station another taxi driver approached us with a pretty good proposal. He lived in Petra and needed to go home anyway so he was only asking 15JD instead of 25JD. We said "yes".
It was late afternoon at this point. With all of our hassling through Israel we still arrived earlier than if we had taken the ferry and it had cost us half as much. A sunset drive from Aqaba to Petra was the added bonus. As we passed by Wadi Rum, Petra's spectacular desert park area, our driver stopped to let us take photos, while he did his sunset prayers. The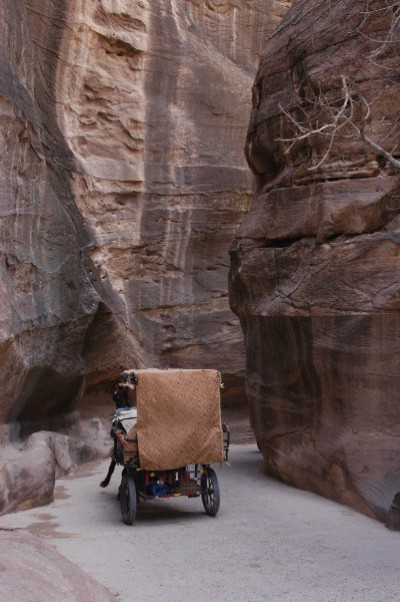 scenery was beautiful, much like the American southwest, rocky mountains layered with different colors, protruding from the sandy ground. We turned off the Desert highway, onto the more scenic King's Highway, and started gaining altitude. Our driver made another stop above the Petra landscape and had us take photos with him. He was a really nice man and a welcomed change from the usual taxi driver sub species that we have encountered. He did try to "advise" us on a hotel in Petra but we just had him drop us off in the middle of town so we could explore on our own. But as soon as we were out of the car a tout from the Peace Way Hotel found us. It was one our list to check so we reluctantly followed.
The Peace Way wasn't a bad little place. The rooms were pretty basic but they offered aggressive rates so we took a room at the back, to be as far away as possible from the prayer call. We only had one little window that opened up onto an enclosed stairwell but the extra sleep we would get was worth it! When we arrived at the hotel I noticed a Japanese women sitting in the lobby so I tried to ask her in Japanese if the hotel was okay. She was reluctant to answer which, as it turned out, was because she was partly working there during her two month stay. The owner asked her to fix us some welcome tea in the restaurant. It was cold so a nice mint tea warmed us up nicely.
There wasn't a lot to Wadi Musa, the town closest to Petra, but at least they had done a reasonable job of tourism development. The buildings in town were fairly basic but all stayed within the color guidelines set by the natural landscape - soft pinks, beiges, and browns. Even the large hotels had built unobtrusive structures that blended into the area, much better than the cheesy development we had seen in Aswan. We strolled around town in search of a restaurant and Internet cafe. Above a cafe we found an Internet place and checked email but at JD1.50 we didn't have a coffee. The Jordnian Dinar was worth more than the dollar and when our hotel only cost JD8 those coffees seemed ridiculous. Around the corner from the cafe we saw a traditional little sweet shop cranking out gooey baklava and the like. We popped in and pointed at what everyone else seemed to be eating but when we asked how much the man had to think for a minute before he said JD1 for both. No doubt that was more than the local price but it was a better deal than the coffee and it the sweet pastries filled with cheese was still warm and very tasty.
We hadn't seen any place that really appealed to us for dinner so we tried back at our hotel but nobody was around. A kebab restaurant was just down the street so we headed there and found it packed with other tourists. It was actually a bit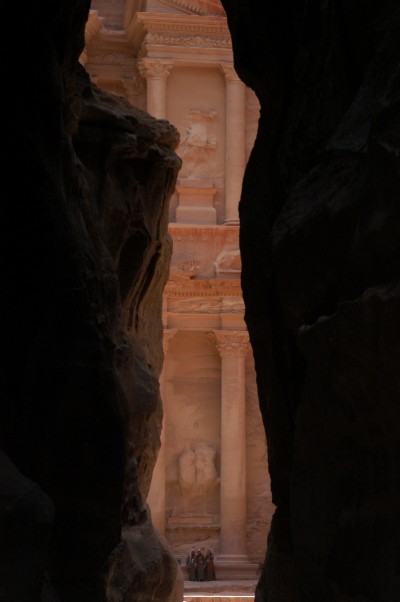 pricey for the amount of food and the menus had conveniently been printed with no prices which meant they could charge what they wanted to whom they wanted. That was a turn off. When we found that the place was Egyptian owned we wondered how long it would take for Petra to become as obnoxious as the tourist places in Egypt, extorting foreigners as much as possible.
When we got back to our room we heard a loud motor sound coming from the wall. It appeared to be the water pump or hot water heater. It was frustrating so with the time we had left in the evening we checked out a few other hotels. But, all were more expensive or much dirtier than Peace Way so we stuck with it. Fortunately, the noise went away after people started to go to bed. The shower wasn't much more than a drizzle which had a teeter in moving again but we later learned that early bird gets the water pressure and just started taking showers sooner.