It was supposed to be a short bus ride straight up the dull desert highway. But about an hour and a half into the journey our luck turned bad. Rob saw the dark sky off in the east and predicted that a sandstorm was headed our way but we didn't expect that we would be totally engulfed in one so thick that our bus would be stopped for three hours! Visibility went to zero at times or allowed us just enough distance to see other trucks and buses inching past us in the storm. Our bus chugged along for a bit but eventually pulled over and gave in to the storm. Dust and sand started blowing in through the cracks on the doors and through the seams on the windows. There was little help for it but people started tearing off the head rest covered and jamming them in around the door or trying to wedge their window curtains to keep the dust out. It didn't do a great deal of good and the bus became foggy with dust and sand. I pulled a head scarf over my face and Rob tied a bandana over his mouth. They helped a bit but it was impossible to completely get rid of the gritty taste. The ticket guy passed around tissues that we stuck under our scarf and bandana to help filter out the air. Surely it wouldn't last very long was our initial thought but 30 minutes became and hour and we were in basically the same situation.
About a half hour into it I started to have to go to the bathroom. I didn't see a toilet on the bus and started to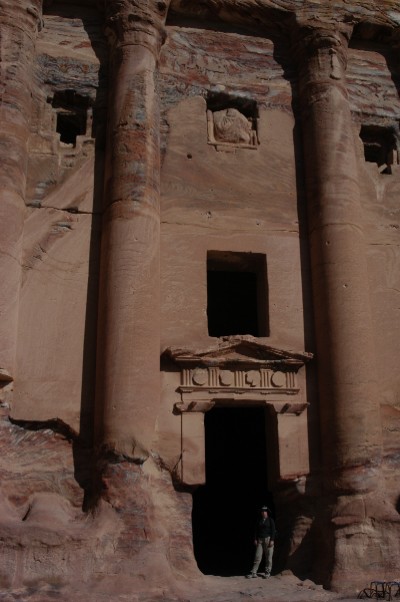 wonder what I could possibly do if we were stuck there much longer. But, I eventually saw a guy duck into a door down the stairs of the rear exit. I just wanted to hold off, hoping that the storm was blow over and we would start on our way again but I began to realize that that was unlikely and equipped with my flashlight I went for the toilet. Rob came to watch the door. There was absolutely no light in the little room and everything was covered in dust. I hooked my flashlight on a knob and managed okay but just when I was trying to open the door the bus started lurching forward again. It only lasted for a short distance before we pulled over again and continued to sit.
A man came to the rear of the bus and asked us where we were from. Apparently they were in radio or mobile phone contact and needed to report how many foreigners were on the bus. There was only one other foreigner present and he happened to be sitting with this man. He came back later and asked Rob to talk to the police on the phone and confirm that we were doing okay and keeping our mouths covered.
After a couple of hours of breathing dust it starts to make you feel sick. The men all around us had been lighting up cigarettes during the whole ride but were now concerned about keeping their mouths covered, unless they needed another cigarette, of course. People were using anything they could to create makeshift mouth covers.
Finally, after nearly three hours the visibility got better and we started to move. We actually moved into a clearing where we could see all of the way across the highway. There were cars lined bumper to bumper in the opposite direction. But it didn't last very long before we were back in the sand again. We ended up stopped for a while longer before lurching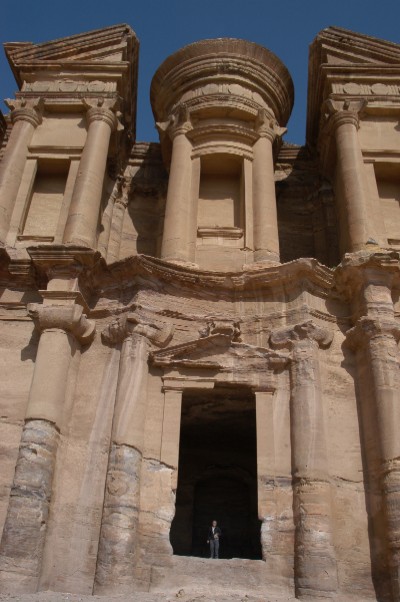 forward and dodging the some other traffic to get in a lane that was moving slowly forward and finally emerged from the haze of dust and sand. But, each time the bus revved its engines another blow of dust and sand came spewing from the back of the bus. Somehow it was being forced through the windows by the exhaust and we continued to be periodically doused in orange dust until we pulled off the highway at a small town. Everyone was covered in a layer of dust. We all got out of the bus to take in some fresh air and wipe ourselves off. A bag of snacks and drinks set us back less than one JD, which told us how much we had been being ripped off in Petra, and helped to rid our mouths of the taste of dirt and dust.
Once we were back on the road we reached Amman in about an hour and a half. The other foreigner and the man who'd had Rob speak to the police got off at the edge of town. It appeared that he had been some sort of personal escort for the foreign man but if you had a personal escort why would you be taking a public bus? We pulled into a bus station away from the center of town and when we retrieved our bags from underneath the bus they were totally covered in orange dust. The dust even managed to reach under our pack covers. We stood to the side of the road and beat our packs off before catching a cab into the center of the city.
The downtown area of Amman didn't turn out to be as appealing as we had expected. It was newer architecture and mostly blocky concrete stuff and the center was packed with a mishmash of little souks (markets) that sold everything from gold to everyday household goods. We got out of the cab at the large Husseini Mosque and began our search for a hotel.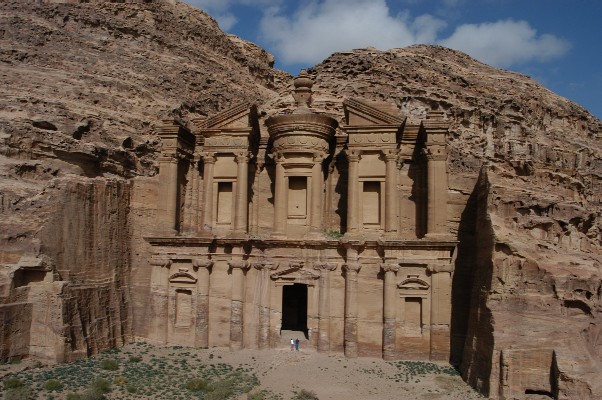 Our first two attempts were both closed so we settled for our third, the Palace Hotel. It was a shabby little place amongst a collection of what looked like flea bag hotels. Our room was very basic and reasonably clean by cheapie standards but our bathroom was pathetic. There was no shower curtain and the toilet seat had broken off. The sheets on the bed looked clean but the soap in the bathroom had some stranger's pubic hairs on it. They said they had 24 hour hot water and heating but we had to ask for the heat to come on, which took about a half hour, and they turned it off at midnight. The shower was miserable in the cold weather with lukewarm water and a cold room. We weren't very impressed and after we cleaned ourselves of all the dust we went out to get some dinner and search for other options. Our room was only about JD12/night but it still didn't seem worth it.
We had dinner at a local diner called Cairo that served up some nice roasted chicken with soup and rice. I had a scarf on my head, in consideration of local customs, but the restaurant took that to mean that we were Muslim so perhaps the scarf wasn't really a good idea. After dinner we looked at a couple of other places that were even less appealing than our hotel before catching a cab to another area of town around Abdali bus station. We couldn't find one hotel and the other was closed but we spotted a nice enough looking place just next to the station, the Toledo Hotel. It looked outside our budget we checked it out anyway. The rooms had some wear and tear but were actually quite nice, complete with satellite TV and little shampoos in the bathroom.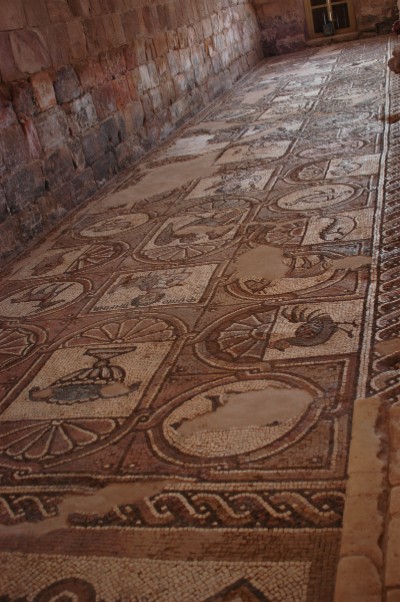 It was double what we were paying but much more than double the facilities. Still that was more than we hoped to spend so we looked further. Another nice hotel offered a room for a bit more than the Toledo, too high for us. A lower end hotel nearby offered a room not much better than our current one for JD19. The Toledo offered JD25 so after some agonizing we made a reservation at the Toledo for the next day and we both slept better just thinking about it.