February 27. AMMAN We set out in the morning for Jerash but after standing for some time at the bus station while very few buses came along we became concerned that it was not the right day of the week to make the trip. It was Friday, Muslim prayer day, a low volume travel day so the buses were fewer and far between which made us worry that we would have trouble getting a ridge back to Amman. So, we bagged our plans for Jerash and spent another day in Amman.
From Abdali station we caught a cab to the 1st circle where another bookstore, closed on Fridays, also sold English books. Nearby was meant to be a Turkish hamman, steam bath, that I was keen to try out but we never found it. Instead we continued back down to what was becoming our Amman hangout, Books @ Cafe.
While the rest of the city was pretty quiet Books @ Cafe was lively. From looking at the scene you might think you were back in California. The dress was casual with jeans and even shorts worn by some people. During all of our visits to the cafe I only witnessed one woman wearing a headscarf. This was a haven for Jordan's alternative people. It was a definite contrast to the more conservative tone of the city. More than in Cairo, we saw women in full veil and nearly all wore a head scarf and a long non-revealing coat or gown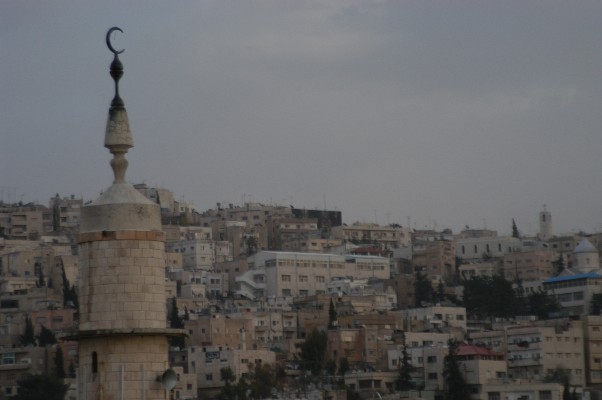 over their clothes. In Cairo the non-head scarf wearing population was probably largely due to the city's 8 million Copts but even the clothes worn by the women in head scarves was not always entirely conservative by what I perceive to be Islamic standards. They revealed little skin but jeans were worn snugly and tailored clothing that showed a woman's curves was not uncommon. In Jordan, however, women did keep their figures more obscured. The clothes being sold at the markets were quite fashionable and even included some strappy evening dresses but those were not worn in public but reserved for private occasions in the company of friends and family.
We settled into the cafe and spent the whole afternoon and into the evening, enjoying a brief departure from the Middle East. For lunch we had a calzone and flatbread. A man sitting next to us was of Arab descent and had an accent but was not Jordanian. He was eating off of a lower table and as he tried to consume his soup and sandwich a small cat, not fully grown, with a gimpy back leg, kept leaping up on his lap to make a play for his food. He was constantly trying to fight to little fur ball off. It was a funny sight. I tried to lure the cat away but it knew that I didn't have food. The man finished his meal with a piece of carrot cake and what he left on his plate was quickly seized by the cat as it stood with all fours on the table and chomped away. The waiters, dressed in their uniforms of blue overalls, just passed by with chuckles of laughter as they let the cat eat.
We had made use of the cafe's Internet access on our last visit with limited success but still we thought it better than dial up access from our hotel for uploading the website. Unfortunately our website got confused that we were uploading from our laptop again, instead of my parents' computer, and tried to upload the whole site again. The Books @ Cafe Internet access wasn't up to the task and after over an hour we gave it up and went back to the hotel.