February 16. LUXOR - NUWEIBA The bus for Suez left at 6:30 am. We tried to buy tickets the day before but they said we didn't need them. There were restrictions on how many foreigners could ride a bus at one time so we were worried for a moment when we turned up at 6:15 to find the Russian Australian family we had met on our trip out of Aswan and another Australian mother and son backpackers but they didn't seem to car that there were seven foreigners total. It was a small hassle buying the tickets because they didn't have proper change. That is a big problem in Egypt. It was only three pounds and they hope that you will just let it go but Rob held out for his change. The ticket guy from the bus kept waiving us over to load up our bags so I went ahead and put mine under while Rob waited for the ticket cashier to go get change. The man opened the compartment under the bus and watched us put our bags under and then asked for baksheesh. Rob told brushed him off only to get a dirty look when he came by to check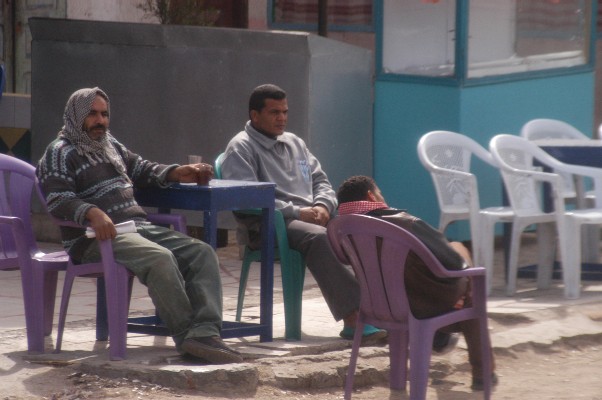 our tickets. Besides the tourists there were only a few other people on the bus and it was a reasonably comfortable ride with air conditioning and individual seats.
The bus followed the Nile north, keeping close to a smaller river lined intermittently with mud and concrete houses. With the sun rising from the east the houses were aglow with the morning light and softly reflected in the river. It was a peaceful drive until our first major stop when the bus completely filled with people until they were standing down the aisle. Fortunately that only lasted until the next major stop where they all jumped from the bus to catch a connecting bus. At that point the bus started east across the desert and the landscape was barren as far as the eye could see. We made one rest stop at a place in the middle of nowhere between the Nile and the coast but no additional passengers joined us. Once we reached the Red Sea we made a third scheduled stop before heading north again to the sprawling tourist town of Hurghada. Hurghada was the port where the ferry could have taken us over to the Sinai peninsula but we would have had to wait until the following morning. It wasn't a very inviting place - just quickly built concrete structures and a coastline of enclosed resort complexes. The sea was a beautiful blue but the unsightly architecture could have used some trees to obscure the scar they made in the scenery. We were glad that we had decided to just continue to the Sinai peninsula by bus. The Aussie mother and son decided to stay on as well. The bus was a bit behind schedule but we were hopeful that the ride to Suez wouldn't be too long.
A small girl was directly behind me on her mothers lap, eating for most of the trip. The mother tapped me on the shoulder towards the end of the ride and tried to convey something to me. She pointed to her mouth and then put her head to the side on her hands, like a sleeping gesture. Rob thought she might want medication but we couldn't tell what she really needed so we shrugged to show our confusion.
A movie came on for a while but the VCR jammed and it never finished. It was a "B" movie with unrecognizable actors doing an absolutely terrible job of it. Woman flees wedding with evil older military official and is chased down by fiancées No.1 man, whom she also fancies. Jeez! No wonder the people in this part of the world have such a distort view of western life.
We followed the coast north and only made a couple of more stops but somehow fell further and further behind schedule. Our connecting bus to Nuweiba was at 5:00 and it looked less and less likely that we would make it. In the end we pulled into Suez at 5:30 with only a bus to Sharm el-Sheik still scheduled to leave to the Sinai coast. That only went to the tip of the peninsula where expensive hotels were the only lodging option. Faced with that or spending a night in Suez, Rob and the Australian fellow went to investigate the "servicees", minibuses that left for various destinations once they had enough passengers. Fortunately there was one headed to Nuweiba at 6:00. We lugged our bags to the servicee station and were joined by the Australians, who found the bus to Sharm full anyway.
It was a tight squeeze. They had every available space full. There were three rows of seats in the back. The Aussies took the front seat and we were crammed in the first seat behind the driver. Rob sat in the middle so I didn't have to be squashed up against an Egyptian man - men and women typically do not sit next to each other unless they are married. Unfortunately, that put me by the door where the ticket guy for the van inserted himself. He sat facing me on the ledge that protruded from the back of the front seat. I kept trying to move towards Rob and each time I put space between us he filled it by putting his thigh against mine. Then, to make things even better he lit up a cigarette about six inches from my face. I avoided looking at him and opened the window. Sensing my irritation from his cigarette the ticket guy at least tried to blow his smoke out the window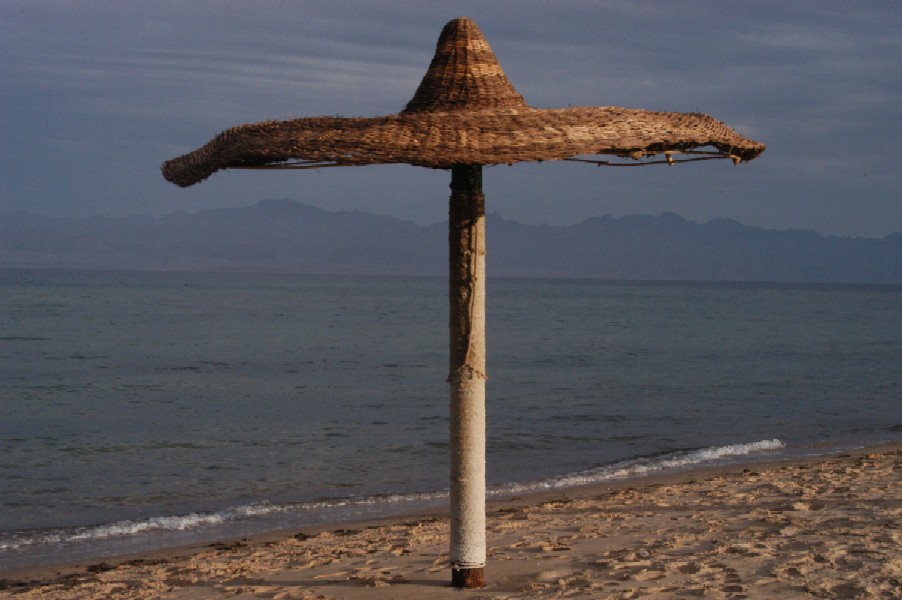 but then lowered his lit cigarette down along side my butt. Half hanging off of the seat and uneasy about the lit cigarette that felt dangerously close to my pants I was dreading the next four hours. The ticket guy finally negotiated with the man near the window to switch with me after we passed under the Suez canal. I thought that would be infinitely better but ended up smashed against the window so the ticket guy could wedge himself between the sliding door and the other end of the seat. My butt straddled the edge of the seat and a plastic arm rest while my feet had no where to rest because a bucket with a wet sponge was directly in front of me. After two hours in this position I couldn't feel my left butt cheek. And, along with the driver and ticket guy about three other guys in our van were smoking up a storm. They didn't open a window so I did, which they grumbled about because it was cold outside, so they lit up even more to warm themselves whereupon I opened the window a bit wider. It wasn't a happy arrangement. At least on the public bus the driver had yelled over the speaker at a person who lit up and the ride had been smoke free.
They told us it would be four hours to Nuweiba but it already felt like a long ride. When we hit the two hour mark and took a break at a roadside cafe I felt like I could just manage another two hours. When we reloaded the bus I held my ground for more space and was at least more comfortable. But, in fact, the bus continued all of the way to Taba, on the Israeli border, and didn't end up reaching Nuweiba for six hours. And, the driver was a maniac! He clearly did this often and drove with confidence but it was dark and he reached speeds that made our dodgy little van start to wobble. When we came upon another van it seemed to be a good excuse for the driver to entertain himself. The van was dressed up with neon lights and looked something like a disco on wheels. Our driver floored it and came up right on the bumper of the other van. The other van weaved into the middle of the road as our driver made attempts to pass. As three cars started to come in the other direction our driver was still swerving back and forth to find an opportunity to squeeze past. He finally succeeded, our van rattling past the disco van at maximum speed. Then he slowed down! The disco van rolled up right behind us with his lights off making the same maneuvers our driver had to pass. It was an adolescence game of chicken they were playing. Rob and the Aussies were sleeping but my adrenalin started pumping so fast I lost any hope of rest. Finally the vans separated from each other and lost interest. Fortunately we didn't come upon another van for a repeat experience!
It was past midnight when we were dumped off in front of a hotel in Nuweiba. The Aussies still had another hour further to reach Dahab. The hotel was dark and showed little signs of life. We couldn't find anyone to help us and move onto the next place up the road. There we found an overpriced "bungalow" for $30. Staff were still in the restaurant when we were checking out the room and after Rob confirmed that they would be open long enough for us to have some dinner we gave in and decided to stay. But, after checking in we went back to the restaurant to find it closed and dark inside. That was more than we were willing to take. We'd had nearly two weeks of being out maneuvered by crafty Egyptians who wanted our tourist dollar but didn't want to provide much in return. When we asked where the kitchen staff went there was an extended pause as they went to dig them up again. It was the last straw. We picked up our bags from the tattered room with cigarette ashes on the floor (for $30) and walked out. We made our reasons clear as we left. It was late and we were exhausted but still had enough energy not to be made fools of again.
When we had pulled into Nuweiba I had seen a nice brightly lit hotel. It looked way beyond our budget but if we could at least get something of value in return for our money we were prepared to pay. Much to our surprise we were offered a very nice bungalow, with breakfast, for just $50. That was our daily budget maximum but the room was very clean, had satellite T.V., proper sheets, and a real shower with little shampoos! And, the real bonus was that they had the kitchen prepare us a couple of great sandwiches with fries and delivered it to our room. It was ten times the hotel for not even double the price. It was still expensive for us but well worth it. It was one big long "Ahhhhh!" We showered off the bus and cigarette filth and watched some CNN and Buffy The Vampire Slayer before crashing like rocks.
February 17. NUWEIBA We woke up slowly the next morning with another long "Ahhh!". The buffet breakfast was nice as well. The dining room was right along the beach and they had a man making up little omelets. We had slept well but were still feeling awfully beat from our 16 and a half hour day on buses. Looking out over the thatched umbrellas that lined the beach in front of the hotel we sighed. It didn't take long for us to book a second night. After all we couldn't really enjoy this nice beach in only half a day.
The hotel was practically empty. We must have only seen about 20 people at breakfast - mostly Russians and Estonians. There were plenty of vacant beach lounges and ample room to separate ourselves from the others. It was overcast and windy but warm. The hotel provided wicker wind barriers that we arranged around our umbrella and chairs to create a cozy little place of our own. We were also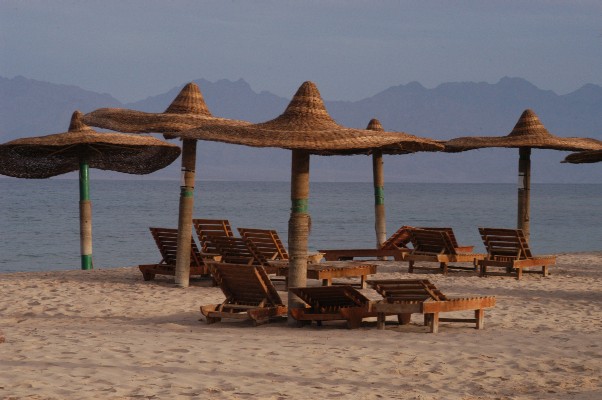 given pads and large beach towels to cover the wooden lounges. It was very comfortable. We were angled out towards the calm waters of the Red Sea and heard little more than the water rolling up on the beach and some distant music from the beach bar. And aside from a visit from a tiny puppy and the waiter who brought us drinks we were only bothered by one women who came along the beach to sell us something. She was covered from head to two in black and looked like she had a back of shells. She wasn't persistent though and for the first time we understood why people come to Egypt for a vacation. Being in this little resort was like a separate world. There was little cultural merit to the experience but people from Russia and Estonia are probably looking more for a way to escape the bitter cold winter up north.
As the sun started to set the wind got cooler. The beach bar turned up some American 50's music and I wondered if anyone in Egypt really "did the twist". It was really a distraction from the peace and quiet so we retired to our room to do some more journaling and reading. When it came time for dinner we ventured over to the hotel restaurant. The buffet was tempting but just too much money and really too much food. We just opted for a salad and sandwich and went back to our room.
The only criticism we had during our stay was that we had a roommate. Actually he was in the next bungalow but the connecting door made it sound like he was with us. We could hear him cough, use the bathroom, snore, and roll over in bed.