March 8. CAIRO "The Pyramids at Dashur" When we showed up for our tour, or rather organized transportation, in the morning we learned that there were two other people going. That wasn't a problem but it was a problem that we wanted to see different things. When we signed up the day before we'd been the only people and they told us that we could cut out the visit to Giza and just see Saqqara, Memphis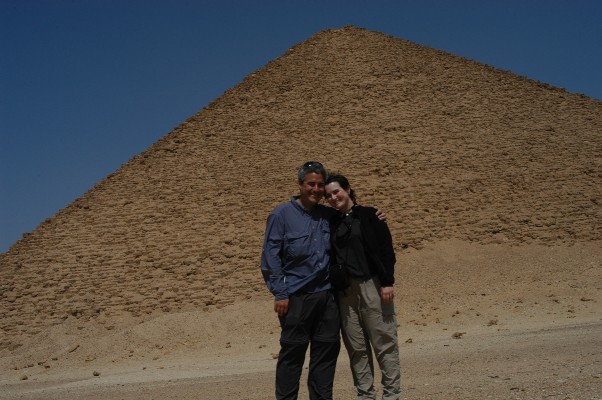 and Dashur. We really just wanted to visit Dashur but figured we could see the other two if we had time but we really weren't interested in going back to Giza. Now that there were other people who wanted to do everything we wouldn't have any flexibility. We were still tempted to go but at the last minute we back out. Thoughts of our "organized transport" for Abu Simbel and Philae started racing through our minds and that last thing we wanted was for our last day in Egypt to be unpleasant. We decided to figure out how to get to Dashur on our own.
Our guidebook discouraged trying to get to Dashur independently since there was no direct transport so we just looked at a map and did what we thought made sense. We took the subway to its southern most station, Helwan, which was almost directly across the Nile from Dashur. From there we hoped there would be some way to cross over with a servicee or taxi. It is always entertaining riding public transport into un-touristed areas. People were glancing at us and probably wondering where we thought we were going. The scenery became more industrial as we went south but the housing areas looked pretty decent and more green near the Nile started to show through.
When we exited the train station we were relieved to find a queue of taxis waiting. It was a crazy area of people coming and going but the more rural setting was a nice change from the city. People greeted us with "How are you?" and smiled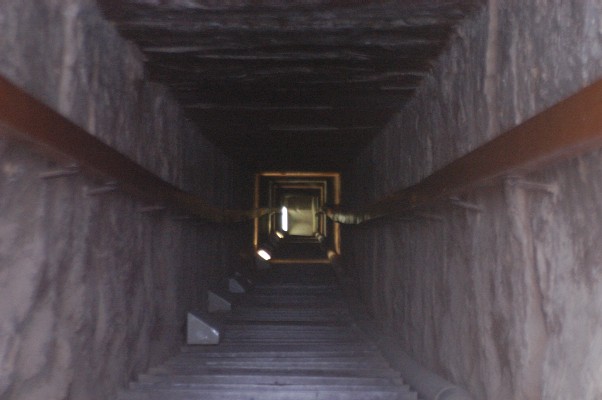 at us. There were no touts. We stocked up on snacks which included water, twinkies, hostess cupcakes, and borios (an oreo ripoff) - the snack food options were limited. We asked the man at the shop where to catch a servicee to Dashur and he came out from behind his counter and pointed us down the street. At the servicee station a man stepped up to help us out and after some discussion with other drivers was advising us to go to Giza to get to Dashur. That was some major backtracking so we looked at a map and vague as it was it did look like there would be a bridge over the Nile just to the south, near a town called Tibiin. We pointed to Tibiin and he did more research before pointing us to the right van. The Tibiin servicee driver waived us over and we hopped in until it loaded up. It was the first time we were in a servicee in Egypt that we weren't expected to pay any more than the normal price. And, when we arrived in Tibiin the driver directed us to where we could get another servicee to Dashur. We ended up approaching the taxis and they made a reasonble offer to take us all of the to the pyramids for ten pounds. That was probably a bit high for the area but fair enough based on Cairo rates and considering that the driver probably wouldn't have a convenient return fare. They selected a guy to take us and we were off, up and over a long steele bridge that carried both auto and train traffic. We passed through Dashur village and rolled up to the entrance where Rob got out to buy tickets. While he was sorting out the change a tourist police came to the car window and interrogated me a bit on where we were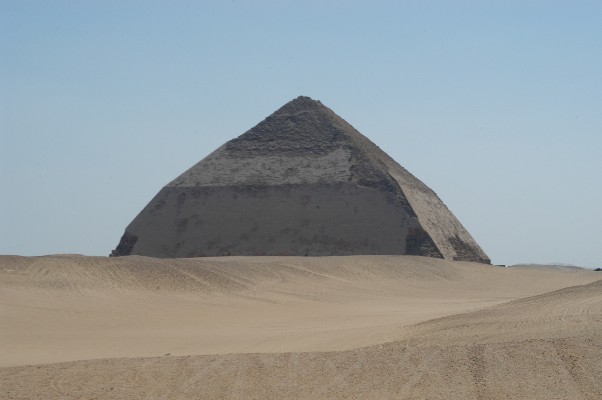 going, which country we were from, where we were staying in Cairo, and where we were going after Dashur. After reconfirming several times that we weren't going on to Saqqara or Memphis and taking a look at our hotel business card he seemed satisfied. Rob got back in the car with our tickets and the taxi drove us all of the way up to the front of the pyramids.
The first pyramid immediately in front of us was the giant Red Pyramid, the third pyramid supposedly attributed to Snofru (Old Kingdom, founder of 4th Dynasty, reigned 2613 - 2588 BC), father of Cheops, whose pyramid is the largest at Giza. In fact, the Cheops pyramid is the only pyramid larger than the Red Pyramid. The Chephren pyramid at Giza is smaller. The Red Pyramid, named for the color of its limestone stood 101 meters high, rising at an angle of 43.5°. But, Egyptologists believe that Snofru was not buried in the Red Pyramid but in the Bent Pyramid a kilometer further south.
Our visit into the burial chambers of the Red Pyramid was unexpectedly thrilling. We hiked about a third of the way up to enter the low opening. Like the ascending corridor in Cheops we had to stoop over and bend our knees to walk into this descending corridor that dropped 60 meters into the middle of the pyramid. A distant light was visible at the end. We crouched over and started down the 1:2 gradient slope, slowly stepping from one metal bar attached to the wooden ramp to another. At the bottom we could stand up but it initially looked like there was no where to go. With a
flashlight Rob spotted an opening on the right a short distance straight ahead. Through the door we entered a larger room and it felt like we could stand but it was pitch black so we stayed bent over and headed for the next low door, through which we could see a light. We could easily stand in the cavernous burial chamber whose ceiling reached about 10 meters high, tapering from about a third of the way up both sides with an inverted stepped pattern until it formed an apex. Stairs led up the far wall which was curious but at the top we found another corridor, of a normal height, that led into a third chamber with the same ceiling. A wooden balcony had been erected to allow people to enter from the corridor and look into the largest of the chambers. The bottom looked like regular ground with rocky walls on all sides, unlike the smooth surfaces in the previous chambers. This, undoubtedly, would have been the main burial chamber with the other two serving as decoys. Returning to the first dark chamber we flashed our lights up to reveal another identical ceiling. The hunched over slog back up to the entrance was a good workout and the fresh air smelled good. At least a few people had used this pyramid to relieve themselves. The attendant at the entrance was a nice old man that urged to be careful as we exited the corridor. He let me take a photo looking down inside and we gave him a tip, but he never asked for anything.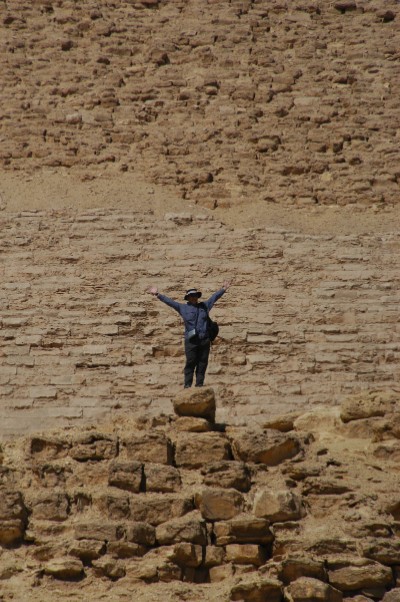 The tourist police around Dashur seemed to be the only one on the make, trying to get us to take a photo on one of their camels. There weren't many of them though and we were mostly left to the peace and quiet of the imposing pyramids and their vast desert surroundings. A small office complex and nearby oil refinery were the only things that marred the landscape and they were at a comfortable distance compared to the metropolitan mass that encroached on Giza. We walked from the Red Pyramid to the Bent Pyramid, taking our time to have a snack and take photos. An occasional tour bus came through but overall there were few people.
It wasn't possible to go inside the Bent Pyramid but its unique shape was dramatic. The bottom three-quarters of the pyramid rose steeply at 54.3º but then tapered off to more gentle slope. Some debate surrounds the pyramid but a popular theory is that Snofru built three pyramids, which defies the one pyramid, one ka (soul) theory and suggests that pyramids were built as resources allowed because they were too time consuming and not all pharoahs would have time to built their own. So, the first pyramid built by Snofru is thought to have been the collapsed pyramid at Maidum, whose failure led to the unique construction of the Bent Pyramid. This was a transitional stage in pyramid construction when they evolved from the early step style at Saqqara to a more sleek style and eventually becoming the austere style of the Red Pyramid and Giza pyramids. The Red Pyramid is thought to have been his third pyramid. The corners of the Bent Pyramid's base are now broken off but much of its original smooth limestone exterior remains, the only such example that shows what all these pyramids looked like before their were robbed for their limestone.
Behind the Bent Pyramid was a small pyramid attributed to Snofru's wife Hetepheres. A small trail led to the top of the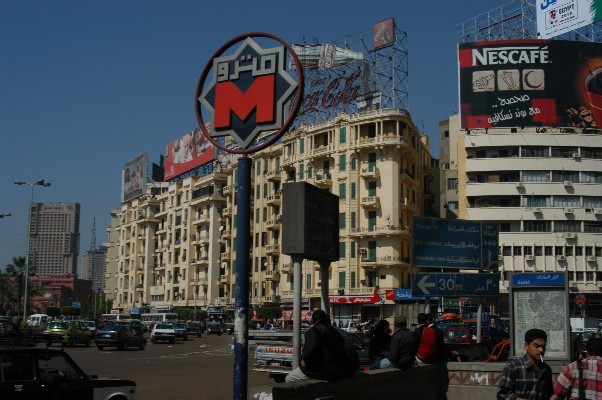 dilapidated structure making it a highlight in our day since we can now say that we've climbed a pyramid!
We had a good walk from the pyramids back to the entrance of the site where the ticket vendor helped us grab a pick up into town. He told us it would cost 25p each but when we arrived the driver wouldn't' accept any money from us. That was first! A boy nearby hit us up for a pen but we didn't have any. Looking in the pocket of my backpack he lit up at the sight of my blue plastic tic-tac container with two remaining mint. It was his. We were directed to walk through the village to the main road where we could get a servicee to Giza. The servicee tried to over charge us intially but quickly backed down when we resisted. We still may have paid a bit more but not much. He took us as far as Badrasheen on the west bank of the Nile. From there we hopped on a bus to the Giza Metro station. Getting off of the bus a nice old man waived at us to follow him as he boldly stepped out into traffic and stopped the cars so we could all cross. We had gotten the hang of playing chicken with our lives every time we crossed a street in Cairo but it was very nice to have someone offer to help us like that. Once on the train we only had about six stops before we were back in Tahrir Square. We exited the station and made for Hardy's, starving from our day of walking.
It turned out to be a perfect way to end our time in Cairo. The extra effort it took to get to and from the pyramids was rewarded by our first real glimpse into normal life in Egypt. There are so many people in the tourism business that devote their time to keeping you isolated from real life so they can more easily extort money out of you. Just making the effort to get off the beaten track had paid off handsomely in recent days. We had actually met people who said "Welcome to Egypt!" and meant it! It allows us to leave the country with a more even experience, knowing there was more here than just crafty tourist scam artists.
After dinner we pretty much just retired to our room to read and write until Rob ran out for KFC. It was another pathetic food day but there just wasn't energy to venture farther.