March 15-16. IRAKLIO (CRETE) These two days in Iraklio get lumped together because they should have been one day. We followed our guidebook too carefully and allowed more time than WE needed to see Iraklio's Archeological Museum and the nearby ruins of Knossos.
Both days started with visits to Iraklios lively little market area where butchers, fish mongers, cheese vendors, and bakeries mingled in amidst a couple of souvenir shops, a jewelers, and other miscellaneous clothing stores. We picked up pastries at a bakery and then settled into a tavern for coffee while we watched the people go by. It wasn't more than a couple of blocks long but it was the life of the city in the early morning.
The Archeological Museum was a worthwhile couple of hours and a good prelude to the Minoan ruins of Knossos. The Minoans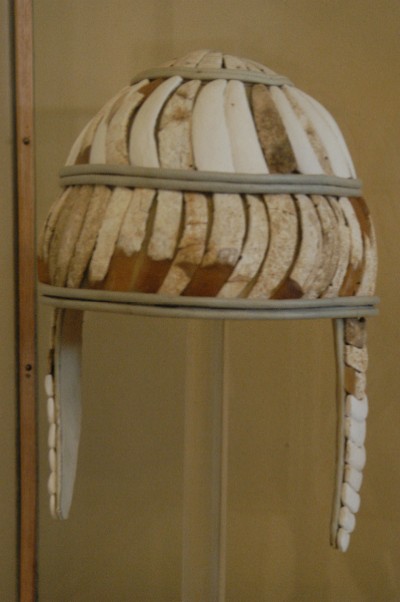 represented the first advanced civilization in Europe, having migrated to Crete in the third millennium BC., and the ruins at Knossos with its celebrated frescos are the greatest remnant the world has of their existence. The museum housed rooms full of Minoan archeological finds including figurines, pottery, sarcophagi, jewelry, and religious objects. The most impressive of the bunch were two Minoan Snake Goddess figurines, the snake was a symbol of immortality in Minoan culture, an exquisite bee pendant made of gold, a crystal vase that had been painstakingly reassembled from over 300 piece, and the rather recently recovered Ring of Minos, a large gold ring with a detailed religious scene carved into it. We ran into the Chicago couple while in the museum and one of the backpackers from the hostel. The Chicago couple had ended up in a hotel closer to the waterfront and had managed a good deal with breakfast! We considered changing but decided we like having our breakfast at the market instead.
The following day we caught a bus out to visit the ruins of Knossos, only about 15 minutes outside of Iraklio. The first palace was built on the grounds in 1900 BC and from the model we saw in the museum it would have been an opulent structure, especially for its time period. Today, however, there is not much left to inspire awe in the non-archeologist traveler. The ruins are very ruined, except for parts that were reconstructed by Knossos's original archeologist, Sir Arthur Evans. He undertook excavation of the palace in 1900 and he invested £250,000 of his own money over 35 years reconstructing parts of the palace. It was done in concrete and by today's standards could have been done more authentically but without his work Knossos would be little more than rubble to the untrained eye. His reconstruction work has been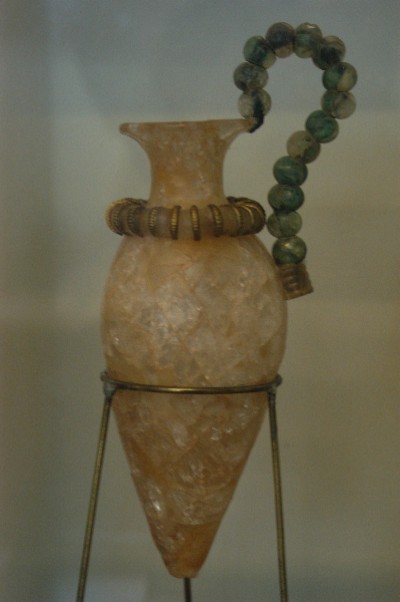 criticized by some in the archeological community as having used too much imagination but nearly 75 years later his work is also an object of preservation. Until 1997 it was possible to explore Sir Arthur's reconstructed palace but the droves of tourists pounding through it over the years has made repairs necessary and it looks unlikely to open again. The parts we were able to visit definitely enhanced our experience of the site, especially the reproductions of the Minoan mosaics, the originals of which are now housed in Iraklio's archeological museum. These reconstructed areas provided us the only glimpse of what Knossos must once have been.
Our guidebook suggested that Knossos could occupy four hours of our time but that turned out to be too generous in our case. We made a thorough sweep of the grounds, reading all of the information plaques along the way, and were only there for an hour and a half. We could have easily managed the ruins and the museum in a single day. Iraklio was a nice enough city but the slow pace of Crete life meant that the city became a ghost town every afternoon. The shops closed up and there was nothing to do. We ended up whiling away the hours in one cafe or another, an surprisingly expensive way to kill our time at 3 euros per coffee! We milked our coffees for all we could and tried to enjoy the atmosphere of the city but it became boring by the second day. The local people were doing the same thing, the cafes packed with people smoking and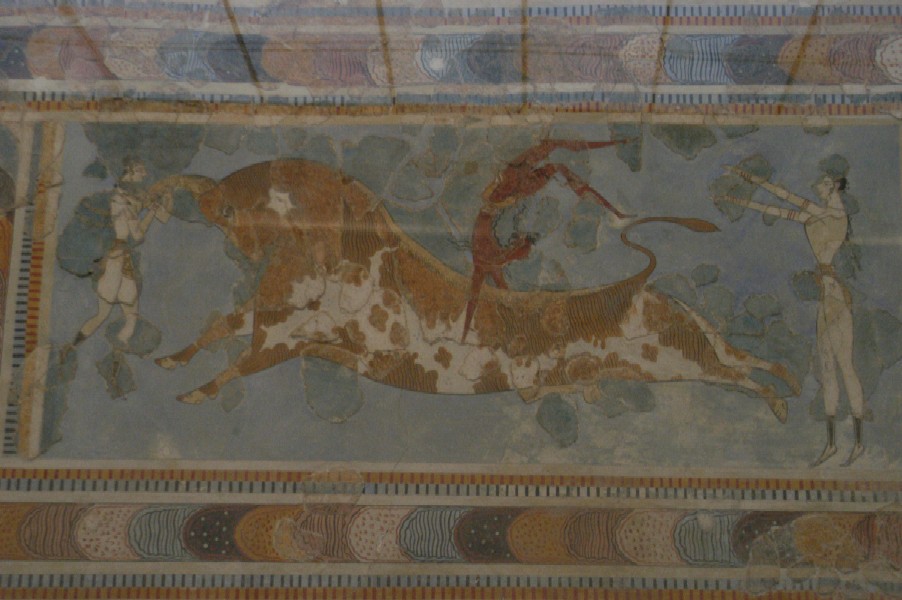 talking away until the sun went down. We turned to Internet cafes as well, arguably a cheaper and more productive time killer but still pretty boring.
We tried to jump into the occasional shops, when one was open, but that was rare in the afternoon. We waited outside an antique/souvenir shop one afternoon that had a sign posted saying they would be back in ten minutes. When the person returned we followed them into the store and started to browse around. The man immediately became impatient. He had apparently returned with another prospective customer and seeing us as an unwanted distraction he said quite bluntly that he mostly had $20,000 Greek religious icons and unless we were interested in one of those he wanted us to leave to he could go downstairs with the other customer. He didn't tell us to come back or apologize or anything, he just basically kicked us out, assuming we weren't worth his time. His store had a wide selection of jewelry and we were quite interested in buying something but were fine with never returning after that incident.
Meals became another challenge in Iraklio. We were going to allow ourselves a real meal out on one night, wanting to experience more of the Greek tavern food. But, when we went in search of somewhere to go we found most of them closed. And they weren't just closed until later that evening, they looked like they had been closed for months. The few that were open didn't make a very appetizing proposition so we walked and walked and walked in hopes of finding something that looked worth the extra expense. We were desperately tired of gyros and would have even settled for a McDonald's but there wasn't one in Iraklio. We were
approaching the pathetic. There was a Pizza Hut but we weren't ready to stoop that low. In a state of starvation we finally stuffed down a gyro but weren't satisfied and just couldn't face another one so we kept searching. After blocks of wandering we strolled back through the desolate market street and found that our morning cafe had been reborn into a tavern. The food looked good so we didn't waste time sitting down.
Our meal consisted of four mezdes, tapas-sized portions, that were all very good but not very filling. They consisted of a small plate of cheese, a bean puree, pork medallions, and dolmas. I tried some ouzo just to see how well it went with the food but it really wasn't to my taste - just too much anise. Still, I can say that I had ouzo in Greece. We ended up talking with a Dutch couple that was sitting behind us. They were on their way back to Holland but were in the process of retiring to a small town on Eastern Crete. It was part of the EU exchange. Citizens from the more prosperous northern countries were retiring in warmer climates while some of the southern Europeans were going north for work. Under the EU it was possible to live in another EU country and still retain all of the benefits of your home country - retirement, health care, etc. This couple was in the throws of experiencing Greek bureaucracy as they got all of the necessary permits to build their new home. It was interesting talking the foreigners who had a more intimate relationship with Greece. We told them that things had been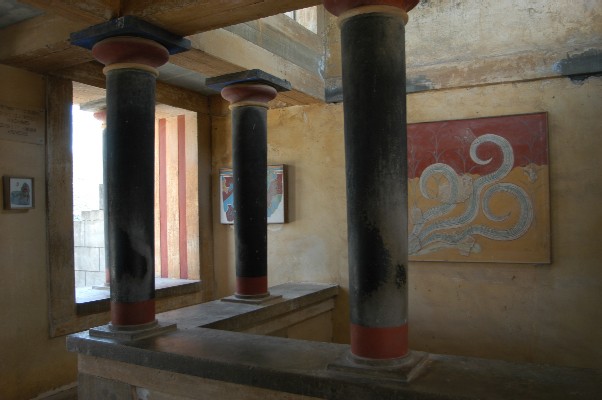 quite slow so far. They suggested that the fall was the best time to be in Greece, when the tourist season is coming to an end and the Greeks are more relaxed. They warned that August was the worst time because the local people were at their maximum tourist tolerance level and not always so hospitable. We seemed to be at the phase where everyone is dreading the tourist season. The village they had chosen to retire in sounded lovely, off the tourist track and still a traditional Greek lifestyle. I knew there was something we were missing in this experience.
GREECE
Athens
Jan 27-Feb 4
EGYPT
Cairo
Feb 4
Feb 5
Feb 6
Feb 7
Aswan
Feb 8
Feb 9
Feb 10
Luxor
Feb 11
Feb 12
Feb 13
Feb 14
Feb 15
Nuweiba
Feb 16-17
JORDAN
Petra
Feb 18
Feb 19
Feb 20
Feb 21
Amman
Feb 22
Feb 23-24
Feb 25
Feb 26
Feb 27
Feb 28
Feb 29-Mar 1
Dead Sea
Mar 2
Mar 3
ISRAEL
Eilat
Mar 4
EGYPT
Cairo
Mar 5
Mar 6
Mar 7
Mar 8
GREECE
Athens
Mar 9
Santorini
Mar 10
Mar 11
Mar 12-13
Crete
Mar 14
Mar 15-16
Mar 17-21
Athens
Mar 22