March 6. CAIRO We'd had a couple of long and tiring travel days in a row so we didn't rush getting out of bed. We ate our breakfast in the TV room, watching the cheesy regional music television channel that displayed random chats on the bottom of the screen. The conversations were not so innocent either. Everything from solicitations for grrrlz from specific countries like Morocco, Kuwait or Eritrea to intimate thank yous for "last night". It was an entertaining window into the less conservative youth in the Middle East.
From the hotel we started walking towards Midan circle so we could catch a cab. A big fellow moved up on us and cut us off at a red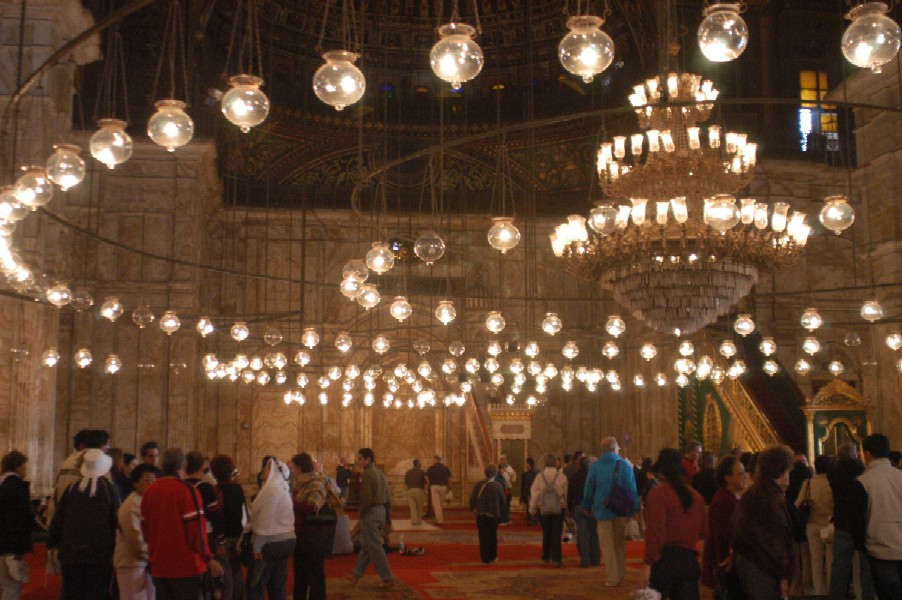 light. I recognized him as the tout who had accosted us on our first day in Cairo. Then he started, "WELCOME TO EYGPT!" like he was bellowing from a stage. We moved away from him but when he quickly followed Rob rounded on him quickly with a stern face and direct words. The man recognized a seriously pissed off tourist when he saw one. It hadn't been his first and from his quick retreat he had probably been slugged a time or two. I know that I felt my fist tighten and couldn't be sure I wouldn't have given him a swing myself!
We stopped at an Internet cafe briefly to check email and get some change for the cab ride into Islamic Cairo. We got out at our usually spot near Khan el-Khalili but turned in the opposite direction of the market and walked south. We initially took a wrong turn in front of the large Al-Azhar mosque and out of his peripheral vision Rob stopped a tout leap off of the scooter he was idly sitting on and "casually" strut before us and look back as though he was just noticing us. Then they always slowed down and it started, "Where are you going?". We had stopped when Rob initially saw him and at that remark we did a 180 and hustled in the other direction. He pleaded that he was not following us but all fit the pattern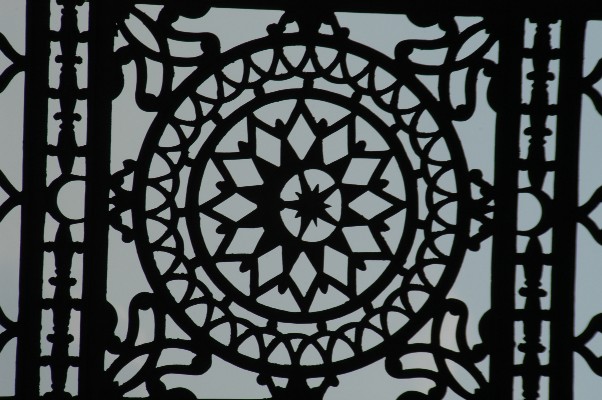 too well.
Once we got pointed in the right direction we found ourselves on a busy little shopping street that was just across from the tourist bazaar but a world apart. It was a genuine market for daily good needed by the local people and during our entire stroll down the narrow street not a single person tried to lure us into their shop. We were stopped by the sight of a hat shop that had the red Dervish hats, like the Shriner's wear, with the tassels. The man in the shop patiently and without any pushing showed us his range of hats and their related prices. It all seemed on the up and up. He wouldn't bargain, saying his shop was the factory and he had the best prices. We started to walk out and then changed our minds and bought a men's hat and women's hat. Continuing through the neighborhood we saw an assortment of little "districts" where similar shops were clustered in an area. We passed metalwork's places, clothing shops, tool stores and the occasional tea house. We were heading towards the Islamic Art Museum but arrived to find it closed for restoration.
Heading further south we continued towards the Citadel. We noticed a set of parked prisoner's vehicles on the side of the road where the handcuffed prisoners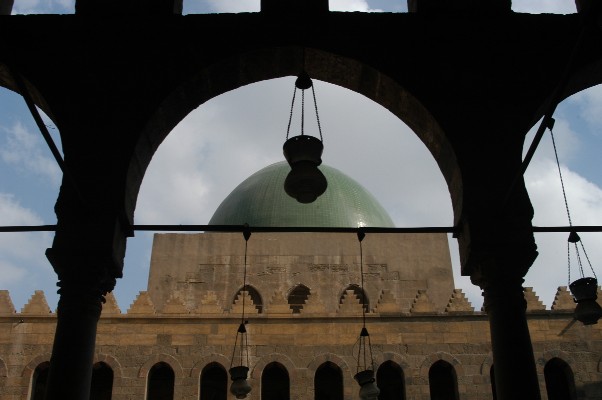 were being unloaded and made to kneel on the ground. We could make out what was going on but didn't linger to find out. Walking in this part of Islamic Cairo we received some genuine exclamations of "Welcome to Cairo!", "Hello!", "Where you from?" It was nice. We had to go around two large mosques before we found ourselves below the Citadel. The entrance was clear around the opposite side and took another 15 minutes to reach. An imposing structure that could been seen from much of the city the Citadel was dominated by the large tiered multi-domes of the Mohammed Ali Mosque, named after Egypt's famous leader from the early 1800's who is credited for ruthlessly modernizing the country.
We took in the expansive views across Cairo from the Citadel and visited the three mosques, the other two much smaller than Mohammed Ali's. We were able to visit the grand mosque interiors, the Mohammed Ali mosque being the most opulent but my favorite was the more understated Mosque of Sultan al-Nasir. Built early, in 1318-35, it had corkscrew minarets and a glossy green tiled dome that towered over a simple courtyard.
We hadn't eaten since breakfast so we wrapped up our visit and headed back to Tahrir Square, where our hotel was, and settled for a greasy chicken meal at KFC. It was around 4:30 when we headed up to our room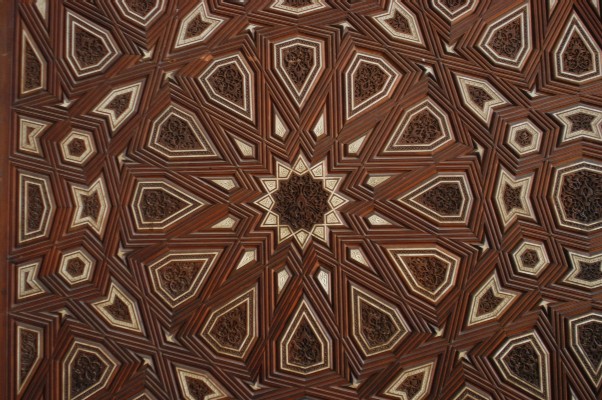 and enjoyed the sunset from our long open windows, watching acrobatic fearless cats delicately step their way around the outside of the balconies on the building across the way. After the prayer cries and the sunset we went back out for a late dinner at Hardy's (a.k.a. Carl's Jr.). It had been a pretty pathetic food day but we were tired of the local fare and easily settled for predictable and clean.