March 10. ATHENS - SANTORINI In the 35 days since we had left our room at the Acropolis House had gone from 32 euros to 40 euros. The place was still nearly empty but that didn't matter. That was a lot more than we wanted to keep paying and it gave us the extra incentive to figure out a way to keep moving. We had already spent too much time in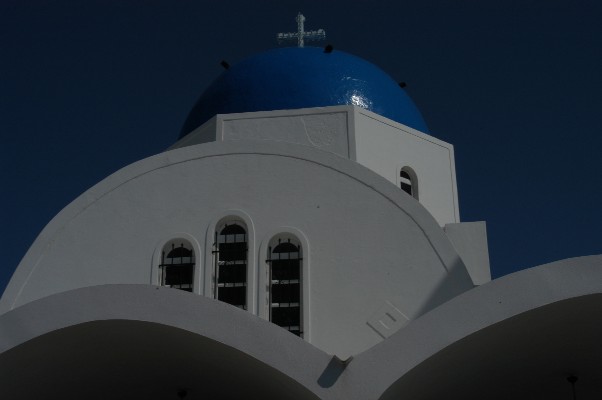 Athens anyway. In the morning we checked our bags downstairs and went in search of the tourist information office. It had relocated away from the city center but we spotted a ferry ticket office that helped us out instead. We were still in the "off-season" by a few weeks which meant that the ferry schedule was still limited. Fortunately most of the islands offered daily service from Piraeus, the port near Athens, it was just getting from island to another that would be difficult.
We had accumulated enough stuff in Egypt and Jordan that we had to mail some things home. That proved to be a more expensive proposition that we had expected. It turned out that there was nothing but airmail service from Greece, which was completely logical considering that Athens was a port city! We were in a conundrum over what to do with the books that we had bought but it came down to ditching the books, lugging them all over Greece and hoping we could mail them more cheaply from Spain, or just coughing up the money. We finally went back and coughed up the money. It was painful but the books were worth too much to ditch and too heavy to keep carrying.
After the post office we ran the rest of our errands to Citibank, the book store, and back to the ferry office. We wanted to buy Morocco and Spain guides so we could plan our next steps and we had to buy our ferry tickets to Santorini now that we were sure we wanted to leave that night. Deck class on an overnight ferry wasn't anything to get excited about but it saved us a night's hotel and a day of traveling.
We hadn't eaten all day so we went to our favorite restaurant, Thanasis, for dinner. Our ferry left at 8:00 so we went straight from dinner to pick up our bags and head to the ferry terminal. Piraeus was at the end of one of the subway lines so we gave ourselves a good amount of time to get there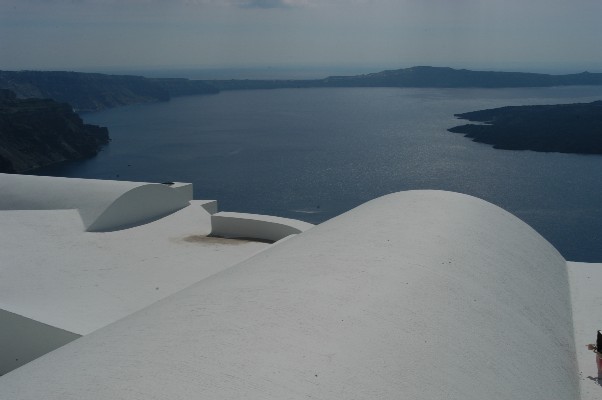 which was lucky because the transfer point turned out to be closed. Athens was in a constant state of construction, getting ready for the Olympics. The main street across Syntagma Square had been dug up while we were in Egypt for a light rail to be installed. Now we found one of the main transfer points was closed in one direction. So, we had to take the train in the opposite direction one station and get on. It actually turned out that three stations in a row were out of commission! With the Olympics just five months away it was going to be a miracle if everything came together on time!
The port at Piraeus serviced all kinds of ferries but ours conveniently departed right across from the subway station. It was a good sized boat, three or four levels high and capable of carrying cars and trucks. We grabbed a snack for dinner before getting on board. It was about an hour before departure but when traveling deck class it is important to stake out your spot early. Deck, in this case, was actually some pretty comfortable airplane-style seating but what looks pretty civilized during the day becomes less comfortable by night. People gradually started to board and initially it was all diplomatic with people staggering themselves so everyone could stretch out. A group of gypsies dominated the front of our non-smoking section the boat, laying out blankets and pillows and pretty much making themselves at home. There was one TV at the front and one in the middle. The gypsies had brought their own remote so they took over the front TV and nobody took seats near them. We were just in front of the middle TV which didn't look like it would be a problem until a group of men took up watching soccer games and it was all over. The TV was loud and there was no intention of turning it off all night long. And, to make things worse, people that had been in the smoking half of the boat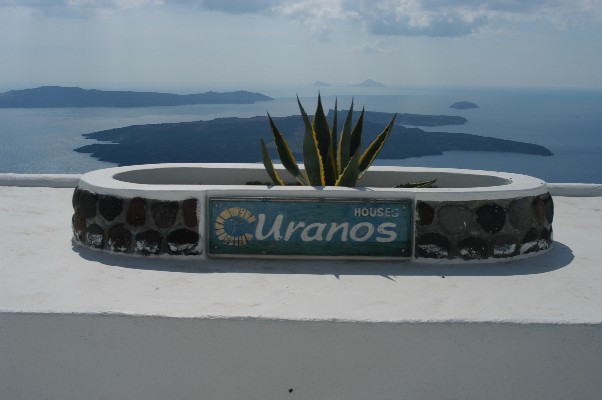 were now crowding into the non-smoking area to sleep. Instead of spreading themselves out they just took the rows in front of the existing passengers so that they had room to stretch out but made it more uncomfortable for the people who had already been there. It was an invasion that resulted in petty territorial warfare. Even with my earplugs I was repeatedly awakened by cheers from the nearby by TV. The space became more cramped and we were both afraid to take our shoes off for fear they might be stolen by the gypsies that were patrolling the cabin and begging for money. I finally accepted defeat and went in search of uninhabited territory. Ironically this turned out to be the smoking area. There was almost nobody in the whole cabin and the TVs were turned off. We grabbed a spot in the middle and managed to eek out a few hours of decent sleep before our boat pulled into Santorini. The smoking area was well ventilated and the air made it colder, which is what probably drove the smokers into the non-smoking area, but with our jackets and extra clothing it was still better than sleeping amongst a crowd of snoring people and blaring TV sets.
GREECE
Athens
Jan 27-Feb 4
EGYPT
Cairo
Feb 4
Feb 5
Feb 6
Feb 7
Aswan
Feb 8
Feb 9
Feb 10
Luxor
Feb 11
Feb 12
Feb 13
Feb 14
Feb 15
Nuweiba
Feb 16-17
JORDAN
Petra
Feb 18
Feb 19
Feb 20
Feb 21
Amman
Feb 22
Feb 23-24
Feb 25
Feb 26
Feb 27
Feb 28
Feb 29-Mar 1
Dead Sea
Mar 2
Mar 3
ISRAEL
Eilat
Mar 4
EGYPT
Cairo
Mar 5
Mar 6
Mar 7
Mar 8
GREECE
Athens
Mar 9
Santorini
Mar 10
Mar 11
Mar 12-13
Crete
Mar 14
Mar 15-16
Mar 17-21
Athens
Mar 22