March 12. SANTORINI (CYCLADES ISLANDS) We didn't wake up until 9:00, after a full twelve hours of sleep. We might have even slept longer if we hadn't become hungry. The hotel served us a nice hot breakfast of eggs, bacon, and toast with coffee and orange juice. The staff at the hotel were great - friendly, helpful and happy. There were a few other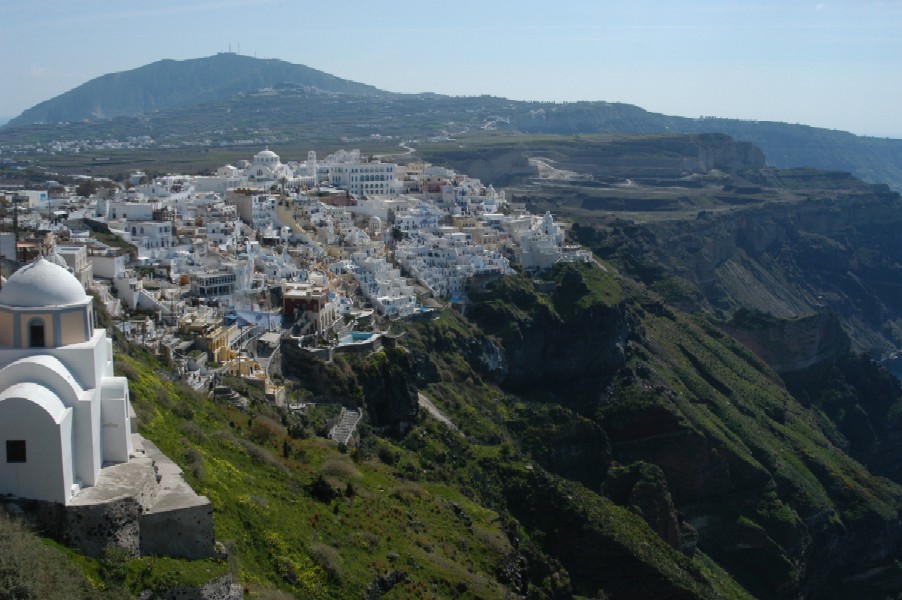 people staying at the hotel. We met two couples of American college students on spring break from their study abroad program in Athens and a woman from LA who was scouting locations for an up and coming movie called "Sisterhood of the Traveling Pants". How do you get a job like that?
After breakfast we went into town to pick up some more groceries. The clerks at the store had been really helpful in telling us what was good in terms of wine, cheese, salami and chocolate. We had cheese from Crete, Santorini wine, and salami and chocolate from Greece. They were all good. The little downtown area of Fira never seemed to really liven up that much. Most of the shops were closed for off season or operated on a very random schedule. There was much construction going on as people repainted and spruced up their places for the dawning tourist season. We could hear a cement mixer humming along from as far away as our hotel. The caldera kept all of the sounds bouncing around. Even our hotel was doing the occasional hammering and painting in the room next to ours.
The rest of the day I spent at the hotel working on the journal. It was an ideal spot. I could look out and see the stunning caldera while I typed away, taking periodic breaks to go out on the patio and enjoy the fresh air. Rob did more exploring around Fira but came back in early afternoon so we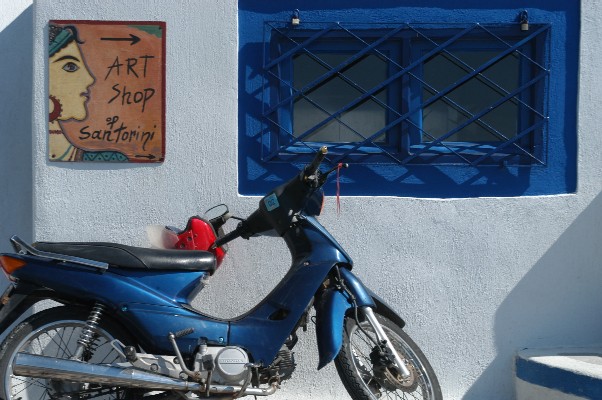 could each lunch together on the patio. We spread out our cheese, salami, olives, bread and wine on our little table and played with the stray cats that came by looking for nibbles. If only this were a sustainable way of life!
I worked on the journal for the rest of the afternoon until Rob brought back some more gyros for dinner and we watched the sunset. Santorini gyros were much more hearty than their Athenian counterparts. This man really lathered them up with tzatziki and padded them with frech fries and meat. Rob also found some excellent chocolate cake made by a little local bakery for desert. And, if that wasn't decadent enough we ended the day with a Jacuzzi bath.
March 13. SANTORINI (CYCLADES ISLANDS) Our third day in Santorini was more or less a repeat of the second. We had no complaints about that though. We did try to get out and use the Internet but found the Internet place giving lessons all day. The weather had gotten really chilly so we spent more time enjoying our wonderful view from inside, with the heat on!