March 9.CAIRO - ATHENS On our last day in Cairo we were feeling plenty ready to leave Egypt but not glad to be leaving Cairo. Out of all the places we visited in Egypt it had become our favorite place. It wasn't a beautiful city but had some attractive parts and was a fantastic composition of people, traditions and modern life.
The hotel let us leave our bags in our room until we had to catch a cab to the airport at 1:30. We had a few last minute errands to run and our first stop was at the post office. The hotel directed us to the white building across the circle of which there were two so we chose the most official looking one and used the subway tunnel to cross the circle. The subway tunnels were a feature we only discovered after we'd ridden the subway for the first time a couple of days earlier. We had made numerous death defying dodge, weave and pray crossings around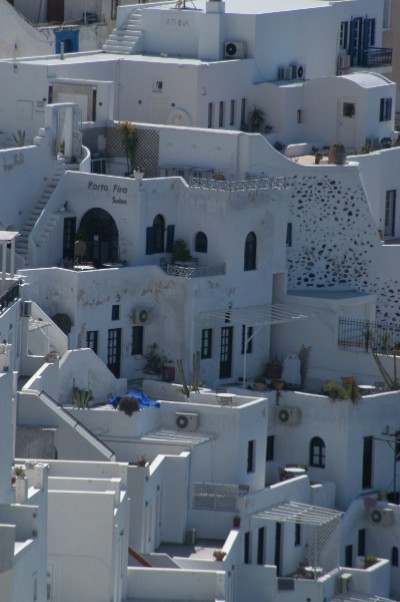 Tahrir Square and had gotten reasonably good at it. The trick was not to move too fast, in spite of what your instincts are telling you, as a car comes flying straight at you. If you move slow the drivers have time to respond and always seem to find a way to swerve or break to avoid killing you. But, we would have most certainly opted for a subway underpass if we'd known it as there!
When we reached our white building we found out that it wasn't the post office and someone directed us to another place on the exact opposite side of the square. We were headed that way when a man overheard us talking and said the post office was in the large building a couple of streets over, more of a gray thing than white. He said he didn't want anything from us and would just help us get to the post office but as we were crossing the street he started asking what we had bought during our trip and just in case we needed something else he knew a little shop not far from the post office. We quickly thanked him and headed to the post office. It was a more clever attempt than most and he did actually help us so it was hard to object too much.
The post office would not allow me in with my camera and I wasn't about to check it so I waited while Rob went to mail our postcards. The square in front of the post office was pretty busy and I didn't want any hassles so I chose to sit in a place off to the side. But, sure enough, a guy started lurking around me. He first sat to my left, about 10 feet away, so I just looked casually the other way. Then he stood up and walked around in front of me and looked around, as though was looking to see if I was with anybody. I thought I heard a few words in English but I pretended not to notice. Then he sat to my right, only about five feet away this time, and I heard the words "From here?" but pretended to ignore him. At that moment Rob came back and shoed the man away. I was so glad not be traveling in Egypt by myself.
From the post office we walked up Talat Haarb street. We stopped in a couple of banks so Rob could find some crisp bills and were luck to find a small bank with brand new bills and helpful staff. We took about an hour to catch up on email before continuing down Talat Haard to find some lunch. A bakery and ice cream shop caught our attention so we stood on the sidewalk and people watched while we at
our chocolate and pistachio ice creams. As we reached the end of Talat Haarb we recalled passing a busy kebab cafe a couple of days earlier and headed there for lunch. It was just as busy as before and we had to push our way forward to order a couple of kebab sandwiches. They actually weren't that great and it looked like most people were eating something else wrapped in a pita. It always pays to ask because the local people always know best. I tried to take a photo of the place as I left and got hand waiving from a table in the back. We were running out of time so we caught the subway just one station back to Tahrir Square to collect our bags. Getting a cab wasn't as much of a hassle as we thought and we were on our way to the airport in no time.
Traffic in parts of the city was a complete gridlock so we felt lucky that our ride to the airport was quick, if a bit reckless. We located our check-in area just inside the entrance. A security check was required before we could reach the counters and we had to argue with the security guards to let us through. They were convinced that our tickets said "Tunis" instead of "Athens". Once we got through security there were no lines at the check in counter so whipped through the check-in and immigration and found ourselves in a fairly new waiting area with a couple of cafes and free Internet access! It was an uneventful wait over a couple of coffees and meandering around the souvenir shops before the security check for our gate finally opened. None of the planes came up to the gates at the Cairo airport so we waited to load buses that took us out to the airplane. Since we didn't stop at Alexandria on our way back it was a quick trip to Athens and we found ourselves on that familiar airport bus into Syntagma before we knew it. The whole day had gone amazingly well and our hotel even put us back in the same room we had left 35 days before. Athens wasn't our favorite city but there was something nice about the familiarity and knowing we were free of the tourist hassles that plagued Egypt.