March 5. EILAT - CAIRO We had breakfast at our hotel at 8:00 and were headed for the Taba border by 8:30. The border check leaving Israel was easy and entering Egypt went smoothly as well, as soon as the immigration official understood where Athens was located (the embassy that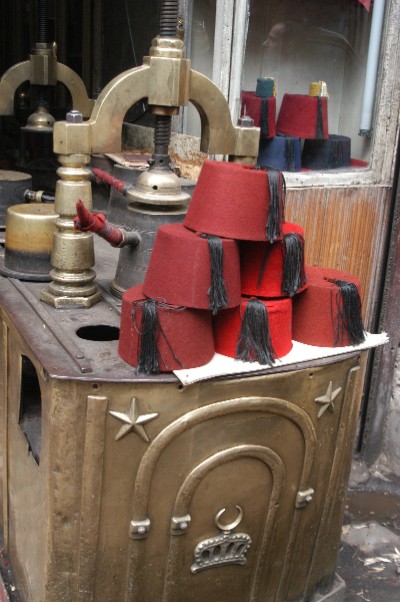 issued our visa) and that our visa had two entries on it. It was Friday morning and many Israelis were headed to Taba for the weekend, a popular gambling destination. As we left the gates of the border check area the servicees were queued up and ready for action. We passed by them and headed to the bus station, hoping the 10:00 bus for St. Catherine's Monastery was still a reality. It wasn't. We searched around for another bus or servicee that was going that direction but the only offer we had was from a servicee for $75. It should have cost less than $20. We waived him off and felt our frustration rising rapidly. We had only been back in Egypt for 30 minutes and it was already driving us nuts. At nearly the same moment we both had second thoughts about the monastery and just started looking for a bus to Cairo. Back at the bus station we found one leaving at 10:30. We were on it with a bag of snacks. The seats on the bus was much more generous with space than Jordan and smoking wasn't allowed so Egypt had that much going for it. They estimated it would take us five hours to get to Cairo but past experience told us they could be several hours off. But, much to our surprise the bus arrived on schedule. It nearly sprouted wings to do it but we were in Cairo just over five hours later. It was a pretty drive for the first part of the way as well. The Sinai desert rose to a nigh plateau and the stratified pink rock looked like blobs of clay that had been casually dropped about the landscape. That scenery eventually gave way to a more mundane flat white desert as we approached the Suez Canal.
When we arrived in Cairo we were both glad that we hadn't persevered to get to St. Catherine's. There was something comforting about the familiarity. The bus stopped
at a station away from the center so we had to catch a cab. We stupidly negotiated with a tout at the station, thinking he was a taxi driver since that was how he presented it. Another aggressive man tried to secure our business as well but lost interest when he heard us say we were going to the Ismailia House. He said that it wasn't a hotel to which we responded with a condescending look that said, "Do you think we are stupid?" When we got to the street the tout beckoned for a taxi to come over. We had negotiated a rate that we were told was reasonable by one of the men on our bus but it turned into a fiasco. The taxi pulled up and the driver got out and started eating off to the side. Some totally different man came up to us and started to demand to know where we were going. We had no idea who he was or where he'd come from but the tout seemed to know him. After we didn't move for a few minutes we started to threaten to leave which motivated them into action. As we started to pull away the tout said we could go to the center to some hotel. We both yelled "NO HOTEL!" and I put one leg out the door. He acquiesced and the taxi left. Basically they were all peeved that they couldn't railroad us to some hotel where they would get a kickback. Only one other tourist had gotten off the bus and they were desperate the extort us if at all possible. Welcome back to Egypt, I thought. The taxi driver started to get all chummy and chatty with us, for which we had little patience. Rob cut him off and said he didn't feel like talking. This infuriated the man and he was a total jerk for the whole ride. He had stood there and watched the harassment that we endured and knew perfectly well what had been going on but it was HE that was offended that we were pissed off about it. The absence of rationale was bewildering. He nearly forced us out of his card and the feeling was mutual.
Fortunately, after our miserable Cairo welcome party, we were able to find a room at Ismailia House. Having to look further for a hotel room was more than we wanted to do. We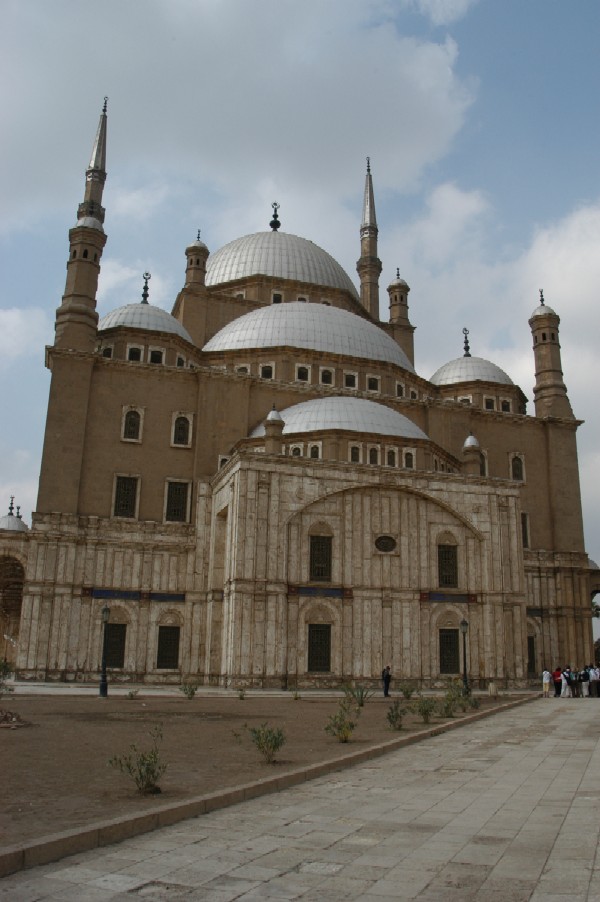 plunked down our bags, locked them up, and went to Islamic Cairo for dinner at El Dahan and tea at El Fishawy's. It was a busy night and the cafe was jam packed with people. The couple to our right was a Syrian man with a Russian girlfriend. The vendors and beggars were out in force that night and the couple laughed at how they all seemed to gravitate to Rob and me. We were joined on the other side by a group of young Egyptians. Only one spoke much English and his a nice young law student. He and Rob spoke for a while. We tried a sheeha, finally. It seemed like something to do before we left but after a couple of teas and one sheesha we were done for the night. We made a short walk around the hectic market area to get change for the cab and headed to the hotel.