February 12. LUXOR "Visit to the West Bank" The prayer call woke us early as usual. The evening prayers calls echoing across the city seemed atmospheric but the dawn wake up call was beginning to get annoying. We went back to sleep and got up late, relishing a little more sleep after two really early days. It was just our first day in Luxor so we didn't feel in any hurry. Breakfast at our hotel was okay, pretty standard set up of bread, butter and jam with coffee. I was downstairs before Rob and found myself sitting opposite a foreign woman and Egyptian man. She was older and was struggling to speak to him in English. The accent made me think she was southern European. He was a slick young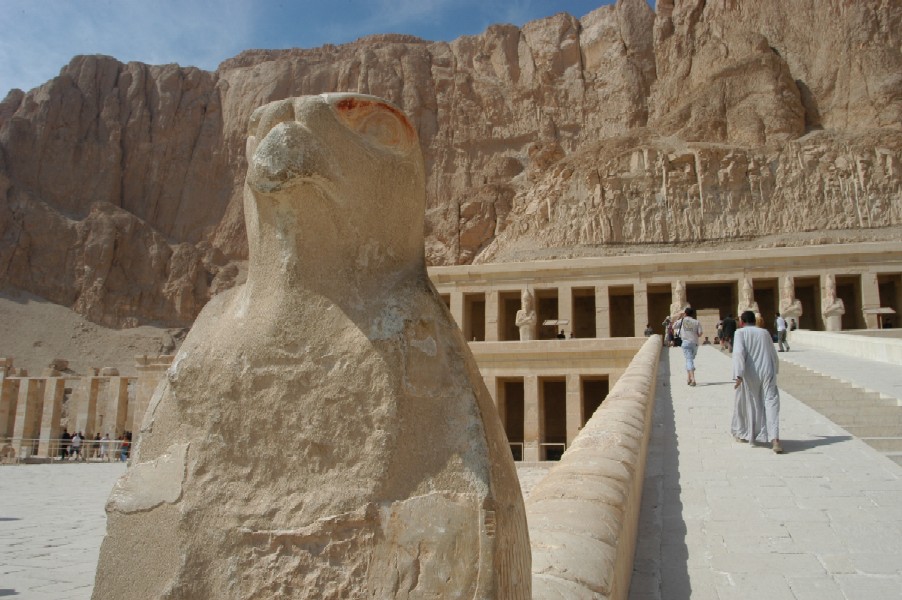 fellow with his shirt unbuttoned too low and a gold chain hanging out. One hotel in our guidebook was quite notorious for the gigolo scene but I was caught off guard to find this couple at our backpacker hostel. Of course, I could have sized the situation up incorrectly - but I don't think so. I just tried to keep my eyes averted as she fawned all over him, wishing Rob would hurry up and join me for breakfast to break the awkwardness. They left just as he arrived.
We walked from our hotel to the corniche (waterfront) to find the ferry across the Nile. Of course someone latched on to us as we approached the docks and "volunteered" to help us find the ferry. We tried to dissuade him but he wouldn't shake off. The ferry he presented was just a motorized boat, not the public ferry that he knew were were looking for. We continued down the corniche ("Felucca, five pounds?" "Where you going?" "You want ferry." "How can I help you?") Another person latched onto us as we approached the ferry dock, again "helping" us find the ferry that was obviously right in front of us. The motives weren't always clear initially but it always turned out that they wanted something. They had bikes to rent or just happened to be a taxi driver returning to the west bank and couldn't he take us to the Valley of the Kings for double the going rate?
The ferry we rode on was a clunker of a boat but provided us a smooth ride across the Nile.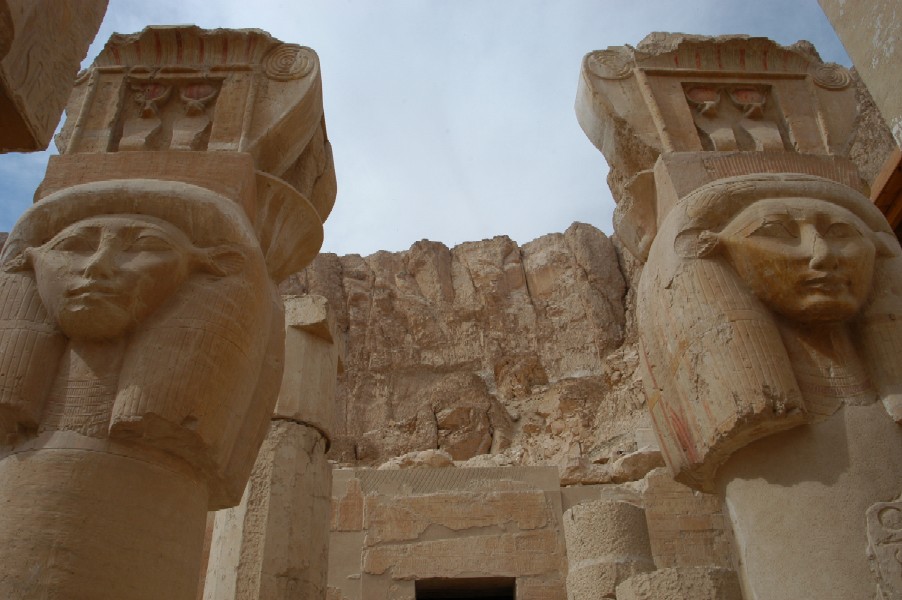 The official rate for foreigners was published as double the local rate but the ticket vendors kept that sign turned upside down hoping you wouldn't question the cost and they could get away with not giving you the correct change. After filtering through throngs of annoying taxi drivers we tried to catch a service taxi (shared taxi) to the ticket office but none would give us a fair price. We could never get the local rate but they wanted to charge us 20 times the local rate. We started to walk in the direction of the ticket office and one finally picked us up for just 8 times the going rate.
As luck would have it the central ticket office no longer sold tickets to the sites we wanted to see that day so our stop had been a waste. Taxis stopped to pick us up but all wanted ridiculous rates. We just waived one guy off and he drove off yelling at us. Their attitude seemed to be that not letting them rip us off was like taking away money that they were rightfully entitled to have. We can accept a bit of friendly negotiating but if the person starts at more than double what you expect to pay it is time to move on. Their pride rarely allows them to discount that much beyond their original offer, even if it is actually a fair price.
We eventually caught a second service taxi to take us to Deir El-Bahri, the Temple of Hatshepsut. Naturally our guidebook suggested that the afternoon was good time to come so as to avoid the crowds but apparently the tour operators read the same guidebook and we arrived to a grand central station buses. Still, we had no time constraints and just waited out the waves of tour groups and grabbed some moments of solitude with the temple. Having recently undergone some major restoration the temple is an imposing structure set back against a rocky cliff, protruding out into the wadi (valley) in two massive tiers connected via long gradually sloping ramps. A colonnade on the bottom tier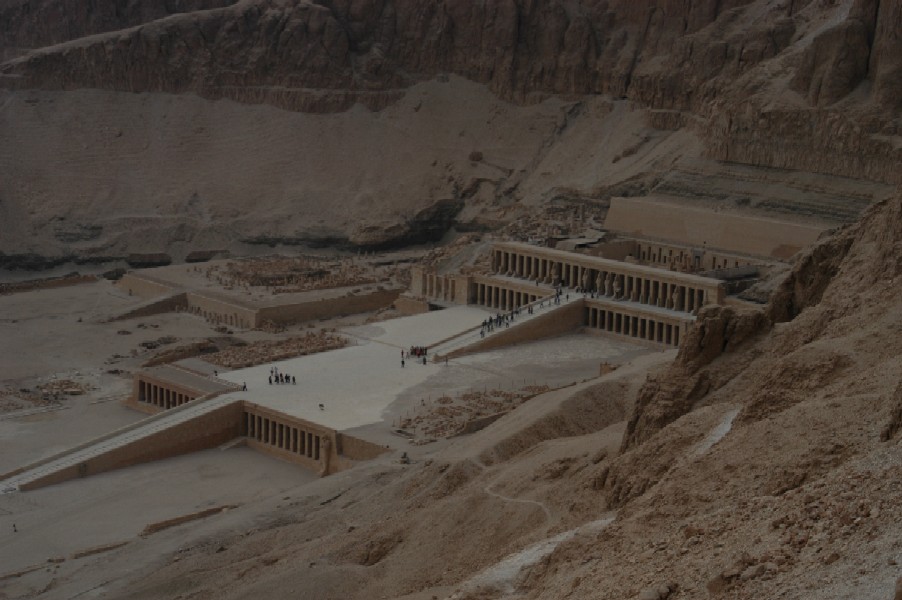 supported a second colonnade on the top which housed a courtyard. A large set of ruins to the south revealed that the temple complex was once much larger. Hatshepsut was the only woman to achieve the status of pharaoh, after her husband Thutmoses II died and she refused to marry his son Thutmoses III. Angry at being made to wait 20 years to assume his pharaonic title Thutmoses III destroyed all of her images in the temple.
The tour groups eventually died off and feeling like we had seen Deir El-Bahri to our satisfaction we hiked up behind the temple via a donkey trail and made our way across to the Valley of the Kings. It was a warm day but there was a breeze and be brought plenty of water. The views from the hills and our undisturbed arrival into the Valley of the Kings were more than worth the effort. It was the longest period of peace, outside our hotel room, that we had experienced in Egypt. The Valley of the Kings was not so much to look at from above, although the narrow wadi that housed the tombs of Egypt's ancient royalty was an ideal setting. From the hilltop all that could be seen of the tombs themselves were bunker-like openings from which pools of people were coming and going. We descended the slopes right into the interior of the site. I watched our backpacks while Rob went back out to the ticket office. Each ticket allowed us to see three tombs, with an additional ticket for King Tut's little burrow. It was late afternoon so we opted for just three tombs.
We started with the tomb of Ramses III (reigned in the 20th dynasty, 1188 - 1186 BC), open since antiquity. It was empty when we entered but tour groups joined us soon enough but generally came and went quickly so if we just stayed put for a minute we could continue a peaceful exploration of the tomb. The tomb reached 125 meters long but the last third was inaccessible and appeared not to have much in the way of decoration. But, the first two thirds had some beautifully preserved colored carvings of offerings to gods, stories of the afterlife, and hieroglyphics.
The second tomb we visited was Ramses VI (reigned in the 20th dynasty, 1144 - 1136 BC). It was also open since antiquity and showed graffiti scars from its disrespectful early visitors. The tomb descended gradually past similar stories to those we had seen in Ramses III but ended in an enormous burial chamber with impressive painted carvings on all sides.
Our final tomb was the tomb of Merneptah (reigned in the 19th dynasty, 1213 - 1204 BC). While this tomb had also been open since antiquity its walls still maintained their vivid color and the steep descent into the 115 meter long tunnel was thrilling. As we entered we met a scantily glad young Russian tourist in a spaghetti strapped top that showed
cleavage and butt length red shorts. Our eyes popped and then rolled. What where these people thinking?! Further down the stairs we were met by a pillared hall with brightly colored images and traces of Greek and Roman graffiti. The artwork fizzled out as we entered a small chamber where an impressively large external sarcophagus in rose colored granite lay. A tomb ended in what was probably was once a painted burial chamber. It was the largest burial chamber we had seen so far, with a huge granite sarcophagus was positioned in the center.
We'd battled a few tour groups during our exploration of the tombs but overall it hadn't been too bad. The sun was going down so, just in time, we asked the guards for approval to hike back up and over the hills. The first one refused but when he asked his superior we were given the go ahead. It was a perfect time of day to make the hike and we didn't pass another soul the entire time. Instead of returning to Deir El-Bahri we took another trail towards Deir El-Medina, the remains and tombs of the old workers' village, where the artisans who carved these amazing tombs once lived. The trail ended at the village entrance and we ran to catch up to a lone service taxi that was sitting along side the road. But, of course, they wanted to over charge us too much so we just decided to enjoy the warm afternoon and kept walking. A man in a nearby village tried to wave us over for some tea, which was a nice gesture, but we were suspect of such hospitality so close to one of Egypt's most major tourist attractions so we just pointed to our watches and indicated we had to go. It was probably wise because a couple of small children came chasing after us to beg for money.
Instead of being tired from all of our sightseeing and hiking we found ourselves invigorated from not having dealt with so many hassles during the day. We walked back past the central ticket office and part way down the highway to the Nile until we reached the Colossi of Memnon, two 20 meter high statues; all that remains of what was once the largest mortuary temple on the west bank. Beside the Colossi we found another service taxi waiting for some passengers. He gave us a fair price but indicated we would have to wait for the other people to join us. We probably sat there for about 10 minutes. The service taxis in Luxor were more like covered pick up trucks with a door cut out of the back and bench seats on either side. From the back door we saw a small boy, maybe three or four years old, peeking in at us. He had a long stalk of sugar cane and was sucking on a piece of it. He gestured to give us some but we politely declined. When the other passengers joined us they looked surprised to find two tourists in the truck but gave us welcoming smiles and the truck started off towards the ferry dock.
The ticket vendor at the ferry tried to give us the wrong change but Rob caught him. The ferry only cost one pound each for foreigners, double the local rate, and he had only given us five pounds change for a ten pound bill. When Rob complained he gave us six and stopped again. Rob said "seven" and he tossed another bill and looked away until Rob said "eight". He gave us a dirty glance like we had just robbed him but we just walked away shaking our heads.
We sat on the top of the ferry and met a nice Scottish man named John. He was taking an extended holiday in Luxor and had just taken up residence on the west bank. He'd lived in Cairo for a time some 20 years earlier so with his Arabic he was able to persuade the ticket vendor for the ferry to give him the local rate. He handled all of the hassle with a great deal of patience but admitted that while he had come to Luxor in retirement to indulge in some painting he was finding it very hard to paint anything with people approaching him constantly. He'd accepted an invitation to tea that resulted in a story about how the village school was in need of repair and couldn't he help them.
The sun we setting when we arrived back on the east bank and the sky was a swirl of bright pink. We parted ways with John and headed towards our restaurant but were sidetracked by a bookshop. Impressed by all of the amazing artwork in the tombs we were determined to educated ourselves better and return to the Valley of the Kings again before we left. We found a couple of good books on the tombs and Egyptian symbolism that we looked over during dinner at Amoun. We hadn't eaten since breakfast and were totally famished. After a leisurely dinner we found that we had no energy to walk back to the hotel and asked the waiter to flag us down the correct service taxi (a mini van on the east bank) to take us to our neighborhood. It was an entertaining way to end our day as we boogied through the streets with Arabic music blaring from the van and the back door slid clear open for people to easily hop in and out on demand.