March 3. DEAD SEA Our perfect night's of sleep in a plush bed with a down comforter was disrupted by banging that was coming from somewhere near our room. When I called to complain they said it was coming from the construction on the beach. It sounded like hammering that was coming from the room a few doors down where we had seen painted covered men coming and going the day before. They finally said they would send someone to our floor to check it out but we never heard back. The banging continued so Rob called to complain. It was construction on the beach they told us but Rob said it was banging on our floor, not the beach. They said they would investigate but they never called back.
The buffet breakfast was a fantastic assortment of omelets, waffles, ham, fruit, breads, and much more. We took our time eating. I walked over and made a spa reservation for the afternoon before we went to get our bathing suits on. When we came out of room after changing for the pool there was actually construction going on in our hallway. A team of guys were breaking off the tiles in front of every door. As we left I asked a guy at the front desk when this was going to stop. He took our room number and said he would leave a message.
We went directly down to check out the beach but found construction workers in every area so we just turned around and went back to the pool. Even the water in the larger pools was heated so it was a great place to swim and there was a long water slide for a bit of fun. When I went back to the room to get something I found the construction still under way and no message so I went back to the front desk and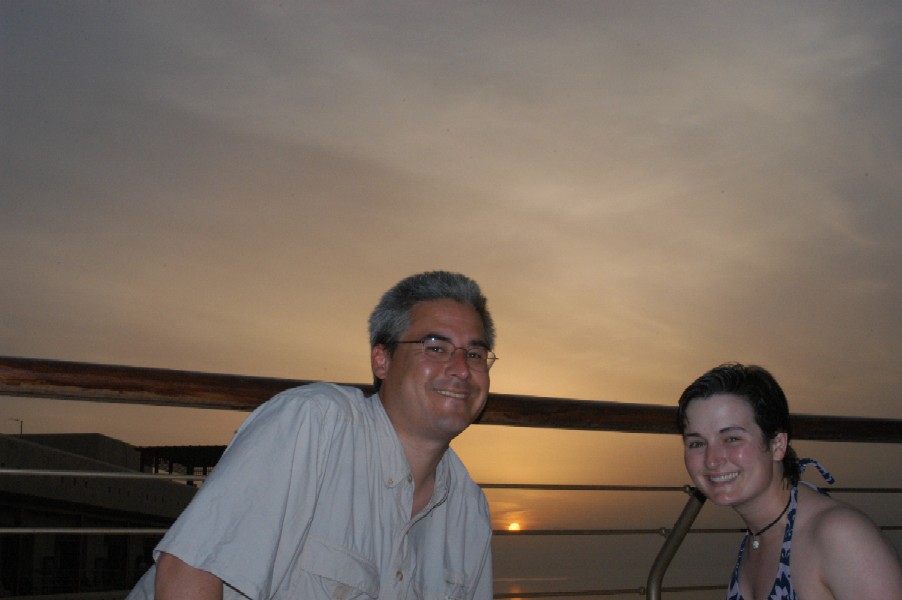 talked to a woman this time. She called someone and confirmed that the construction would be going until 5:00. She had checked us in and I reminded her that we had asked for a quiet room so she offered to move us. That was a hassle since our stuff we all spread out everywhere but after talking to Rob we took her up on it. The first room was an upgrade that opened up onto the pool. It was basically the same room but a better location. But, the door to the pool didn't lock so we went back and asked for another. This time she upgraded us to a studio on the top floor. It was a larger room with a better view and bigger balcony. We would have settled for the same room we'd had but just in a quiet location but this was fantastic! Satisfied that we wouldn't have any more construction we went back to lay by the pool.
My spa treatment started at 4:00 but I went in at 3:00 to relax in the hammam and sauna beforehand. They treated me to a tea while I waited for my therapist, a young Romanian woman. I'd ordered a Dead Salt rub and mud wrap, both pretty messy business. She started by brushing me off with a natural loofah and then rubbing me down we an oily salt scrub. The mineral content in the Dead Sea is unique and contains more minerals than normal sea or ocean water. This is supposed to be what gives the salt its special curative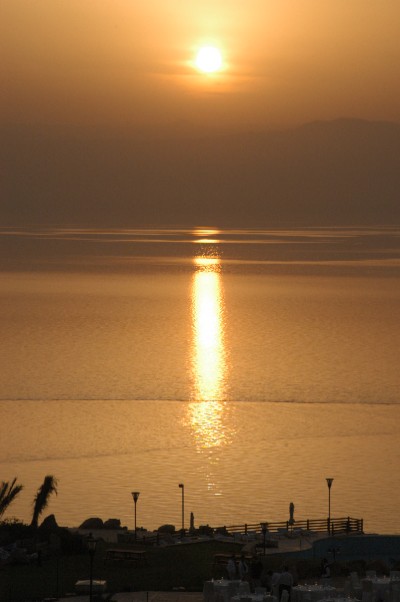 abilities. After rinsing the salt off I was covered in Dead Sea mud. It gave me a slight tingling sensation. She wrapped plastic over the mud and gave me a head massage for about 15 minutes before unwrapping me and letting me wash off the mud. It had a peculiar smell but I couldn't deny that my skin felt like butter when it was all finished. They ended my treatment with another tea while I relaxed on a lounge chair in a room that overlooked the Dead Sea. The sun was starting to set and the sky was spectacular. After my tea I rushed to meet up with Rob so we could watch the rest of the sunset from our plush new room. It was beautiful. The salty air softened the bright orange sky.
With such a nice room we didn't even feel the need to go out for dinner and order up a great meal from room service.