March 14. SANTORINI - IRAKLIO (CRETE) Our hotel was nice enough to let us stay an extra hour after check out so we were able to enjoy our precious view a little longer. It was cold so we stayed inside but still enjoyed our view. When it came time to catch our bus we hauled our bags up the hill into town and over to the bus station. We found an American couple from Chicago waiting as well. Everyone was vague on exactly when the bus was supposed to leave so we figured it was better to be on the safe side. We were soon joined by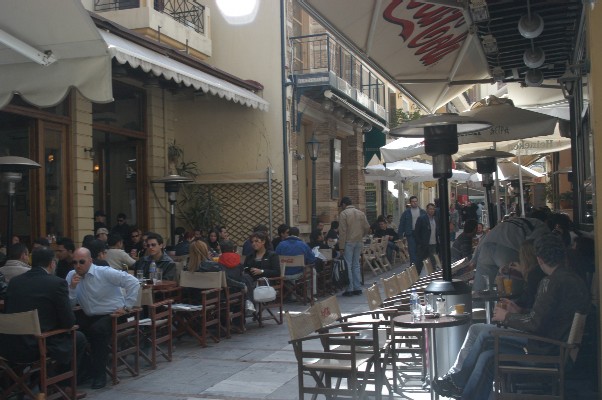 a young French Canadian guy who was on military leave from Afghanistan. He had already met the Chicago couple during his stay so they all recognized each other.
The bus left more or less around the time we had expected and we arrived at the ferry dock in plenty of time to catch our ride. There were two ferries already occupying both docks, one was the same one that we had ridden out on which meant that it wasn't departing until evening. The other wasn't our boat either and it was scheduled to depart at 3:30. Our ferry was supposed to depart at 3:00. One of the guards informed us that our ferry would leave after the 3:30 ferry. That made perfect sense. We settled into a cafe and chatted with the Canadian fellow. His trip to Greece hadn't exactly met his expectations. As a young single guy he was hoping for more of the drunken revelry that comes from the summer tourist crowds. The quietness of Santorini would be rather dull if you were looking to socialize. And, he was deserving of some fun after serving the past couple of months in Afghanistan. That certainly was no party. He was still holding out hope for Crete.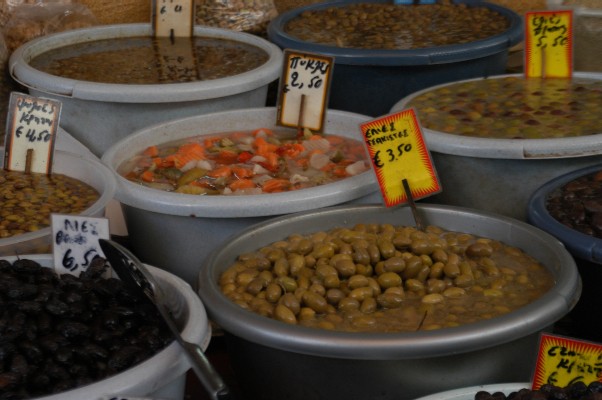 Our ferry didn't leave until 4:00, not that it mattered. It was larger than the ferry we had taken from Athens to Santorini but the "deck" seating was a just a lounge with tables and chairs. The slow lull of the ferry still managed to put me to sleep, my head bobbing over the arm of the chair. By the time we pulled in Crete it was dark outside. The Chicago couple and Canadian had gone their own way on the ferry but all bumped into each other again and walked into Iraklio together. The ferry dock was just outside of town so it wasn't very far to go. Iraklio was much more of a city than we had expected after our peaceful retreat on Santorini. We knew it was Greece's fifth largest city and the capital of Crete but we were still clinging to that idyllic island image. It actually was small by city standards but not an island paradise. We followed along the waterfront until we reached a main street that cut up into the middle of the city.
We went our own way from the Chicago couple and the Canadian, determined to find the best deal we could for a place to stay. We passed the dingy hostel but kept going, it would be a last resort. One by one we checked on every budget option in our guidebook and kept our eyes open for any others but none of them were open. Some of the nicer hotels were offering hefty discounts but they still ended up being much more than we wanted to spend.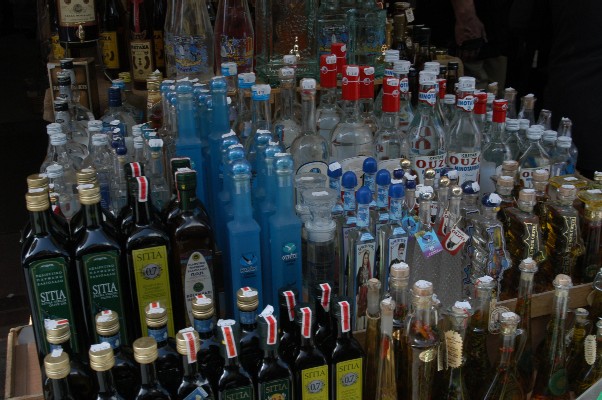 Again, traveling in the off season was going against us. The only advantage we could see to traveling in the off season was if you wanted a more luxurious trip for less money. Budget travelers were actually worse off. After the splurge in Santorini we didn't have any more room for abusing our budget and finally went to investigate the youth hostel. They offered to give us our "own" room for 22 euro and would throw in the sheets at no extra charge. The shared facilities were down the hall. It was just a grimy dorm room with sheetless bunk beds crammed together and dirty shared bathrooms. The room next door was full of a group of individual backpackers which now included the French Canadian guy. He gave us a waive as we pass by and we asked where the Chicago couple had gone but he just shrugged and pointed up the street. If we had to stay in the hostel we would but we were suddenly motivated to look further for another option.
As we stood on the sidewalk scouring our guidebook for more clues the group of backpackers came out of the hostel to find dinner. They stopped and we chatted for bit. None were impressed with this dump of a hostel but as single travelers they were even more limited in their options than us. They were all planning to blow through Iraklio as quickly as possible. After they headed out to the main road we returned to our guidebook. There was just one more budget option listed, the Hotel Lena. If we ended up in that hostel it wouldn't be for lack of effort in looking for something else. The Hotel Lena was a couple of blocks away from the hostel and to our joyous surprise it was open! For staying three nights they discounted the room from 35 euros to 30. For the extra eight euros we had a newly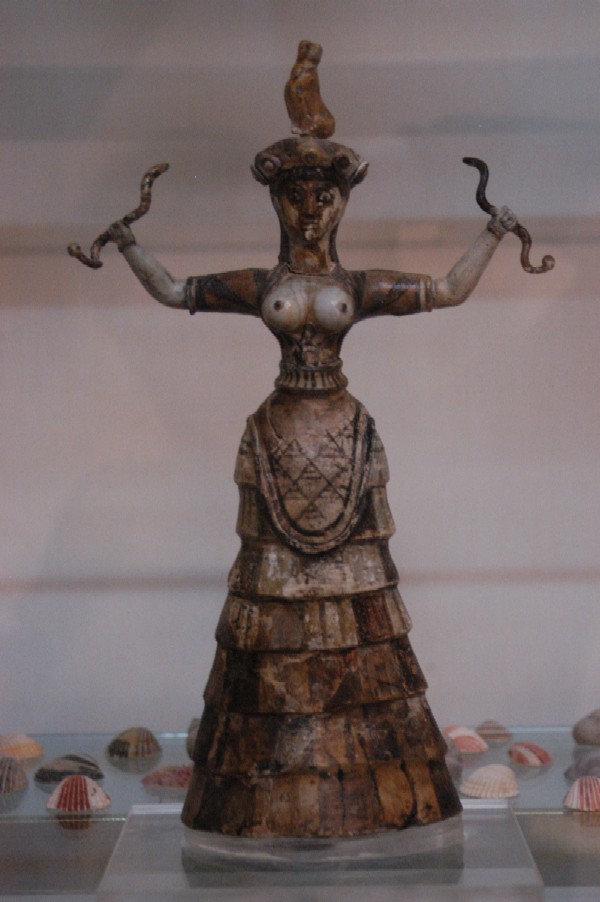 refurbished room with its own sink, a double bed, sparkling clean shared facilities, and a heater. There was no contest.
When we went out to find something to eat we ran into the backpacker bunch eating gyros. We told that we had found something better than the hostel but it also cost a bit more. None of them seemed eager to share a bed with each other in order to make the upgrade. We found a hopping gyro place down the street for dinner. The farther we got from Athens the larger the gyro became. In Athens they were simply meat with some onions, tomatoes, and tzadziki. In Santorini there were a couple of fries thrown in as well. In Crete they were all of the above and in larger quantity. Just one was enough for a meal.