February 8. CAIRO - ASWAN The train for Aswan left at 7:30. We had first class tickets but as the train pulled up any expectation of comfort was immediately diminished. It was a relic of a train and as we watched it come to a stop a fortified military car passed us by with soldiers peeking from the windows, a left over security measure from the terrorist attacks in 1997. Our car was just behind it and while the seats were wide and padded they had seen many a better day. The orange upholstery was so badly soiled that they covered the seat cushion and headrest with separate pieces of cloth. One peek under the cloth that over hung my seat cushion made me very attentive at keeping it in place during our journey. It was a very run down carriage and hadn't seen a good cleaning in a long time but they had done a recent wipe down and everything was neatly arranged. The bathroom was a different story. By the time I needed to use it was hard to believe that it had even seen a wipe down. And, the doors the cabinets above and below the sink were broken and swung wildly back and forth with the motion of the train and were one more thing to concentrate on not touching, or get hit in the head with, as I tried to make use of the facilities.
The train chugged and plodded its way along the Nile to Upper Egypt, the south of Egypt, coming to periodic stops with a tight jerk of the brakes. Waiter service was one of our "perks" in First Class and a man frequently came up and down the isle with sandwiches for sale or chanting "Shai, Kaafe" (tea, coffee). After we reached the outside of Cairo the carriage was almost full but slowly dropped down to just a handful of people. The weather was perfect and the views of the Nile assured us that we had made the right decision to take a day train instead of the sleeper. The vast valley was just as we had imagined it from having learned about early civilizations in school. Villages, green fields, and palm trees filled the valley; the edges just visible on either side where the landscape turned into a cliff and lost all of its color.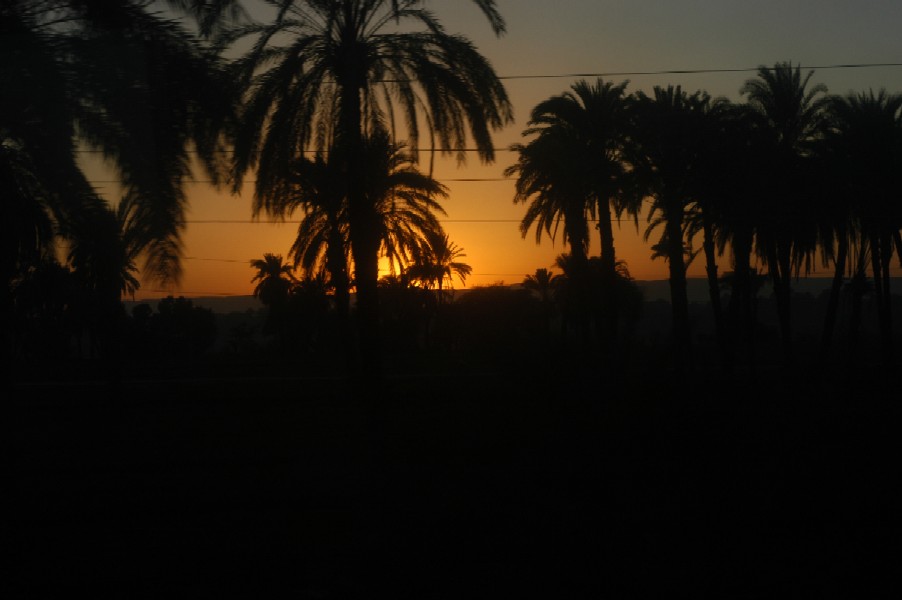 We arrived into Aswan at 9:15 and from reading our guidebook were prepared for a deluge of hotel touts. There were only a few and we sped past them and the taxi drivers right into the street and walked in the direction of our intended hotel. Our route went via the lively souk (market) street and it was bubbling with one shop after another selling scarves, silver jewelry, spices, statues in the shape of every Egyptian god, sheeshas and then more scarves, jewelry, spices, statues, sheeshas, and it went on and on. Every shop tried to get us to take a look ("Looking is free"), even going as far as to stand directly in our path and point towards their shop ("Please look madam, only 5 pounds."). We weaved and dodged our way along. One man yelled to Rob, "You are a lucky man" as he looked at me and I could swear that another copped a feel of my bum as he brushed past. It was unnerving since the reputation of western women in Egypt is widely known to be cheap and easy. I just kept my face forward and walking swiftly while Rob cast dirty looks at anyone who leered long. The street had many tourists wandering about, more than we had seen in the streets of Cairo, and many of the women were very inappropriately dressed by local standards which only added to the unfavorable looks and comments by local men.
Our first choice hotel was full and the second hotel only had two nights available so we persevered to a third hotel, the Happi Hotel, that had a decent room for a bit more money. It was late and we had little room to negotiate. They soon dropped hints about tours but weren't pushy and they had a Nile view from their dining room on the top floor.
For dinner we walked back to the Souk but didn't find anything inviting until we were back at the station where we sat in the brightly lit patio of a simple restaurant and confectionary on the corner. They made us up some good spaghetti baked with cheese that was very filling and much needed after a day of not eating more than snacks on the train.
Walking back to our hotel we veered out along the river and could see the tombs lit up on the other side of the Nile but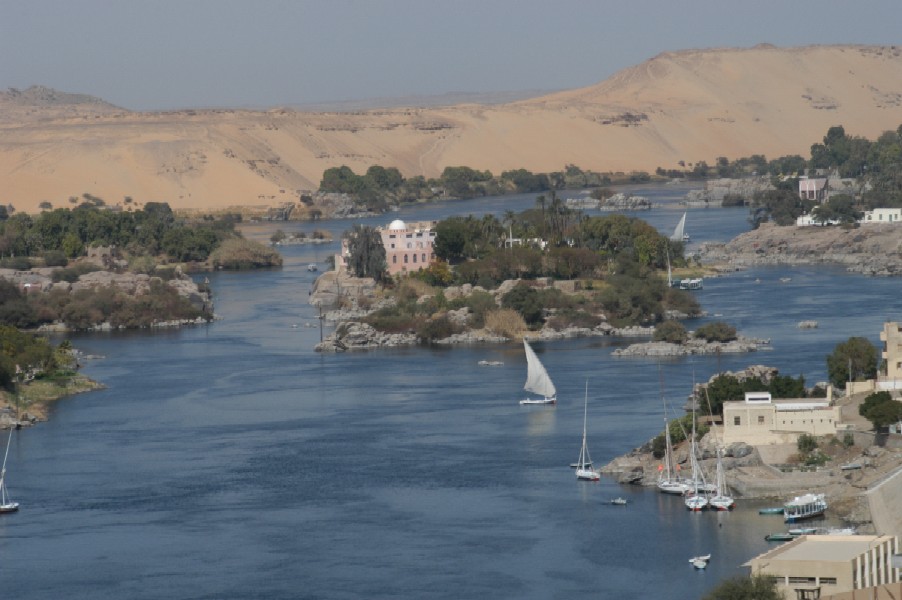 the area along the water was just cheap concrete architecture and more vendors ("Just five pounds.). Aswan was much more of a city than I had imagined. The photo in our guidebook showed a town with mud walled houses but that turned out to just be a small old area on Elephantine island in the middle of the Nile. The city was mostly worn concrete buildings with an endless taxis constantly sharking the streets.
Back at our hotel it took us two minutes to realize that our toilet didn't flush and our shower didn't work, a reminder to investigate more thoroughly when we check into a hotel. They changed our room to a couple of doors down and it was bigger and quieter. (Always check more than one room before you settle on a hotel).
But, as well as the toilet flushed and as superficially clean as the place was the threatening metal pipe that curved up out of the toilet bowl was totally intimidating. The shared toilet in our first hotel in Cairo had had one as well. It turned out to be the Egyptian interpretation of a bidet. Since the custom is to use your left had and water to clean yourself the toilets were either found with this contraption or a hose nearby to use for washing. The biggest pitfall with the pipe deal was that it pointed upward directly in the line of fire which meant that it was pretty filthy. The end of our looked clogged and the idea of projecting some one else's waste into my backend was one of the most disgusting things I could ever imagine (and I've seen some pretty unpleasant bathrooms through out our travels). I couldn't even get myself to sit on the toilet seat from the irrational fear that my hind end would sink farther than expected and be perforated by the dirty pipe. Fortunately the "bidet" was operated by a separate knob so we just left it alone.