September 22. KIGALI "Day Trip to Museum" Do we go or do we stay? We were stuck between whether to go back through Kampala, and maybe get our Indian visa, or just to fly out of Kigali straight to Ethiopia, giving us a bit more time in Rwanda. A final visit to the Ethiopian Air office decided that for us. There was no way to pay for our ticket with a credit card and using our traveler's checks or making another cash advance just weren't good options. We were going to have to go back through Kampala which meant this was our last day in Rwanda. We were hoping to make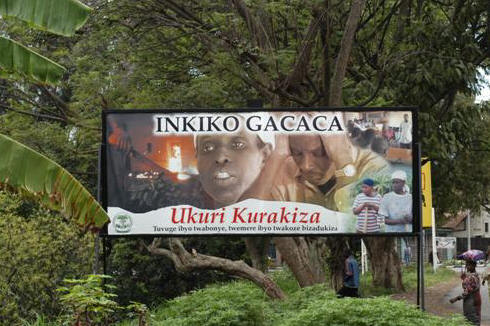 a festival in Addis Ababa by September 27th so we really didn't have any time to spare. A visit to the Chimpanzees in Nyungwe Forest and the Batwa dancing would have to wait for another time. But out of all of the countries we had visited in Africa Rwanda was at the top of our list and one we were glad to have a reason to come back and visit again. It was a jewel of a little country with so much to offer within its tiny borders and some of the nicest people in the world.
With our last day we decided to visit the National Museum in Butare. Kigali is near the center of Rwanda and Butare is near the southern border with Burundi. It was more than half way across the country but a doable day trip if we got an early start. Rob and I split up so he could buy our bus tickets for the following morning and I could run back to our hotel and get my camera. We moved fast and met back at the Okapi car bus stand. The next Okapi car didn't leave for another hour which was meaningful when we only had the afternoon. The van service across the street was about to leave but it was full. We walked around and asked about other buses but were getting nowhere. Rob was talking to an attendant at the nearby gas station. As I walked over to meet him a pair of construction workers passed behind and one of them slapped me on the butt with some papers he was carrying. I turned with a nasty look on my face. He looked rather pleased with himself and his friend was laughing. I gave them some nasty words to go with my look and then pointed to my husband. Rob walked over to have a firm chat with them. Initially they were cocky but as Rob's anger became apparent they changed their demeanor and scurried off. For all of the other hassles we had experienced in other places, Rwanda was the only place in Africa where I felt a bit hassled because I was a woman. It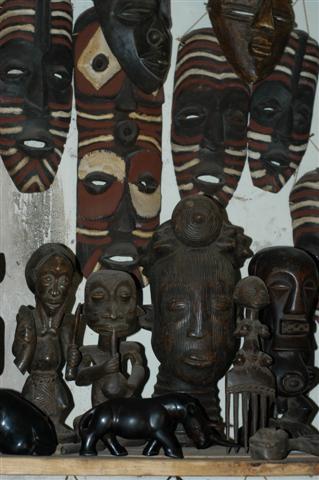 may have just been an unfortunate coincidence and it all seemed pretty harmless but it would have bothered me more if I had been alone.
Finally, after some more searching, we found a third van company listed in our guidebook. It turned out that they had a bus leaving for Butare in just fifteen minutes. The van didn't even wait to fill up entirely before leaving the city. As the highway headed south the landscape became less steep but was still endless green hills filled with patchwork crops. The van bobbed along the well-paved highway for a couple of hours before we reached Butare. We had asked the people around us about getting off at the museum and a man yelled out for the van to stop as the building came into view.
The museum, a modern but unpretentious structure, was just outside of town, nestled amongst the green landscape. It was built in 1989 as a gift from the Belgian government along with part of the ethnographic collection acquired during the colonial period. Our guidebook touted it as the best museum in East Africa and it was definitely worth the trip to Butare. We ended up joining a tour with two other Americans. They were from Washington D.C. but she was originally from Rwanda and suffered the loss of her entire family while she was studying in the United States. It was impossible for me to imagine the horror of such a thing and yet it happened to many people in Rwanda. The loss of life was devastating. But, when we talked to this woman, her spirit didn't reflect what she had been through. She was enthusiastic about her country and looked forward to a time when she and her husband could spend time in Rwanda to help people.
The museum was laid out very well, starting with a topographic overview of the country and moving into the early history of the Rwandan people. There was an excellent display of the traditional baskets, exquisitely weaved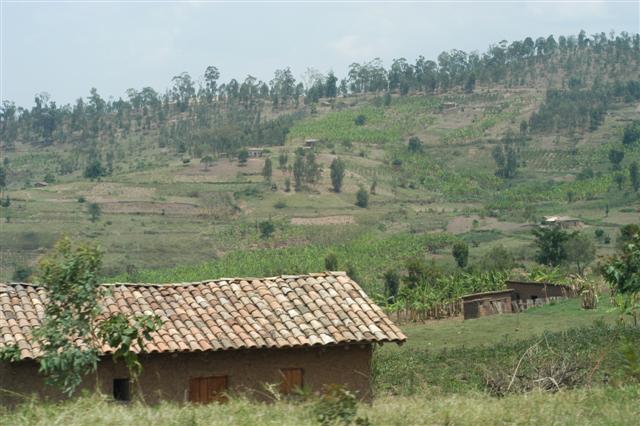 into small fine designs. There were a couple of women actually weaving in the museum to demonstrate. It was explained that weaving the most perfect little basket was a task completed by all brides to prove they had mastered the skill and would be a suitable housewife. But, we never seemed to get around to what the grooms had to do to prove their virility. A sample traditional home was constructed in the center of the museum, a round structure made of woven grass walls and a thatched roof. We removed our shoes to investigate the interior where the walls wound around to a bed in the center. The man would climb into the bed from the middle of the home while the woman, who slept against the wall, would approach from the bottom of the bed. The floor was also covered in woven grass mats. Towards the end of the museum we came to photos of important Rwandan figures. The Rwandan-American woman with us pointed a couple of people she knew, including a man who apparently now lived near them in Washington D.C.
At the end of the tour I bought a basket from the museum's nice collection of traditional handicrafts and we set out to walk into the center of Butare. It started to look like a long walk so we hailed the first taxi that came by and got a ride into town. Butare was much smaller than Kigali but was reputed to be Rwanda's intellectual center, home to the National University and the National Institute of Scientific Research as well as the National Museum. We had ourselves dropped off near a handicraft cooperative in town where I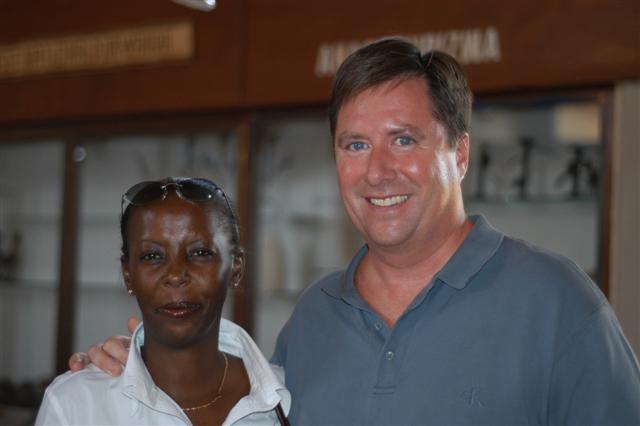 found a few more baskets, many were not quite as good as the museum but they had a bigger selection. With the day drawing to a close we didn't stop to have anything to eat and just made a bathroom stop before getting our ticket back to Kigali. Our experience on African buses had made us leery of traveling after dark. We also didn't want to find all of the buses were full!
As we sped along the highway, dodging and weaving around other vehicles, the sky got darker and darker. It was nearly black before the driver finally turned on the headlights, much to my relief. When we finally got close to Kigali the van started to stop more frequently to let people off. The signal seemed to be to tap on the side of the van with a coin or metal object. As we pulled up near our hotel I gave a tap on the van but nothing happened. I tapped again but still nothing happened. The ticket taker didn't even look at us. When we got off out of the van at the Okapi Car stand we asked why he wouldn't stop for us. He just said "company policy." Apparently we were too close to the center of the city or something, but it would have been nice if he'd just said that when were in the van tapping away.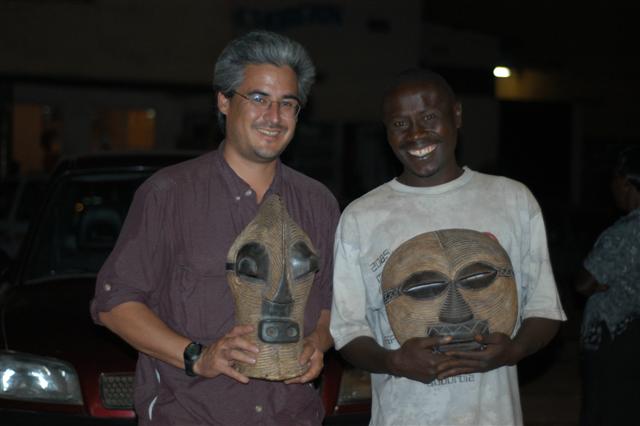 When we reached the hotel we were confronted by a young Congolese man that Rob had talked to before we left for Ruhengeri. He hung out around the hotel and we had looked at his stash of Congolese art, that he carried around in a sack, a couple of times. He had some interesting pieces but we told him we wanted to visit Goma ourselves before we decided whether or not to buy something. Rob told him we would take one last look before we left for Kampala and he was there to make sure we took him up on it. He was a really easy-going guy but eager to make a sale. There was a set of icons that Rob had admired but he had sold one already, making the remaining one less interesting on its own. When Rob asked where the mate had gone he went out and found another similar piece but it still wasn't quite the same. We really wanted to buy something from him and ended up deciding on a pair of really nice masks. We probably overpaid a bit for them but felt it was a pretty good deal overall. Masks were one thing we thought we'd bring home from Africa but so far we hadn't found any that we liked. Now we finally had our African masks.