July 12 - 14. STONE TOWN Our overland friends moved on after breakfast to the beach town of Nungwi, on the northern tip of Zanzibar Island. We opted to hold back and see more of Stone Town before deciding where to go next. The historical area of Stone Town wasn't very large and we navigated a good portion of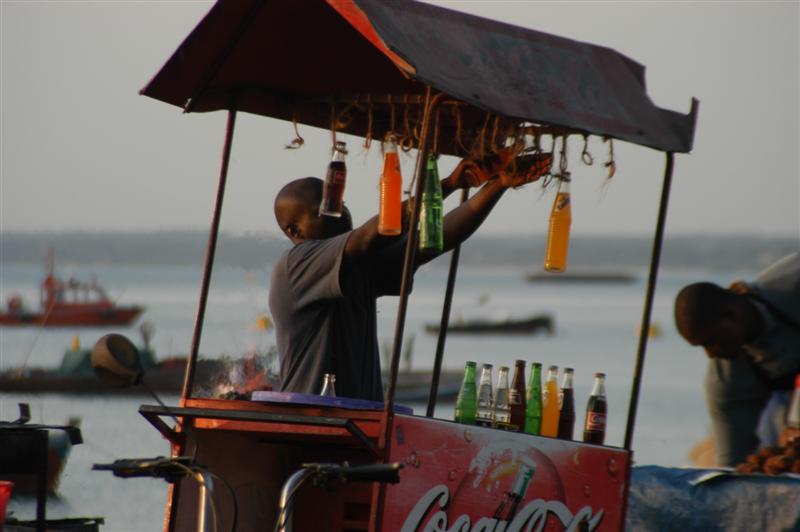 it in three days. A myriad of little curio shops filled several of the narrow alleyways, selling all kinds of handicrafts from African to Indian. The Beit el-Ajaib (The House of Wonders) and the Beit al-Sahel (Sutlan's Palace) both housed worthwhile museums with small but interesting exhibits in the local history and way of life. The architecture of the buildings themselves alone was worth the visit; whitewashed wooden structures with vast balconies that overlooked the water. They had elements of both western and Arab influence, much more open than a typical Islamic residence but still revealing the flower shaped pattern we'd seen as far north as Spain's Alhambra.
A cafe overlooking the waterfront, just below the Forodhani Park, became our regular hangout. Run by an Australian woman and her Zanzibari husband, the Archipelago Cafe turned out some delicious local-style food and scrumptious western deserts. Topped off with a pot of spiced tea or coffee it made for a perfect afternoon. The open eating area was just cooled with fans and overlooked a row of boats along the beach below, everything slightly shaded by the massive head of a palm tree. To offset our hearty lunches we had dinner at the evening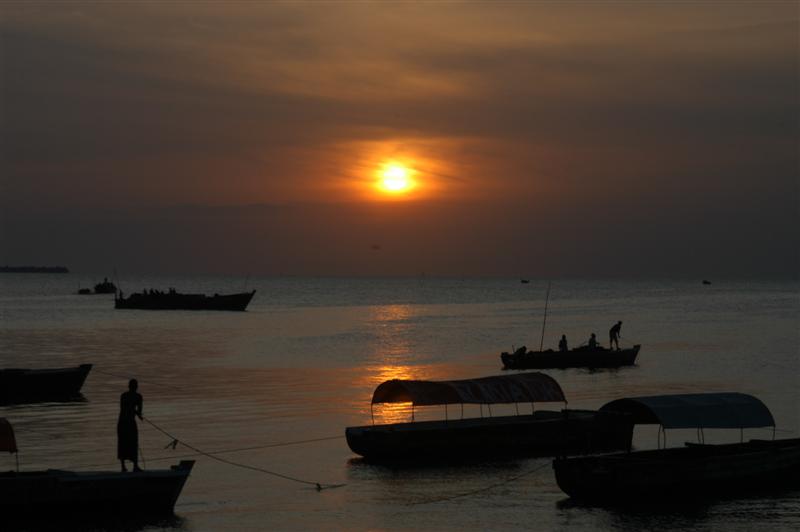 food stalls along the Forodhani waterfront. From about 4:00 the stalls began to come to life with all kinds of skewered meats and seafood, fresh made flat bread, local savory pancakes, and Indian samosas. The variety of seafood skewers were plenty but, oddly enough, the most inexpensive were the skewered meats. After some observation Rob identified the most popular stand with the local people and we began frequenting the same guy. A half-dozen skewers with a warm piece of naan bread were an ideal dinner, and for only a couple of dollars. After a couple of nights we noticed that our price came down a bit or a little something extra got thrown in for free. I also took a liking to the local made pancakes made with a minced meat and egg filling. And, just watching the action of people moving from stall to stall, bargaining, eating, and talking, as the vendors whipped up one thing after another was great entertainment. With our food packed to go we could head back to the comfort of our cool room and eat in front of the satellite TV.
A good part of one morning was spent running an errand to the local Indian consulate. We wanted to make good use of our time o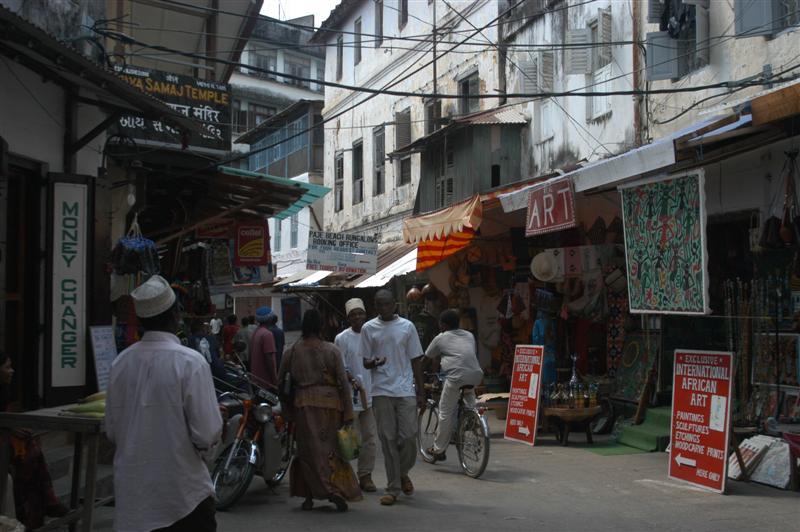 n Zanzibar and get our Indian visas. It was a short cab ride outside of Stone Town, in the larger commercial area, but the consulate was nothing more than an old colonial house. We were invited in to sit at a large table that took up the main room and handed an application to fill out. It all looked easy enough until we learned that the visa was effective from the date of issue, not date of entry, and with our uncertain schedule we decided to wait until later to submit the application. Heading back to Stone Town we caught our first dalla-dalla, a small, covered flat-bed truck that served as the island's main mode of public transport. After finding one that was going to the right area we squeezed our way in along the bench that stretched in a U-shape around the edge of the truck. The ceiling was just high enough to sit under so we had to hunch down low to waddle our way through. It soon became clear that we were a bit of a novelty with all of the nods and smiles we received. Even with all of the tourists that hit Zanzibar it seemed that relatively few tried the dalla-dallas. For us, on the other hand, these cramped modes of local transport were often rewarding peeks into the interaction of local life. As more people loaded the dalla-dalla we were pushed farther back along the bench. A young guy hung off of the back and touted for new customers, tapping the metal side of the truck in code to tell the driver when to stop and go. When we reached the end of our ride we piled out with a bunch of other people. A man from the same dalla-dalla kindly offered to give us directions to where we needed to go. We told him we recognized the area and thanke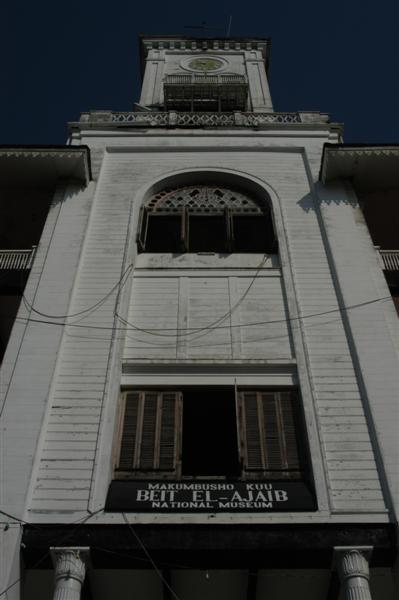 d him. It was a small gesture of hospitality but the first of its kind we had received in Zanzibar. An ordinary person, i.e. not a shop owner, tout, or tour operator, had little reason to approach any of the many of tourists on the island but our brief ride together formed just enough of a human bond that someone felt like reaching out. It was refreshing.
After a few days we felt Stone Town growing on us. Some of the residents of the quiet neighborhood where our hotel stood started to recognize us and smile. We visited the same small shop to buy water and chatted with the owner. The kids playing in the streets sometimes greeted us in between their games. It started to feel comfortable.
On the second full day in Stone Town it dawned on us that the other overlanders would be coming back from the beach and we hadn't even left. When we stopped at the Africa House for a sunset drink we ran into the Drifter's group, who had arrived on Zanzibar on the same ferry. They told us our group was planning to stay one last night in Nungwi before heading back to Stone Town. They were having too good of a time and didn't want to leave. We heard stories of the nice beach, good food, and great scuba diving. That evening we had been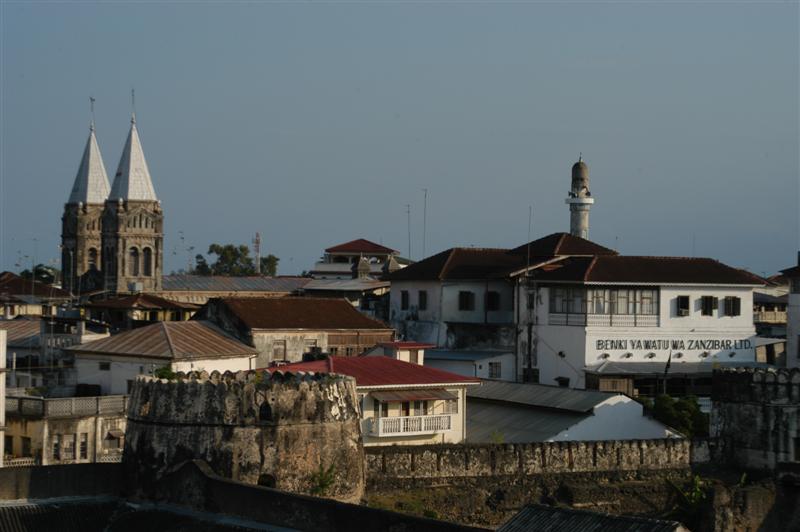 accosted by a nasty tout with bloodshot eyes who warned us that he could "ruin our holiday" after we told him to leave us alone. It was the first time we felt really threatened by anyone and it was probably an empty threat but unfortunately things did happen to tourists in Zanzibar. And, with tantalizing beach stories we started to feel like it was time to move on. On our last day in Stone Town Rob did run into Wendy and Matt at the internet cafe. They had also really enjoyed their beach time in Nungwi. We scheduled a ride up the island for the next morning.
ZANZIBAR
Stone Town
July 11
July 12-14
Nungwi
July 15-18
Stone Town
I: July 19-23
II: July 19-23
Paje
July 23-27
Stone Town
July 27-Aug 1
TANZANIA
Dar Es Salaam
Aug 1-3
Moshi
I: Aug 3-31
II: Aug 3-31
III: Aug 3-31
Safari Circuit
Aug 17
Aug 18
Aug 19
Aug 20
Aug 21
Mt. Kilimanjaro
Aug 23
Aug 24
Aug 25
Aug 26
Aug 27
Aug 28
KENYA
Nairobi
Sept 1
Sept 2
Sept 3
Sept 4-5
UGANDA
Kampala
Sept 6
Sept 7-16
Kampala Short Stories
RWANDA
Kigali
Sept 16
Sept 17
Ruhengeri
Sept 18
Sept 19
Gisenyi
Sept 20
Kigali
Sept 21
Sept 22
UGANDA
Kampala
Sept 23
Sept 24-26