September 17. KIGALI We complained to the front desk in the morning about the problems with our room and asked to see the cheaper rooms. The woman at the front desk seemed totally put out to do anything but finally walked us across the street to see the low end rooms - no perks, shared bathroom. The shared toilet was a squatter and the rooms were undecorated cells with two unmade beds. For $20 per night it was a complete rip off. We asked if there were any rooms in between and she said "no". Rob tried to negotiate a discount off of our existing room since our TV hadn't worked and our bathwater had been brown b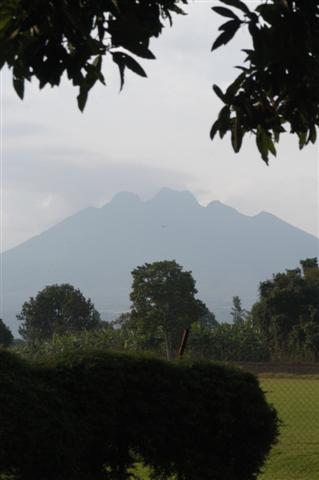 ut the woman was useless. He finally asked to talk with the manager. The manager was in a meeting, she said, so we waited. After a while he was still in a meeting so Rob just walked right into the dining hall, where the man was talking with someone, and ask to speak with him for a minute. He agreed and we were able to sort out a discount off of our second night's room, in compensation for our disappointing first night. We also got moved to another room. However, the whole episode put us off so we still planned to look into other hotels.
With our room sorted out we made straight for the Rwandan tourist office in downtown Kigali. There isn't much to downtown Kigali but the map in the guidebook was a bit off so we didn't find the office right away. A friendly woman on the street saw us looking around and kindly pointed us in the right direction. Unlike Kampala, there weren't men with sawed off shotguns guarding every door in the city, the streets were clean, fewer pedestrian obstacles, and little traffic. We were greeted at the tourist office by a smiling woman who readily helped us get schedules for a gorilla permit. Rob had email the tourist office from Uganda but hadn't heard back. We wondered if they were just completely overwhelmed with people wanting permits but it appeared to have been an oversight. This tourist office stood out from so many that we have seen by being so helpful and genuinely interested in wanting us to have a good visit to Rwanda. The woman at the desk was totally on the ball and quickly pulled up the spreadsheets she kept for all of the gorilla permits to look for empty spaces. They were quite full and she initially had to put us on separate days. Beyond that there were no spaces available until the end of the month! But, she said she would check with the park office and try to get us on the same day if possible and told us to come back in the afternoon to check on the status.
The permits we were initially allocated were on Sunday the 19th and Monday the 20th so we decide we should do our best to see Kigali and be ready to leave the next day. For such a compact little country there was plenty to do in Rwanda. The gorillas were their highlight but they also had great chimp viewing, stunning landscapes, and a population of Batwa people (a.k.a. pygmioid people, or pygmies). Since our time in Uganda had been longer than planned we only had a week left for Rwanda so we could get up to Ethiopia in time for festival. It was a sham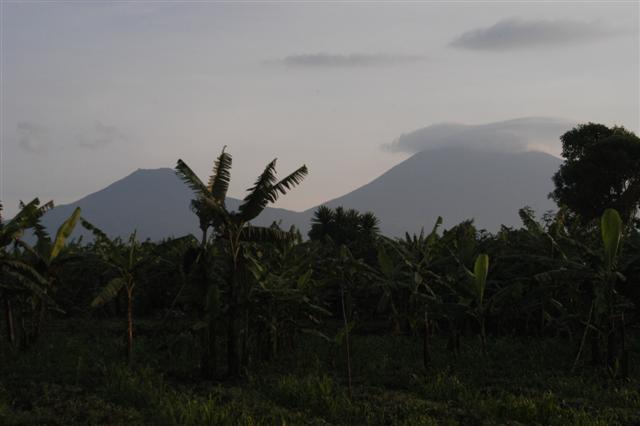 e not to have longer but we decided to see as much as possible in our seven days.
As we headed to the middle of town from the tourist office we ran into the same woman who had given us directions early in the morning. She stopped to make sure we had found the tourist office okay. For being Rwanda's largest city Kigali had a very small town feeling and the people were so welcoming. It was hard to get our heads around what had happened here just a decade ago. The tourist office was actually selling commemorative items to acknowledge the ten year anniversary since the genocide. One item was a scarf. It seemed strange to me until I considered the psychology behind confronting what had happened rather than trying to bury it. They should be proud of how far they have come in ten years. People spend centuries rehashing horrible bits of history, reliving their hate and keeping vengeance alive. Rwanda's challenge is far from over but they seemed to be moving in the right direction. In a way I could see a parallel with the carved bomb shells they sold in Sarajevo (read more about Sarajevo here). It was a way for people to take control over what has happened to them and remind others that it should never happen again.
The post office became the center of Kigali for us since we came back to it several times during our stay. The surrounding streets had several souvenir shops and a mall of exchange bureaus was conveniently attached to its side. It was also the only place we really had people approach us to sell things. The post card guys were the most common bunch. They were persistent but pretty nice and we ended up buying a stack of cards from a couple of them. There were also a few others that tried to sell some craft items outside the front steps of the post office. Beyond them was a row of exchange bureau touts. We stood in the post office to write our postcards and send them off. As we were leaving we ran into a pair of Swedish guys who had worked in the DRC. We had a quick chat with them in the lobby of the post office and learned that they had also been to Ethiopia. They told us about the cheaply priced "historical route" plane tickets that were available if we bought the tickets outside Ethiopia and in conjunction with our international flight.
From the post office we moved next door to face the exchange bureaus. The touts actually weren't that bad. Rob made the rounds inside the mall and to other bureaus on the street before he returned to one office that offered a good rate and were eager for business. As we were leaving the exchange bureau mall we ran into the woman from our bus and stopped to thank her for helping us get a ride to the hotel. Rob also gave her our contact information so we could keep in touch. He had been so moved by his conversation with her.
Walking around downtown Kigali we stopped for a bite to eat, looked into several souvenir shops, made the rounds to several hotels, and did the bank thing. The cafe we ate at was just a small Indian place attached to a video rental store but they had good momos. Unfortunately Kigali just didn't offer as many options for good food as we'd had in Kampala. We just had the one night left at the Okapi but we hoped to find an alternative to come back to when we returned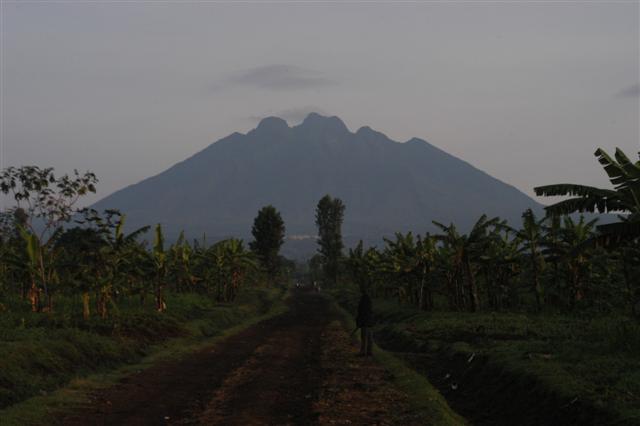 from the gorillas. One hotel in the center was pretty decent and might have been tempting if it weren't for security concerns. When we showed up to look at a room there was no one in sight. Business was slow so it must have been a boring job but the windows to the rooms opened up right onto the hallway and were just levered glass, easy to pry open without much force. If there wasn't anyone keeping watch it just didn't seem like a good idea. A bigger hotel just away from the center looked like a good alternative with real mattresses, TV, phone and tub for less than the Okapi. Then we toured the banks in town to search for some crisp bills and had pretty good success. The day was turning out to be pretty productive.
It was still too early to go back to the tourist office so we stopped for another snack and visited the Ethiopian Air office. The office in Kampala had been pretty snotty so we hoped that we could just sort out our tickets in Rwanda and maybe not go back via Kampala at all; the Indian visa be damned! The staff at Ethiopian Air were really helpful and the flights would have worked out well but they didn't take a credit card which meant more cash advances. Maybe we would have to go back to Kampala after all.
We still had time to kill but we were feeling anxious over the permits. Our guidebook showed a row of souvenir stalls near the tourist office but when we went to investigate we didn't find anything. It was tempting to go back to the tourist office to check on the permits but we didn't want to hassle them. We did our best to stave on the temptation for a while longer before giving in and going back a bit earlier than she had told us. But, when we popped our heads in we were greeted with a big smile. The woman looked so happy to tell us that she was able to get us space to visit the gorillas on the same day, on Sunday the 19th. We were thrilled and thanked her profusely! We had really lucked out but knew that it never would have happened if this nice woman hadn't tried to help us. It would have been so easy for her to just say they were full, like so many other apathetic tourist offices in the world would have done. She gave us our confirmation receipt, the details on how to get there, and who to talk to when we arrived. It was a whopping $375 per person (the price just went up $100 in July) but we hadn't heard one person say the experience wasn't completely worth it. It was a good example of low impact, high revenue tourism, and the Rwandan permit was still cheaper than Uganda.
With not much of our day left we decided to visit the Batwa pottery factory, Dancing Pots. The Batwa have become a somewhat marginalized population in Rwanda and other neighboring countries where they exist in minority populations. Largely driven from their traditional way of life, hunting in the jungle, many have been relocated into co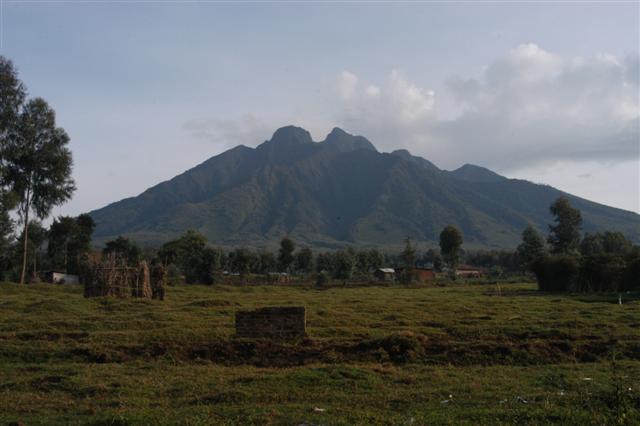 mmunities where they are struggling to adjust to a more modern life. Their traditional hunting life brought them into conflict with landowners as well as interfered with preservation of the gorillas. Gorillas were sometimes hunted by the Batwa. Historically they have also been known for their pottery skills and dance talents. They provided water receptacles and other storage containers for the other tribal groups but modern day plastics (imported from China) have taken away their market. Their skillful dancing once made them popular entertainers for the elite classes of Rwandans but society has changed. The name for their relatively new pottery project in Kigali, Dancing Pots, brings both of these traditions together. We walked to factory, where they sold a variety of traditional pots and modern variations for locals and tourist. The two young men who helped us where very friendly but spoke little English. Most of our questions were just met with big smiles. They were both Batwa and had a smaller stature than average but their petite size has certainly been exaggerated in western images of the African Pygmies. When we asked about the dancing they pointed to the coordinator but he was in a meeting. Dance shows were supposed to be offered on occasion but it seemed to be on an on-demand basis. After waiting for a while we had to go. We could try again when we came back through Kigali.
Catching a cab back to the center of town we got out at the post office. We had three pieces of Batwa pottery that we didn't want to lug around on buses. Beneath the post office there was a small souvenir shop that had already caught our eye earlier in the day so we checked it out. We were in shopping mode. We had spent a couple of days looking at crafts and souvenirs in Uganda but never found anything we wanted to buy. The Congolese wood carvings were our biggest interest but we were planning to pop over into the Democratic Republic of the Congo (formerly Zaire) for a day after the gorillas. Rwanda had an even better selection of Congolese crafts than Uganda as well as a nice selection of their own crafts. The baskets were some of the best we had seen in the world, each a tightly woven masterpiece that took days to complete. The post office souvenir shop had a good assortment of Congolese masks but what really caught our attention was a beautiful nativity set carved out of a kind of local tree root. The quality of the root wood gave the images an interesting striped effect and the features of the carvings were uniquely African. We bought one and hauled it up into the post office with our pottery to look for boxes. Finding boxes was always the big challenge but a woman at the post office helped us out. They didn't normally provide boxes but she rummaged around until she found a few small ones for us. Boxes, pottery, nativity set in hand we walked back to the hotel to box everything up.
It was just our luck that everything fit perfectly. We had been lugging some small items around with us since Tanzania and finally decided it was time to send off our Malawian bao table too. The nativity figures fit into three small boxes with the pottery, a small basket, a Masaai shuka, and our safari animal guides. We just mailed the table top wrapped in card board. The post office was already closed so we hoped we would have enough time to mail them in the morning before catching a bus to Ruhengeri, near the Volcano National Park, home to the mountain gorillas.
Our hotel room wasn't much better the second night but the bath water was clean. The TV still didn't work but we just didn't care anymore. We'd found another hotel to use when we came back to Kigali. The restaurant was okay and gave us a nice sunset view over the back of Kigali but that was all we would miss.