August 3-31. MONTH IN MOSHI: Part I Our Scandinavian bus ride to Moshi was a surprisingly smooth trip. We bought "luxury" class tickets which meant that they handed out sodas along the way and the bus was in better condition. A movie was going the whole time but we both just kept nodding off. The driver kept up good speed but was safe. We stopped about half way for lunch (chickin and chips, of course) and we finally rolled into Moshi in the afternoon.
Michael and John had recommended that we stay at the YMCA, on the far end of town A large 1970's style complex with an Olympic sized pool, the YMCA was a step up from our YWCA in Dar Es Salaam. It was a functional place that operated as a hostel, school, and events center. The rooms we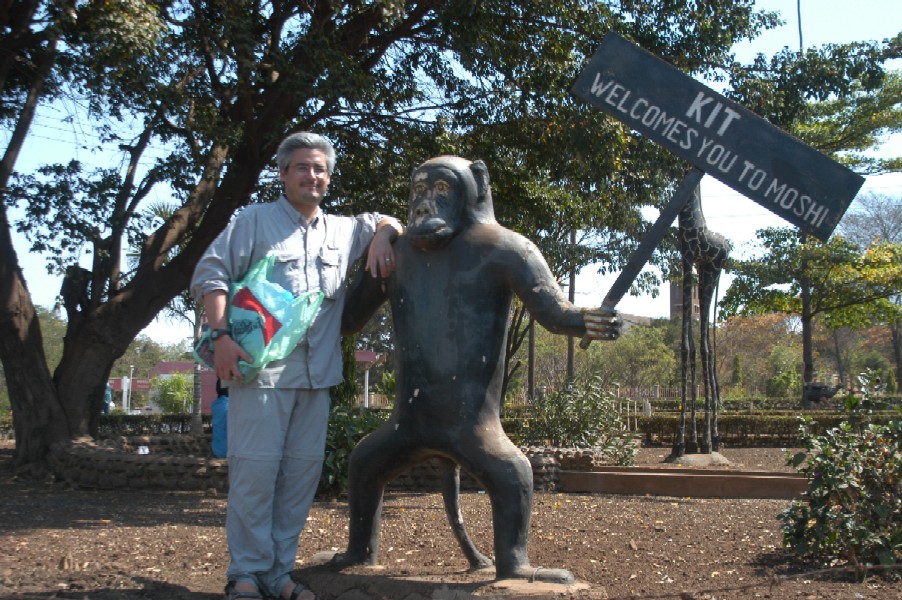 re basic and the bathrooms shared but we had a view of Kilimanjaro from our window. From the restaurant patio that looked out over the pool there was also a great view of Kili, making it a nice place to hang out. The food was nothing to get excited about, and the service even less so, but overall we couldn't complain too much. The restaurant was providing training to students on a rotation basis so each time someone started to get good at their job they moved to another task. Most of them shared a distinct lack of enthusiasm for their work and a weak concept of "service" but there were a couple that shined. The two women who were on permanent staff at the front desk were excellent.
We were in Moshi for two reasons, to organize a safari and for me to hike Mt. Kilimanjaro. The safari and trekking outfit inside the YMCA complex would have been convenient if we hadn't been put off by their high prices and the sleazy salesman. Not that sleazy salesmen were ever hard to find in touristy areas but we really grew to dislike the guy more and more in the day following our initial visit. We saw him regularly when we passed the main entrance to the "Y". The clincher for me was when he saw us looking at the head of an old lion trophy that hung on the wall and started to whisper that he could get us one. Then a few stories of unhappy customers materialized as well to make us determined to look elsewhere. There were many options for trekking and safari agencies in Moshi and nearby Arusha.
Downtown Moshi is pretty much just one main road through town with a smaller parallel road and some shorter streets that crossed in the other direction and wound into the outskirts. It was a surprisingly mellow place, considering its proximity t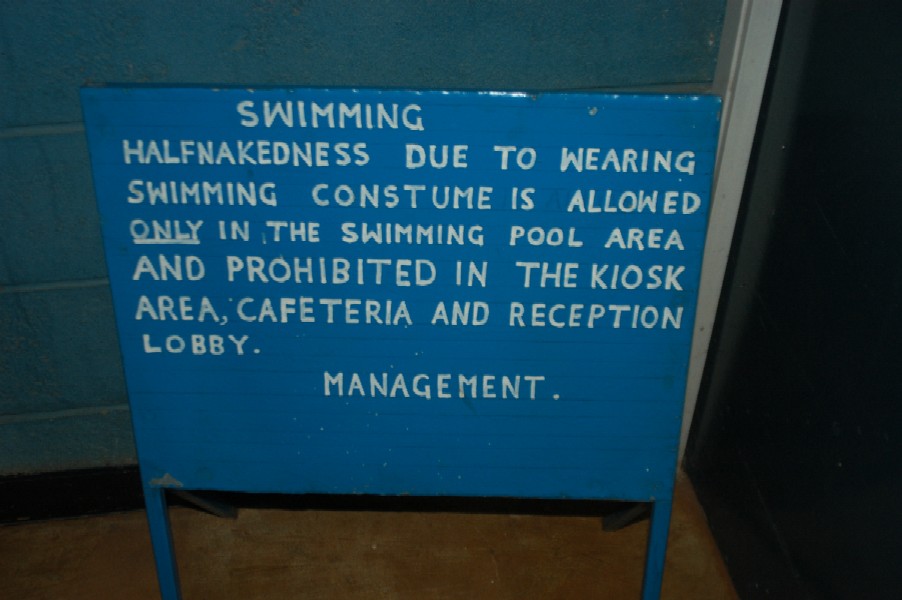 o one of Tanzania's biggest tourist destinations, Mt. Kilimanjaro. The YMCA was at one end of town, on a large traffic circle that interrupted the highway. In the middle of the traffic circle there were a number of fading and dilapidated plaster cast animals. A gorilla welcomed people to Moshi with a small sign. There was an alligator and some birds with chipped body parts as well. They would have been kind of cute if someone had maintained them. We walked through the middle of the traffic circle park of plaster animals every time we went into town. On the other side of the traffic circle was a large Catholic Church compound. The church was fairly new and it was set back away from the road with a long driveway. At the front gate we noticed a small sign painted with a picture of someone sitting on the top of a mountain. My initial response was why would there be an image of Krishna sitting on the top of Mt. Kailas in front of a Catholic Church? The picture looked so much like the many such images that I had seen but upon closer inspection it turned out to make more sense. It was Jesus Christ sitting on top of Mt. Kilimanjaro. On our first day, as we passed the Catholic Church and I was squinting at the sign across the street, a land rover sped past us and threw a flyer out the window at us. It said "Jesus loves".
It turned out that there were a surprising number of religious organizations operating in Moshi, considering its small size. On the same side of the main street as the Catholic Church but farther down, past the Catholic bookstore, Moshi's largest bookstore, there was also a sizable Lutheran complex with its own books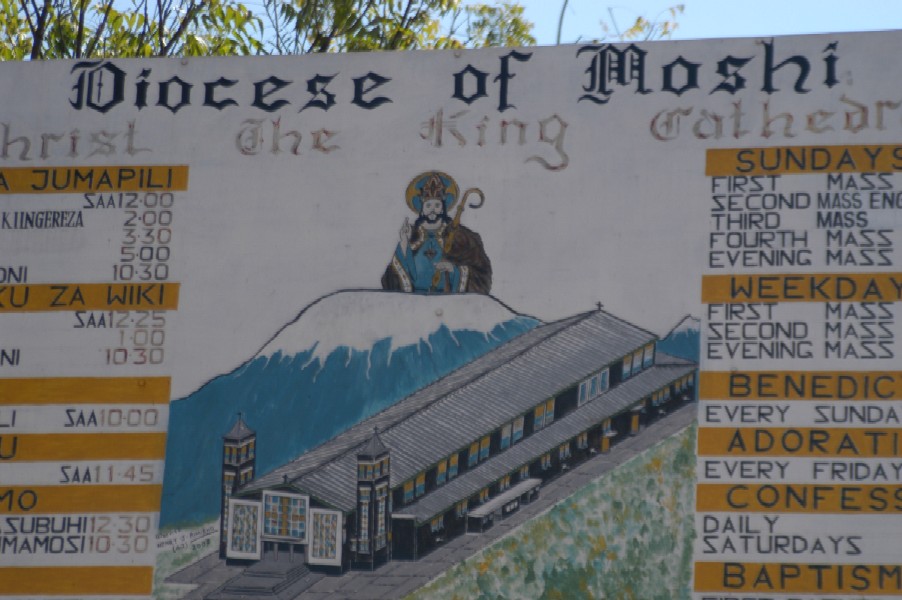 tore. The town directory also indicated that there was a Baptist bookstore. And, on the opposite side of the main street, as though emphasizing a cultural separation between east and west, there stood a towering mosque and a large Hindu temple with its small dispensary. The Lutheran Church and Hindu temple basically stared at each other across Moshi's chaotic bus station.
Aside from Moshi's ample religious institutions there weren't many large buildings in town. Two or three stories were about the maximum height and there weren't so many of those, except for hotels. The road into town sloped downwards from the YMCA until we reached the Coca Cola roundabout which marked the split between the main thoroughfare and its smaller parallel cousin. The roundabout was a grass filled with a small clock tower in the middle with, of course, the Coca Cola logo. At the split in the road there was an open cafe that offered some good people watching but not such good coffee. The telecoms office was across the street but our phone card still didn't work. (Thank you MCI International phone cards!) In between the two parallel roads there was a collection of small cluttered shops in two storey concrete shopping centers. Music blared loudly from one of the shops that sold CDs. The shopping center gave way to the bus station and then the police station until a cross road marked the end of this long "island" in the middle of Moshi. Across from the police station stood Moshi's quaint excuse for a post office, a red painted shipping container with a window. On the cross street stood The Coffee Shop, the only place in town where you could get a good cup of coffee and some homemade cakes, operated by the Lutheran Church. (Continued...)