July 27 - August 1. STONE TOWN We arrived back in Stone Town just in time to see Michael and John before they left. They had really enjoyed their time up in Nungwe but had their own little tale to tell about harassment in Zanzibar. Having changed their flight to leave from Zanzibar they went to get a refund on their ferry ticket. One of the touts interjected himself and claimed to have helped them get more money back. They hadn't asked for his help and couldn't tell if he had helped or not but offered him a small fee to be nice. He wasn't happy with his commission and raised hell so they all went down to the police station to sort it out. The police determined that Michael and John should give the guy a bit more for his efforts so they did. They thought that was the end of it until the guy showed up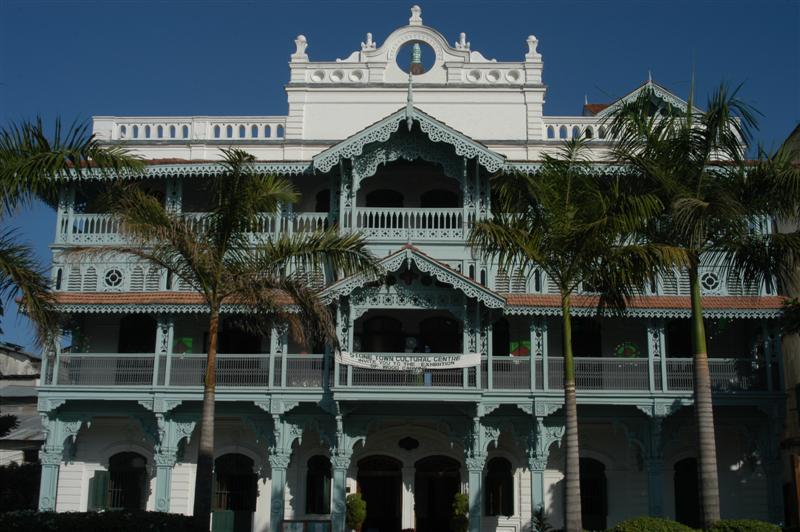 again at the food stalls that night and was shaking with anger from having not gotten enough money. He demanded to get more money, bringing to the total to half of what he claimed to have saved Michael and John. When they resisted the guy threatened them. He said he knew where they were staying and that he knew guys with motorbikes and knives. The sum of money in question wasn't worth risking bodily harm so they handed him the money.
For an exotic tropical island Zanzibar was a dichotomy of experiences. If you talked to any two people you might get one person who had a heavenly time and another that had a horrible time. The island certainly had some wonderful things to offer but was also tempered by incidents of crime. We hadn't had any really horrible experiences but felt the lingering threat of what could happen from the myriad of stories that floated around. The papers confirmed some reports and others went unreported. In the end we had grown rather fond of Stone Town and really enjoyed our time in Paje. After Paradise Beach we stayed another five days in Stone Town until we knew it really time to get going. Deep down we had reservations about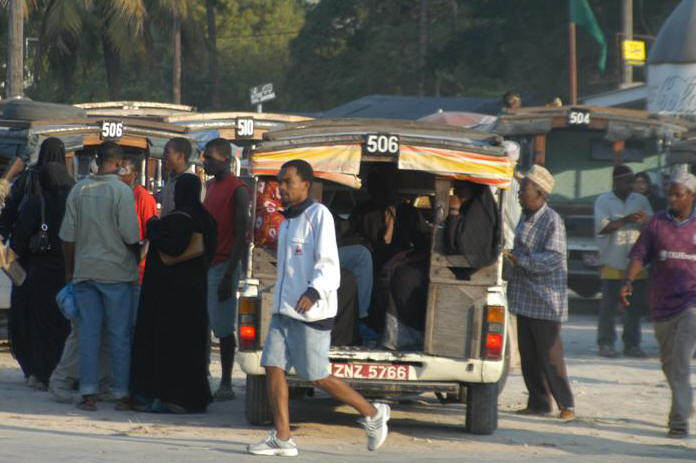 traveling on our own in Tanzania and were only reluctantly looking forward to it. The reports of beach violence in Dar es Salam were off putting. A recent stabbing in Arusha, near Kilimanjaro, was an isolated event in a town riddled with tourist hassles. Perhaps we really stayed in Zanzibar so long because we became comfortable and were dreading what came next. Or, maybe, after six months on the road, we were just getting tired. Moving around Tanzania would really be our fist time traveling around Africa on our own.
ZANZIBAR
Stone Town
July 11
July 12-14
Nungwi
July 15-18
Stone Town
I: July 19-23
II: July 19-23
Paje
July 23-27
Stone Town
July 27-Aug 1
TANZANIA
Dar Es Salaam
Aug 1-3
Moshi
I: Aug 3-31
II: Aug 3-31
III: Aug 3-31
Safari Circuit
Aug 17
Aug 18
Aug 19
Aug 20
Aug 21
Mt. Kilimanjaro
Aug 23
Aug 24
Aug 25
Aug 26
Aug 27
Aug 28
KENYA
Nairobi
Sept 1
Sept 2
Sept 3
Sept 4-5
UGANDA
Kampala
Sept 6
Sept 7-16
Kampala Short Stories
RWANDA
Kigali
Sept 16
Sept 17
Ruhengeri
Sept 18
Sept 19
Gisenyi
Sept 20
Kigali
Sept 21
Sept 22
UGANDA
Kampala
Sept 23
Sept 24-26