September 18. KIGALI TO RUHENGERI Post office experiences are often amusing and Rwanda wasn't any exception. We'd packed up our boxes pretty well but we knew they were potentially in for a rough ride out of the middle of Africa. The woman who helped at the post office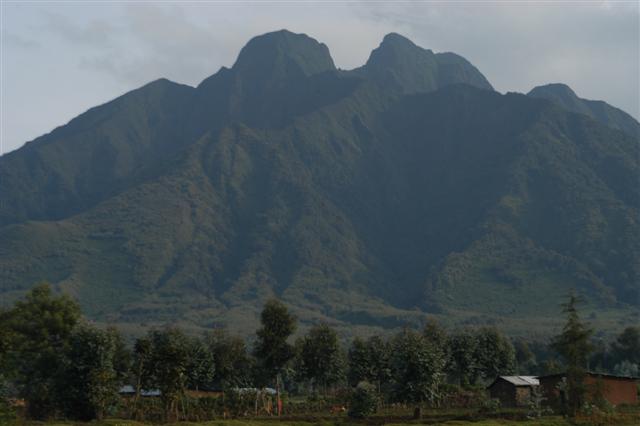 window was the same woman we had bought stamps from the day before. Unfortunately she wasn't a real sharp one. We'd had to argue with her over the price of the stamps because she'd added them up wrong and then we later found out that she'd overcharged us because she didn't have the right stamp denomination to sell. The person at the next window did. So, we were a bit uneasy having to leave our packages with her but we didn't really have a choice. We'd already checked into the cost for airmail when we got the boxes so we made sure the right amount got posted on them but all of the forms took some serious time. I had to fill out two forms per item and then we had to use small denomination stamps for the postage. The boxes weren't that big so by the time we had all of the stamps on them they almost looked like they'd been gift wrapped in stamps. The stamps stretched all across the top and down two sides. We paid a bit extra for insurance and verified a few times that everything was okay with our boxes before finally leaving them behind. French was the left-over colonial language in Rwanda so communicating was sometimes a challenge. We crossed our fingers and just hoped they made it.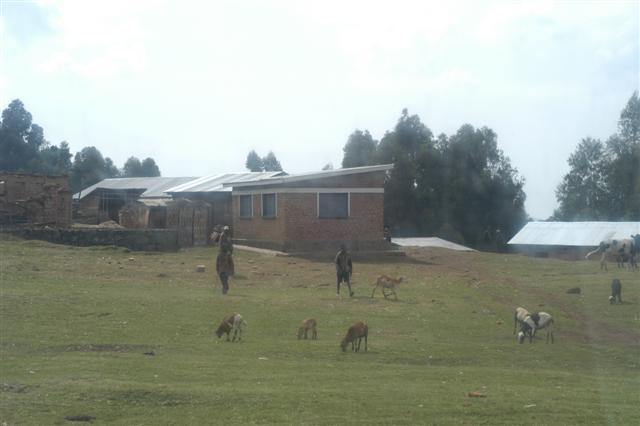 It took so long to mail our boxes that we were rushing to get checked out of the hotel and on the early afternoon bus to Ruhengeri. The hotel was nice enough to give a few extra minutes to get out of our room. We jumped in a cab and headed for the Okapi Car shuttles stand, presumably the same Okapi and our Okapi hotel but they didn't to hotel pickups. We got the stand location wrong and had to redirect our cab to the "other" Okapi Car shuttle stand in Kigali. A shuttle was filling up when we arrived but we were able to grab the whole front row and keep our bags inside the shuttle. We stacked them in between us and just paid for the extra seats. It was more comfortable because the couldn't pack more people in with us and we felt more secure with our bags near us. I was sitting behind the driver, waiting for the van to fill up, when a guy selling sundries came up to the window. I just tried to waive him on but he just stood there. His eyes were barely open but he was staring at me unflinchingly. I tried again to get him to move along and shut my window but he just gave me a sly smile. He was clearly drugged up. Then he started to make gestures at me with his tongue. I finally pointed him out to Rob who walked around to confront the guy. He was so drugged up he hardly reacted except to give a smart-ass laugh. The guys running the vans finally figured out what was going on and yelled at the guy to go away. He sauntered off and sat on a nearby curb. Creepy.
They kept trying to pack more and more people into our van until the guys in back gestured "No more!". They shut the door and we started off. The road took us north, back the way we'd come from Uganda and then veered west to the far corner of Rwanda. After ascending up the winding hills the road straightened a bit and ran along a ridge, undulating up and down. The driver was pretty good so I wasn't uneasy very often. It was scenic drive. The sky was a bit overcast but the mountainous landscape was stunning. Rwanda is a very densely populated country and they use every available space for living or farming. Even the highest points of the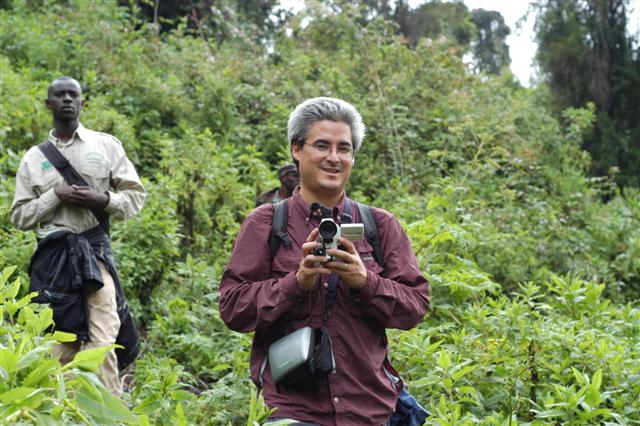 mountains were sectioned off into little patchwork crops. They weren't tiered, like you often see in Asia, but laid out straight up the steeps mountain sides. It must have taken tremendous effort to work those areas. When we arrived in Ruhengeri we were able to pay our driver a bit extra to take us to the hotel just outside of town. There weren't so many hotel in Ruhengeri. They got a steady flow of tourists but the gorilla permits were fixed so the number stayed constant. The Hotel Muhabura was a lovely little complex of rooms laid out around a garden and with its own restaurant. It was popular with tour groups so we were lucky to get a room, although they could only give us one night.
The local tourist office was a short walk from the hotel so we went to confirm our permit and inquire about rides to the park. It was another 45 minutes from Ruhengeri to the park entrance and the woman in the Kigali office told us they could sometimes help people share rides. The man at the office was really nice and gave us more info on our visit to the gorillas but couldn't help with a shared ride. They offered car and driver but our hotel had already given us a better offer so we just booked it through them. With our logistics settled I went to take a nap. Rob noticed a large assembly of people on a nearby slope and went to check it out. It turned out to be the Saturday evening mass. He arrived just when it ended and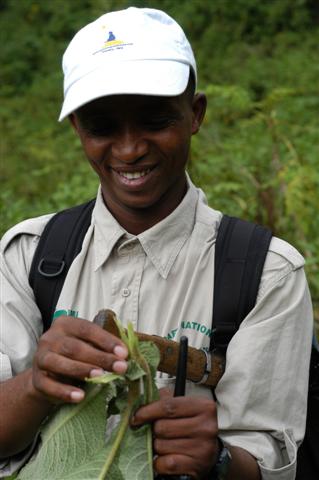 people started flooding out of the outdoor seating area. The people had been so packed in that it had looked like a wall of people. He was the only non-local person around but he had several people just walk up to him and shake his hand. They were incredibly friendly and welcoming. When I finished my nap I caught up with Rob in our hotel cafe where he was talking with a couple of development workers who'd stopped for coffee. One fellow was Indian and the other American, with the last name Cosgrove. They were independent consultants working with the UN, investigating methods of producing more energy for Rwanda using natural gases from Lake Kiva.
Our room at the Muhabura was great. It was spacious, the beds were comfortable, there as a bathtub, and it was quiet and peaceful. We could have spent a few days there just hanging out. It was the nicest place we'd been since Tanzania. The only draw back was the power problem. It was a Rwandan wide problem as they tried to feed a densely populated country with enough energy. Inevitably we spent part of the evening by candle light. It had happened in Kigali as well but our hotel had a generator. While the Okapi stayed lit up most of the city went black. The bathtub also wasn't the best, not enough hot water to really fill it, but for $15/night the room was a total bargain. The hotel food was quite good as well.