August 28. MT. KILIMANJARO - Day Six - THE END When I awoke on my last morning of the Kili descent I was well
rested. I'd had a good twelve plus hours of sleep, the most I'd had any night of the climb. I did wake up a couple of times and thought to look at my face in a mirror. It was too dark to see much but it looked like things were getting better. When I looked in the morning my face was mostly back to normal. I started to hear people stirring in the camp and felt motivated to get up and finish the final hour hike to Moshi. The weather was beautiful and Kilimanjaro rose triumphantly above us. It looked so much better from below than it did from on top. I couldn't imagine that I had been nearing the summit just twenty four hours ago and completely ecstatic that I was currently no where near it.
I chatted briefly with the young British woman I had met at Stella Point. Her ordeal had been really awful, with severe altitude sickness - headaches, vomiting, the works. I had to admire her determination to reach the crater rim. If I had been in such a state I don't know if I could have done the same. My toes were my worst complaint and I had been coughing since the descent but otherwise I felt pretty good. The long rest had helped tremendously. The cough was a legacy from the altitude, a bit raspy and frequent. David said it was very common and would go away soon. It was the first residual sign I had ever experienced from being at high altitude. Apparently I had reached the threshold of safe altitude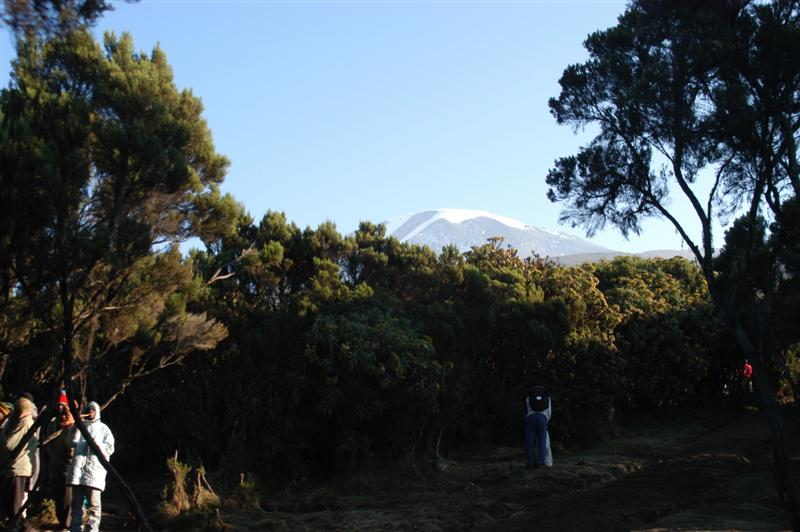 tolerance for my body.
Since the final descent was only a two hour hike I had been eager to get all of the way down after my summit, and save myself that last night of camping. But, the nicely groomed trail and dense forest made for a lovely morning walk. I also taped up my loose toenails which allowed me a more enjoyable walk. About a half hour down the trail I ran into Hannah and Michael. David seemed content to talk with their guide and I enjoyed chatting with Hannah and Michael about our Kili experience. They agreed that it was a bizarre affliction of man that we pursued such endeavors. After paying to make the climb I don't think anyone could pay me to do it again.
I kept an eye on the altimeter as we came down. We were all starting to get impatient and wanted our six day hike to come to an end. As the altimeter dipped below the supposed altitude of the last gate we began looking for signs. The watch had been pretty accurate for most of the climb but did have a margin of error of about 50 meters. Finally the gate came into view and a sense of relief washed over me. Many people that I had seen over the past six days were sitting around with smug smiles on their faces, relishing the moment with what energy they had left. There were no wild hoots and hollers but more of a quiet satisfaction that comes with internal achievement. I noticed the guy from Jo'berg that I had met at the Lava Hut and yelled to him. He looked more sun worn and bleary eyed than when we first talked but he recognized me. His climb had been substantially more difficult than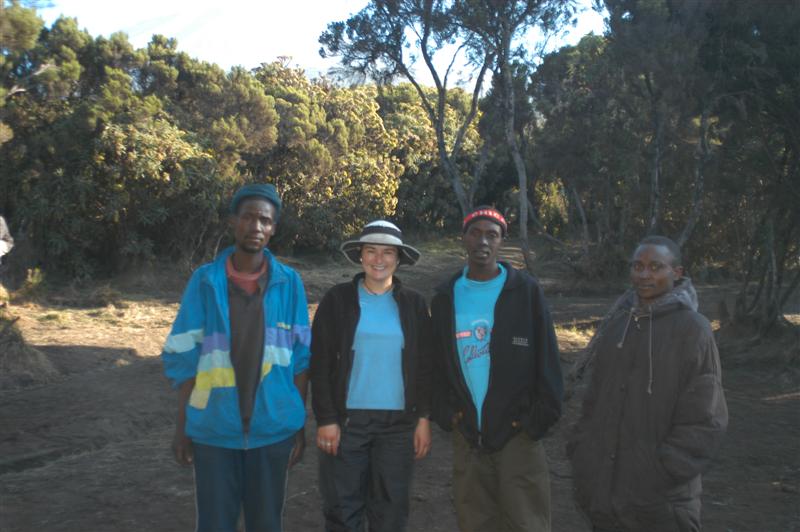 mine, taking the Umbwe route that involved hand-over-hand climbing at the top. He'd ended up vomiting by the time he reached the summit. It had been an extremely arduous journey and with a sort of deflated sense of realization he said "after all of that, the only thing up there was a sign..." That really said it all. He asked how I felt when I reached the top and I had to agree with his sentiment. There was undoubtedly a feeling of accomplishment but right along with it was the bewildered acknowledgement that it was a ridiculous thing to even want to do. It had some very miserable moments and there wasn't really that much to see on top. The "why" is hard to explain. But, that view of Moshi beneath the stars as we started up the final ascent will always stay in my memory along with other vivid moments that punctuated the climb. The "why" may be because Kilimanjaro is Africa's highest peak but the small rewards came in the journey not the end. And, as each minute passed the miserable moments that beat me down over the past six days were already being translated into terrific stories for posterity. That feeling that I would never climb another mountain was already giving way to thoughts of what mountain should I climb next. After all, there is Mt. Chimborazo in Ecuador, the tallest mountain from the center of the earth, just a bit taller than Kilimanjaro at 6310m and a harder climb, and.... Then again, maybe not!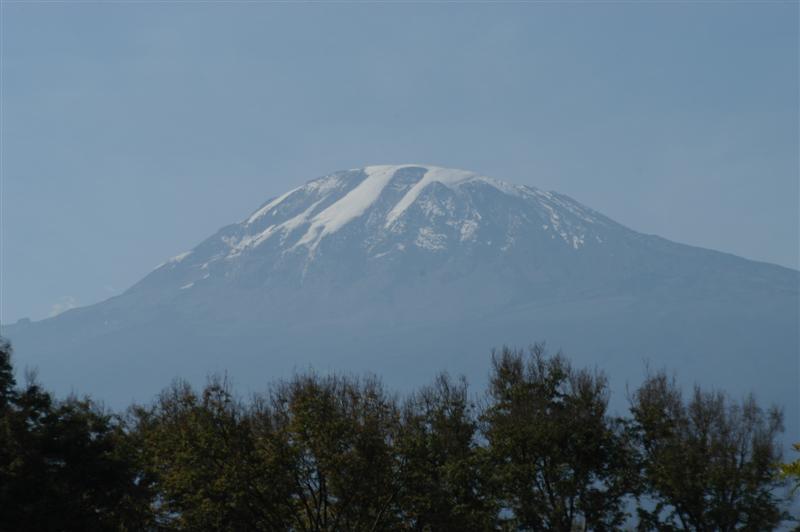 As it turned out, getting to the end of the climb wasn't entirely the end of my frustrations. When I saw the van I started to really get excited about getting back to Moshi, seeing Rob, and getting cleaned up. Then we just waited, and waited, and waited. The annoying troll of a man who had seen us off at the beginning of the climb showed up, acting like my best friend with his irritating grin. He already knew that I hadn't been happy with how they orchestrated the climb. He had his nerve trying to suck up to me. And, nobody would tell me why we were waiting. Then the Spaniards finally arrived and it all became clear. I was being shoved into the van with all of their porters again. Would that have been so difficult to explain to me?!
When we got back to the office in Moshi David wanted me to come up and have my certificate stamped by Kili Crown. I told him that I didn't want any stamp with Kili Crown on my certificate and just handed him the rental items to take upstairs. He disappeared for a few minutes and then came back and handed me the unstamped certificate. I had already told them that I needed to get the tip money from Rob so David rode with me up to the "Y" and we picked him up. I wanted to make sure the money was handed directly to each of the porters so we went back into town and said all of the final thank you-s and good byes.
While Rob and I sat at Chrisburger and downed some hot dogs I told him about the climb. He said that must have been why the guys from Kili Crown were being so nice to him while I was gone. Both Mohammad and Viktor had stopped to talk to Rob when they saw him in town. One told him that
we were going to be able to summit in spite of the snow and the other told him I had made the summit. He thought it seemed like especially good service.
We met up with Hannah and Michael for dinner. I didn't even recognized Hannah with her hair out of the braids. We were all looking a bit better than when we parted at the end of the trail. We went to El Rancho for dinner and ran into the group of young Brits. The one really sick woman in their grou was looking much healthier. My toe nails were black and blue and were sure to come off eventually and I had a few aches and pain but otherwise I felt pretty good. It was over, that alone was a reason to feel good! It was also the first good meal I'd eaten in a week!
Read about our last days in Moshi or click "Next" to move onto Kenya.
Day Six Stats:
Mweka Camp - Mweka Gate
Altitude Change: 3073m - 1692m = (1381m)
Walking Time: 8:30a - 10:40p = 2h 10m