July 19 - 23. STONE TOWN "Spicing up the Island" Back in Stone Town we decided that we had to take time to do a spice tour. The well known Mr. Mitu's Spice Tours operated from a little hole in the wall not far from the Safari Lodge so we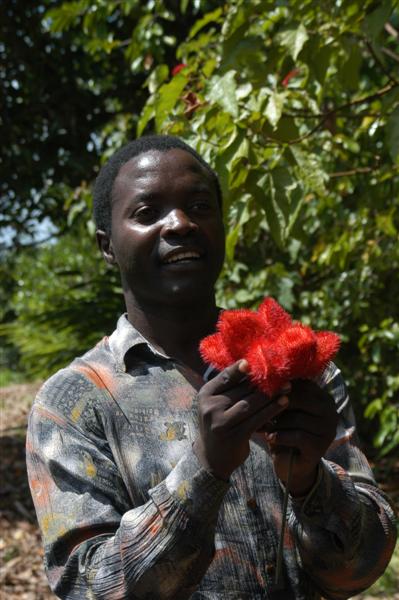 signed up for the next day. It was the typical tour group type deal but the only way to experience the myriad of spices, herbs and fruit that populated Zanzibar Island. The island no longer relies on spices as it once had but the plantations are still an important feature of the islands and have become an integral part of the culture and cuisine of Zanzibar.
The tour started at a small plantation that featured a cassava field, also known as tapioca, as well as some ginger, turmeric, vanilla bean and clove plants. Not all of these come from Zanzibar's historical staple crops but the plantations now grow a variety of plants that are suitable to the climate and no doubt add to the educational value of the lucrative spice tours. Cloves, however, were a mainstay of the island's spice industry.
Our guide moved along swiftly from plant to plant to demonstrate the produce - picking off and cutting up samples as he explained the usefulness of each plant. Cassava is widely grown in western Africa and when seen laid out in white chalky chips in the sun to dry I never recognized it as tapioca, the same key ingredient to the bubbly pudding and well-known Vietnamese drinks. In Africa it is more commonly used as a starch like we use potatoes. The leafy ginger and turmeric were sister plants yielding similar looking roots except for the bright yellow color of the turmeric. Both required a shaded spot to grow and combined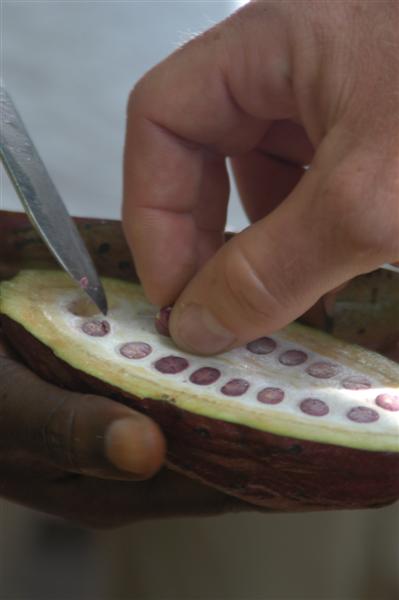 with some honey in a tea were meant to be a good cure for bronchitis. A tea made of cloves, on the other hand, was good for an upset stomach. The vanilla bean was mostly a show plant since Zanzibar lacks the insect necessary for the natural pollination of the bean. Hand pollination is done in places but is extremely labor intensive. The last leafy plant he passed around was neem (sp?), the plant from which quinine is derived and supposed cure for some 40 illnesses, including a malaria deterrent.
The second stop on our tour was another small farm with a dense display of fruits and herbs. Our guide bought a slice of Jackfruit and passed out the pineapple shaped chucks to the group. The large oblong fruit grows in groups on large trees. The meat tasted like a combination of banana and pineapple, quite good actually. Behind the jackfruit stood a short king coconut with orange pods clustered in the center. Next he demonstrated the papaya fruit, the seeds of which are a cure for diarrhea and the milky white sap produced another kind of medicine. Around the back of the farm we found mint, anis, and a sprawling vine of black pepper winding up a biri biri tree trunk. To save money our guide advised us that we could boil black pepper for five minutes and the outside would come off and yield white pepper. The biri biri fruit was a sour little green fruit, related to the sweet star fruit, that was often used in local cooking to give food a lime flavor.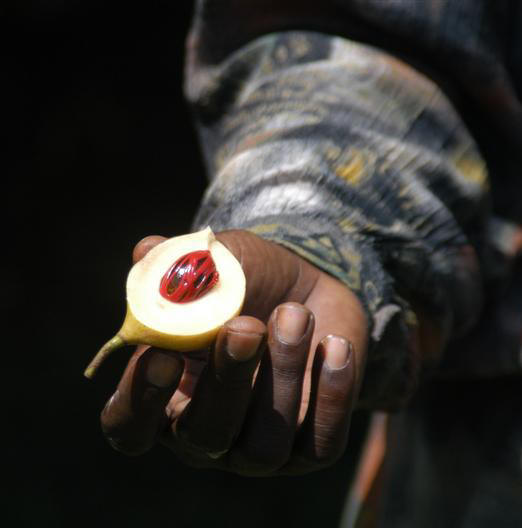 Strictly for medicinal purposes we inspected the iodine and aloe plants, showing how the iodine could be squeezed directly from the plant to seal a wound.
Some of the local children kept approaching and trying to hand us flowers that they presented in little holders made of leaves. I suspected they had more motive than hospitality but took one anyway. When they asked for money in return I politely handed it back. At least they were being a bit industrious rather than flat out begging but I didn't want to encourage parents to send their kids out to stalk tour groups. However, I was happy to buy a bottle of natural insect repellent they were selling at the farm, a rich concoction of lemongrass and coconut oil.
Our last spice stop was at a large-scale plantation where our guide greeted us with the sticky innards of a lipstick plant, the seeds of which made a bright red paste that worked surprisingly well as lipstick. Rows of nearby bushes revealed small flowers and pods growing along the dirt just at the base of the plants. These fresh pods were cardamom. Mixed with ginger it makes a good tea and by itself it can really spice up a cup of coffee. Chewing and swallowing two pods was reputedly a good cure for sea sickness. A chocolate tree gave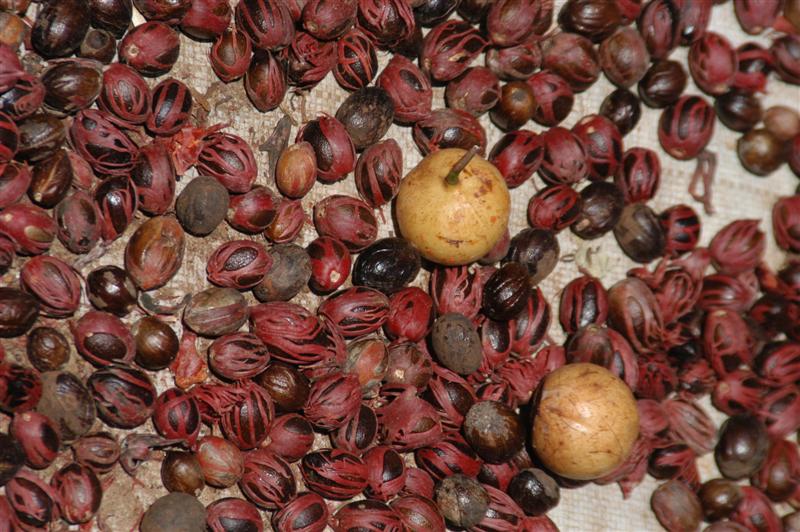 us a large pod that, when slit in half, bore its soft white insides speckled with cocoa seeds, bitter to taste.
The guide enlisted help from some young children that were trailing along behind us to pick some mandarins while he showed us a massive durian fruit tree, the fruit that tastes so good but smells so bad. Thankfully we didn't get a close up look at the fruit. But the mandarins were delicious and a nice snack after our walking. These kids were also trying to entice us with little woven items made of leaves but they were mostly pleasant and friendly.
Delving farther into the plantation we passed some sour sop trees (chermoya), and some lentil plants, before arriving at a completely unassuming little tree. Our guide peeled off a bit of the bark and the powerful cinnamon smell came right out. The bark grows back again and again so carefully peeling one side at a time provides a never-ending supply of cinnamon sticks. The leaves gave off a milder smell of cinnamon but the really peculiar thing was that the root smelled like Vick's Vapor Rub.
We passed another tour group coming out of the plantation and one made was decked out in a tie and hat woven out of leaves. Some children had found their target for the day!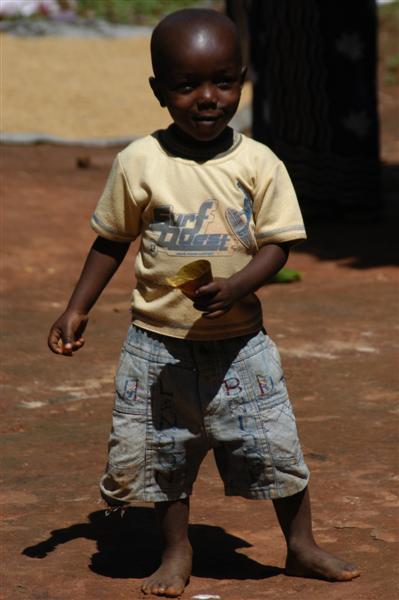 Our walk took us through fields of plants, including some experimental crops. Our guide reached into a nearby bush and grabbed a handful of small yellow fruits. He claimed that it was a relative to the eggplant but there was no resemblance. As he sliced one in half he told us that the fruit was good for the sinuses, toothaches, and asthma. He encouraged a few of us to dab a bit of the juice inside our noses and, sure enough, we began to sneeze like crazy. In this way the plant help clear a person's sinuses. The nearby cure to the sneezing was a handful of fresh mint. If the eggplant juice was burned onto a stick it helped ease a sore tooth and when eaten it was good for asthma.
As our plantation tour came to an end we passed one last group of plants. The leaves of one bushy tree gave off a smell of many spices, hence the name allspice. Robusta coffee bushes showed a few red ripe specimens, sweet to the taste. Our guide commented on the fact that cocoa seeds were bitter but we made sweet chocolate from them while coffee seeds were sweet but we roasted them until they became bitter. A cluster of densely packed leaves on a another bushy tree hid pomelo fruits and, of course, there were bananas. The final spice we viewed for the day was the delicate union of nutmeg and mace. The sliced open fruit revealed a brown pod laced with pinkish red tendons The pod yielded nutmeg while the lacey tendons yielded the mace. With a full day of spice knowledge spinning in our heads we sat down to a delicious lunch right in the middle of the plantation. The variety of Zanzibar's spices and herbs were married with coconut in a tasty curry and the meal was finished with fresh bananas.
Mr. Mitu's spice tour didn't end on spices alone and included a couple of other stops before we returned to Stone Town. On the tour up the island we had visited a set of old Omani baths, basically Turkish-style baths. To let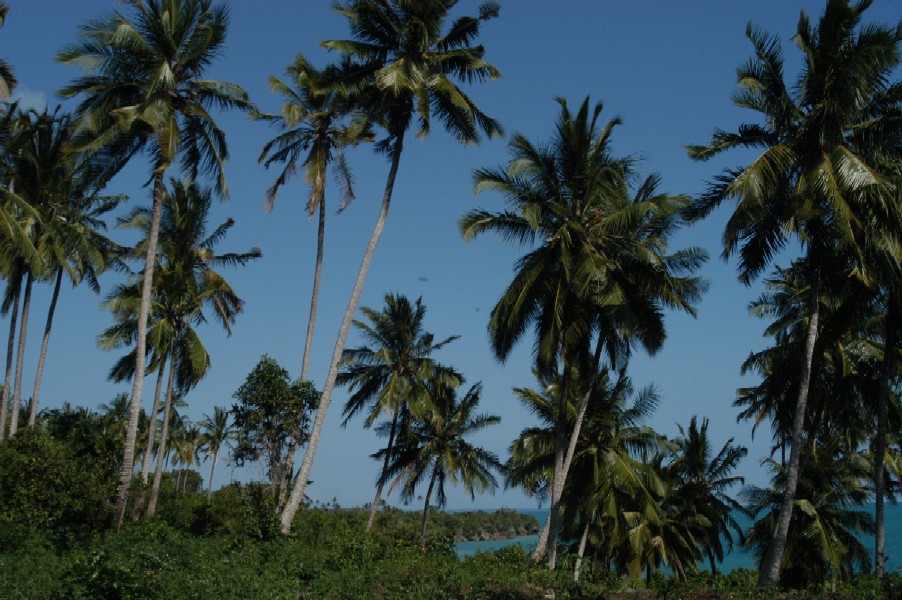 our lunch settle we were driven to a long beautiful beach, away from any resorts or towns, to rest for an hour in the sun. A nearby cave was a marginally interesting stop as it was once used as an illegal hold for slaves after the slave trade was officially stopped. The large damp cavern would have been a miserable place for anything to live. Only the resident millipede population, scattered around the floor like pieces of coiled black tubing, were suited to such an environment. Our guide focused more on the cave's impressive size and barely mentioned the slave history but I could help thinking about it and the place just gave me the chills. Before we reached Stone Town we made one last stop at the ruins of a Sultan's palace. It was more of a retreat with rooms for the sultan's harem of slave women. The young women were provided small cells to live in while they waited their fate. The sultan would watch them bathe in the palace pool and would decide which one he wanted to take to bed that night. She only got one night and was then discarded by the Sultan. What a gentleman!