August 3-31. MONTH IN MOSHI: Part II Beyond The Coffee Shop the streets of Moshi ran briefly in a grid-like fashion with relatively neat rows of everyday shops. The towns market was shoved in the middle of one block, a lively area full of vendors selling everything from hardware to meat, and underwear to kitchen utensils. From there the action of downtown Moshi started to gradually fizzle out. And that is pretty much all there was to Moshi, not much more than a modern day one-horse town with a spectacular, snow-capped backdrop.
How we ended up operating our lives from Moshi for nearly a month is hard to figure out but it just seemed like one thing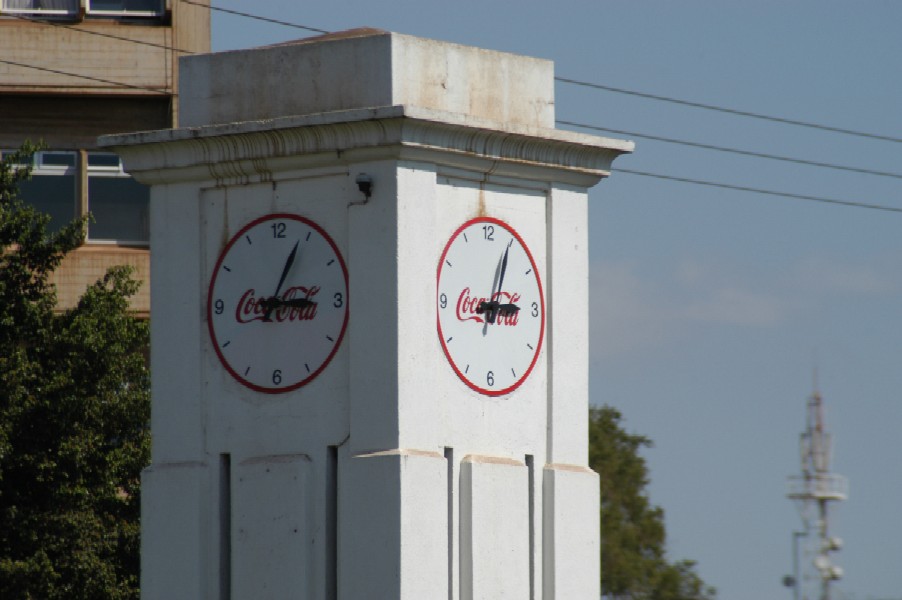 after another came up that prolonged our stay. First, I came down with a case of dysentery. It started mildly and got worse over a few days. I visited the clinic next to the Hindu temple to confirm whether taking antibiotics for the dysentery after already being on doxycycline for malaria would be a problem. The doctors there said it was fine but worried me when he suggested that I take a malaria test. I told him I would give the antibods a couple of days and if things weren't better I would come back. Taking a blood test in Africa didn't appeal to me and I was fairly certain that I just had dysentery. Still it did make me a bit nervous.
Then, I got word that my aunt's health had taken a turn for the worse. After overcoming several bouts with cancer we were all confident that she would beat the disease but a new incident had raised more concerns in recent weeks. As with the past incidents we anticipated that she would pull through and were shocked to learn that the cancer was spreading more rapidly this time. It was only a matter of days before she passed away. The frustration of being so far away from home at such a difficult time was only compounded by the challenge of poor communications infrastructure in Africa. Internet cafes were the saving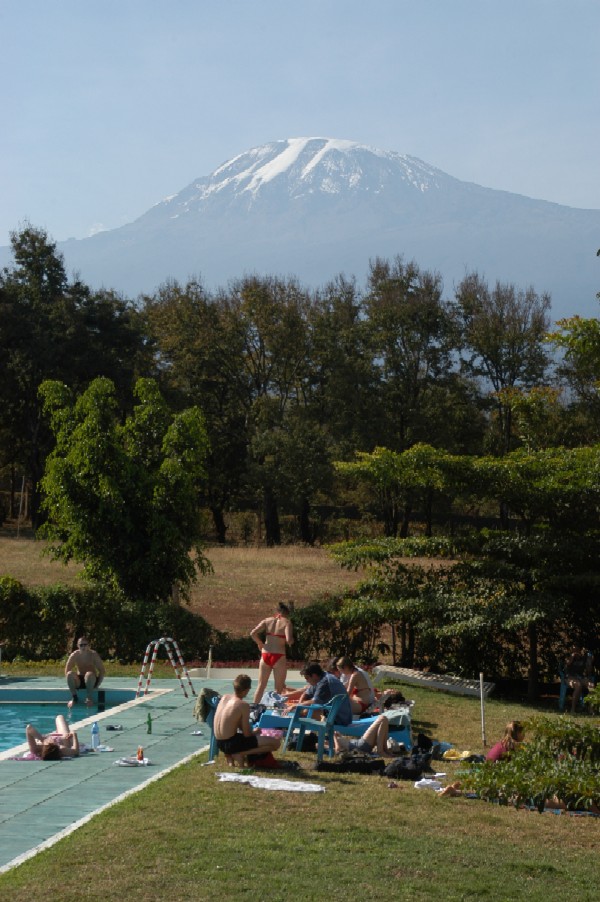 factor in keeping us informed about what was happening. But it didn't reduce the feelings of helplessness. It took some days to emotionally digest what had happened.
After more than a week had passed since we had arrived in Moshi and we realized that it was time to get our act together and get busy seeing what we came to see. But, our fist attempt at organizing a safari failed miserably. We contacted a recommended outfit out of Arusha, about an hour away, and were ready to head out of Moshi when our plans fell apart. We had asked for an email confirmation of what we had discussed on the phone. They didn't send one. When I called they started to give us the run around and urged us to just come to Arusha and sort it out. Arusha had a reputation as a nasty place and we didn't plan to spend any more time there than necessary. In the end we decided they were just giving us lip service so they could lure us out and shove us into some tour that didn't match what we wanted to do. They wouldn't put anything in writing and started to become evasive on the phone. Unfortunately, it happened all of the time. There was some kind of tourist brokering that went on behind the scenes. Between the safari companies and touts, unwitting tourists got passed around until they fit into some vehicle going out on the right day. It was often not the exact itinerary the tourists had signed up for but since many people have limited time they get railroaded into a compromised trip. We had even checked out of the "Y" and put bags in storage so we had to lug ourselves back up the hill and check back in. We began taking a more formal approach to our safari outfit search and tracked down all of the agencies that were approved by the Tanzania
Tourism Authority and began to whittle away at the list.
During our lengthy stay in Moshi it is fair to say that we got to know our way around a bit and that mostly meant eating establishments. Since the food at the "Y" wasn't something you could eat every day we had a couple of regular places that we went to in town but our favorite was in the outskirts of Moshi, in the shantytown area. The Coffee Shop was a well known tourist place and just about the only place serving up real cups of coffee with home made cakes. But in the many times that we went there we hardly ever got smiles out of the women who ran the place, orders were regularly botched and service was ridiculously slow, even by African standards. You can have a lot of patience when there is no alternative but by the end of our stay we were determined not to go back. Instead we had found a couple of other places that were a notch up in service. We missed the cake but didn't really need to eat it anyway. Closer to the "Y" we frequented Chrisburger, a small diner that served tasty hot dogs - simple stuff but simple stuff done well is good enough. But, our favorite place to eat, and worth the added investment in time and money, was El Rancho. It was a taxi cab ride into the shanty town, more like the suburbs of Moshi, to a nice cottage with a spacious patio and large lawn. The Spanish name was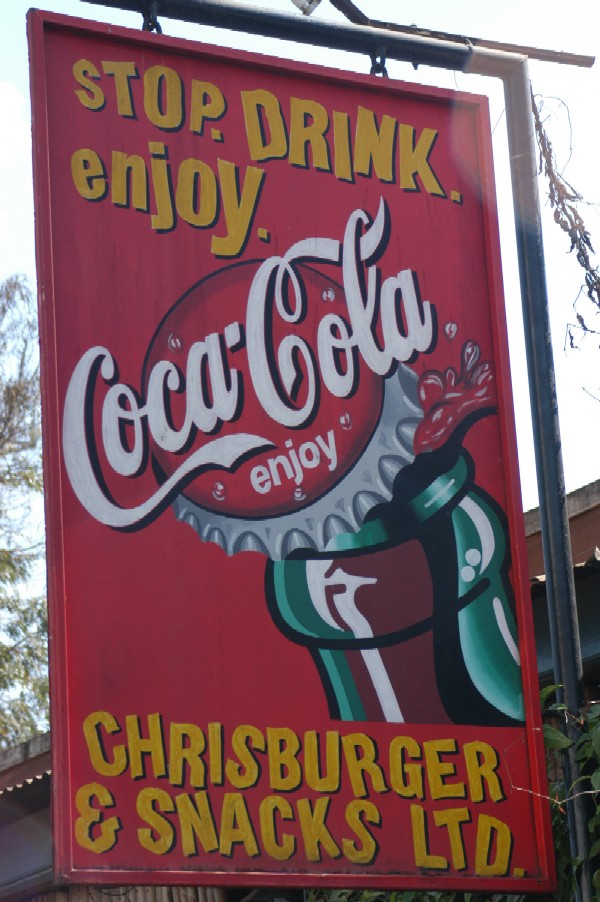 never explained but El Rancho served up some excellent Indian food from a menu that went on forever. Hands down it was the best place we ate in Moshi. Our other favorite, though discovered towards the end of our stay, was Indotaliano. It served exactly what the name promised, Indian and Italian food, and it did both very well.
There was a handful of tourist shops around Moshi but the only one we visited regularly was run by a women's group and was housed in an old shipping container across the street from The Coffee Shop. One time when we were shopping around we noticed some boxes that were stacked up in the corner. They were addressed to the United States but were missing the state and zip code. We pointed out to the woman at the desk that they needed more information or the boxes wouldn't get to their final destination. When we mentioned that we were from California and that some cities with the same name existed in several different states. She said that she knew a person from California and asked if we knew them. We explained that California was actually quite big so we probably didn't know her friend. It wasn't the first time we'd encountered this question during our travels. In spite of how much people might hear about the United States and other countries there was still a rather large gap between knowing something about a country and really know the country. Even as we stood in Tanzania there was still far more that we didn't know about the country than we could learn in two months.
A few doors down from The Coffee Shop there was a very small Internet cafe that was run by a nice Indian man. After trying some of the larger and, in some cases, snazzier Internet cafes we only came back to this one. This guy was just about the only computer savvy owner in the bunch and he ran a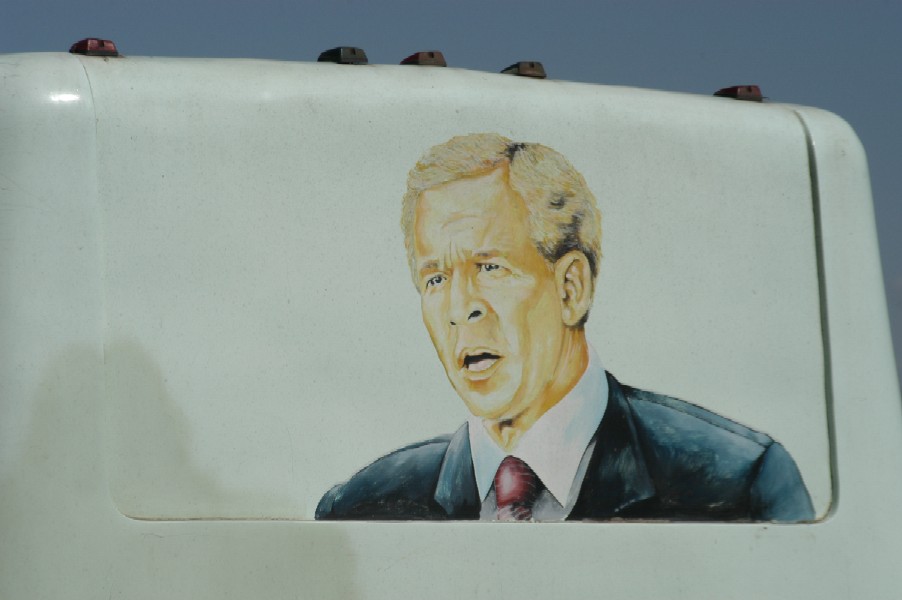 porno free cafe. He helped us on several occasions, just to be nice.
Our weeks at the YMCA also gave us the opportunity to meet more people than we usually did when we were on the road. We saw loads of people coming and going throughout the weeks but the hostel was rarely very full. Many were there so briefly that we never even knew where they were from but some, like us, were in less of a rush. A young woman from Finland, Rika was staying at the "Y" during her break from working with an AIDS education organization in Tanzania. It took about a week of passing her regularly to start recognizing each other as "semi-residents". Ramish, a lawyer from London, was another person that we got to know pretty well. He had done a year of volunteer work near Moshi after college and was using some vacation time to come back for a visit. Luke and Andy were missionary brothers from the US that met up in Moshi to climb Mt. Kili. Luke lived in Namibia, after stints in other areas of Africa, while Andy lived in Wyoming and was coming from a missionary project in Mali. A German architecture student that was living with a host family in Moshi gave us a humorous account of the dinner she had planned to for them. Not only did she not realize that the chicken ordered would be so fresh (and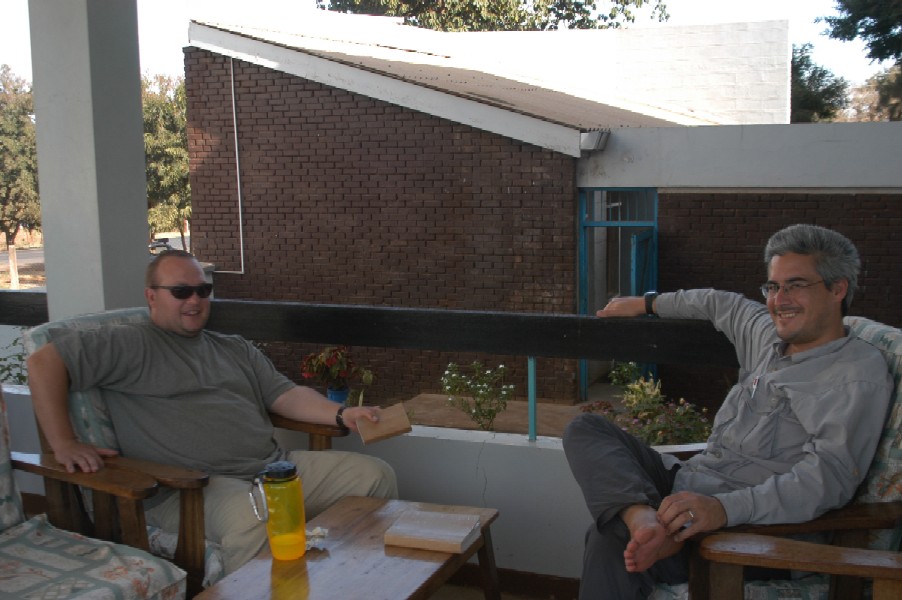 moving), she didn't expect that these free-range chickens wouldn't have breasts! Too much exercise meant big legs and tiny breasts. Fortunately, her host family took care of the chicken preparation for her. Through all of these people and their extensive experiences in Africa we learned a great deal more about Tanzania and the continent than we could have just as tourists. So, while our time in Moshi was dragged out we found that it rewarded us in different ways. (continued...)
ZANZIBAR
Stone Town
July 11
July 12-14
Nungwi
July 15-18
Stone Town
I: July 19-23
II: July 19-23
Paje
July 23-27
Stone Town
July 27-Aug 1
TANZANIA
Dar Es Salaam
Aug 1-3
Moshi
I: Aug 3-31
II: Aug 3-31
III: Aug 3-31
Safari Circuit
Aug 17
Aug 18
Aug 19
Aug 20
Aug 21
Mt. Kilimanjaro
Aug 23
Aug 24
Aug 25
Aug 26
Aug 27
Aug 28
KENYA
Nairobi
Sept 1
Sept 2
Sept 3
Sept 4-5
UGANDA
Kampala
Sept 6
Sept 7-16
Kampala Short Stories
RWANDA
Kigali
Sept 16
Sept 17
Ruhengeri
Sept 18
Sept 19
Gisenyi
Sept 20
Kigali
Sept 21
Sept 22
UGANDA
Kampala
Sept 23
Sept 24-26