August 25. MT. KILIMANJARO - Day Three The morning was clear when we started out at around 8:15, Kilimanjaro's giant crater shooting up into the sky. The trail was gradual, leading us through a growing number of lava rocks as we gained elevation. It was an acclimatization day that took us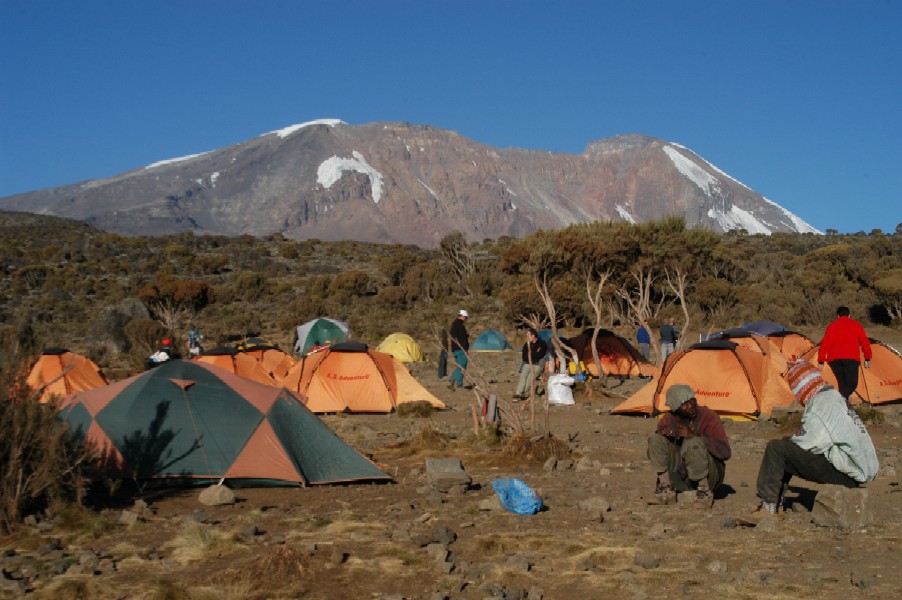 up to about 4600 meters where the lava hut campsite stood and back down again to not much higher than we started. There was an easier route to cut below the lava hut but I was feeling pretty good and wanted the benefit of acclimatization so we continued uphill. The watch went off at the altitude of Mt. Whitney and a bit farther along it rang again and a ticker ran across the top of the screen that read Matterhorn. It was rewarding to feel yourself making progress.
The lava hut campsite stood below a giant rock of lava, looking up at the steep walls of Kilimanjaro. Unfortunately, the view didn't last long as the afternoon clouds moved in and covered the mountain. There were a handful of camps set up below the giant rock. I chatted with a guy from Jo'berg who was climbing the more difficult Umbwe Route. He was the only person in his group as well and we commiserated about the hours of dead time in the afternoons But, I envied him the solitude of his less traveled route. Communing with nature was difficult to do on the Machame Route.
When I asked David about climbing the lava rock he said there was a trail. His idea of a trail was more broad than mine and the 75 meter climb entailed a couple 5-6 or 5-7 maneuvers that tested my nerve. Coming back down wasn't quite as bad. When I returned to the camp I saw Hannah and Micheal. I had run into the guy from New York earlier as well. For all of the people that were making the climb it seemed that I kept running into the same people. We all kept about the same pace and schedule. But, as we made our descent to the Barranco Hut they took a different trail from David and me. Theirs looked more scenic as it traveled along the river while we were moving along with all of the porters. For a while a friend of David's paced along with us which wasn't a problem. After all, why should we both be bored out of our minds. But, this friend of his was carrying a radio strapped to the back of his pack and it was blaring music. Initially I thought he was just another porter passing so I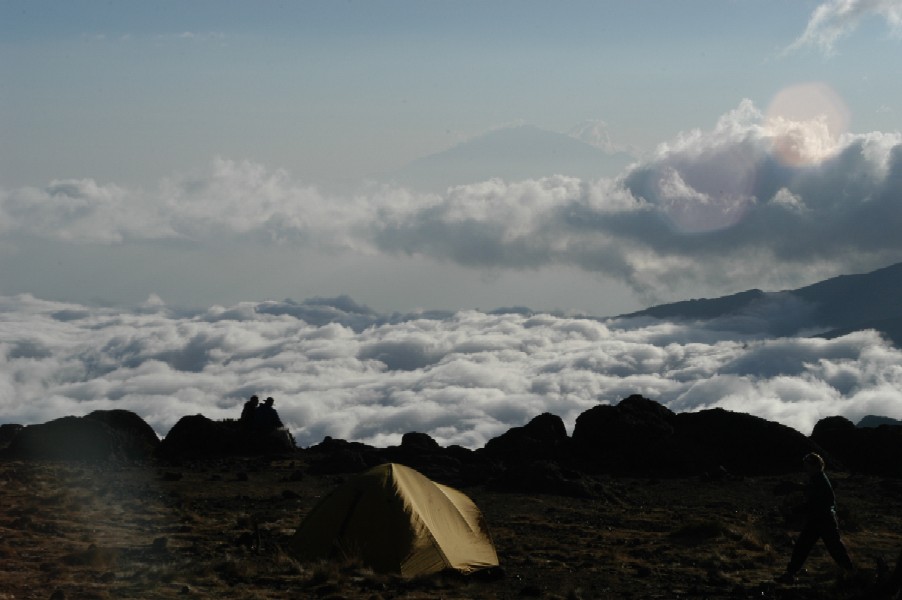 stopped and waited for the radio to move out of range. But, he kept waiting for us. Listening to the crackling noise of a cheap radio being played beyond its technical ability was giving me a headache, not to mention it was just totally annoying to have the only hours of peace in my day polluted with bad music. My afternoons were already spent listening to thirty porters chatter outside my tent with their radio going and seventeen Spaniard cackle away in their mess tent. I asked David to let him go on ahead. He didn't seem happy about it but that is the way it goes.
The scenery started to get green again as we came closer to the campsite. Tall cacti protruded from the barren mountainside and made an peculiar contrast to the snow capped crater that stood behind them. It was a beautiful area and with the camp in sight I told David to just go ahead while I enjoyed the scenery and took some photos. He was reluctant but there was no need to have his him waiting around while I just sat there. I wanted to postpone the tent city experience for just a while longer and tried to capture a few moments of serenity. People continued to stream down the trail so it wasn't that serene but the unique vegetation was worth the extra time. I followed along about a half hour later.
The Barranco Hut campsite was a vast area and while tents were scattered everywhere they were kept separate from each other. My tent, on the other hand, was just next to the mess and kitchen tents again but I just couldn't be bothered asking them to move it again. It made it easier for the porter to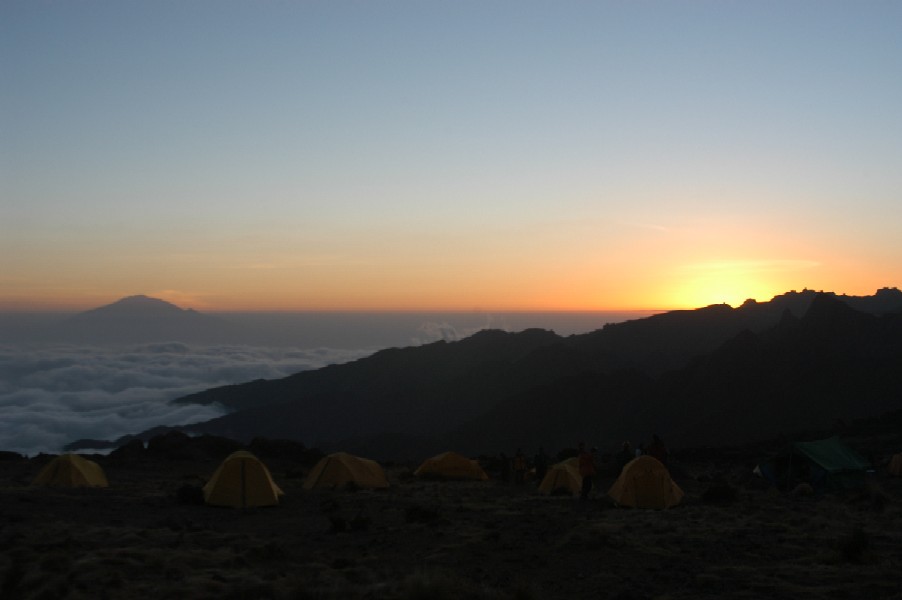 deliver food from the kitchen so they did for their own logistic reasons. Since the Spanish were about two hours behind me I had to wait for any washing up water or to get any afternoon tea. In the meantime I just washed with my stash of handy wipes. I tried to nap but the constant noise of the porters made it difficult and I was already dreading the seven or more hours until bedtime. The finally brought my tea and I was briefly entertained by some small birds that hopped in and out from under my rain fly to grab and loose popcorn crumbs.
The layer of fog that nestled against the mountain made the weather warmer. I sat outside my tent for a while and David came by to chat. He tried to be personable but there was only so much his vocabulary allowed us to talk about. I asked him to introduce me to our second porter so I knew who to be looking out for on the trail. I already knew Safir, the one who brought my meals, but the other guy had just been blending into the mob of porters that came along with the Spanish. Unfortunately he was off fetching water and wasn't around.
I finally noticed Michael and the guy from New York standing near the one meager outhouse and went over to chat. The New Yorker was on his own as well but a kitchen for one was much less noisy than a kitchen for seventeen and by 5:00 he had already eaten dinner. Michael and Hannah had eaten as well. In the back of my mind I was was regretting not having taken the Marangu Route. The hut lodging was more social and would have been easier. The Machame scenery was meant to be more spectacular but the whole experience was really just about a bunch of crazy competitive muzungus climbing the highest mountain in Africa - just because it is there - with some partying along the way. It was hard to believe anyone was really out there for the nature experience, regardless of what they said.
Dinner turned out to be one of the better ones that night. I had another enormous plate of pasta with some bolognaise sauce. I put away more of that meal than any other on the whole trip. However, all of the starch felt like it was turning to paste in my gut. I was consuming about three liters of water a day plus the Milo I drank at tea time but things were making normal progress. At the end of the second day I tried to help things along but there had been little change in my situation.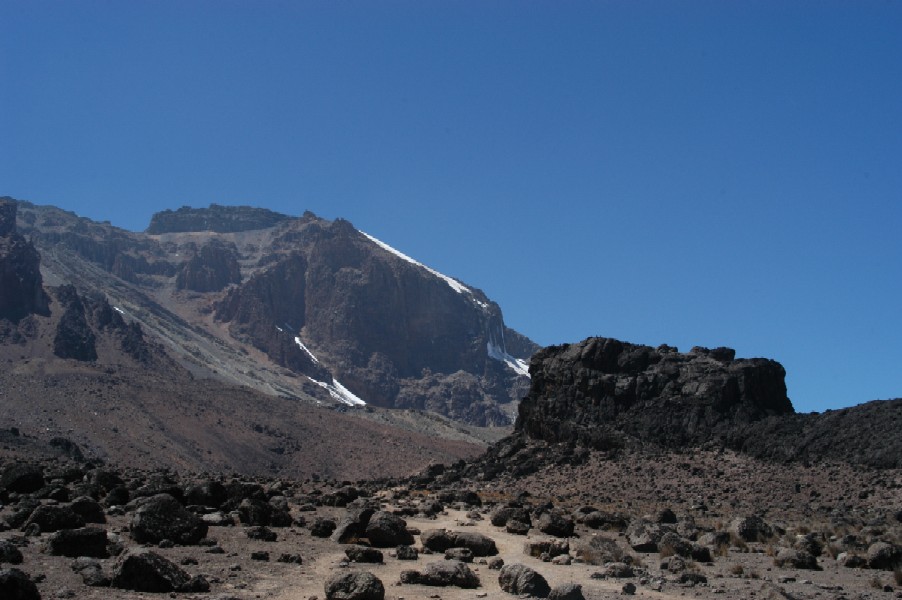 Another pill finally got my system back on track, which was a relief. I didn't fancy everything coming to a head while I was making the midnight summit attempt.
By 9:00 I was ready for bed. I jammed the earplugs in my head to drown out the Spaniards and porters but it wasn't a great night's sleep. By around midnight my second pill had caused everything to advance too quickly. I was awoken by an abrupt movement in my gut. It will pass, I thought. I hated getting out of my tent at night. But, a few more painful gurgles told me that my body meant business and it began to scramble to get myself out of the sleeping bag, threw on my shoes, grabbed my headlamp, and ripped through the door of my tent. The moon was so bright that I didn't even need the headlamp. I ran. Once I was safely tucked back in my tent I found it hard to go back to sleep but fortunately there were no repeat gut attacks.
Day Three Stats:
Shira Camp - Lava Hut - Barranco Camp
Altitude Change: 3752m - 4576m - 3915m = 163m
Walking Time: 8:35a - (30 m lunch/10m break) - 2:45p = 4h 30m