August 19. SERENGETI TO NGORONGORO CRATER - "Northern Safari Circuit - Day Three" We got up early enough the next morning to make the most of our time in the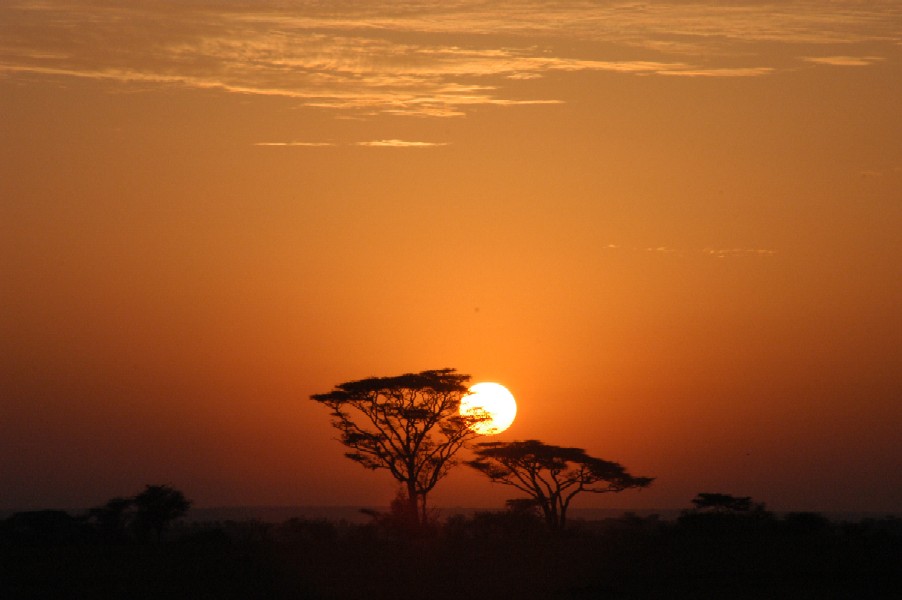 Serengeti. A herd of black buffalo greeted us just after we pulled out of the campground. The sun hadn't broken the horizon so we enjoyed a spectacular sunrise full of red-orange sky.
Sisti took us back to the plains to scour the kopje in search of cats. We lucked out early with a close up view of a cheetah. The cat had been lying on the top of the rock cluster and as more cars pulled up it slowly rose from its relaxed position, took a good look around, and then disappeared to the far side of the kopje. Sisti tried to move the car into a better position but starting his engine is what seemed to scare the cat away. These animals had become quite tolerant of the constant stream of peeping tourist but they had their limits. We rounded the kopje to see if we could find the cheetah but the road took us too far away to see well. Still, it had been a great sighting. We spent most of the morning roaming across the plains to look for more cats. At one point we were stopped with a cheetah off some distance to our right and a small herd of Thompson's gazelle to our left. The cheetah looked like it was interested in breakfast and the gazelle seemed quite unaware so we were crossing our fingers for the ultimate safari sighting, a live kill.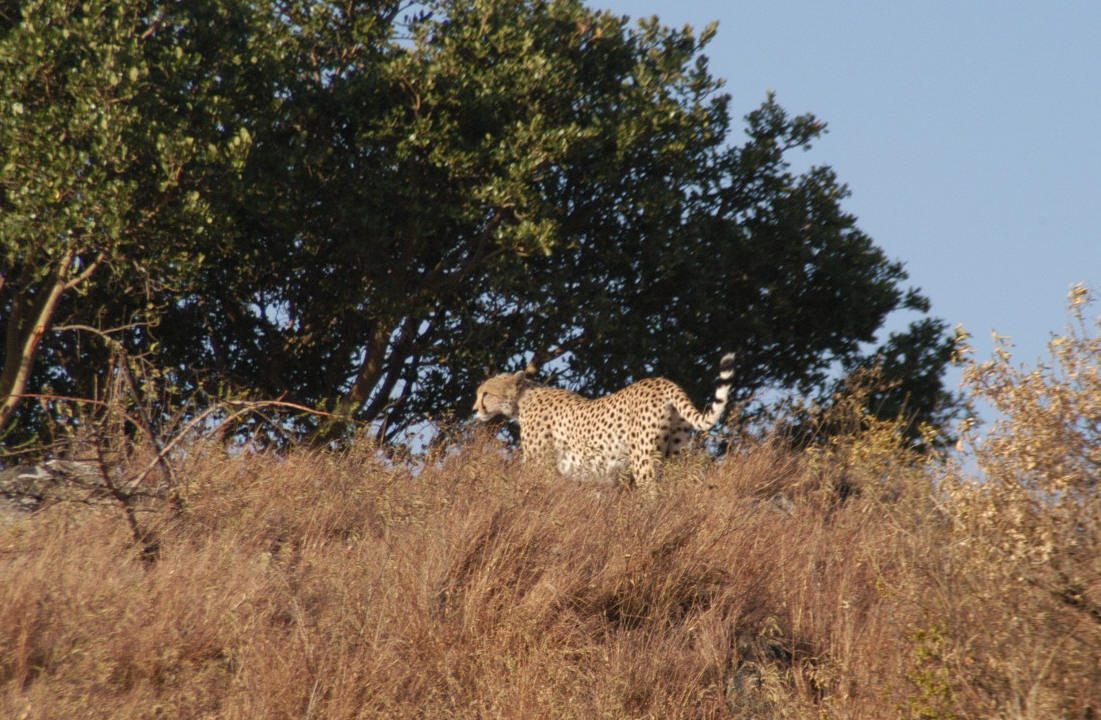 Then we noticed a dark figure had moved from its far off knoll and was moving in our direction. As it got closer the large shaggy main came into view. The lion moved deliberately towards the group of gazelles as they stood with their eyes glued to his every step but they didn't scatter. He kept up his pace but walked right past them. Lions aren't known for their killing skill, relying mostly on the females to bring them meals. However, it was possible that the lion had seen the cheetah and was moving in closer to try he next best shot at eating, steeling from the cheetah. The cheetah often gets cheated out of its hard earned meal. They are so exhausted from the exertion of chasing and killing the animal that these smaller cats can't fight off rival predators.
On a hunch or a tip Sisti left our lion-cheetah-gazelle standoff and headed in a new direction that landed us right in front of a sleeping male lion. He may have been another reason that the first lion had changed position. As big as these plains were there just wasn't enough room for these lazy kings. Naturally the word got out about the lion and more cars came flying over, creating dust storms in their wake. The lion looked up sleepily as his popularity increased. At first he was rather uninterested, periodically raising his head to assess the situation. We moved forward and could only have been about a yard or two from the lion as he began to sit up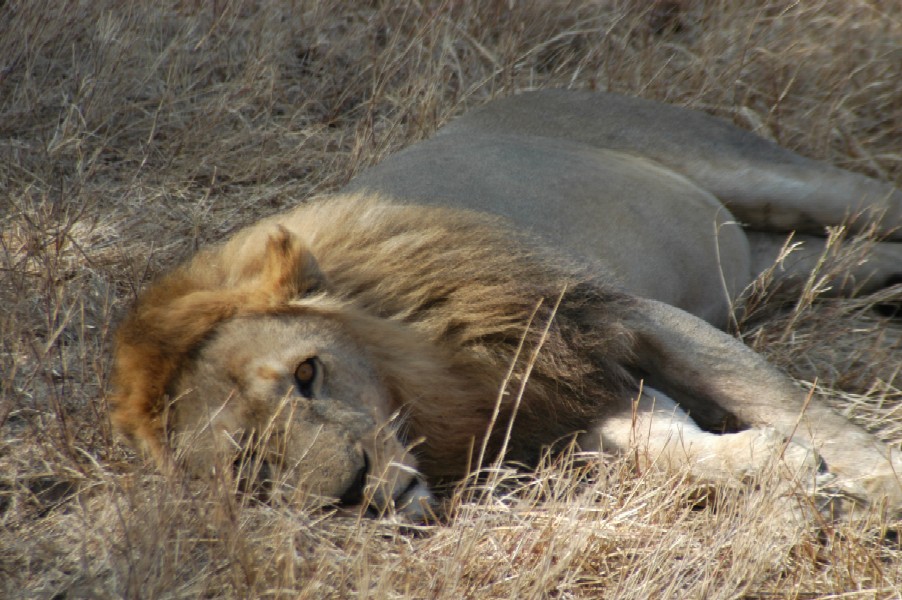 and pay attention to his celebrity. He turned his head slowly and gave us a long look. I quickly snapped a few photos of him through my cracked window and then just stopped to look at him in the eyes. He looked right back at me with his piercing yellow eyes and it gave me a chill. His paws alone were the size of my face. He was a big and wild animal that was just six feet away. It made me feel small. Then we turned around him and I saw the cluster of trucks that were hovering over the poor cat and I couldn't help but feel a bit sorry for him. In an instant he went from a big wild lion to a small cat dwarfed by mechanical beasts.
Our lions sightings weren't done for the day. It wasn't long before we came upon a pair of lioness resting beneath a small tree, just off the road. The midday heat was upon them and they were starting to slow down. Another few hundred yards and we found another two lioness taking shade under a large Acacia tree, probably part of the same pride as the other two. But one of these two lioness was a subject of study and a green park jeep with a large antenna was parked off to the side. Looking closely we could see a tracking collar on the lioness.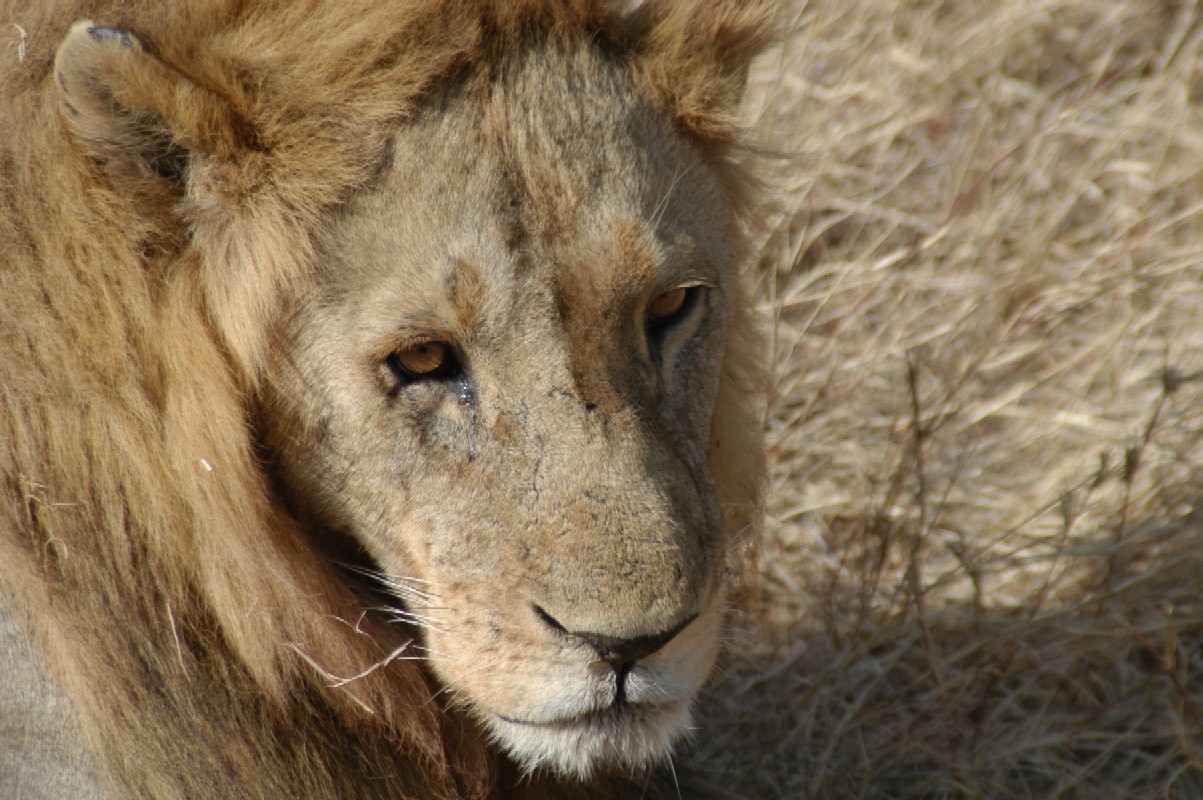 At this point it had already been a long day and it was time for a bathroom break. Being far from camp we had to improvise so a few kilometers after the lioness sightings Sisti said it was safe to duck behind the back of the jeep. Babsi and took our turns, quickly.
As the morning wore on I could feel myself losing enthusiasm for seeing some of the same animals again: cranes, alligators, monkeys, buffalo, etc. We longed to see on of the illusive leopards so I kept myself focused on looking in the trees. Just before we reached camp for lunch we came upon a massive crowd of trucks that were all looking at a big acacia tree. We pulled over while Sisti tried to figure out what the excitement was about. Through the grapevine he learned that we were look for a leopard. Apparently someone either saw or thought they saw a leopard tucked away in the dense foliage at the very top of the tree. Sisti claimed that he could see a tail and tried to point it out to us but we saw nothing. Apparently we needed more skill in leopard sighting to recognize it. We strained our eyes, binoculars, and telephoto lenses for quite a while before we finally gave up. I half suspected it was a ruse organized by the guides to make their clients "think" they saw a leopard, since everyone wants to see a leopard on their safari.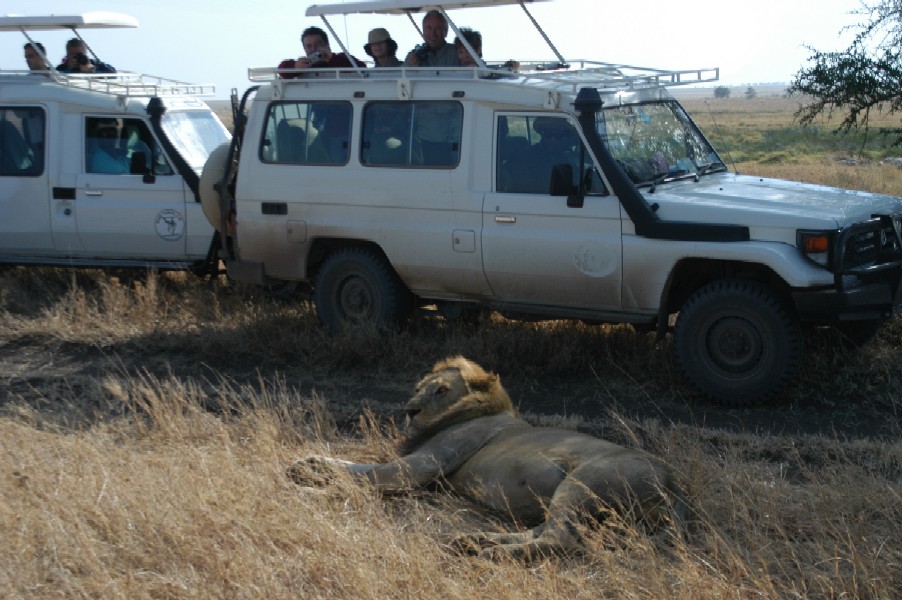 Bernard had lunch ready when we arrived. Somehow he managed to put together a pizza. There was also talk around the camp that the cooks had just seen a leopard but then it was corrected to a cheetah. After we packed up and were heading out we passed by that same acacia tree. We paused for a moment and then all concluded that there wasn't a leopard in that tree. (At the Crater camp that night we met a couple who swore they saw a leopard face peek out of that very same tree. I remained skeptical.)
Sisti was flying to get us out of the park by the 2:00 deadline and avoid fines so we didn't stop to see many animals. When we spotted a very large antelope he slowed to a normal pace, looked, and said "Elan, the largest antelope," before gunning it again. We made it out a bit late but close enough.
We headed out of the Serengeti NP via the same road that we had arrived. Oddly enough it was a national highway which meant there were sporadic but regular public buses that passed directly through the Serengeti. They couldn't stop but it was one option for the safari goer on a really cheap budget. At $85/day our trip was at the bottom end of the guided safaris, the next step up.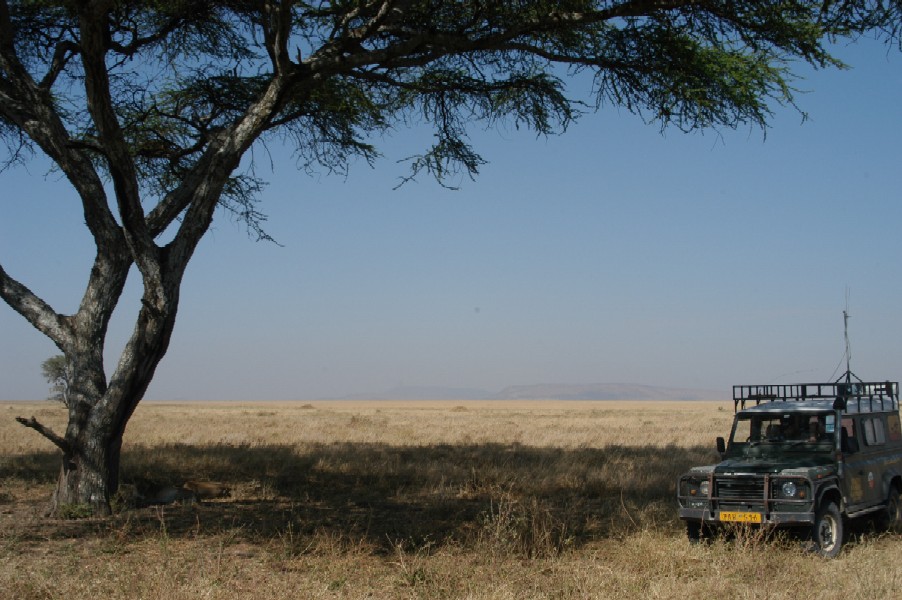 Our day ended at a campsite on the rim of the Ngorongoro Crater and the chilly air confirmed our gain in altitude. Bernard had been quick enough to snag us a spot for to eat inside the covered eating area so we sorted our stuff into the tents and went for our evening tea. It was a lovely campsite, probably the best so far, and the sun high enough to enjoy it. After some tea we strolled around the grounds and tried to get a glimpse beyond the high bushes into the massive crater. While the sun was still upon the ridge crest we saw an elephant emerge right up from crater wall and come right out along the edge of our campground. It caught everyone off guard. A second one arrived soon after and they calmly proceeded to go about their feeding. The crater floor was drier this time of year so the moist green stuff was higher up. The two elephants were only about twenty feet from the group of tourists that had gathered to watch. I almost ran for my camera but the thought of missing this moment made me reconsider. I had more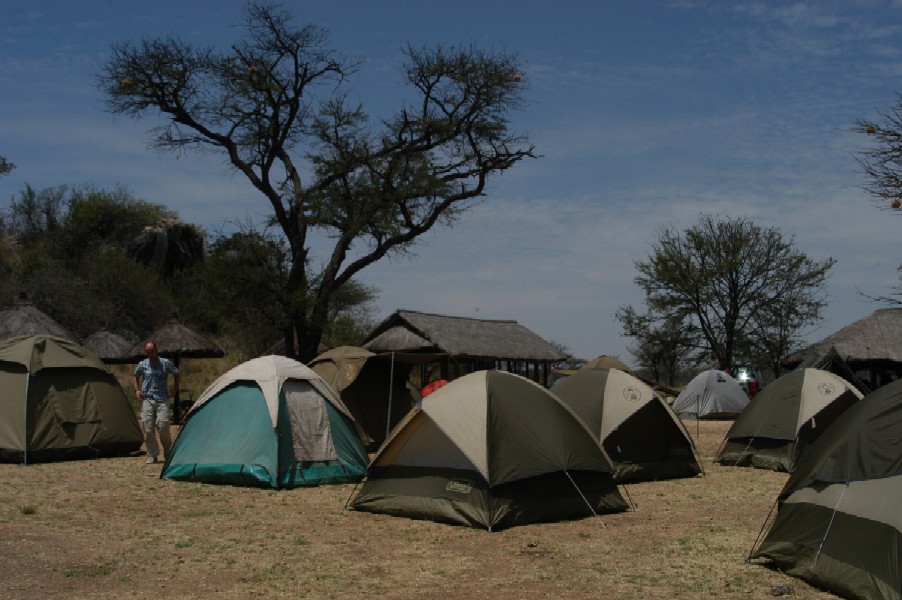 elephant photos than I could even look at and I just wanted to watch these behemoth pachyderms at close range. Elephants were by far my favorite animal in Africa. They only rummaged for about a half hour before heading back down into the bushes.