September 7. KAMPALA The alarm went off at seven. We had to check out by 10:00 which didn't leave us much time to find an alternative place to stay. The sky was dark and gray.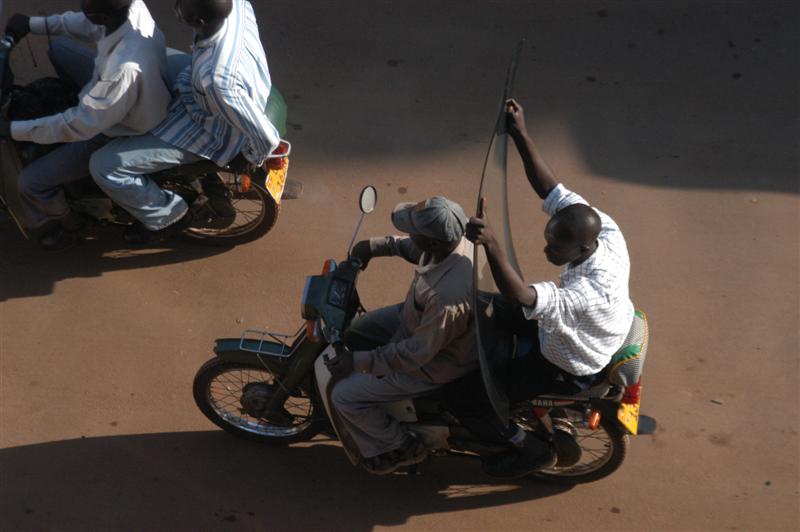 The hotel looked a bit better in the daylight but it really had been too noisy and for a little extra money we thought we could find something more comfortable. The first place we tried was more central but the room was more or less comparable to what we had and cost twice as much. As we headed to the next place we saw people starting to run. Maybe the locusts were coming, we thought, but it was just the rain. Well, lots and lots of rain. We made it to the Hotel Havana before it started coming down in sheets. The Havana was a step up from our hotel but they wanted almost four times as much and it really wasn't four times the room. By the time we had checked out two rooms the rain was pouring down. We sat in the lobby and waited for it to pass. A stream of water gradually started to emerge from behind the reception desk and was creeping towards the front door. A waitress from the restaurant came over and asked us to come inside so we didn't get our feet wet. The restaurant was a few steps up and dry. I ordered a bowl of soup. Without dinner and breakfast we were both really getting hungry. But, by the time the waitress got to the kitchen with our order the power went out. There weren't any windows in the restaurant so we were sitting the dark. A hand full of people were across the room trying to eat their breakfasts. Rob pulled out his key chain flashlight. We cancelled the soup and found our way to the door. Standing by the front door we could see the rain coming down heavily. A man was using a long squeegee to push the water out of the lobby. There weren't any special hires in sight but the door man signaled to someone and he went to get his car.
We just wanted to go a couple of streets over to check another hotel but crazy Kampala street planning had us doing crazy eights in traffic circles before we could get going to right direction. Then, the taxi made a wrong turn. It was becoming too much work so we skipped to our last option, the mid-range Tourist Hotel. For $35 they had fine rooms but really not great value. We walked from there back to our hotel and asked for a quieter room. We had taken a three person room so they were fine with changing us to a room in back. It was much better as far as noise was concerned.
Locking up our bags in the new room we went out again to find the Indian Embassy. It was still raining. A special hire took us to the embassy but, just our luck, it was some Indian holiday and they were closed. You have to love those diplomat jobs. For a bit extra we had the taxi take us to the Ethiopian Embassy. He haggled with us because it was so much farther. It really wasn't and it turned out that he didn't know exactly where it was. Fortunately it was open but they were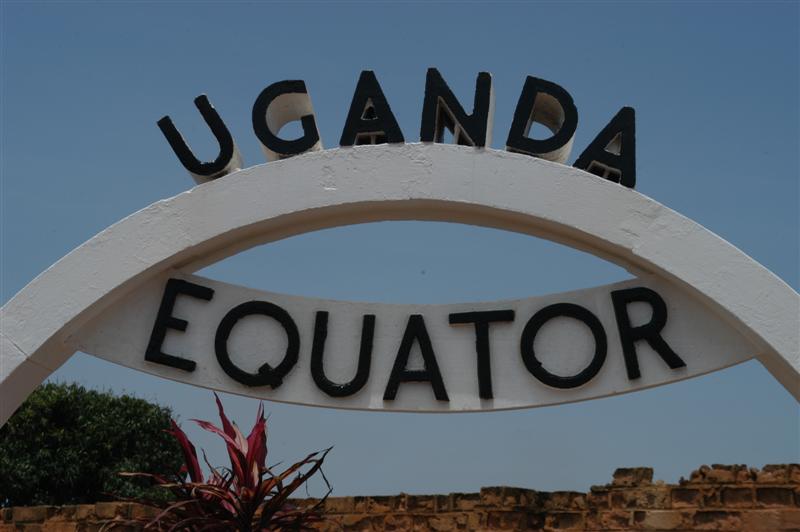 charging double what US Ethiopian Embassy quoted for a visa and the woman at the desk was a witch. We were both tired, hungry, and feeling generally impatient and grumpy. I filled out the forms but we just didn't have the confidence to hand them in. We were realizing that Africa was wearing on us and perhaps trying to take in another country was just too much. Besides, if we flew to Addis we could get a cheaper visa at the airport. We took the forms and left.
Annoyed with our whining cab driver, we had him let us off in the center of town, near a row of change bureaus. We found a good rate in the back of an appliance store, of all places. The nice Indian woman who helped us was very kind. She cautioned us on carrying too much money, on not getting taken for too much because we were tourists, and then dug through her stack of business cards to give us the name of a guy who'd changed money with her earlier in the week and ran a tour agency. Except for being pissed off by a couple of cabbies, the people in Uganda had been really nice. We hadn't been approached by a single tout all day and while the city was rather homely and unkempt it didn't feel unsafe. For lunch we found a local fastfood place called Antonio's where they made a passable attempt at a burrito (made with Indian chapatis) and Rob had a hearty breakfast of eggs, chapatis, and plantains. From the restaurant we did a 15 minute update on the Internet and headed for a cafe that promised International reading material. It had CNN going as well so we leisurely read and watched TV over some drinks. With some food in our stomachs and a bit of relaxation we were starting to feel sane again.
When we returned to our hotel we were unable to get into our room. The key just didn't work. The guy at the front desk came and gave it a go but ended up just kicking the door in. It was unsettling to see how easily the door just popped open. We were glad that we'd kept everything locked in our PacSafes! He just moved us to the next room down, which had a better light anyway, and went about repairing the door.
September 8 - 16. KAMPALA The city of Kampala, not initially a pretty sight, started to grow on us during our ten days there. The skyline was dominated by 1970's architecture and the streets were incredibly congested but the city's location amongst its seven surrounding hills made it somewhat scenic. It was a city of contradictions; chaotic and often stressful but somehow comfortable and welcoming. The city's sidewalks were a menace, some unpaved, which turned to mud in the rain, and nearly all were populated with uncovered manholes, just waiting to swallow an unsuspecting pedestrian. And, it was impossible to walk down Kampala Avenue without inhaling copious amounts of exhaust from bumper to bumper taxi vans inching along as they spewed thick black waste from their tailpipes. But, the city also held some cozy cafes and offered up some delicious Indian food. Most of the people were friendly and helpful, and there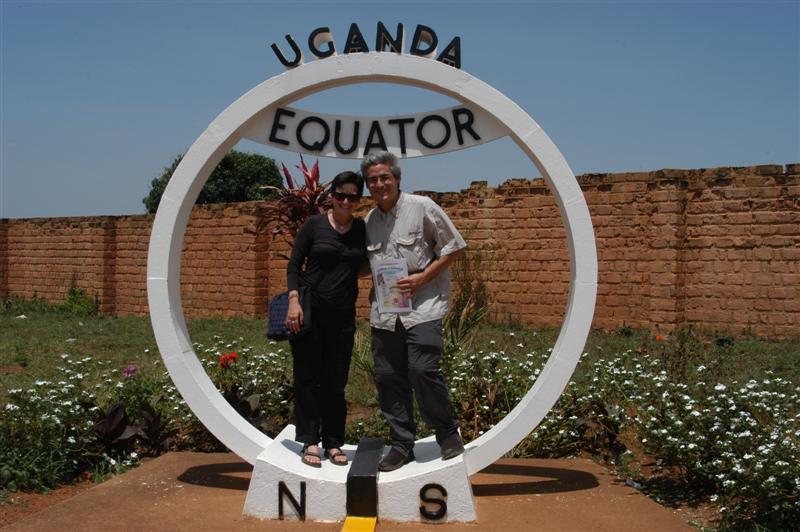 weren't any problems with touts. We were able to walk around the city without the hassles we'd had in Kenya and Tanzania.
One of Kampala most memorable features was the large population of Marabou Storks. There were infinitely more than we had seen in Moshi. They flapped across the city like small airplanes scavenging for food, perching themselves on rooftops and trees, or sometimes lining up along the top of a building in surprising numbers. In the evenings they came to roost in large trees, some holding up to 20 birds. In addition to the storks there were many other birds that persisted in living in Kampala's smog filled skies. When the city noise died down in the evenings, the various chirps and calls of different birds could be heard from trees and bushes all around. Large flocks swooped across the sky, changing directions on a whim, breaking apart and coming together again. While the concrete hardness of Kampala could make you forget that you were in the middle of lush tropical landscape, the birds brought you back to the abundance of nature that surrounded the city.
The term muzungu (white person) was frequently yelled in our direction as we walked the streets of Kampala but not with any aggressive intentions. It generally came in the form of acknowledgement like "Hey muzungu!" or, when coming from children, "Muzungu!". It was the equivalent of "Hey there white person!" or "Look at you, you are a white person!". Occasionally it was embedded in a sentence that we couldn't understand like "Blah, blah, blah, muzungu, ha, ha, ha!" indicating that we had done something amusing. Once it was yelled in translation from a group of teenage boys that were hanging out of a tricked out car. "Hey white, whitey!". Somehow it didn't sound as good as muzungu. But, muzungus were quite scarce in downtown Kampala. Most of the ones that we encountered looked like local muzungu. It was easy to tell from their dress. They were probably aid workers or with diplomatic missions.
We had become quite comfortable in our muzungu-ness until we caught a pair of likely pickpockets following us one afternoon. They weren't very skilled. It was hard not to notice when someone makes a rapid about-face in reaction to your moves. We had entered a store but as soon as we realized that they didn't have what we wanted we turned to leave. The guy following us had just entered the store and was caught off guard by our sudden change in direction. It was then that he gave himself away. He made an awkward attempt to avoid eye-contact while he tried to look casual about his simultaneous decision to leave as well. As we walked out of the store he stayed about 15 feet ahead of us and started to turn his head from right to left in an unnaturally frequent way. He was trying to make sure we were still there by catching us in the corner of his eyes. I pointed him out to Rob and we stopped. It was no big surprise that he soon stopped and decided to lean on a post next to the road. Just then a second guy came over and started to talk to us. They were together. We left them both and walked towards a nearby store.
We still had to cross the chaotic mess of a taxi park on the way to our hotel and knowing that we were being followed made us uneasy, especially since we had gone to the bank that day and had a lot of money with us. In the end we just hopped in a cab, went to a hotel that was a block from ours, and walked from there. During our time in Kampala it was an isolated event but it started to make us feel too conspicuous about being the only muzungus in our hotel. It was a rather noisy place anyway so we decided it would be better to move to one of the backpacker hostels outside of town. The hostels were also a good way to meet other travelers and arrange trips around Uganda.
The first place we tried was the "recommended" Backpacker's Hostel. The taxi that took us had to fight its way through the ill-mannered traffic of the city, exhaust fumes seeping in through the doors. The smell had permeated our hotel room, keeping my Moshi cough alive and well. I was glad to be heading out of the pollution and to this "garden in the city" that was described in our guidebook. But, as luck would have it, the garden didn't live up to expectations. The run down lobby cum restaurant cum bar was the first sign. Some plates left over from breakfast were left sitting on one table, for quite some time from the look of the crusty food and flies. We were shown four rooms, all more expensive than our room at the Hotel Fiancée and all significantly more worn down - and with shared toilets. The plastic flooring was ripped up in many places, would have been better if it had been removed entirely, and the beds had seen too many nights. If we hadn't seen any other hotels in Kampala we might have accepted the dingy accommodations and just dealt with it but I was already regretting that we had left the Hotel Fiancée. Rob went to the main road and hailed a cab, actually it was just a guy who was willing to give us a ride in his car for money, and we went across the city to try the other backpacker hotel, the Red Chili Hideaway.
When we drove into the Red Chili parking lot we started to feel better about our impulsive decision to move hotels. The upkeep on the place was much better than the Backpacker's and the setting was neatly groomed as well. The bar-restaurant area was nicely done, similar to a place back home, and was serving up a tasty menu of dishes. They initially told us that there was a double room available but it needed to be cleaned so we sat down and had a couple of hearty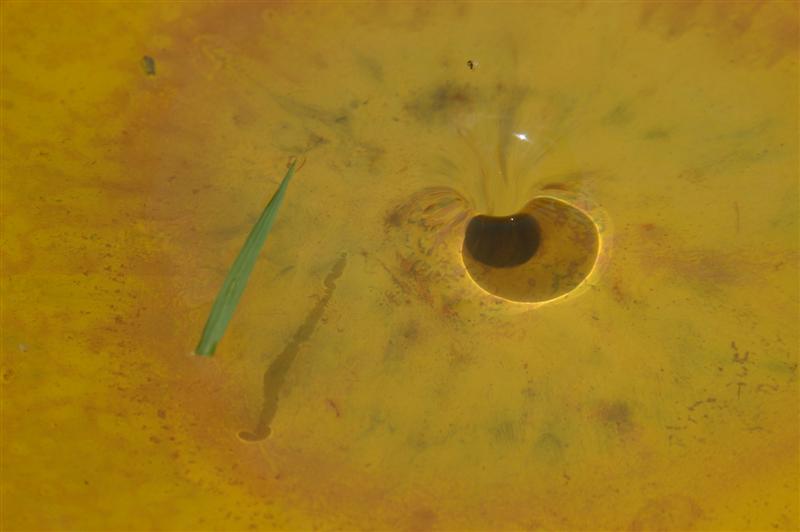 English breakfasts while we waited. Unfortunately they turned out to be wrong about their reservations and came back to tell us they only had dorms or a pricey cottage left for the night. I checked them out and the cottage was nice but at $50/night it was just too much. We had to chose between taking a dorm room or going back to our original hotel in town. In the end it seemed like too much trouble to go all of the way back to Hotel Fiancée and we suck it up for a night and deal with a dorm room.
The dorm room was a night to regret since the barracks like room wasn't equipped with mosquito nets. Even the sheets cost extra, making the two dorm beds almost as expensive as their double room! A French medical student brazenly stole the blanket right off of my bed while we were at dinner. He claimed it came from another bed but there were almost no other people in the dorm and the other beds had blankets in tact. That caused us to move beds, just so we didn't have to be near the guy. He was smug and proud of himself. With mosquitoes buzzing around our heads all night it was anything but a restful night. We were quite eager to move into our double room the next morning - until we saw the double room. We went from a barracks to a prison cell. It seemed that the only place that Red Chili made an effort to keep up was their bar. No doubt this was because their main clientele was from overland trucks who just camped and drank themselves blind at night. We had to share a really grim toilet and the showers were across the compound. The room had two narrow beds crammed in next to each other and the mattresses were completely useless. The only thing that the room had going for it was the mosquito nets.
Our days in Kampala seemed to just get sucked away. Once we had submitted our application for an Indian visa we kept hanging on for the approval to come through. After ten days in Kampala we were still waiting. For some unknown reasoning of Indian bureaucracy the Kampala High Commission was unable to approve our visa without first getting approval from California. It was supposed to take no more than three days so we called on Friday but it hadn't happened. That left us with the weekend to kill. We had gone over various options for trips within Uganda but were ruling things out one by one. The trip to Murchison Falls, on the White Nile, looked like fun but the cost exceeded our desire to make the trip. Rafting the White Nile was another big attraction but we had put aside the adrenalin activities in favor of experiencing the wildlife and more traditional aspects of the country. Uganda offered some spectacular scenery and was home to a large population of primates, including chimps and the famous mountain gorillas, and a wide variety of birds.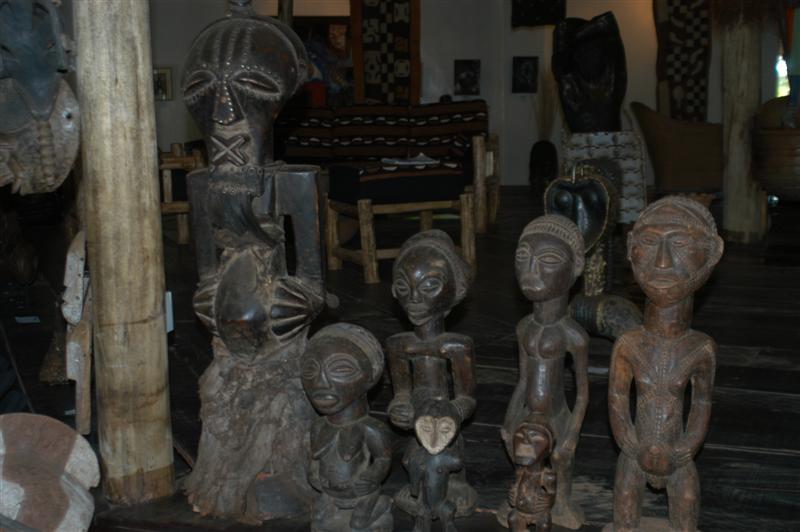 However, nearby Rwanda, with similar geography and wildlife was looking more and more like the better option for independent travelers. The gorilla permits in Uganda were booked up with overland groups and the sites were harder to reach on our own, while compact little Rwanda had many of the same attractions in a much more easily navigable space. So we started to plan on leaving Uganda as soon as our visas were ready.
We decided to stay at Red Chili's but reconsidered our decision every day we were there. For the first couple of nights I managed to get bit by large ants that crawled up my mosquito net and roamed around my bed. When I finally awoke the second night I found about seven scurried across the sheets. Thereafter I kept my net tucked tightly under the mattress, a fortress against bugs. What really kept us at Red Chili's was the comfortable bar, when they weren't playing head banging music. It gave us a place to hang out that the other hotel didn't have and I was able to work on the computer when the power wasn't out. The two nights that the power was out were the worst because a noisy generator from the property next door thumped away all night from just over the fence. The Red Chili management called to get their bar back in service but didn't bother to worry about the rooms. This turned out to be typical of their service. After all, we weren't over landers. After being there five nights the muzungu staff and owners never bothered to even greet us and only would help in coordinating travel to Red Chili organized tours or making reservations at their campsites around Uganda.
ZANZIBAR
Stone Town
July 11
July 12-14
Nungwi
July 15-18
Stone Town
I: July 19-23
II: July 19-23
Paje
July 23-27
Stone Town
July 27-Aug 1
TANZANIA
Dar Es Salaam
Aug 1-3
Moshi
I: Aug 3-31
II: Aug 3-31
III: Aug 3-31
Safari Circuit
Aug 17
Aug 18
Aug 19
Aug 20
Aug 21
Mt. Kilimanjaro
Aug 23
Aug 24
Aug 25
Aug 26
Aug 27
Aug 28
KENYA
Nairobi
Sept 1
Sept 2
Sept 3
Sept 4-5
UGANDA
Kampala
Sept 6
Sept 7-16
Kampala Short Stories
RWANDA
Kigali
Sept 16
Sept 17
Ruhengeri
Sept 18
Sept 19
Gisenyi
Sept 20
Kigali
Sept 21
Sept 22
UGANDA
Kampala
Sept 23
Sept 24-26