August 21. LAKE MANYARA - TARANGIRE - MOSHI - "Northern Safari Circuit - Day Five" Our last day of safari going. It was a beautiful day. The drive from camp to the Tarangire NP took over an hour but we were back on good roads so it was smooth. We didn't know too much about the park except that it was meant to have good viewing during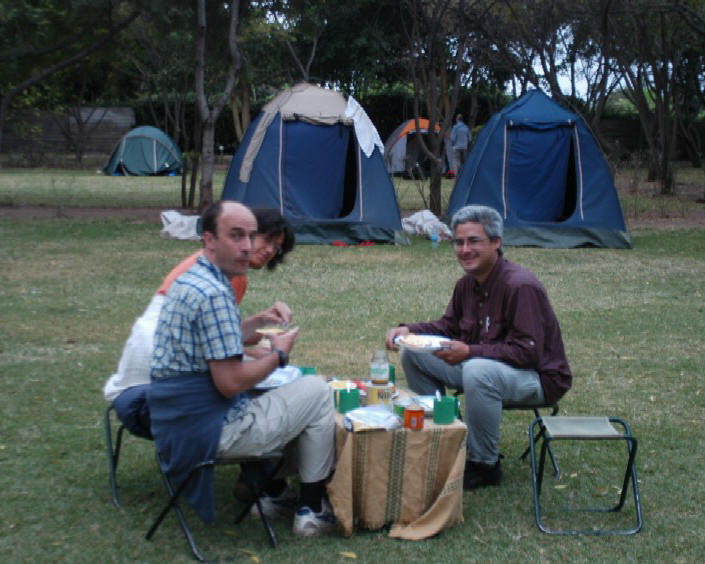 this time of the year. As we pulled up to the entrance gate we saw a mini bus parked in the lot with a loud speaker attached to the roof. It was full of men in Muslim hats and their speaker was busily going on about something. When I asked Sisti he just said it was some religious deal. We'd sort of figured that much out on our own. Apparently the road through Tarangire was a public route so buses used it for transit. While we waited for Sisti to get the permits a larger bus came out of the park with Christian references painted all over it. It looked just like the public buses we'd seed in Moshi. It was interesting to see the two buses sitting side by side while they paused to sort out their permits, a bizarre illustration of the countries two dominant faiths. Tanzania is 40% Christian and 35% Muslim with 20% who hold indigenous beliefs.
Just as we entered the park gate we saw a steady stream of wildebeest and zebra trekking alongside us. There were many of them, much greater in number than anything we had seen in the Crater. Eventually our paths met as they came to cross the road. Tarangire was a different geological area than any of the other three parks and with its abundant water sources it was popular with the herds. Manyara was a tree filled bank along a large lake, the Serengeti had its vast plains and lightly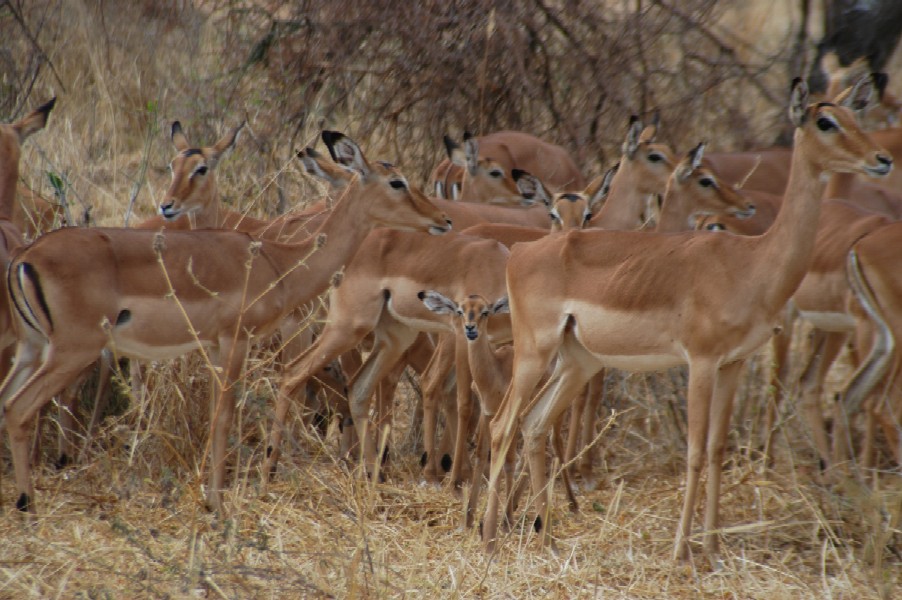 wooded camping area, and the Crater was, well, a crater. Tarangire had more of an undulating landscape. It was open but with a constant scattering of trees, some rock clusters, and a valley carved out by the river. The tall grass made it difficult to spot any cats but the herds of various animals were abundant. A herd of some 20 impala stood near the road and just stood and stared at us when we pulled up. After a few minutes of eye to eye contact they slowly resumed their grazing.
On info he'd gotten from another driver, Sisti took us directly to a rock outcrop that had supposedly been home to a mother leopard and her cubs the day before. We trawled along slowly to check out every crack and crevice but there was nothing. She was probably the center of attention during the day before and any smart mother wouldn't put with that again. She had moved to a more secluded location with her babies. Sisti told us that seeing leopards on the ground was very rare but mothers tended to do it because they couldn't manage all of their cubs in a tree. Ah well, we had pretty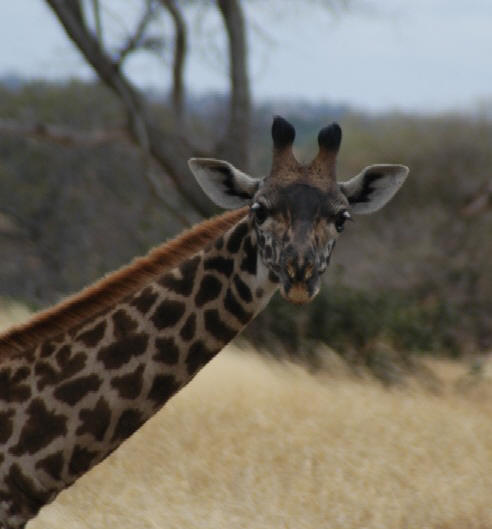 much given up on seeing our leopard at this point and knew it would have just been a lucky bonus.
The river area in Tarangire was home to all kinds of animals. We caught a herd of elephants romping in the water and as they moved down stream we tried to follow in the jeep. The road took us away from the river as the ground steepened and by the time we got close enough again we could only spot one large male swaggering through the water. He was having words with a feisty raptor that was acting territorial over her chosen sliver of sandbar. The road again took us away from the river and past a group of giraffe. Then we were back at the river and instead of elephants we were faced with dozens of zebras.
Our appreciation of Sisti's spotting abilities increased ten-fold when he stopped the car, asked for a pair of binoculars, and then confirmed there was a mother cheetah and her cubs sitting along the far side of the river bank. Even through my zoom it was hard to separate them from their surroundings but as the little cats slipped and slid down the bank playing with each other it became clear that he was right.
The day yielded many more zebras, elephants and also a large population of baboons. We'd seen them several times before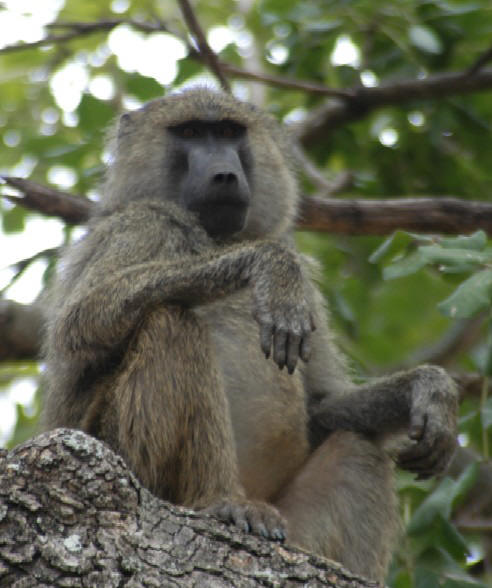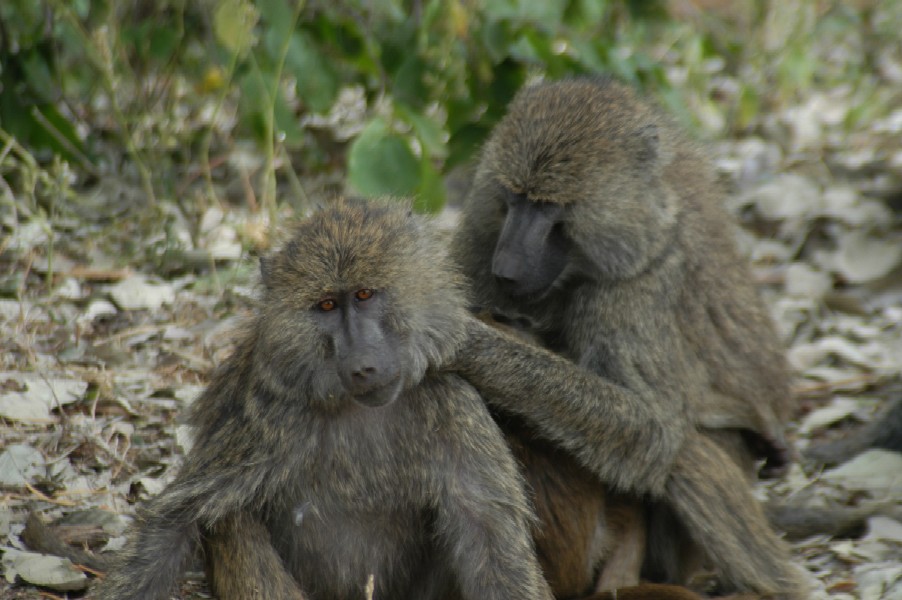 but not in numbers this large. They were all around us, on the ground and in the trees, keeping a keen golden eye on us as they went about their grooming, playing and eating. We stayed with them for a long time before moving on again.
Sisti started to head out of the park in mid afternoon against protestations from Babsi. He acquiesced to one last look down by the river but then pushed to head back to Moshi. It had been a really good day of viewing so Rob and I didn't have any complaints. We were feeling like we'd reached our quota on safaris for a while. But, as if just to tease us one last time, we were stopped on our way out of the park by a crowd of trucks that were looking at a cat sleeping under a tree. "A leopard!" someone whispered from another truck but Sisti shook his head. Too small and different spots. It was a cheetah. Alas, we never saw our leopard....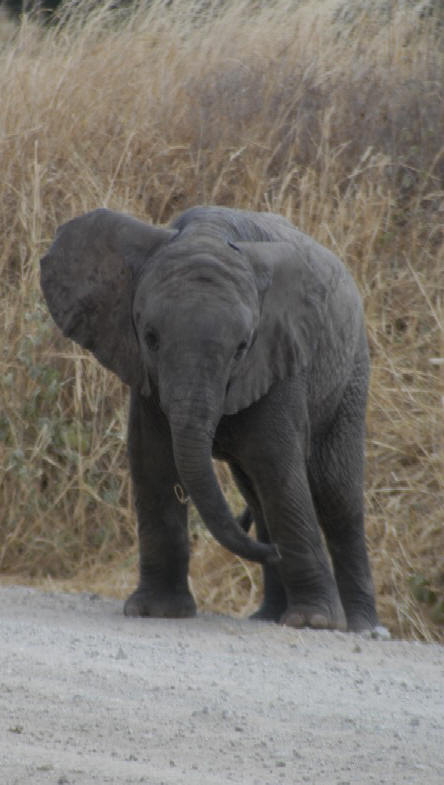 Once we were back on the road it felt good to be heading to Moshi. The dust that got kicked up from the jeeps was turning into a constant layer on my skin. Even a shower at the "Y" was looking pretty good!
Read more about Moshi or click "Next" to read about climbing Mt. Kilimanjaro.