August 26. MT. KILIMANJARO - Day Four The map made our fourth day look deceptively easy. David warned me it was a long day but the elevation gain wasn't much more than our previous day so I felt confident. The trail had a rude start as it climbed a steep rocky face leaving the campsite. The Spanish were ahead of me but I reached them before long. Some of the trail required some hand over hand attention and tired me easily. When I came upon the Spanish they were assembled for a group photo. The main holding the camera made an obnoxious announcement as I arrived that he assumed I couldn't understand. It was in reference to my embarrassing gas incident from two day earlier. He loudly introduced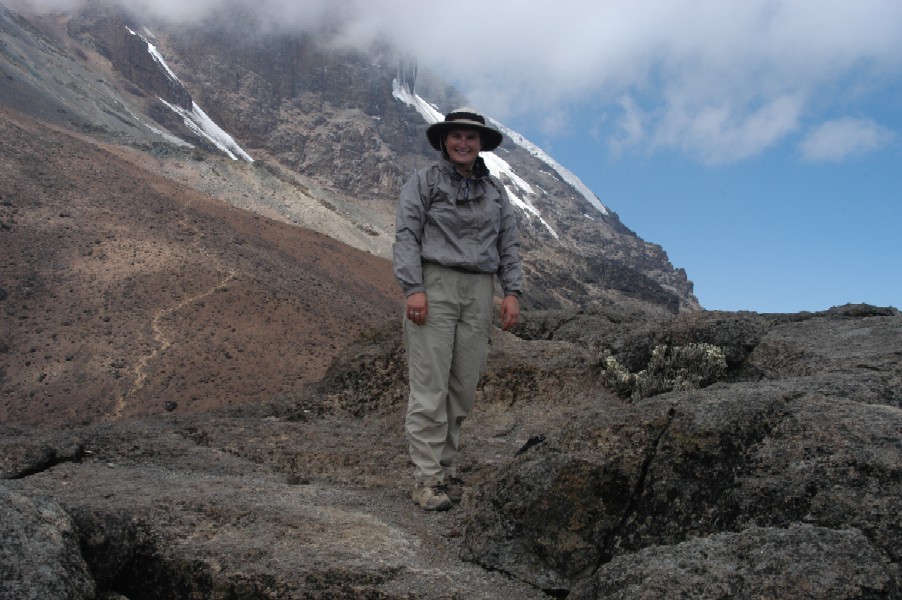 me as the senorita with the gas and they whole group laughed. Of course it was embarrassing but the appalling childishness of it coming from a middle aged man seemed to diminish the impact. He, or rather they, made themselves seem the more ridiculous. I gave them a flat look and began to pass. One man tried to offer his hand to help me up over a steep rock but I just said "I don't need your help". Machismo is nauseating, especially coming from a man too prissy to use an outhouse. Some of my more colorful Spanish started to come to mind but I thought better using it. It referred to their mothers. If my Spanish had been a bit better I wanted to tell them that it was no wonder Spain had done nothing worthwhile in history since 1492, and even he was an Italian! But it wouldn't have been worth it and I wouldn't really have meant it anyway. At least a few of them looked uncomfortable when I gave them stern looks as I passed. Anyway, the women in their group all had fat butts and I bet that no more than one would make it to the summit. So, ha!
After a good steep climb it always feels defeating to go down again, which we did. Then up again and finally down even farther than where we had started the day. This was our lunch break and for some unknown reason they prepared a hot lunch. It sounded promising but turned out to be fried bread with fried potatoes. At least I did get the chance to meet Chopa, my other porter. He came over to introduce himself and shake my hand. I noticed Safir filling a bowl with sugar and hot water and hoped that wasn't all that he was getting to eat. Then again, I might have preferred it as well. I passed on most of my breakfast and left 3/4 of my dinners unfinished. I told them to finish the rest and it was plenty for several people so I hoped they were eating it. The job of the porters was r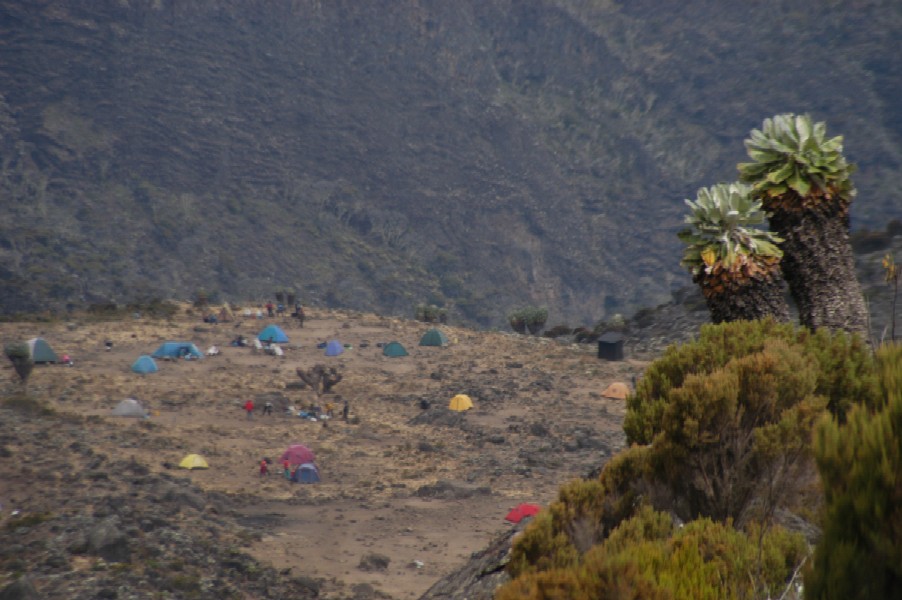 eally tough work.
The afternoon started with another steep climb that lessened after the initial 100m ascent but we had to reach 4650 meters and had lost all of our elevation gain for the day so it was a long afternoon. About a half of an hour after lunch the grease bomb I had consumed started to give me intense heartburn. It slowed me down for a while but finally subsided after a dose of Pepto. After steadily climbing for some time the trail dropped a bit and finally made one last steep ascent to a rocky outcrop that made up the campsite. There were three black outhouse perched at the top with Kili summit in the background. What a great photo for the Spaniards, I thought. It had snowed a bit off and on since lunch but didn't seem very threatening. I asked David to have my tent put up away from the kitchen and mess tents so I could get some sleep. The final ascent started around midnight and I wanted to get as much rest between now and then as I could.
I rolled up in my sleeping bag and tried to nap. I don't think I ever really fell asleep but it was generally restful. Occasionally I was startled by someone brushing the outside of my tent and eventually the Spaniards arrived. When I peeked out of my tent door I could see a layer of snow on the ground outside my rain fly. That wasn't good. I tried not to think about it and went back to my nap but found my sleep punctuated by Spanish chatter. When I emerged from my tent to go to the toilet I saw the mess and kitchen tents about twenty feet away. I just had to wonder where communication had gone wrong. The weather was still overcast but the sun began to glow through the clouds and gradually emerged to produce a spectacular sunset. Slowly the top of the Mt. Kilimanjaro appeared, a fresh dusting of snow covering the previously dirt trail. I asked David if he thought my shoes woul
d hold up to the snowy conditions. If there was a little snow at this camp it seemed likely that there was more up on the mountain top. He shrugged and said we would just give it a try. Getting too cold was my main worry and my shoes were really just hiking shoes, not boots, and I feared they had reached their limit.
Dinner was awful. A towering plate of sticky cold spaghetti noodles with the mystery sauce. I could hardly face it anymore. How did the food go so cold in just the distance from the kitchen tent to mine. I forced bites into my mouth but just couldn't take it. I knew I needed the energy but the food was just so bad. Thank goodness for the soup and Milo. I dug the two emergency PowerBars out of the medical kit and consumed one. They were banana flavored, not PowerBar's best, but they tasted great compared to the dinner. I tried to sleep more after dinner but by 11:30 was starting to feel restless. David and I talked about leaving closer to 1:00 instead of midnight. I had been making good time and had been nearly to the same altitude without much trouble. My big worry was the cold and I didn't want to reach Stella point, on the crater, before sunrise. Also, it made sense to let others track the snow down before I came along with my tennis shoes. David was reluctant so we compromised at 12:30.
Day Four Stats:
Barranco Camp - Barafu Camp
Altitude Change: 3915m - 4140m - 3868m - 4580m = 665m
Walking Time: 8:10a - (1 h lunch) - 2:30p = 5h 20m