August 3-31. MONTH IN MOSHI: Part III Our Spartan room at the YMCA had a long desk that stretched the length of one wall and looked out on our view of Mt. Kilimanjaro. On a clear day it was a superb place to catch up on the journal. I could type away for hours and find myself refreshed just by looking out the window for a few minutes to stare at Africa's highest peak. I also began to notice that the large field that stretched along the back of the "Y" was frequented by a pair of massive birds. When I first saw one I had to look twice.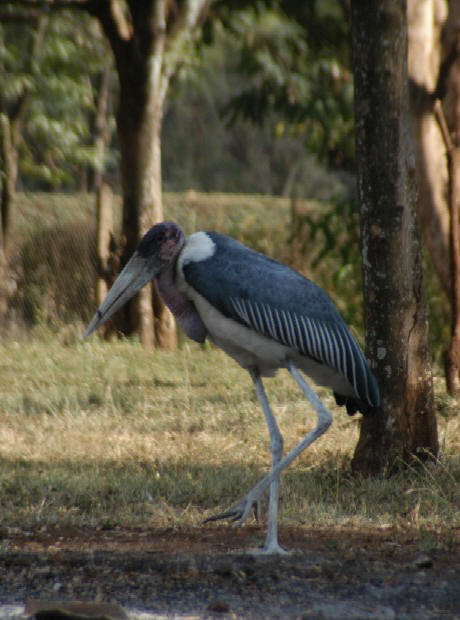 The bird stood at nearly human height with its gray feathered body supported by a pair of long spindly legs. If it hadn't been for the legs it could have been a person wearing a feathered cape. It walked with its long narrow beak hanging down and its head resting between its high shoulders. I had to go out for a closer look. Careful not to get too close I approached slowly. The bird saw me right away and gave me a stern eye. Looking at me from straight ahead, beak pressed against its chest, shoulders hunched, it looked like a teacher getting ready to scold a student. When I mentioned the bird to Ramish he knew exactly what I were talking about. There was a pair of them that had been feeding off of the YMCA trash heap since he was there ten years earlier. He referred to them as the professor birds. In fact they are called Marabou Stork. They could be seen swooping around town, visiting the trash heaps in all of the main religious compounds. I began to look out for them from the window and often caught them circling to land. The field was spacious but these birds had long wing spans. The landing was often a bit bumpy.
As peaceful as the "Y" could be by day there were a couple of nights during the week that it livened up rather loudly. Those nights were Thursday and Saturday. After our second week we recognized the pattern and began eating out on those nights. Even in the early afternoon we could see the excitement building for that night's event, usually a wedding. A flat bed truck with a brass band honking away could be seen driving through town all afternoon, following a car with the bride and groom.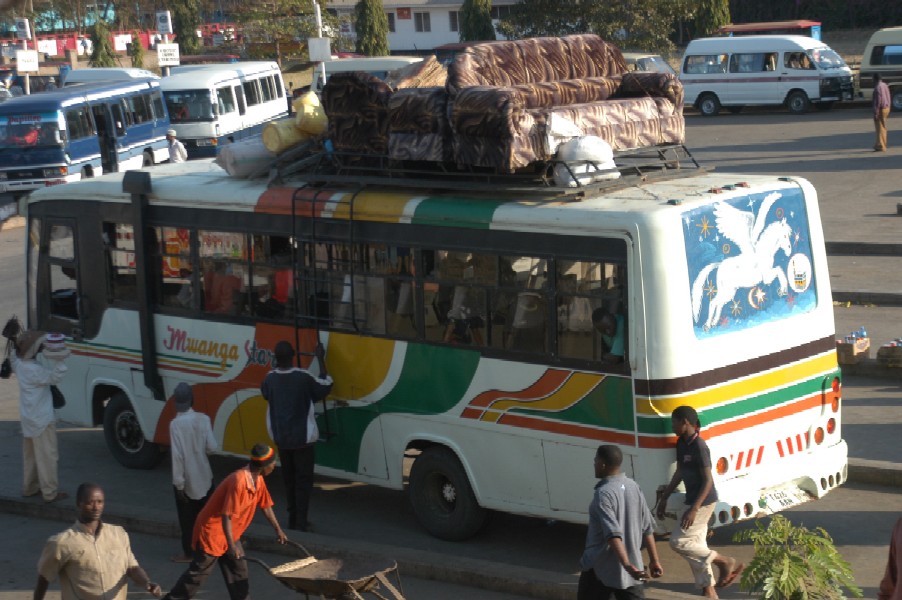 The men in the band always wore matching shirts but unfortunately their playing wasn't always as in sync. It seemed like this wedding parade was a customary part of the celebration. Activity in the gymnasium picked up early as well. Technical staff set up and tested the deafening sound system and the basketball court was transformed into a ballroom. After sunset the parade would end in the parking lot of the YMCA with a stream of cars filling up the empty space. Well dressed people in taffeta dresses and suits would pour out of the cars and pool up in front of the entrance. As the people amassed the band would continue playing, rocking to the beat of the music or thereabouts. The people gradually joined in until there was a mob of party goers swaying in unison. This whole scene would build in size and momentum until the bride and groom arrived, signaling the group to move their music and swaying through the lobby and into the ballroom. The whole thing was oddly western in appearance with the blooming taffeta dresses, big pastel satin ribbons, and neatly dressed brass band playing a mixture of western and local music but the underlying rhythm of the event didn't betray its Tanzanian roots. It was fun to watch the first couple of weddings get under way but after that we look our leave and didn't come back until the music was gone - usually between 10pm and midnight. If the streamer clad car in the parking lot was gone then it was definitely over and it was safe to seek sleep. Still, off in the distance you could still hear that band driving around the streets into the night....
The longer we stayed in Moshi the more comfortable we became. Unlike Arusha, which had a reputation for aggressive hassles and nastiness, Moshi wa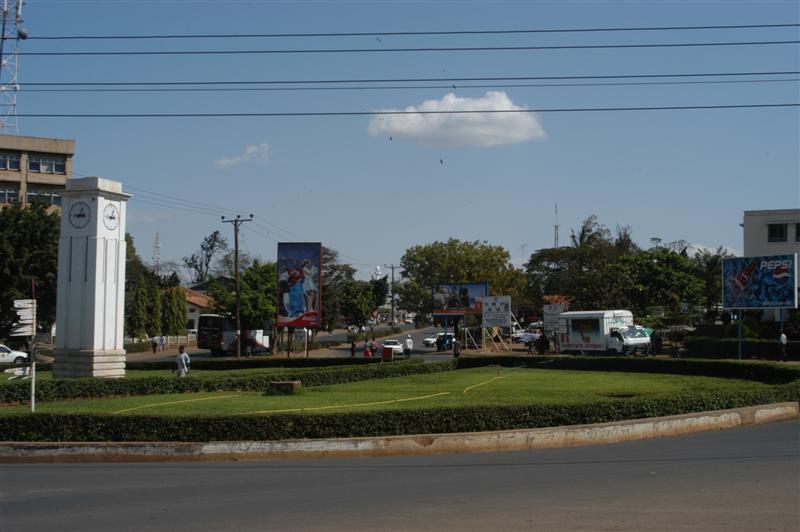 s relaxed and felt safe. We still took taxis from place to place after dark but deep down we didn't feel at risk. That ended when we arrived at breakfast one morning to find Ramish and Rika talking about having been mugged the night before. They were getting ready to go back to the police station to file their report. Both were fine but Rika had lost her whole bag and her cell phone. The thieves used some metal object, presumably a knife, to threaten Ramish and Rika as they walked back from town the night before. The distance between downtown and the YMCA wasn't very far but it did have some dark areas. They reached the driveway of the catholic church, just on the other side of the traffic circle form the YMCA, before two guys rushed up behind them in the dark and held something metal over their heads. It was over quickly. They reported it to the police that night but were told to come back in the morning. When they returned the policeman wasn't there. They finally caught him later in the day but he still didn't have the forms ready to for them to fill out. They both needed a report to file for insurance purposes or it wouldn't have been worth the effort. Lazily the policeman started by sewing blank sheets of paper together with carbons inserted in between. Then he began hand drawing lines on the paper. Seeing that this going to be a long process Ramish and Rika decided to just get a list of what the man needed and then went to an Internet cafe and neatly printed out a self-made form. When they showed their form to the policeman he was quite impressed. "How did you do this?", he asked. The bureaucracy didn't end there, however. They still needed him to officially stamp their forms for their insurance companies. The policeman knew this and politely requested Rika to leave the office, assuming the two were a couple, while he hit Ramish up for a bribe to sign the forms. There wasn't really any option other than to pay him but the icing on the cake was when the policeman also made off with Ramish's newly bought Moshi Guide. The policeman had asked to look at it when they walked in and, very deliberately, didn't give it back. Ramish just chalked up to an added bribe. At least, in the end, they got their stamped forms. During this ridiculous process they ran into another tourist who was going through the same thing. This young British fellow had a black eye from the moment he took to consider his muggers request for his w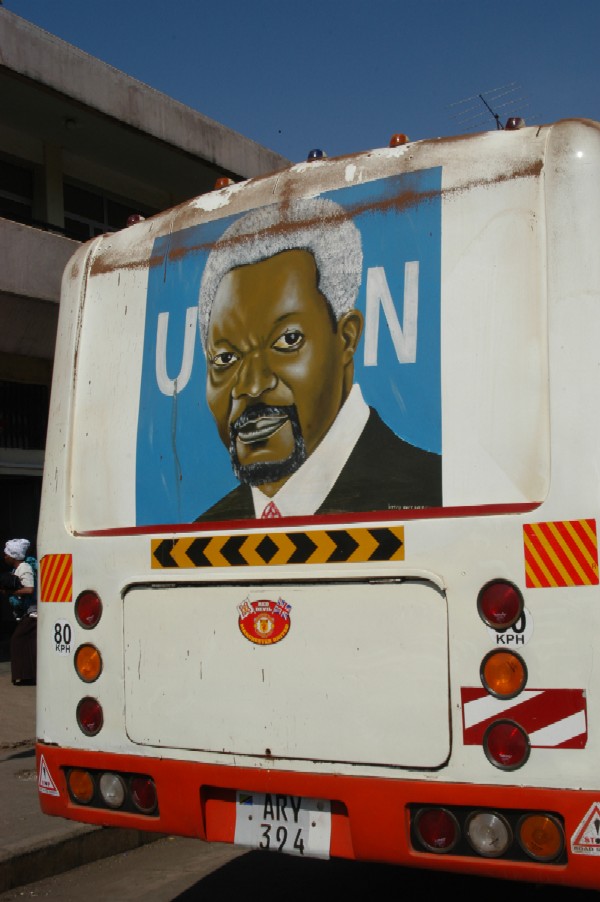 allet. The security guards standing in front of the nearby hotel door had done nothing to help him. These first hand accounts were sobering reminder that Moshi was not as safe it seemed.
After nearly two weeks of watching people come and go from safaris and Kili climbs we were finally honing in on an outfit to use. We limited our search to Moshi headquartered trekking companies that were approved by the tourism authority. The feedback from other trekkers and safari goers only made our job more difficult since there weren't any outfits that received all good feedback. In the end we realized that we just had to take a leap of faith and pick one. We also decided to compromise on a less customized itinerary to make things easier . After a couple of days we narrowed it down to Kili Crown Bird Safaris. We met a Spanish couple that was satisfied with them but said it was basic. They offered a good price so basic was all that we expected. In a couple of days we were finally off on our safari. Read the Northern Safari Circuit.
With the safari having gone pretty well I was confident about using Kili Crown for my climb as well. We hadn't put any money down so we weren't committed but as soon as we got back from the safari we sorted out the extra money and confirmed my place to leave in just two days. They even threw in some cold weather clothing. Read Mt. Kilimanjaro.
Feeling a mixture of exhausted, elated, disappointed and relieved, after my six day climb up and down Mt. Kilimanjaro, I was glad to be back in Moshi again. Rob had used his time to catch up on reading and so more Internet research. The town was getting quieter as the end of the summer tourist season breathed its final breath. In a last act of desperation there were more touts emerging from the woodwork than usual to hassle those tourists who were left in town. Rob even saw our talented safari cook Bernard touting for his friend's curio shop. He had been just about the only enthusiastic and genuinely service oriented person we had met in Tanzania. It seemed a shame that he now had to resort to touting but he was a survivor and survivors do what they can to make a buck.
Although we knew that our lives had evolved around Moshi for long enough there was still a tinge of the sentimental when we finally got ourselves ready to leave. I took it easy with my swollen toes and blistered feet for a couple of days and then we were off to Nairobi, Kenya. Those two days gave us enough time to finish up some shopping in town and take in some final moments of Moshi atmosphere. Rob had been more adventuresome in my absence and found a new (old) cafe that overlooked the mangy bus station from the two storied concrete shopping mall. He took me up there and we watched the buses come and go, with the cyclical mob of people that seemed to materialize as each bus arrived and before each bus departed. The arrival mob was there to get money from unloading the top of the bus and they were competitively climbing to the rack almost before the bus was stopped. The departure crowd was a team of salesman laden down with all sorts of goods, from safari hats stacked on the seller's head to boxes of neatly arranged sundries. There was a bit of bus spotting involved as well as we kept an eye out for some of the more notable buses. In line with the world-wide art of bus decoration these had murals that made each one unique, many with a political image painted on their back ends. There was a smiling George W. Bush, Hans Blix standing in front of a row of microphones above the phrase "UN Chemical Weapons Inspector", and there was also a Kofi Annan bus. With one long last look at the glistening top of Mt. Kilimanjaro we bade Moshi a "good-bye".
ZANZIBAR
Stone Town
July 11
July 12-14
Nungwi
July 15-18
Stone Town
I: July 19-23
II: July 19-23
Paje
July 23-27
Stone Town
July 27-Aug 1
TANZANIA
Dar Es Salaam
Aug 1-3
Moshi
I: Aug 3-31
II: Aug 3-31
III: Aug 3-31
Safari Circuit
Aug 17
Aug 18
Aug 19
Aug 20
Aug 21
Mt. Kilimanjaro
Aug 23
Aug 24
Aug 25
Aug 26
Aug 27
Aug 28
KENYA
Nairobi
Sept 1
Sept 2
Sept 3
Sept 4-5
UGANDA
Kampala
Sept 6
Sept 7-16
Kampala Short Stories
RWANDA
Kigali
Sept 16
Sept 17
Ruhengeri
Sept 18
Sept 19
Gisenyi
Sept 20
Kigali
Sept 21
Sept 22
UGANDA
Kampala
Sept 23
Sept 24-26