May 12. TENERHIR - BOUMALNE DADES It had been more than enough time for Tenerir but we had a few things to wrap up in the morning before we left. We needed to book our flights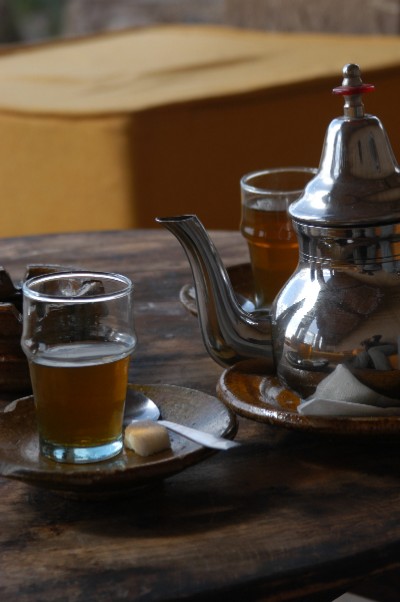 to Africa and buying a phone card for Morocco's modern payphones was easy enough. Standing against the ochre colored buildings of the Sahara the slick orange telephone booths looked almost futuristic.
The bus schedule was uncertain. They came through when they came through so we just waited on the patio of our hotel and watched for one of show up. Adi sat down for a minute and thanked me for writing in his language book. I am not sure he totally understood it all but he said that he would consult the local language teacher. After waiting and waiting and no bus coming we resorted to taking a minibus to Boumalne Dades. It turned out to be quicker and cheaper. The minibus let us off at the hotel as it pulled into town. The hotel was situated on a hill that overlook the palmeries and village below. The snow-capped Altas mountains were visible in the distance. It has a fantastic deck upstairs but the rooms were not nearly as nice as the Hotel Oasis in Tenerir.
After a quick lunch we walked through town, where the weekly souk was underway, and caught a shared cab to El-Kelaa M'Gouna. A market was scheduled to be going on there as well and it was famous for its rose products made from Persian roses grown in a nearby valley. It also had a artisan center that sold knives. We were well into the Valley of a Thousand Kasbahs at this point and we passed a number of crumbling relics during the half hour drive. The main street through M'Gouna had a cafe and many shops dedicated to selling rose products. The souk was much larger than Boumalne Dades but fairly standard. We had a drink and then took a walk around. Inevitably we were tracked by a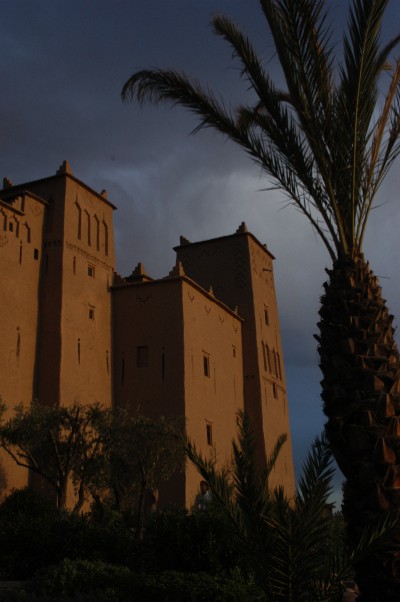 persistent souvenir vendor in the souk. The word "No, thank you" is totally unintelligible to a Moroccan souvenir vendor, no matter what language you say it in. It really becomes exasperating.
By asking some local people we were direct to the end of town to find the knife market. Getting away from the crowd was a relief. A young boy followed us on his bike as far as the artisan center and then waived good-bye. The artisan center was a collection of workshops, similar to the one in Fes. They weren't all occupied but we were able to walk around and visit the ones that were. The largest shop at the front of the center had the best selection and Rob found a Tuareg-style knife that he liked. We returned to town to shop for rose products. Rob stopped in to change money at the bank while I began looking. He was gone for a while so I went back to find him and saw him locked inside the bank. It was closing time and they locked the doors but were still going to help the last few customers. He got them to let me in so I could wait with him. Banks everywhere in the world are good at the red tape. With some money to spend we visited the rose product shops again. There were many shops but they all sold the exact same brands. We found nice young guy to deal with and at the end he even threw in an extra soap for free. Getting something for free from a store in Morocco was a special feeling. We probably paid plenty for what we bought but it was still a nice gesture.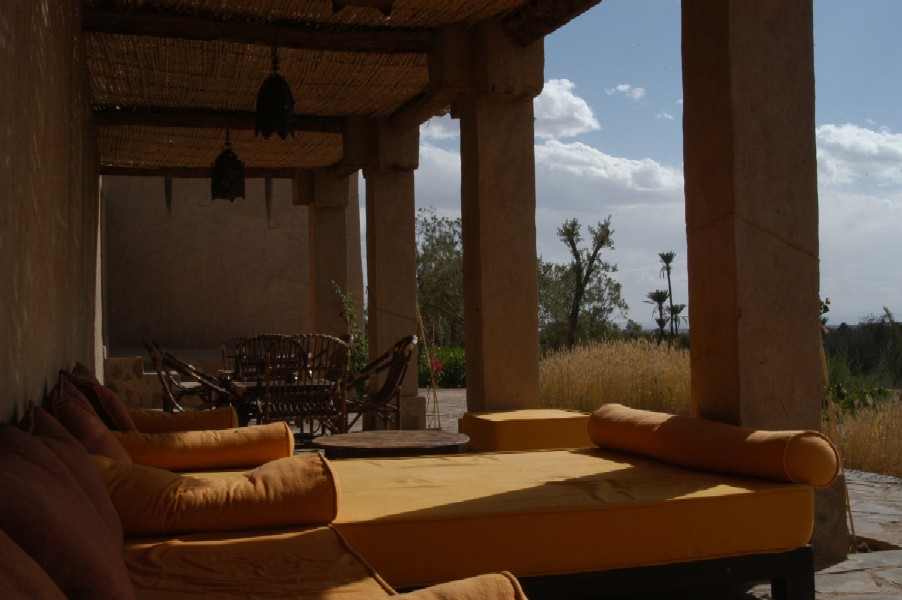 It proved to be easy to grab another shared taxi back to Boulmane. Before returning to the hotel we investigated transport to get out to the Dades Gorge. Public transport seemed very limited and taxis were expensive. Back at the hotel Rob asked them to quote a price for a Dades tour and an all day tour came to $80. It was just too much. And, to add to our disappointment the dinner at the hotel was meager.