May 10. TINERHIR The bus ride turned to our transfer point in Er Rachida turned out to be shorter than expected, just around six hours instead of eight, and could have been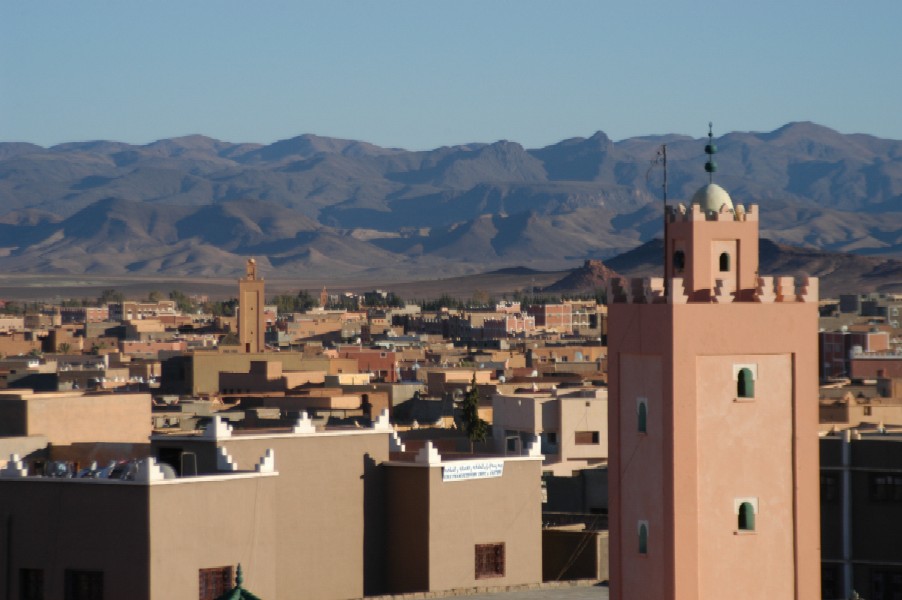 conducive to some sleep if it hadn't been punctuated by an unnecessary meal stop at 1:00am. Just when the clacking group of men sitting behind us started to quiet down and the woman in front of us had finished vomiting I gradually started to dose off when the lights came on and the bus pulled up to a restaurant. We stayed on the bus but with the doors left open to let the cold in and the lights on we weren't getting any sleep. After the food stop it was just another three hours before we reached Er Rachida. We weren't expected to arrive so soon and it was almost a stroke of luck that Rob noticed a sign for the Er Rachida Hotel.
It was 4:15 in the morning and the dismal bus station was a rude awakening. There were a hand full of people hanging out at the station, mostly watching TV in the cafe. It was dark outside but we were immediately hit up by touts. We had to catch another bus or take a taxi to Tenerir. Naturally the touts wanted us to take a taxi and, by the way, the just took a few other people from our country on a trip out to see the sand dunes. Our compatriots really enjoyed this trip so undoubtedly we would as well. We reiterated that we just wanted to go to Tenerir and escaped more hassle by going into the cafe. Rob went back to figure out what the story was with the buses and was finally told of one heading to Tenerir. When he tried to sort out the price he was given oscillating numbers. Even after Rob had gotten agreement on a price one of the customers on our bus tried to help the ticket guy raise the price on us. The sun was coming up we pulled at 5:20.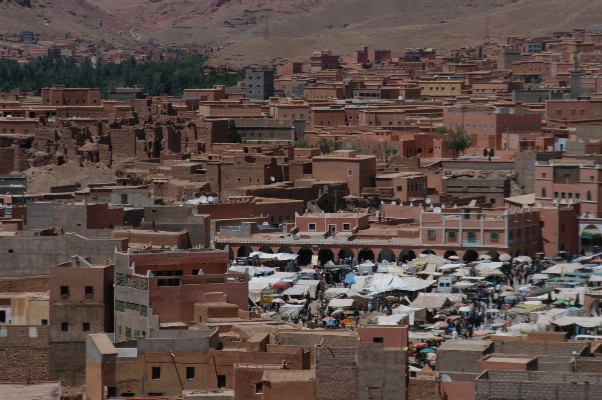 The landscape was vast, barren, ochre colored desert, as far as the eye could see. The bus stopped after thirty minutes for a half hour breakfast break. Then, it putted along until we arrived Tenerir, about two hours later. Another woman on this bus reached for a bag to get sick. It would appear that Morocco had a conspicuous number of people that didn't travel well on buses. This route was straight and flat!
Our hotel of choice was close to where the bus let us off, a relief since we were really tired. We immediately crashed and didn't come back out until noon. We found lunch at a LP recommended cafe near the taxi stand but left feeling totally ripped off. You know something is up when the cost of the meal can't be evenly divided by the prices you have been given. It wasn't bad food but it was poor value, even by Fes standards.
After lunch we jumped on a local bus to the end of town to see if we could catch the end of the weekly souk. The last of the vendors were folding up for the day. We dodged a man selling an assortment of jewelry from a bag. His desperation seemed genuine but he was asking ridiculous prices and we honestly didn't want anything he had to sell. From the souk we just walked back into town. It was really warm out and very dry. We were tired again by the time we got back to our hotel so we went in for tea and then rested in our room for the afternoon. From the rooftop of the hotel we got a nice view of the sunset over the desert landscape.
We took an evening stroll around the small town in search of some dinner but were put off by the touts. One guy almost made threatening remarks. He was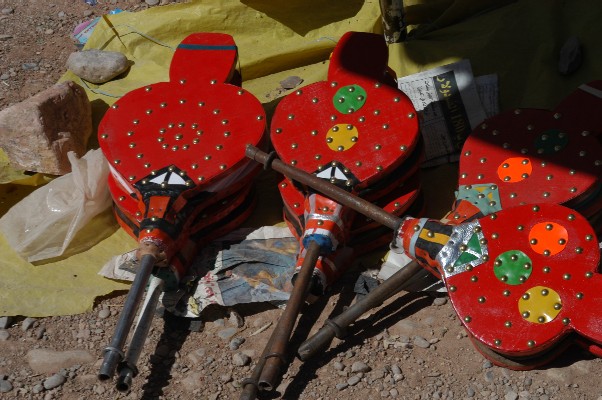 wearing dark pants, a red and white zip up sweat jacket, and had a black cloth wrapped around his head in the traditional Berber style. Wearing sunglasses at night with his strange outfit made him look like some dodgy character from a movie. He came up beside me and said something that neither of us understood. Our knee jerk reaction was to say we didn't want to buy any carpets. He just replied with "I know you stay Hotel Oasis", which was odd. We asked what he wanted and he said nothing and reiterated that he knew where we were staying. We denied it and Rob told him to go away but when we rounded the corner to walk back towards the hotel he was there again. He pointed at us and said "I know you stay Hotel Oasis". Rob asked him again what he wanted and the man just shrugged smuggle. It made Rob angry and he chased the guy off. It was a bit unsettling so when we got back to the hotel we mentioned the incident to Adi, the Berber man who had helped us check in. He looked concerned which made us feel more concerned. He asked us to walk around town to look for the man. He said that they had problems with this type of man before and it wasn't good for their business. We obliged but didn't really expect to find him and we didn't. Adi asked Rob to go with him the following day to make a police report.
The incident with this suspicious character started to make us nervous, especially since the hotel also seemed worried. We began to consider whether we should leave but ultimately convinced ourselves that it was some weird misunderstanding. The guy probably did wan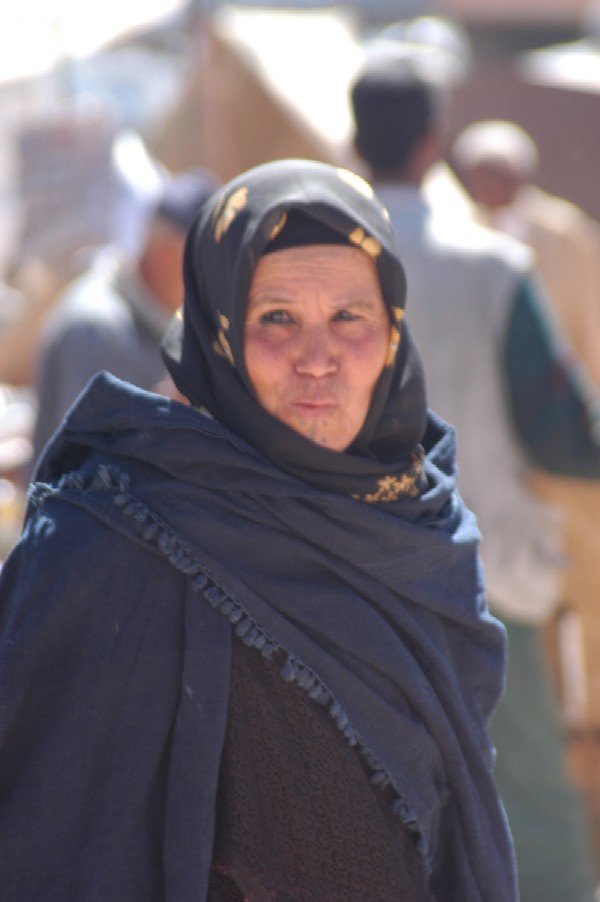 t to sell us something but when he saw us get work up just decided to just hassle with us instead.
We never managed to get dinner so we went to the top of the three story hotel for dinner. The hotel was a simple but very neat and clean place. The restaurant was substantially more elaborate with plush red bench seats along the sides of a very large L-shaped room. Small tables were lined up along the bench seat with small padded stools on the other side. Three guys from the hotel, including Adi, were hanging out with one of their customers, a young guy from one of the nearby mines. They had the bongo drums out and were getting high on kif (marajuana). While the use of kif was certainly illegal it seemed widely tolerated in Morocco. So, naturally, they were all quite mellow. We exchanged greetings and then ordered some spaghetti. It was pricey but surprisingly good.
While we were finishing our fruit for desert Adi came over to show us the notebooks he had accumulated to learn English, Japanese and a handful of phrases from other languages. When he found out that I spoke Japanese he was very keen to ask us questions about both English and Japanese. He was originally a Berber herdsman from the Atlas mountains but about a year earlier had started working in the hotel. His Arabic wasn't even that good when he arrived but he now used the Arabic script to phonetically write English and Japanese words.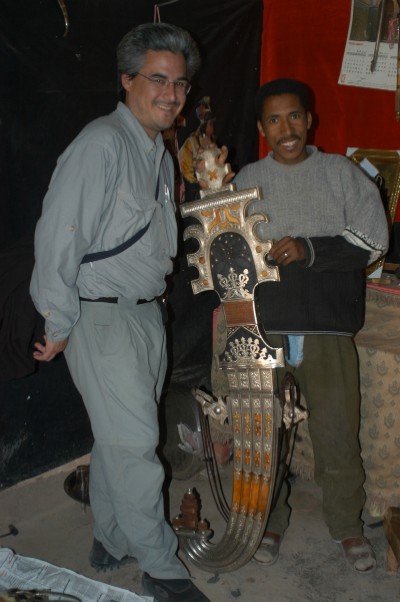 Amongst his notebooks was a well used English-language booklet and a diary that he had converted into his self-made text book. In just a year he had acquired a remarkable ability to communicate in English. He made many mistakes and we frequently had to clarify what he meant but without having received any formal lessons it was still impressive. He was very determined and it was paying off for him. The more well educated men at the hotel supported him fully and helped him as well. We never got all of the details on his life but he was the father of seven, a daughter of which worked in a shop in Tenerir. We gathered that his wife had passed on. He must have been in his sixties. At the end of the evening one of the bongo players had moved closer and they were getting Rob to join them. All in all it was a fun evening.
May 11. TINERHIR We could have moved on from Tenerir but the antibiotics I was taking for dysentery made me very tired and while there wasn't very much to Tenerir, it was serene and relaxing. We decided to forget about our encounter from the night before and stay another day.
Giving up on the restaurants in town we ate at our nice hotel restaurant for breakfast. We returned to our room for the morning and did our laundry. Our room had a balcony attached and our clothes were dry in no time at all. In the afternoon, when the heat had died down, we decided to explore more of Tenerir. We walked towards the medina but turned and cut through the palmeries and fields before reaching it. Cutting through the fields along the raised dirt paths that zigzagged between the separate plots, we met a few children that came clambering after us for pens. They weren't too persistent though. The trail led us into the back side of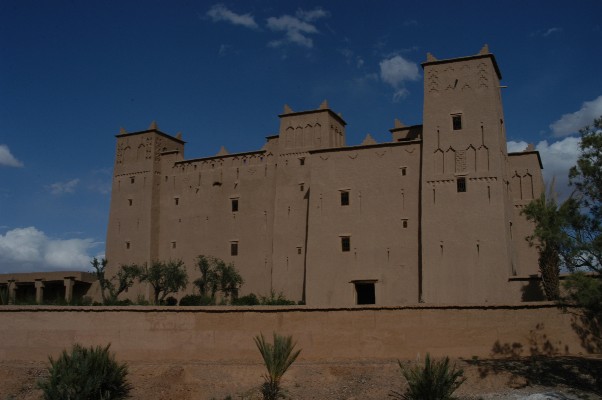 Tenerir's daily market, narrow alleyways selling all kinds of wares as well a few tourist shops. In amongst the newer buildings was the crumbling old Tenerir kasbah. While we weren't that worried about the shady man from the night before we never entirely shook the feeling of unease and probably cut our walk short to go back to the security of the hotel.
Tenerir was an old mining town and as far as tourists were concerned it was just the gateway to the nearby Todra Gorge. We decided instead to visit the Dades Gorge that was accessible from father up the highway so Tenerir just became a rest stop for us. It felt remote and sparsely populated, just pink desert as far as the eye could see, but as we sat drinking tea and watching the cars pass through town we observed droves of land cruisers and RVs that had come over from Europe. It suddenly didn't feel that far out.
At sunset we drank some tea with Adi on the roof of the hotel. He plied us for more language information. I napped again in the evening but was started to feel much better by dinner time. The restaurant was more full that night so we didn't hang out for the bongo session. It felt more touristy and we preferred to remember our first night with the language lessons and drums. After dinner I wrote a chart in Adi's book to help him with his pronouns. He kind of had the idea but if he really got them down it would make his English much more understandable. He seemed to appreciate it.