May 4. FES The weather was still grim but we were at least looking forward to a good breakfast from our man next to the cafe. But, he was closed. Refusing to return to the other place again we looked for other options, quickly getting soaking in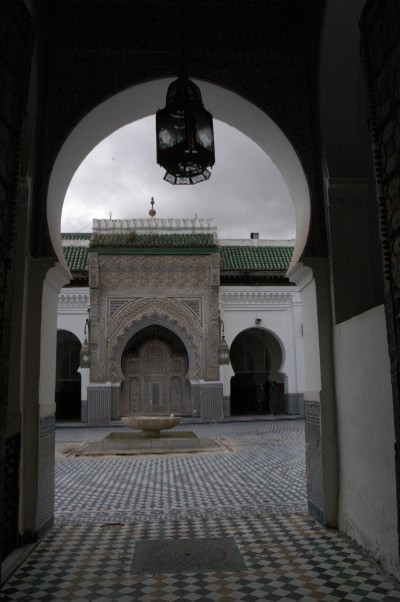 the process. A sign directed us to a fairly swish cafe just outside the medina gate. The menu didn't offer breakfast so we just order some coffee and cookies. He very blatantly encouraged to take a couple of cookies and then charged us a ransom. It was a nice place and they were good cookies but $5 for a couple of coffees and small cookies was a third of the price of our hotel!
Still feeling hungry we stopped for a tea and grabbed some donuts. It wasn't very healthy but the donuts were tasty. When the rain let up we walked through the back streets of the medina to find a cultural center listed in our guidebook called Fes Hadara. Staying off of the main street we hoped to avoid the boy touts and for the most part it worked. We found the cultural center tucked up a narrow alley. It didn't look like much from the outside, like most traditional Moroccan architecture the beauty was all on the inside. A Moroccan man came to the door and when I asked whether the cultural center offered cooking classes he disappeared and an American man appeared. They didn't have any cooking classes organized at the moment but he thought they could arrange something. He invited us inside and we waited in a spacious courtyard while he went to find his wife. The large courtyard opened up to a lovely garden. It was unbelievable that space like that even existed inside the medina. When Diana came down she invited us to sit in the dining room, adjacent to a large kitchen, where guests of their raid were served meals. The beautifully restored riad was on the far end of the garden.
The American couple, Diana and Eric, had been operating Riad Mirabelle for just over a month. The owner, Feta, was a Moroccan artisan who specialized in the traditional stucco work and tiling. He had restored this lovely complex and now Diana and Eric managed his riad guesthouse. They had been living in Morocco with their two small children for the past two years, learning Arabic and looking for a riad of their own to restore and convert into a guesthouse. Now that Fes is a UNESCO city the old riads are being protected but many were unfortunately damaged over the years, messily converted into separate houses, totally destroying the courtyard areas. The movement to convert them into luxury guesthouses is allowing them to return to their former glory.
After talking about what I wanted to learn to cook, Diana consulted with their cook about how much it would cost to make a pastilla, a couscous, and some Moroccan salads. They gave us an estimate on the groceries and asked that we tip Haya for her work. It was a generous arrangement and they were very kind to put something together on such short notice. The class would start at 9:00 the next morning.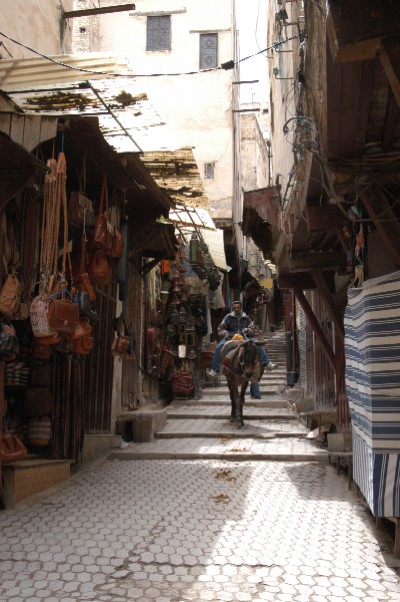 Given all of the bad weather a cooking class seemed like a good way to experience Morocco and the food was truly wonderful. Having benefited from various influences throughout history the cuisine has developed into a unique combination of flavors and cooking methods. We had learned that not all countries have very developed culinary cultures and we wanted to really experience those that did.
For lunch we settled for the kefta sandwich place and just returned to our hotel to work for the rest of the afternoon. We emerged again around 7:00 and were feeling desperate to try something different but still easy for dinner. The streets were full of people and the food market on the other main thoroughfare was bustling with activity. There were a handful of grill stalls there as well but nothing really grabbed us. In the night light the area felt like another place in time. I almost slipped on the jaw of a cow that was getting kicked around the ground. Butchers were all lined up together and the vegetable stalls were clustered in a separate area. There were people selling dates, herbs, sweets, spices and anything else needed for cooking.
Feeling curious we tried to find another route to cut back over to our street. Following some local people we ducked through some low roofed tunnels, turned left and right again and again, passed through some hidden squares filled with children playing ball, and felt sure we were making progress across the densely packed neighborhood until the person we had been following finally turned to enter his house. We tried to get a bit farther on our own but the alleys got smaller and smaller. We were nearly at a point of turning sideways to squeeze past the tight space behind a women entering her house, but she looked at us and pointed in the direction we were traveling and shook her head. We had hit a dead end. We retraced our steps and found a well worn pathway that make a straight cut across the area between the two roads.
Having almost forgotten about the original food quest we finally settled back into the same cafe. Rob went and bought a sandwich from one of the grillers while I was just content with the tea.