May 5. FES "Cooking in at Riad Mirabelle" We arrived at Riad Mirabelle just after 9:00 and were treated to a lovely breakfast with Eric and Diane, the riad managers, Fetta, the man who owned the riad, and their French guest.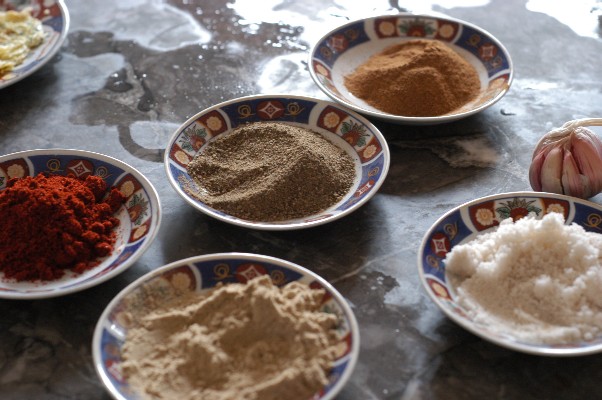 While we ate breakfast, Haia, the riad cook, and her staff prepared the ingredients for a seven vegetable couscous with lamb, a bastila, and four salads side salads. At 10:00 the cooking commenced. She started by explaining, with the help of Diane's translation, all of the spices she would be using for the day - ginger, paprika, cinnamon, cumin, salt, garlic, and saffron coloring. The spices were bought as they were used to ensure they would be fresh. I originally thought that I would try to help a bit but soon realized that it was wiser to just, watch and learn, madly making notes and taking photos. Rob helped out as well with videoing the really difficult tasks. Haia moved at a swift pace, making sure that I was noting what she did as she did it. She was a darling young woman, incredibly patient and accommodating as I tried to keep track her every move. She juggled all of the recipes at one time, shifting back and forth as something needed her attention. She had all of the burners going on the stove and a separate one bubbling off to the side. She made us pay special attention to the fit of the couscous steamer over the stew. If the steam escaped from the seams the grains wouldn't get properly cooked. A whisper in our ears told that there was a bit of Moroccan innuendo in the proper fitting of a couscous steamer.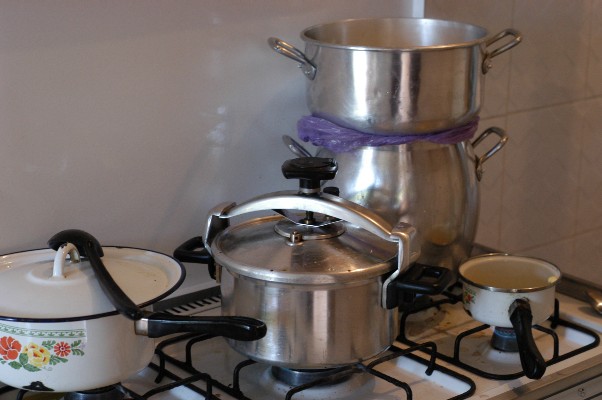 Once we reached a stage where everything was cooking away, Diane took us on a tour of their lovely riad. It had been meticulously restored by the owner, Fetta, and tastefully decorated by Diane and Eric to make a lovely guesthouse. Fetta is an artisan and was responsible for restoring the zellj tile work, ornate wood work, and arabesque plaster detailing that surrounded the marble courtyard. It was a remarkable accomplishment. Several of the spacious guest room opened up directly onto the courtyard with tall wooden doors that extended to the high ceilings. The latticework on the windows provided an air of near eastern mystery, keeping the private world discreetly separate from the public world, while giving the rooms both privacy and fresh air. The riad also featured a uniquely spacious garden and made the perfect place for a guest to escape the hassles of the old medina while enjoying the historic atmosphere.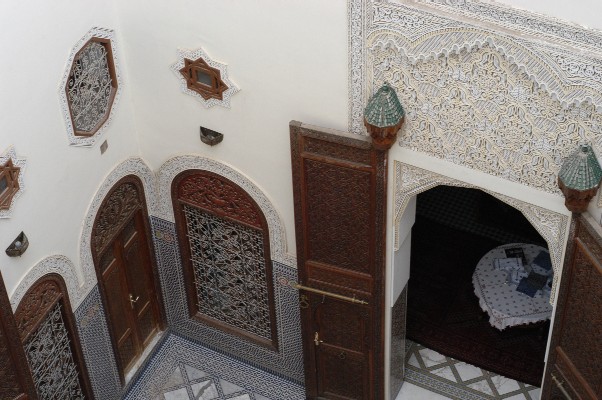 Many of Fes' grand old riads have been marginalized by development, have slid into serious decay, or were carelessly divided into pieces in order to accommodate smaller families. Now that Fes is UNESCO protected there is a movement to restore and convert more of them into stylish guesthouses. The dream of buying and restoring their own riad into a guesthouse was the dream that brought Eric and Diane from Kansas to Fes two years earlier. With a baby and young child in tow they uprooted themselves and moved to Fes, initially studying Arabic and then beginning the search for their dream home. While they continue to look for the ideal riad to restore for themselves they are running Riad Mirabelle and their attention to detail and comfort has created a beautiful experience right in the heart of Morocco's cultural capital.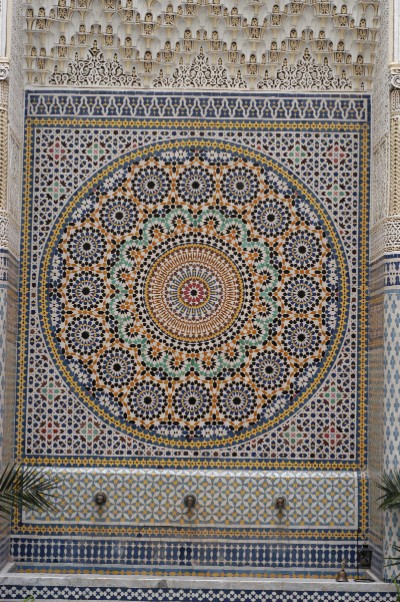 With her experience of living in Fes, Diane gave us some tips on where to buy things and showed us some exceptional examples of custom made jellabas and Moroccan needlework. With more money to spend we would have been very tempted to use her sources to buy some of each. The masses of tourist targeted crafts that fill the streets of Fes are often not up to the quality that can be found if you know where to look. Lack of knowledge and experience makes it too easy for tourists to fall prey to the street vendors, making the advice of a savvy host very useful.
When activity started to pick up in the kitchen again we returned to continue the cooking lesson. By around noon the various dishes started to come together. With the final bit of lamb pressure cooked until tender and the couscous grains primped to perfection the assembly began. Haia carefully spooned the couscous into a large clay serving dish in the shape of a gentle mound. She placed the pieces of lamb in the middle and arranged all of the vegetables lengthwise over the lamb until it was hidden. We were told that it was crucial to make sure the lamb was hidden, symbolizing the dual nature of Islamic society where the best things are often out of sight.
Throughout all of her gracefully commanded preparations Haia was humble and self deprecating about her accomplishments. She criticized how this turned out or
that out but, of course, it was all perfect. If there was the slightest defect in anything it was well beyond our perception. On Fetta's beautifully tiled table they arranged the couscous and an assortment of salads. All of the colors were a feast for the eyes while the food looked absolutely delicious. And, it was. It could have fed another ten people but we did our best to show our appreciation by eating our fill. Then, with our bellies were nearing full we were presented with the bastila, a whole other meal in itself! The rich, savory and sweet chicken pastry was probably my favorite. The combination of flavors represented a culinary experience that was truly unique to Morocco.
At the end of the meal there was still a ton of food left over.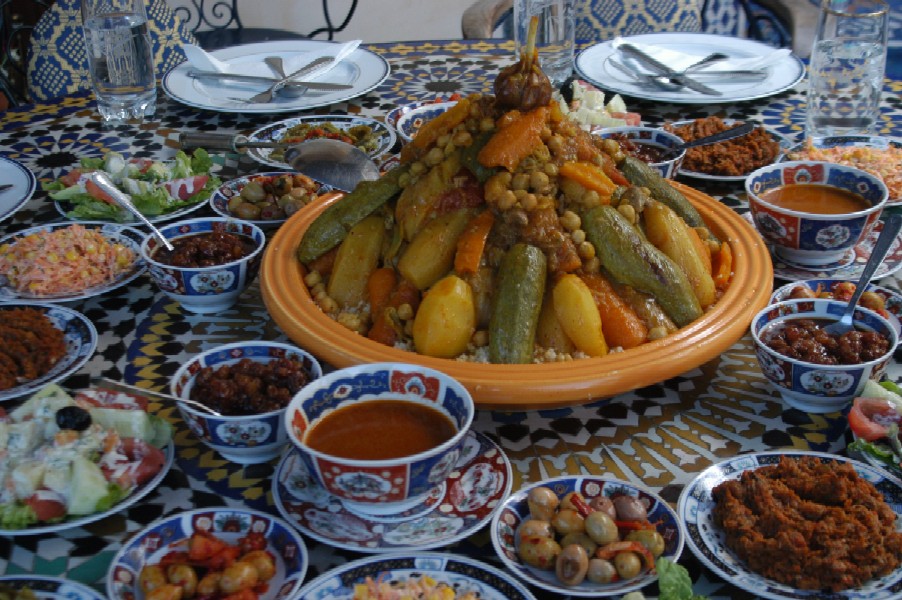 Haia gave me a kiss on the cheek as we left and with still three weeks left for us to travel through Morocco I was already sure this would be the highlight of out trip. For that afternoon we have a brief glimpse into Morocco with great company, a lovely atmosphere and incredible food; a treat that the typical tourist experience didn't usually offer.
The weather hadn't turned out to be as bas as we had expected but it was drizzling as we waddled our plump bellies back to the hostel. I quickly turned to all of my notes and tried to capture all of the recipes from our class. For the recipes and more photos go to Cooking in Morocco.
My appetite never returned that day but we ventured out into the wet weather for some tea in the evening. We were already frequenting the small blue and white tiled cafe up the street. The man who ran the small cafe next door turned out some nice meals so Rob grabbed an omelet but we already new that no meal we would eat in Morocco would ever compare to the feast we'd had that day.