March 31. MADRID - GRANADA When we started our day we were headed to Cordoba. We had already bought our tickets and after a few bumpy hours we arrived at the bus station in Cordoba. We were getting ready to take a bus into town and get a place to stay when we started to think more about where we wanted to stay over Semana Santa. It was already Wednesday afternoon and if we wanted to see anything of Cordoba we thought that we should give it a day which would put us in Granada on Friday. Our endless web searches for places to stay in Granada over the holiday week had turned up nothing affordable. It seemed that rates went up as much as double for many places. So, after pondering our situation for about a half hour we grabbed some sandwiches and hopped on the next bus for Granada. We figured that getting there early w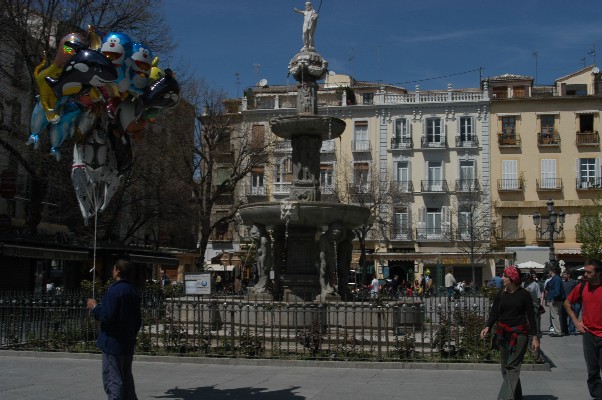 as our best chance of snagging an affordable place to stay.
The scenery from Cordoba to Granada was lovely, or at least what I saw of it. Bumpy bus rides always have a way of putting me to sleep. The undulating countryside was covered in silver-leaved olive streets. When I peeked up at one point during the trip I saw a large fortification teetering on a hilltop next to the highway, suspended over the low green landscape. I felt a tickle of anticipation over the much talked about Alhambra Palace of Granada. When our entrance into the bus station at the edge of the city didn't look promising, I tried to put my anticipation aside and hoped for the best. The bus station was new and the surrounding streets had a very utilitarian sub-urban feel to them, not at all the romantic vision of Islamic influenced Andalucia that I had imagined.
We found a small information booth inside the bus station and a friendly guy named Fernando immediately found a solution to our lodging problem. It was so easy that we were skeptical. He worked with a local woman named Carmen who rented a number of apartments around the old town and she still had one available, and it was in the old Moorish quarter of Albayzin. We wondered whether we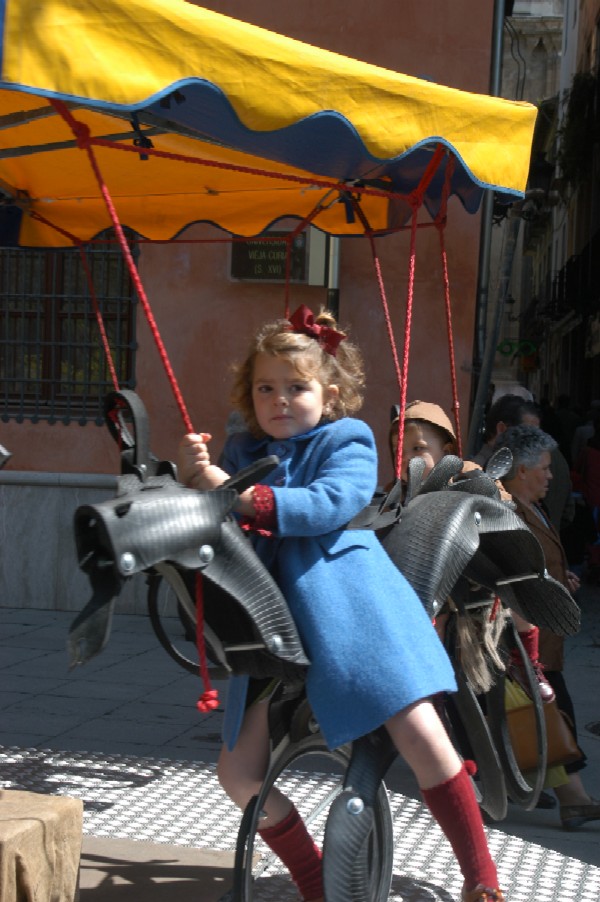 were incredibly lucky or if there was something wrong with the place. Hedging our bets we arranged to met Fernando when he got off of work at 9 pm so he could show us the apartment. We also took his cell phone number in case we found something else in the meantime.
Heading into the downtown area of Granada we overshot our bus stop and ended up near the tourist information booth which was handy. They readily provided us with bus information, a list hotels that were too expensive for our budget, and a pamphlet on the Semana Santa festivities. The pamphlet was in Spanish but it had a schedule of the various processions that we were able to figure out. From the tourist office it was a short walk up hill to Plaza Nueva, a central plaza that was a kind of demarcation point between the old Moorish part of the city and the Spanish buildings. There we set our bags down in a cafe and I waited with them while Rob went out to check a few hotels. He returned about a half hour later with one other option for us so I went to check it out as well. It was a decent little place and not too expensive but it was still more than the apartment Fernando was going to show us. If that turned out to be a good place it seemed like a much more comfortable option and would allow us to cook as well.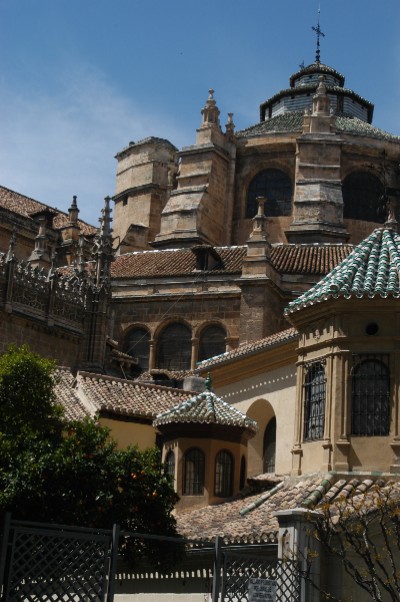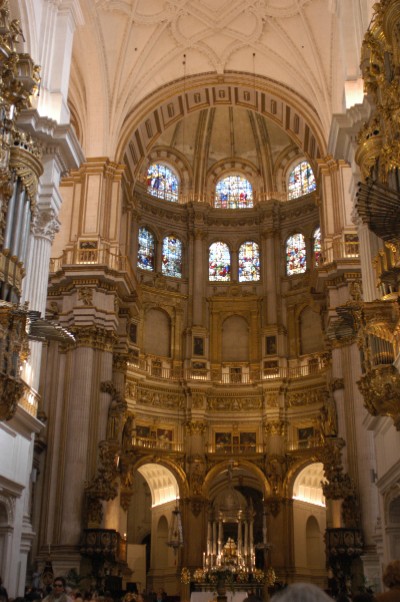 At 9:00 we found Fernando waiting in front of the church in Plaza Nueva and he walked us through the narrow cobblestone streets of Albayzin to the apartment. The outside was a bit run down with some chipping paint but it wasn't alone. Many of the white washed buildings in Albayzin showed some wear and tear, adding to the character of the old neighborhood. Our building had three apartments, each on top of the other. The bottom one was occupied by a Basque woman but she had her own entrance on the street level. The second level apartment was the vacant one and the top apartment was being rented by an Argentinean.
After some fiddling with the lock Fernando got us into the small 14th century Moorish apartment, and it was very small. It basically consisted of two rooms and a bathroom. The main room had a tiny kitchen, a couch, and small dining table with three chairs. The kitchen stood behind a partition wall that came waist high and had pots and pans hanging from above. The bathroom was crammed into the corner as you entered. The bedroom was snuggly packed with two twin beds and a couple of chairs. There was a small balcony off of each room and from the windows we could see the fortified towers of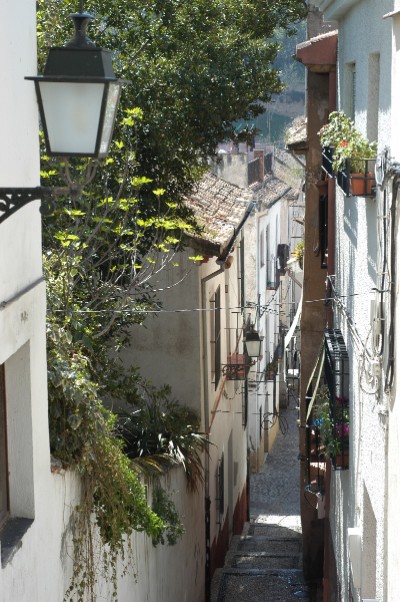 the Alhambra hanging off of the hilltop above town. It could have used a good cleaning and the sheets hadn't been changed on the beds since the last tenant but we decided to take it anyway. The decently equipped kitchen, washing machine, and close proximity to the center of town were the big selling points. The owner's daughter, Aida, came that evening to change the bedding and bring us clean towels. She didn't speak any English but her mother sent her with a typed message introducing herself and giving us their contact information.
For dinner we headed out to a local tapas bar. Granada became very lively at night and featured an eclectic range of people from hippies to rich travelers and local people. We enjoyed a small bottle of Sherry with our tapas and it came out to be very reasonable but still on the high side for our meager budget so we looked forward to doing some home cooking.