May 7. FES - MEKNES The sun was gone again. We were going to leave Fes for Meknes but took the morning to visit the Fes Artisan Cooperative. It was at the end of new town so we took the bus. The McDonald's being erected between the medina and new town was going up with amazing speed. In just a few days they had already raised the giant M onto its pole at the roundabout. We overshot our stop and had to walk quite a ways but found the cooperative store open. The artisans were not working since it was Friday, the Muslim prayer day. We had a good look around to get an idea about quality and prices but weren't compelled to buy anything just yet.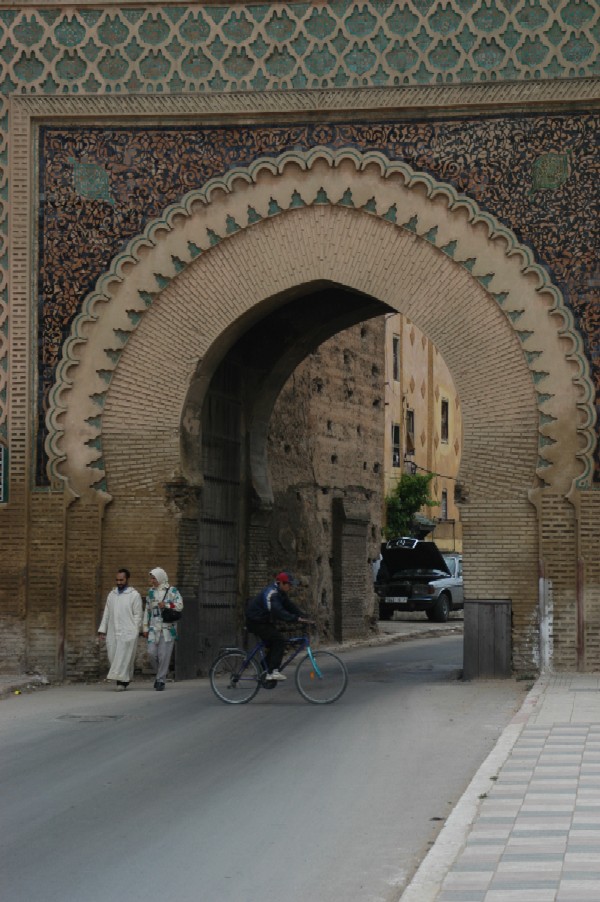 On the way back to old town we stopped for a coffee along the grandiose tree-lined boulevard of new town. A small boy came up to sell us something and ended up stealing Rob's sugar cube right off of his saucer. We were looking forward to leaving Fes.
We just missed the next bus leaving for Meknes which meant that we had a great seat on the next bus but that we would have to wait for it to fill up before we would leave. We waited for over an hour, about as long as it takes to reach Meknes from Fes. The bus stations always seemed to be full of drama in Morocco. There was always much haggling over various things. We couldn't always figure out what was going on but two women on our bus got so fed up with something that they had words with the driver, got their money back, pulled their luggage out of the storage area and stormed off. We wondered if we weren't the only ones getting fed up with waiting. Even after we exited the gate of the bus station the bus lurched along slowly, trying to fill every last seat before heading to Meknes. At the same time they were giving kick backs to the various touts who had helped to get people on the bus. With all of this fussing around and a police check thrown in as well, it took an hour and a half to reach Meknes. The train might have been a more logical choice.
When we pulled into the new town of Meknes we were lucky to hop off just in time to walk to the hotel of our choice. It was a grim old place but the people who ran it were nice enough. They gave us a room a few floors up so it was quiet, at least. We did some laundry before going out for some lunch. Meknes was much more low key than Fes and we had no hassles as we walked around to find lunch in a nearby kebab restaurant.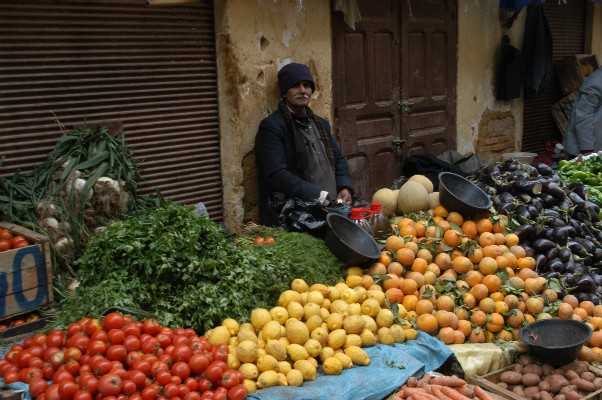 With most of the day gone we didn't go into the old medina and just went back to the hotel to finish up our laundry. When we opened the hotel room door we had the scare of our lives. It took some time to open the door and when Rob walked in he gasped and said "Our stuff is gone!". I let out a blood curdling scream and then reality began to sink in as we realized we were on the wrong floor. Why would anyone take the trouble to steal our wet laundry anyway? How we managed to open the door is a mystery and if it hadn't opened we would have eventually figured out our mistake but when it did and we were faced with an empty room it made both of our hearts stop. Rob went downstairs to let the staff know there was nothing to worry about but found the woman the front desk sitting there unfazed. Either she didn't hear me or they weren't alarmed by screaming voices.
Across the street from our hotel was a cafe. It seemed that men were always wiling away the hours in Morocco's cafes, whether it was the tea houses in the medina or the French legacy cafes in new town. They were polite enough to tolerate foreign women patronizing the cafes but it was clearly a male domain in Morocco. The woman's place was in the home. Her world was the private home while his was public life. We had coffee at the cafe before setting out in search of an Internet cafe. All of the places we found were set up with French keyboards so we gave in and resorted to the search and punch standard of typing.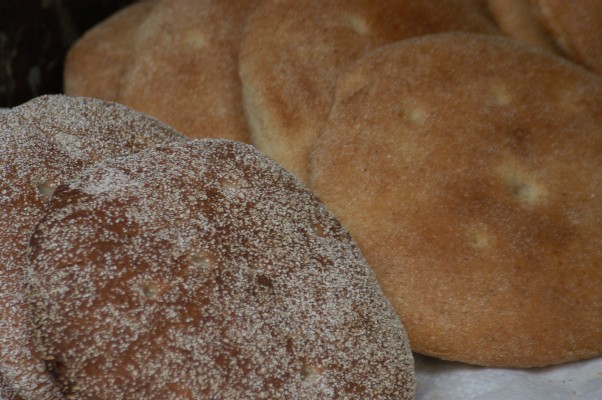 Like Fes, Meknes had a gap between the medina and new town areas. The gap in Fes was being filled with a McDonald's. The gap in Meknes already had a McDonald's, an Ibis Hotel (the French hotel chain), a French cultural center, a movie theater, and a small amusement park. It was really a world apart from either the medina or new town. From one angle you could almost mistake it for a stop along highway 5 in California. We had dinner at McDonalds, for the novelty and for the change. It was busy with people and had a noticeable number of security personal wandering around. It was also spic and span. Not a footprint could be left or a fry could be dropped before that floor was cleaned. Watching the cars that pulled up and the people who came and went it was clearly a more affluent and cosmopolitan crowd. The cost of a McDonald's meal isn't a low budget choice in Morocco. There were few, if any, head scarves worn here while bellybutton could even be seen peeking out here and there. There were neatly dressed men in suits, hip teenagers in t-shirts and trendy fashions, and smartly dressed women. The familiarity of it all gave us a sense of comfort while the comparison to our experiences in the medinas and new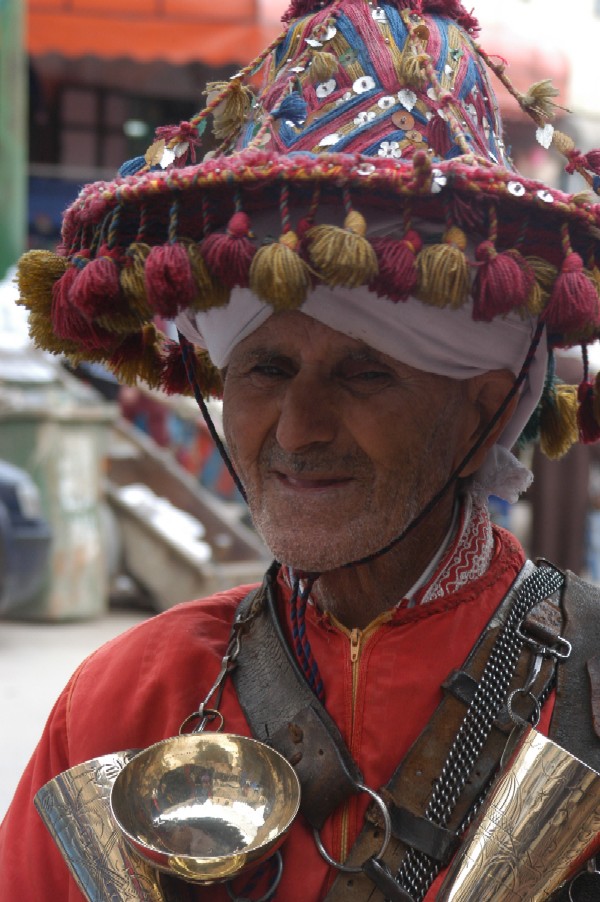 towns was peculiar. This was like a limbo between two other Moroccan worlds, the traditional life of the medina and the adopted cultural effects left by France.
Before going back to the hotel we spent more time on the Internet. We found a better cafe but still no English keyboards. While I was typing away a little girl approached us and sat down beside Rob. She spoke French but no English but Rob managed to communicate with her a bit. He went through the guidebook pictures with her while she tried to teach him some French and Arabic words from the vocabulary section in the back. When Rob swapped with me to work on the computer I continued trying to communicate with her. She was a precious little thing and really quite determined that we should learn some French. Her mother came over to retrieve the little girl before they left and thanked us for spending time with her. The little girl leaned over to give me a kiss good-bye and I was caught off guard. It was the custom that surprised me but she had a cold sore on her little mouth and I was mindful of how contagious they are. Rob picked up on it quickly and said "In America we say good-bye like this" as he took her hand and shook it. She understood and shook our hands before waiving good-bye.
Back at our hotel we made sure we were on the right floor before trying to open the door.