March 23. ATHENS - MADRID Getting up in the morning felt like a deja vu of our return home in November. It wasn't quite as early but was dark out and we were still tired. We caught the 4:30 bus to the airport. There were a few other people that shared our unfortunate schedule. The bus took flight through the streets of Athens and zoomed us to the airport. After checking in we had some spare time and had breakfast at McDonald's - Egg McMuffins. It was our first EasyJet experience but it was similar to our Southwest Airline. We got a number when we checked in they let people board in groups. I had number thirty and the first boarding group was one through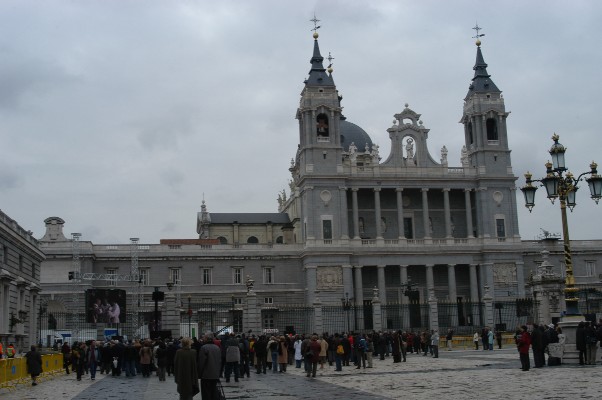 thirty. Rob was 31 but they let him slide along with me and we snagged the emergency row seats. Our 6:50 flight took off nearly on time. We were held up about five minutes do to an air traffic problem with a German airline, according to our English pilot.
We arrived in London's Luton Airport in late morning on Greek time, but it was just past 9:00 UK time. Luton was small on the scale of international airports and rather non descript. It was experiencing a revival thanks to EasyJet. Most of the check in counters were dedicated to the discount airline. Our flight for Madrid didn't leave until 5:00 and there was no in-transit option at Luton so we had to go through UK immigration. The immigration official scrutinized my passport carefully and gave me an interrogation.
Where are you coming from? Athens. Why are you traveling to the UK? I am in transit. And, where are you traveling to? Madrid. When is your next flight? At 5:00. What airline? EasyJet. Are you on holiday? Yes. What do you do for a living? I am in sales. Are you currently working? (after looking closer at my passport stamps) No. I am in between jobs. Have you ever been to the UK before? Yes. When? Four or five years ago. Why? For a holiday. Are you traveling with anyone? Yes, my husband (and I pointed to Rob at the next window). And you are leaving at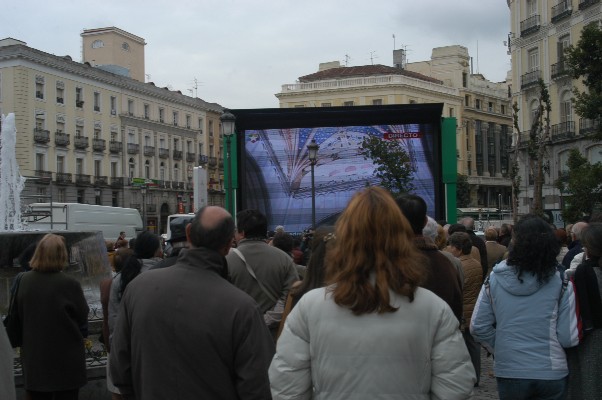 5:00 today? Yes.
I knew what he was trying to get at and I just wanted to tell him that if I were unemployed and looking for work it wouldn't be in the U.K. I didn't know how people survived in his country with the extraordinary cost of living and that I could already feel the gravitational pull of the the British pound on my wallet. I just hoped that I could last the next eight hours and still be able to afford to travel. But, I knew better than to be cheeky with an immigration officer so I just politely answered his questions until he finally let me go.
It was approaching noon in Greek time so we were getting hungry. Burger King answered the hunger call with one of the worst fast food meals I had ever eaten and charged a ridiculous 15 euros for the privilege. That is nearly $20! No, we were not sorry to have left Britain out of our travel plans this time. We sacrificed a bit more money to some English magazines and a coffee but that was it. The in-transit EasyJet passengers kept the snack bars full of people for most of the day. We held on to our table since there were no other places to sit and perused our magazines and worked on the computer until it finally came time to go. They were far less scrutinizing with immigration on the way out. There was just one woman standing at the entrance who looked quickly at or passports before waiving us on - no passport scan and no stamp.
The check-in line had been long but we made the first thirty cut-off.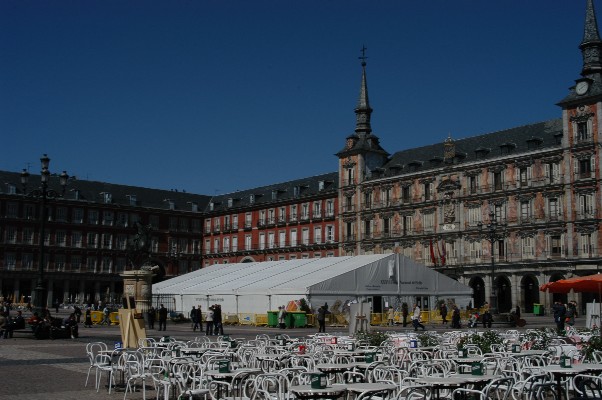 We still had to keep an eye on the monitor for our gate to be announced. As soon as it was we were off to the queue ahead of everyone else. Emergency row again. EeasyJet is even less frills than Southwest. They sell food and drinks on the flight but there is nothing complimentary. That was fine. It wasn't a long flight to Madrid.
Our friend Jose Luis, who was putting us up in Madrid, had to go out of town on business but kindly arranged for one of his coworkers to meet us as his apartment and give us a key. As we rode the efficient subway system from the airport to the station nearest his apartment it was hard not to think of the Madrid bombings that happened on March 11. It didn't look like many people were deterred from riding the train but surely they now rode it with a greater sense of awareness about the people around them. I felt a tad conspicuous with our large backpacks. We found Jose's apartment without any trouble. The information booths at the airport and at the train station had helped with maps and directions. Miguel was there to greet us, hand over the keys and show us around the apartment.
We had no energy or enthusiasm left to venture far for dinner and readily settled for the McDonald's down the street, completing one of the most pathetic days of eating in my life.