May 3. FES In the cluster of cafes near our hotel we found a place for breakfast. Petite Dejeuner was the breakfast standard which meant juice, coffee and a Moroccan style crepe. A French couple with two young children were the only other people at the cafe, which should have been our first sign. It wasn't a very good breakfast and we had the double displeasure of watching this couple's little children play in the filthy street and then return to the table to pick up their food. My gut was starting to bother me a bit and I had to wonder how people could expose small children to all of those germs.
After breakfast we made a visit to Fes' New Town, an addition during the French occupation of Morocco. The treaty of Fes, signed on March 30th, 1912, marked the official subjugation of Morocco by the French. However, France, along with Spain, Portugal, Italy, Britain, and Germany had already been meddling in the region for decades. The Portugese had come and gone along Morocco's coast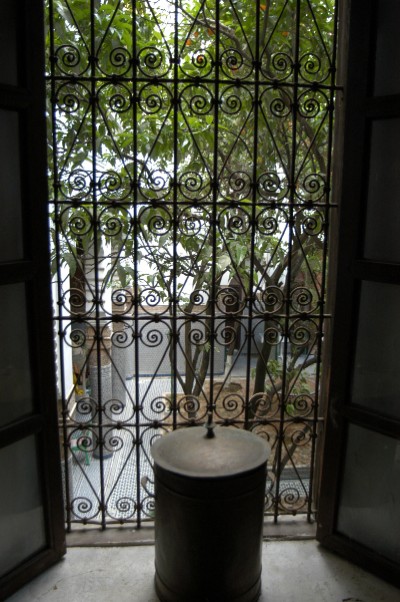 back in the 1500s, leaving a few traces that remain until today. France occupied Algeria in 1830. After doing a good job of flattening the historical cities in that country they fortunately adopted a new approach in Morocco. Instead of building over Morocco's history they added modern extensions a bit away from the medinas. The protectorate status of Morocco lasted until 1956 and some bitterness can still be detected today but French influence has left an irreversible mark on Morocco and has been incorporated into the culture of this melting pot of a country, making it Morocco's own. The wide boulevards of the New Towns are full of cafes. Mint tea, a.k.a. Berber whiskey, is still widely imbibed but the Cafe au Lait has taken its place along side this traditional drink. Even the mint tea had already been influenced earlier by the British who brought the green tea from China that was added to Morocco's traditional herbal mint tea. The cafes and tea salons are still a male domain in Morocco and groups of men dressed in hooded jellabas can been seen whiling away the hours in cafes across the city, in the medina and in the new town. Foreign women are accepted patrons but the Moroccan woman are left to the private domains of their homes and the public bathhouses.
After finding an ATM we settled into one of this spacious street side cafes and enjoyed a couple of very good cafe au laits. A tree filled promenade stretched down the middle of the busy boulevard giving a totally different feeling of space than the cozy narrow streets of the medina. Young boys occasional came by to offer shoe shine services or sell packets of tissue and gum. Heading back to the medina we had to search out the bus stop, near the traffic circle at the end of town, since the stop indicated in our guidebook was now undergoing construction to become a McDonalds. It was about a five minute bus ride between the medina and new town. In between the two areas was a more recent old town called "New Fes" that housed a royal palace the old Jewish quarter. The McDonald's was being placed in a little area of its own, on the far edge of the French new town but not near either of the old areas. It was like it didn't belong anywhere but represented yet another dimension in this old city.
Back in the medina we set out in earnest to see more of the maze that made up historical Fes. Like Chefchaouen, Fes was started as a Berber village but was soon settled by some 8000 families fleeing persecution in Al-Andalus (Spain's Andalucia).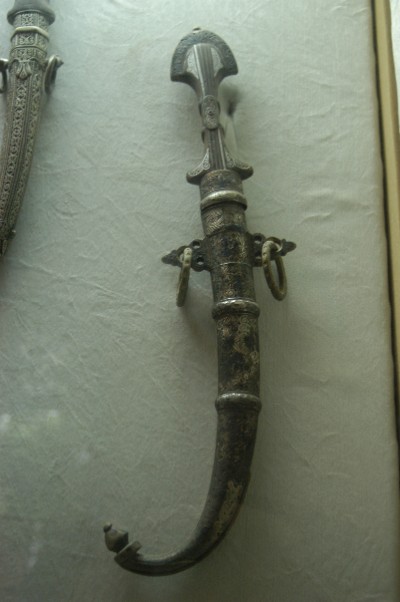 It has become Morocco's cultural heart and an important center of Orthodox Islam. The best cooks in Morocco are said to come from Fes and it is considered desirable to have a Fassi wife. It was no surprise that the King married a Fassi woman, albeit a computer engineer to boot. We made our way to family run museum, the Belghazi Museum, that was housed in a lovely old Riad. The large rooms that opened up to the tree filled courtyard had nice displays of knifes, jewelry, carpets, and other Moroccan crafts but the building itself was the real highlight. The family sent their son along with us to switch the lights on and off and to lead us to the rooftop so we could look out over the top of the medina - a jumble of brown flat roofs with drying laundry, satellite dishes and antennas. Some men were working on fixing an antenna on a nearby root and yelled over to ask how we liked Fes. We said it was very nice but cold! The weather was normally warm at this time of year but we were getting an unusual bout of rain. We had paid the family to enter their museum so we thanked the young boy for his time with a small gift from home.
En route to the museum we had already dodged one boy tout. We jumped into a wood carver's shop to evade him. The carver looked sympathetic. But, when we left we soon picked up another. We entered deep into the medina to find the museum, the alleyways getting narrower and darker, occasionally having to duck under tunnels that had been created by people building homes across the streets. It felt like we were as far away from the hustle as we could get but as soon as we stepped into the small courtyard the preceded the museum there he was. He followed us right into the museum and we prepared to walk us through it until we asked the owner to keep him away. But this didn't deter him and we found him waiting when we came out. We tried exhaustively to explain we didn't want a guide and we were not going to pay him any money. He ignored us and continued to follow. We tried to make a quick 180 to get rid of him but he was quickly on our tail again. We finally just decided to let him follow us but explained again that we didn't want a guide. Our walk took us around the bustling stalls that surrounded the large Kairaouine Mosque. The tourist shops and haberdasher's stalls gave way to stalls selling offerings for the mosque - incense, candles, sweets. The narrow alleyways were covered with woven mats that kept the sun away and just let in a soft filtered light. We ran into the Dutch group while they were buying sweets off of a cart. The sweets were various colored nougats and sesame brittle. We chatted for a bit but the young boy was still on us. He had even picked up a smaller boy that was now trailing along as well. Our biggest mistake was probably offering them one of the cookies we bought at a small cafe. It felt mean not to share with them since they had become part of our medina experience but it gave them reason to think we were softening and accepting them as guides.
The entrance and exit to the mosque were busy with people making their afternoon prayer. Non-Muslims were not permitted to enter but we could get a glimpse
of the interior grandeur from the doors. As we continued around the back of the mosque the life of the area started to die out. Instead of returning the way that we had come we let ourselves go the way they young boys were already walking. I wasn't feeling great and didn't fancy going near the smells of the tanneries but that is exactly where we ended up. Inspite of ample encouragement from the boys and other touts, we didn't go up to take a look at the tanneries that day. At that point the boys disappeared so we figured their goal of getting us into the tanneries, where they could expect a kickback from anything we bought, was thwarted and they had lost interest. But after we passed the tanneries they came rushing back. Apparently a plain clothes police man had been standing there and they didn't want to look like they were leading us or they would get in trouble. Getting rid of them was starting to seem useless. At times we picked up a couple of other boys and it felt like we were traveling along with a small gang. Feeling tired we finally headed back towards our hotel. Not wanting the boys to see where we were staying, lest they continue to stalk us, we finally told them enough. We were done for the day and didn't want them following us again. That is when the real harassment started. The original boy not only wanted money for himself but also for the smaller boy who didn't speak any English. We reiterated that we said "no money". It seemed ridiculous to pay for having been harassed all day long. They solicited help from other boys nearby and they all started clambering after us with nasty comments. Occasionally a local person would come past and give them a shove, angry that they were hassling us. It didn't reflect well on their city. But the boys were undaunted. They kept after us so we didn't go into our hotel and instead took refuge in a cafe. The hovered at the corner nearby and probably would have stayed until we left if it hadn't started to pour rain. In a matter of minutes the light showers turned to total downpour. We moved inside the cafe and watched the streets begin to gush with water. The sloping street into the medina must have become a small river. The boys finally disappeared. We learned our lesson from that experience. We couldn't try to be "nice" foreigners and even acknowledge their presence or this would be the result. It was unfortunate. We didn't want to be rude to people and it was hard not to feel some compassion for the boys who were doing this to help their families but in the end it only seemed like a small notch above begging. If we had accepted them as guides then it was a fair arrangement but people giving into their harassment out of pity or guilt was creating a very unpleasant situation. And, a number of the boys that had hit us up we later saw buying sweets for themselves so we had to wonder how much of this was going to families that needed money. They were too young to have financial independence and in a country where glue sniffing youth are on the rise you never really knew if you were doing a good thing or a bad one.
We had lunch at the cafe while the rain poured down. The food actually came from the small restaurant next door. The two places seemed to work together and it didn't matter where we sat. The tea always came from the tea place and the food from the restaurant. The restaurant owner was a good man and he served up a nice meal at reasonable prices. Another cafe down the street served up some nice cakes and coffee and did the kefta sandwiches. Each place had its specialty. The rain never really let up all afternoon so we stayed in our room. It was an okay room but rather cell like with plain walls and a metal grate on the window. It did become depressing after a few hours. We went back out for tea and Rob had an omelet but with the cafes being so small and exposed to the outside it really wasn't very relaxing to hang out their either. The colony of cats lurked everywhere and, not being water-friendly animals, came inside the cafe to seek refuge. They did this in nice weather too, hoping for a nibble from someone. Rob had one cat very deliberately tap his leg with its paw repeatedly. When Rob looked down he was given a loud begging "meow". But, the problem with the cats being inside in the wet weather was that the cafe owner sprinkled the floor with sawdust so people didn't slip on the wet tile. This gave the cats reason to believe the cafe floor was dirt covered and therefore an appropriate place to poop. We returned to our cell and finished out the day there.
SPAIN
Madrid
Mar 23
Mar 24
Mar 25-26
Mar 27-30
Granada
Mar 31
April 1-28
Semana Santa
Part I
Part II
Photos I
Photos II
Photos III
Photos IV
The Alhambra
Part I
Part II
Part III
Part IV
GIBRALTAR
April 29
MOROCCO
Chefchaouen
April 30
May 1
Fes
May 2
May 3
May 4
May 5
May 6
Meknes
May 7
May 8
May 9
Sahara
May 10-11
May 12
May 13-14
May 15
Marrakesh
May 16