March 24. MADRID Jose's apartment also served as a small office and there was one employee that came daily to support the company while the others were off at client sites. She was already working away when we woke up so we sheepishly said "good morning" and introduced ourselves before heading out to see some of Madrid. We chatted with Jose online for a bit before leaving and took his direction on which way to go for breakfast. Back towards the subway we found Hontonares, a lively cafeteria (more of a diner than what we call a cafeteria) where most of the people were sitting or standing at the bar, quickly eating their breakfasts and downing their cafe con leches. In Spain a breakfast break comes at around 10:00a.m. and the cafeterias become bustling places for about an hour. We sat at the counter and were efficiently helped by a friendly waiter. All of the wait staff were wearing maroon colored vests and were keeping up a swift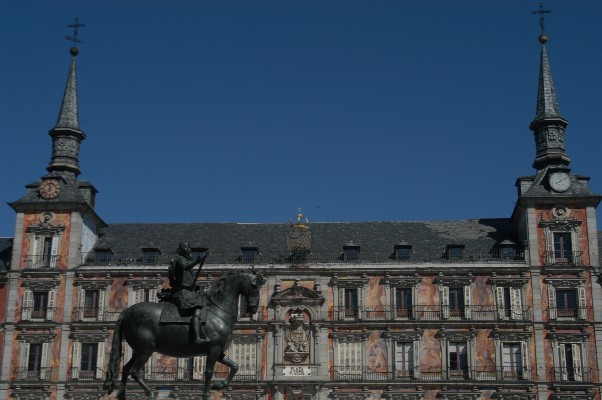 pace to serve everybody quickly. We had cafe con leches with a slice of Spanish tortilla.
It was a cold day and was threatening rain but we wanted to participate in the service that was being held for the victims of the 3/11 train bombings. It was the first time a State service had been held in Spain in a very long time. We caught the subway over to the Opera House and walked to the Palacio Real. The sidewalk was cordoned off and a large screen had been erected in front of the palace for people to watch the service. Police were regulating the flow of traffic into the large palace courtyard that faced the Church of Nuestra Senora de la Almudena. As the start of the service approached they allowed people to freely walk into the courtyard, after passing through a security check. We had expected the courtyard to be full of people but it was nearly empty. A large fence and gate stood between us and the church, where rows of chairs had been lined up to seat family members of the victims. Three more large screens had been erected and were showing the string of dignitaries arriving to attend the service. We watched Tony Blair, Colin Powell, Prince Charles, Jacques Chirac arrive and greet the Spanish Royal family. People were still arriving at 1:00,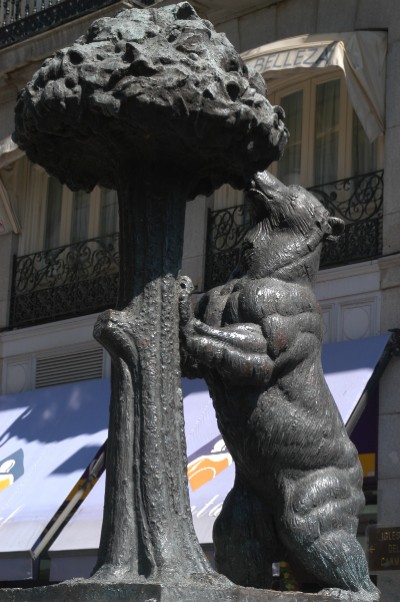 when the services were scheduled to start, but the seats in front of the church remained empty and the crowds of people in the courtyard remained thin, just two large groups huddled in the corners to see the screens. The lack of turnout was surprising but it had been two weeks since the bombings had occurred and the families of the victims had undoubtedly already held private services. The people of Spain had also made their feelings clear when the ousted the Prime Minister and perhaps were not feeling sentimental about a State service. The weather was abysmal as well. All of those factors probably contributed to the poor turnout. It gave the impression that people had already moved on, which seemed unlikely. Behind the smiling faces we saw in the streets we were sure many people we still thinking about what happened.
We stayed for the first hour of the service, until our fingers were numb and our noses were running, before leaving to search out a place to get some coffee and warm up. We found a quaint little hotel cafe near Sol, the city center, where another screen had been erected and a small crowd was gathered to watch the end of the service. The cafe was Art Deco in style and like our morning cafeteria was efficiently turning out coffees and tapas from a long bar the stretched the length of the room. We saddled up to the bar and sipped a couple of coffees until we could feel our limbs again.
From the cafe we found a bookstore where we perused travel books on Spain and I bought a small phrase book to help with menus. Coming from California it was actually pathetic that we couldn't manage more Spanish but the food was not exactly Mexican either. A menu translator seemed prudent if we re
ally wanted to try different foods. Very few people in Spain spoke much English but most were impressively patient as they tried to explain to us what was on the menus. For a city that surely saw many tourists the people didn't display any of the tourism jaded disposition that we experienced in Greece.
From Sol we ventured over to the nearby Monasterio de las Descalzas Reales (14th c.) but since we were still in the lengthy lunchtime window and it was closed. We found a nearby charcuterie called Ferpal. Right on Calle Mayor, with its Art Deco signage, it looked like an institution. Inside was mostly a deli selling a myriad of cheeses, sweets and, of course, Jamon. The ceiling was packed with them. At one end was a small bar where people could down a quick coffee and partake in a variety of sandwiches made from the various deli delights. We chose an assortment of jamon, salmon and cheese, tuna, and other unidentifiable sandwiches. They were all tasty and very affordable. It is surprising that American style fast food restaurants can exist at all in a country where small snacks are so readily available. With some more time to kill before the monastery opened we tried to visit a chocolateria for some churros and chocolate but it was closed. We retraced our steps down Calle Mayor until we found a cafe.
When it came time for the monastery to open we found a queue already stretching out the door. The only way to visit was on a guided tour and only enough people to fill a tour were allowed to enter at any time. It was still an active Franciscan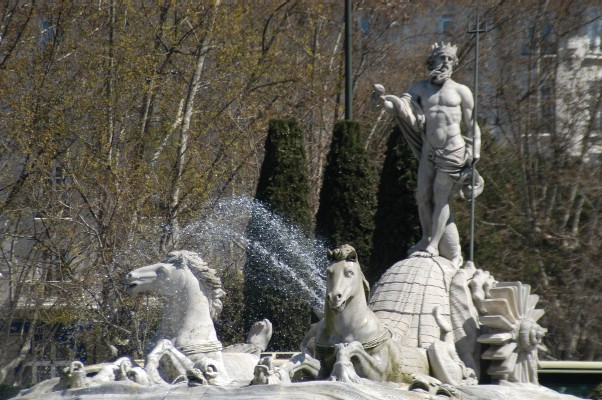 convent. Historically it housed the daughters of important families so the nuns were referred to the "barefoot royals" and the monastery became endowed with artwork that was donated from the nuns' wealthy relatives. The tours were only in Spanish so we couldn't fully grasp the details but I could make out a few words here and there. The guide made a real effort to talk slowly. It still turned out to be marginally informative but was a beautiful building to visit and the elaborate frescos, quaint little chapels, antique carpets, and collection of paintings made the place feel more like a museum than an active convent.
After our tour I returned to the apartment while Rob walked around a bit longer. The cold weather had zapped me of energy and I just wanted to rest. I never even went out for dinner.