April 1 - 28. GRANADA We paid for our apartment for two weeks which gave us until the Wednesday after Easter. The Semana Santa processions started on Palm Sunday and in the three days leading up to it we saw Granada start to swell with tourists. The wide selection of hippies were the most conspicuous bunch and began to appear in nooks and crannies all over town, sprawled out in the plazas or tucked up
on the ground along the shopping areas. They materialized all sorts of talents designs to lure money out of the growing crowd of tourists. There was a squeaky bagpipe player, guitar players, makeshift ensembles of both, jugglers, a couple of acts we failed to understand without any Spanish, and of course a didgeridoo player. Some sold hand woven bikinis while other sold beads or jewelry and one guy made coasters out of cut aluminum cans. On one afternoon walk we passed through three different plazas, nestled in among the winding streets of Albayzin. Each time we arrived to find the very same bagpipe player serenading the afternoon lunch crowd. He managed to stay one step ahead of us as he tried to make the most of this peak period. They occasionally became annoying but still added a bit more color to the already lively street scene of Granada.
Alongside the transient hippie population, that seemed to wax over the holiday week and then wane again, there was a steady stream of street entertainment through the many squares and pedestrian areas of the city. One guy dressed up as Mickey Mouse and twisted balloons into shapes for children in the hopes of a "donation". Another pair had some sort of crazy puppet-like thing going. And, a hand full of people set themselves up in the alley along side the cathedral with different statue gimmicks. There was a woman painted in head-to-toe in silver, a man decked out in some form of artistic explosion of color, but our favorite was the man dressed in a chef's uniform sitting on a toilet and reading a girly magazine. He actually hauled a whole porcelain toilet out every day.
Some people were more practical about earning some money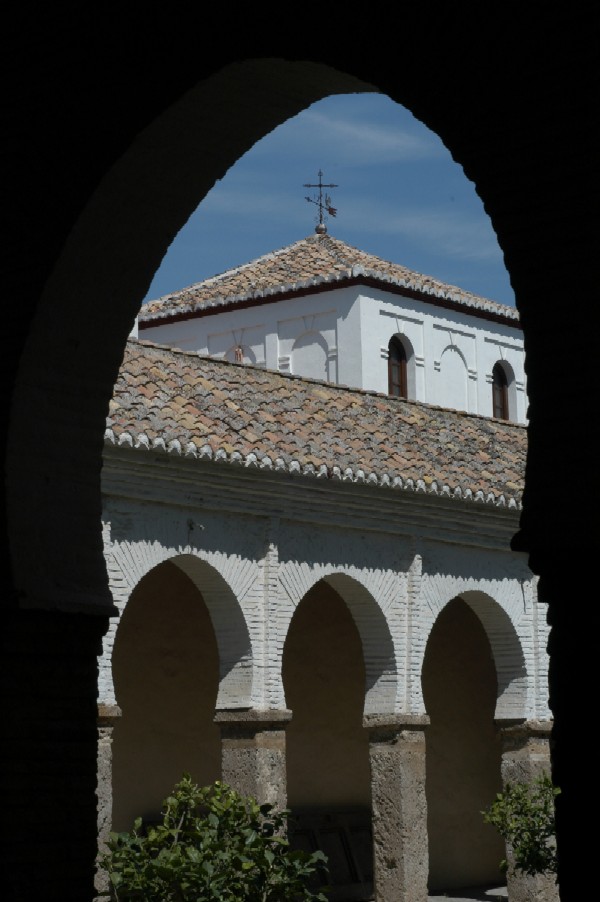 during the holiday week and there were a couple of home spun merry-go-rounds in the city and people selling food or balloons. Both were man powered by a man on a bicycle. The smaller one was my favorite because the horses dangled from the roof of the merry-go-round and were fashioned cleverly from rubber tires. The other was larger and had a wide selection of wooden animals for the children to sit on. During the processions there always managed to be person stationed to provide the crowd with hot baked potatoes. Converted oil cans were the portable stoves. The balloon guys may have made out the best because they were busy all day long. During daylight they lingered in the squares while at night there was always one brining up the end of a procession.
The solemn tone of the Semana Santa processions were tempered by the Spanish festivity that couldn't help but permeate the city. Granada's many squares were full of tourists but the local community was out in force as well. The afternoons died, while everyone when to take a long lunch, and then the city became a bustle again in the evening. We made a deliberate effort to adapt to the Spanish lifestyle, especially during the week of processions. The processions often went into the night so the streets around our apartment were full of people until very late. We decided that it was foolish to fight it and tried taking our main meal in the afternoon, while the city was quiet, and then made ourselves stay up late. We were either running around with people trying to catch the processions or just sitting in our apartment listening to all of the excitement. But, we found it more difficult than expected to become Spaniards. A nice big meal coupled with a little bit of wine left us entirely unproductive on several afternoons. And, if you aren't raised on that broken sleep schedule of a short night's sleep and an afternoon nap there is little chance of getting used to it in just a couple of weeks. We still slept the night through, when our neighbor upstairs wasn't blaring his TV or stereo, and enjoyed the nap as well. By the end of the Semana Santa we were feeling too lethargic and had to revert to a normal schedule.
After two weeks in Granada we were enjoying it so much that we decided to stay another two weeks. It was a good place for us to catch up on some things (mainly our taxes). Our landlady was a very nice woman. She was trying to sell the apartment so we let the real estate agents come by to show the place until it became too disruptive. But, it turned out that the last person who saw it wanted to buy the place and she got 100,000 euros for it! As charming as the place was it did seem like a lot of money for the size.
Eating in was a big cost saver for us while we were in Granada and we even got into trying to cook up some of the local dishes. The wine was pretty cheap as well. We really took a liking to Malaga Dulce wine, a sweet wine producing near the coast. We still went out for the occasional coffee and meal but it felt nice to play house for a while after so much moving around. We went to the market regularly to get our groceries and at the morning produce market the jamon man and the olive lady started to recognize us. In a place that gets so many tourists it was good to feel like a temporary local and could see a difference in the way people treated us.
Our apartment was on the second floor and the roof of the building across our back alley came up to our balcony level. It was still a few yards away but we became acquainted with a couple of the cats that lived on that roof. We noticed our neighbor upstairs throwing kibble down for them to eat so we gave them some of our leftover bones and chicken skin. It was mainly a little cat couple that we fed but other, more aggressive, cats came around to see what they could take as well. At the end of our stay the cats were planting themselves on the very corner of the roof and meowing into our open window. By the end of our month's stay we were sorry to say goodbye to our adopted pets but are confident that they will continue to be cared for by others. The Spanish seemed to take pretty good care of the cat population. We saw piles of kibble put out in the streets for them to eat and there was the guy upstairs. They seemed to like our scraps better though.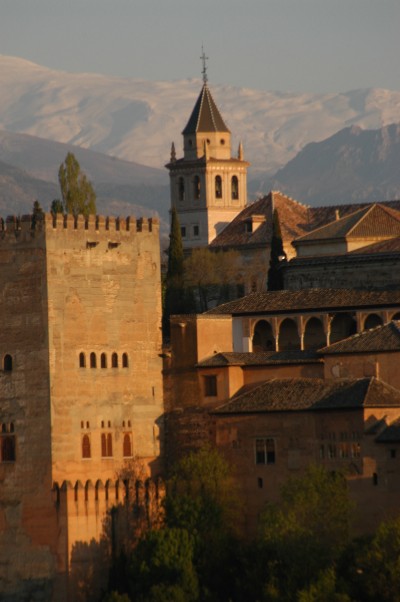 We did a pretty good job of seeing the sights during our time in Granada, including the impressive Alhambra. It wasn't a big city but had an absolutely cavernous cathedral and a number of lively alleyways selling Moroccan goods and packed with tea shops selling mint tea. The smaller Capilla Real, attached to the massive cathedral, housed the tombs of the monarchs who re-conquered Granada, Isabella and Ferdinand. The Jose Guerrero museum was hosting a nice collection of Miro paintings, which I visited a couple of times. Still most of our time in Granada was spent just living, not playing tourists.
About a week before our month was up we did start to tire of Granada a bit but the main factor was our annoying upstairs neighbor. We had been very tolerant of his loud music and TV during the Semana Santa but one night he just went too far, cranking up his stereo just as we were about to go to sleep at 1:00 AM. Rob pounded on the ceiling but to no effect. When he went up to complain directly the nutcase answered the door with a set of brass knuckles. He could barely stand so he wasn't much of a threat but seemed to enjoy antagonizing us with his music thereafter. Some of the other tenants in the neighborhood starting returning from the Easter break and he engaged in all out stereo wars with them, even cranking it up and then leaving his apartment. He was a much older man but tried hard to dress like a young punk. He shaved his already balding head and favored biker attire, even though we only ever saw him riding on the back of a scooter. In short he was an geriatric, skinhead, psycho, alcoholic Argentine, who, it turned out, worked in our landlady's fast food chicken stand. As annoying as he was it is hard not to feel sorry for someone with that life. Antagonizing other people with his existence seemed to be the only thing that gave him purpose.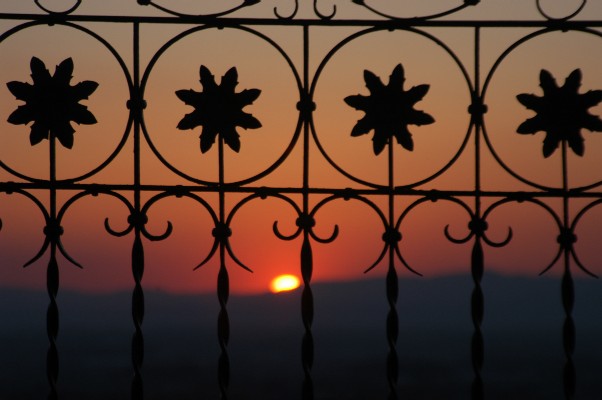 The other thing that started to wear on us were all of the tourists. They had exploded again after Semana Santa. We pretty well put up with drunks peeing in the alley behind our window during the festival but it was going too far when we saw a sober French tourist taking a piss just because he was too lazy to walk 20m to the bathroom. Rob yelled at him but it only incited him to scream back, like us being offended by his piss was actually the more offensive thing.
Anyway, as some of the annoying things started to mount we began to feel ready to move on again. But, I still had a small tinge of regret as we hopped on the bus to head down to Morocco. We were both quite sure we wouldn't be anywhere that comfortable again for a while.