May 1. CHEFCHAOUEN We had breakfast on the square during a brief glimpse of good weather. A group of people were congregated in the square. It was Labor Day. Someone was shouting over a loud speaker and there was some singing going on but it was a fairly small turn out. It wasn't until later that we noticed the Iraqi flag being waived around and plain clothes police with radios lurking in the background. But it remained a passive demonstration and it wasn't clear that Iraq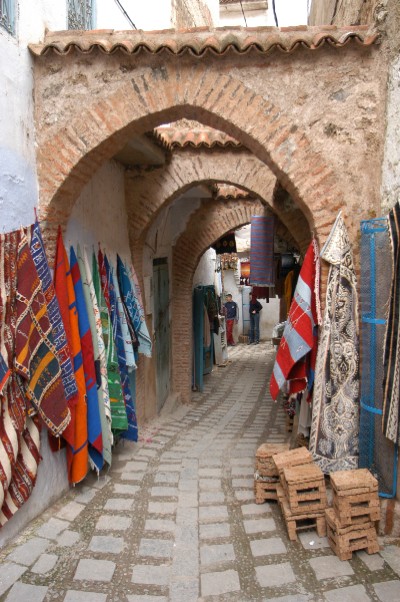 was the only issue being addressed. There also appeared to be images of the disastrous earthquake that recently shook the Moroccan coast. There had been some criticism that the King had been slow to respond with aid. But, the people had to be careful about criticizing the King directly. His family claims to be descendents of Hussein ibn Ali, the grandson of the prophet Mohammed, making him a spiritual leader of Morocco as well as the political leader. It is officially against the law to speak out against him.
Besides enjoying the charming streets of the village and shopping there was really very little to do in Chefchaouen. We spent some more time getting lost in the narrow blue streets and observing the mellow pace of life. The blue wash on the houses looked like it took some effort to maintain and we found two different households busy brushing the exterior of their homes with blue tint. Rob wanted to see the inner workings of one of the bakeries. He was waived off by the first one he peeked into but the second baker kindly motioned us inside. It was a small place and totally dark except for the light from the door and the fire from the oven. There were trays of cookies stacked everywhere. A young boy, most likely his son, was assisting him and there was little room for anyone else. I squeezed with my camera while Rob stood and watched from the door. I was very aware that a wrong move could cause an avalanche of cookies and only stayed long enough to take a couple of photos. It was tough work
standing at the oven all day, carefully moving the loaves of bread and trays of cookies with a long wooden paddle. But, naturally the baker did it with apparent ease. As we thanked him and waived good bye he snatched a few warm cookies from a nearby tray and handed them to us. Stepping out into the street we were greeted by a group of young girls. They no doubt hung out near the bakery in the hopes of getting a treat so we shared our cookies with them.
With the taste of cookies still in our mouths we were easily tempted by the nearby fried bread seller. She was quickly shaping round pieces of dough into rings and tossing them into tub of oil. After a few turns she retrieved them with a metal hook and strung onto a string of palm frond for each customer. We ordered one and quickly realized why the palm frond was used. Served straight out of the hot oil it took a while before they were cool enough to eat. It wasn't a sweet doughnut but very fluffy and tasty. As we stood nibbling away on our fried bread a carpet tout approached us. We tried that tactic of speaking in Japanese to each other but it did little good. He kept trying anyway until we continued on our way.
We bumped into the Dutch group during a tea break and they informed us that they were able to buy their bus tickets for the following day to Fes at the bus station. Chefchaouen was supposedly a difficult place to get out of since most buses that passed through were coming from somewhere else and didn't always have spare seats. We took their advice and hiked down to the bus station ourselves. In the parking lot we were confronted with a ticket salesman who was busy trying to cram people on an outgoing bus. He quickly approached us with "Where do you want to go? I have tickets for all places." We smiled and nodded as we pointed to the station and said we wanted to check all of the buses for the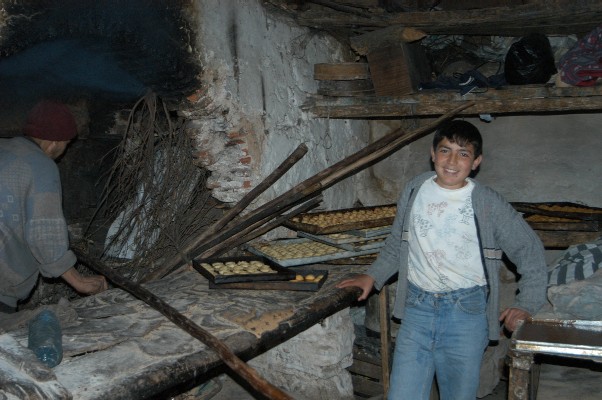 next day . He became agitated and said that only he sold tickets. We knew there was more than one bus company and wanted to take CTM if possible. But, when we reached the inside of the station we discovered that the other ticket offices were closed. With sporadic schedules they didn't stay open unless they had a bus still leaving for that day. We recognized a couple of kiwi women from our hostel who also were looking for tickets and while we were talking with them the ticket salesman from the parking lot came into the station. He was in a dramatic snit, waiving his hands and giving us an I-told-you-so lecture. He said that since we didn't believe him then there was no ticket for us. He was a total nutter. In a country notorious for its lying touts in almost all areas associated with tourism we would have been idiots not to check out the situation. The kiwis seemed put off by the display as well so we all decided to meet up the following morning so we could either catch a bus or share a taxi to Fes, if necessary.
On our way back to town we stopped at the grande taxi stand to check prices. They wanted to charge us 300 Durham for a taxi to Ouazane, where we could catch buses to Fes. They agreed that the price for a shared taxi was only 30Dh per person and that six people fit in a shared taxi but they failed to realize that six times 25 only equaled 180Dh. Blinded with greed at the sight of a tourist they just grabbed an in-your-dreams price out of the air. We just shook our heads and moved on.
For lunch we ate at another place off of the square but had been pretty disappointed with the results. I ordered a chicken couscous and Rob ordered a chicken Tajine but both looked suspiciously like the other. Each dish actually required a good deal of work so with such low turn over it looked like they were improvising. Eating out is a tourism driven business since Moroccans don't have the custom of paying people for food you can cook yourselves. For dinner we returned to Aladdin's where tourist turn over seemed to keep things a bit fresher.