May 2. CHEFCHAOUEN - FES When we met the kiwis at 8:30 we decided to give the bus another try before negotiating with grande taxis. We arrived just after 9:00 and ended with the last spots on a bus bound directly for Fes. It was the same bus that the Dutch group was on. It wasn't CTM and there wasn't a CTM bus until the afternoon so we stuffed our bags in the trunk and squeezed onto the filthy independent bus. CTM was a bit more expensive than the independent buses but much cleaner and more reliable. Rob and I took the last two seats together before letting ourselves get cheated out of one of them by a Moroccan man who had written a seat number on his ticket. It turned out that no body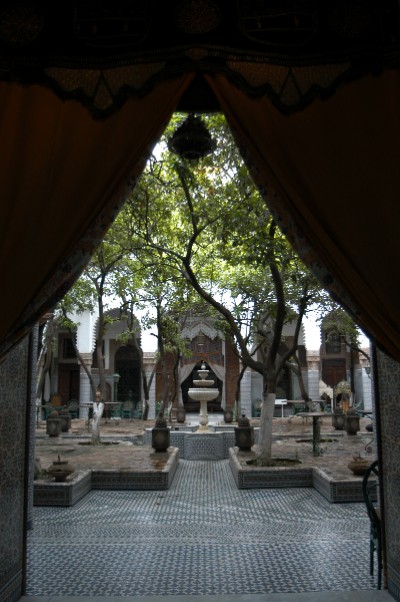 had assigned seats. So we stood our ground and waited for two seats to be made available. The only remaining single seats were next to men and after our experience in Jordan I decided that if local women didn't have to be separated from their husbands then I wasn't going to be either. The bus driver finally rousted people and got us two seats together, just in front of the Dutch.
The bus made a stop in Ouazane and then did the obligatory lunch stop on the middle of nowhere. We ordered a couple of kefta (meatball) sandwiches and it all looked pretty good until we got back on the bus and ate half of the way through them to find the other half was mostly raw. Eating raw meat is definitely not on the recommended developing world eating experience. (It is most likely what gave me amoebic dysentery a few days later.)
The only benefit of the independent bus station in Fes was that it was close to the medina, where we wanted to stay. We grabbed our packs and made for the city walls. Fes was infamous for its touts and we expected an onslaught but only had one come trailing after us out of the bus station. We stayed focused on getting across the road and just ignored him which yielded us a loud "F**** You!" The Moroccan are surely a multilingual people. As we came close to the city walls I miscalculated the high curb and took a nice crash into the dirt with the weight of my pack helping my right knee and forehead kiss the ground very hard. It was a unpleasant experience, not just because it hurt pretty bad and I felt like crying, but because I was a total spectacle for the local people. I didn't want to stop right there and nurse my wounds. After a short rest just told Rob that I wanted to keep going so we could find a hotel and I could get cleaned up. That helped us decided to pass over some of the real cheapies and opt for a small pension farther inside the medina. The had a room and we took it.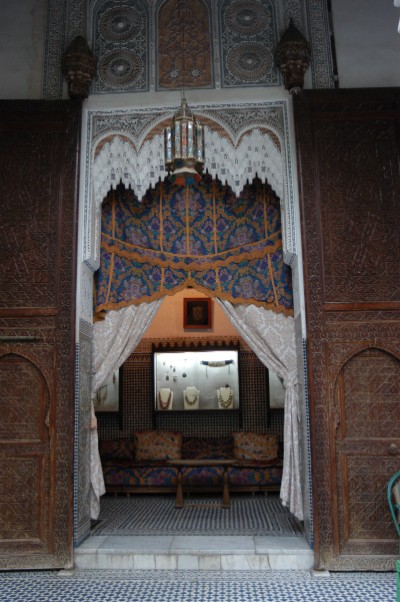 With my knee and forehead cleaned and bandaged up I started to feel much better. The young man who helped run the pension spoke pretty good English and was very interested that I spoke Japanese. He was trying to improve his Japanese. It turned out that a young Japanese woman was staying there and we could hear them sitting up late at night practicing Japanese and Arabic with each other in the small closet of a space while he kept watch over the front door until midnight.
We went out to see a little of the medina. It was a very lively place with a chaotic atmosphere that felt right out of another time. When we arrived we passed through a vegetable and meat market that dominated the top end of one of the two main drags that stretched the length of the medina. The top part of the other street was full of small tourist hotels and cafes. The two roads almost touched at the west end of the walled city but soon curved away from each other, encapsulating a cramped set of homes in the middle. The whole of the medina was once full of riads, courtyard style homes, but over time some of those have given way to denser living situations. The "main" street that ran past our pension descended into the heart of the medina and was full of shops catering to local needs - shoes, jellabas (Moroccan robes), pharmacies, banks, toiletries, etc. The other "main" street turned from a vegetable and meat market into a smattering of tourist shops, passing a couple of mosques and hammams (bathhouses) along the way. Both streets nearly touch again in the middle of the medina where the alleys become a web of twists and turns with souks catering to different specialties and everything ending in a frenzy around the giant Kairaouine mosque.
After stopping for a mint tea we ventured into the heart of the medina, following the sloping cobblestone street in front of our pension down and down until we found a small square. As we stood searching the guidebook for our precise location we were accosted by young boys, touts, wanting to show us to the tanneries or guide us around the medina. It all seems harmless enough until you realize that they just won't go away. They followed us, stuck their faces up over our book, leaned into Rob's back, anything to get our attention. It only served to annoy us but they seemed to be content with harassing us if they couldn't interest us in their "services". These "guides" were actually illegal but many kids did it anyway, out of necessity to earn money for their families. "No, thank you", "No!", "Leave us alone", "Go Away!", none of these worked. Ignoring them didn't work. Speaking in Japanese didn't work. When we had gotten rid of one there were always three more ready to take over. It became exhausting. We ducked into one store for a break before blowing past them again on our way back to the hotel.
As we emerged from the center of the medina the hassles became less and less. It started to rain, which also helped. For the rest of the afternoon we just relaxed and only ventured out as far as a cafe up the street for some sandwiches for dinner.