January 6 - 13. BANGKOK continued... After living in Tokyo - the most densely populated city in the world - and visiting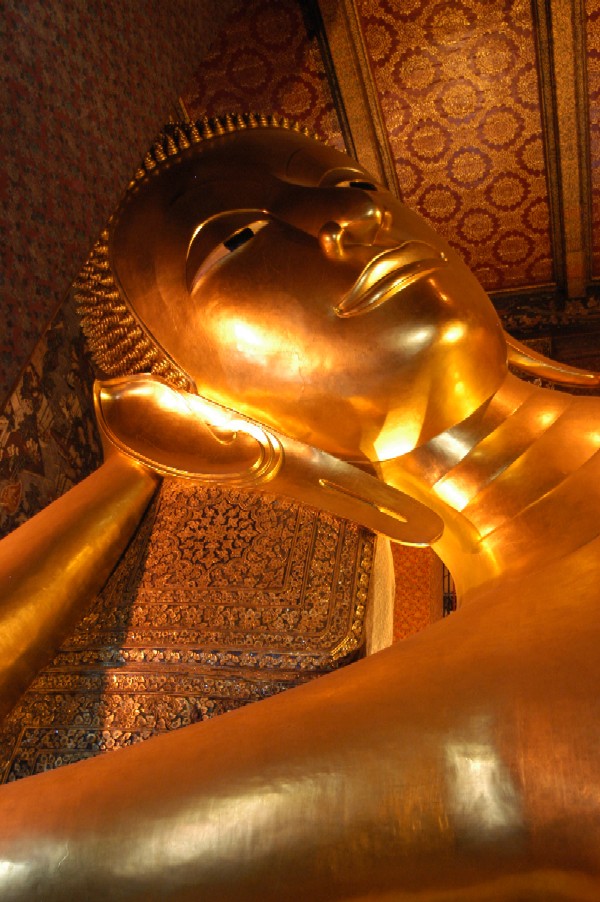 so many large cities around the world, I had a new kind of appreciation for metropolitan culture. Major cities represented an entirely different cultural context to rural areas. Some travelers found them "less traditional" and, hence, less interesting but cities are the hubs of modern civilization and link elements of a country's past with its present and future. As compelling as traditional characteristics can be, a country's modern personality is just as unique and defining. Traditions evolve over decades or even centuries, adapting various influences into a distinct culture and cities are our most recent reflection of those adaptations. Some wrongly refer to modern cities as "western" because the world has become more uniform in its construction of tall buildings but to say that it to not look deep enough. A closer look reveals a traditional wooden home wedged between two mirrored high-rises in downtown Tokyo, the Islamic layout of KL's Petronas Towers, the fung shui attributes of Hong Kong's downtown, and the spirit houses outside Bangkok's modern buildings. For me, the East Asian cities have an energy and vibrancy that is very unique. They maintain a respect for tradition while running headfirst towards modernity. One does not betray the other.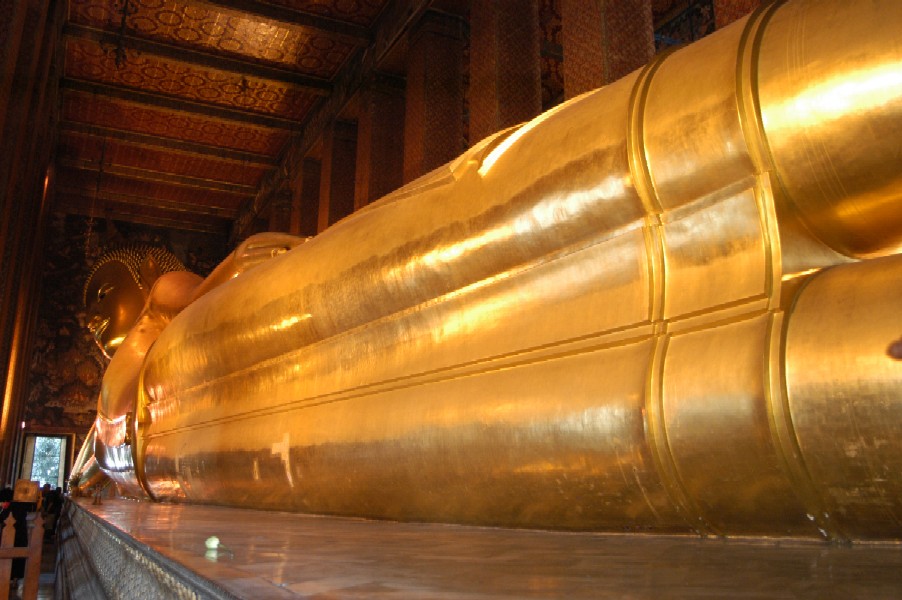 For ten days we just enjoyed being in Bangkok. It was the most modern place we had been since Dubai, and much bigger. After moving to the Viengtai Hotel we practically had Khao San Road outside our front door. What had once been the domain of grungy backpackers and pervy sex holiday goers, was now dominated by tour groups, families, and trendy college students. Cafes and restaurants were plentiful, some with tables and chairs spilling out onto the sidewalk. Moonlighting kathoey, lady-boys from the cabaret shows, added flare to the wait-staff. And, naturally there were a few American fast food places and even a well placed Starbuck's that was housed in a restored historical home down a side alley. Shops were crammed alongside one another, interrupted by travel agencies, small hotels, and massage studios. Street stalls emerged in the evenings and the area became one big pedestrian promenade that spread from Khao San towards the river, through alleyways and small streets. The area was drowned in tourists but it was a very comfortable and convenient place to be in Bangkok.
After nearly a year of constant travel I was ready for some rejuvenation so I searched out a beauty and massage studio near Khao San Road. These little "spas" were abundant and mostly just functional looking little place (tile floors with UV lighting) but offered a full range of facials, manicure, pedicure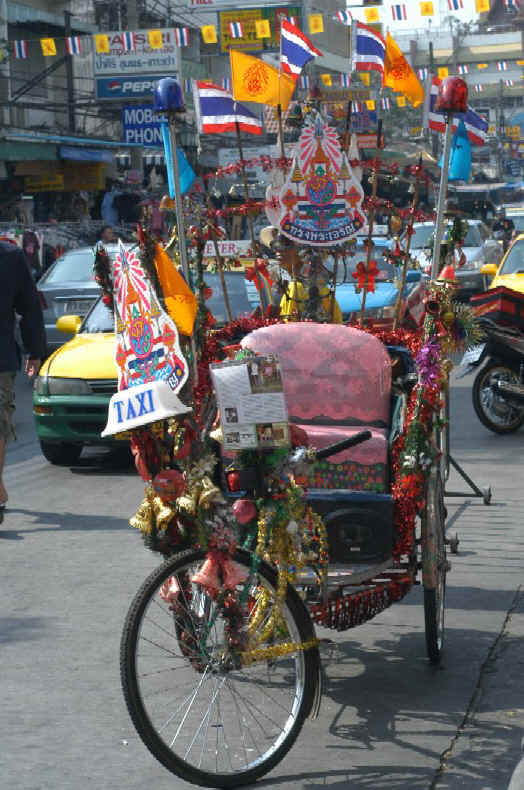 and massage treatments at incredible bargains. Someone who really wanted to indulge themselves could pay for the plane ticket to Thailand on what they could save by going to these places. I went for a package facial that scrubbed, suctioned, steamed, and moisturized my travel weary face. The fresh cucumber mask was incredibly refreshing. The whole process resulted in new skin. I went back later in the week and had an hour-long Thai massage at the same place. It was my first Thai massage experience and I wasn't sure what to expect but was very pleasantly surprised. They used the upstairs room for the Thai massage where the floor was filled wall to wall with padded mats and the shades were pulled. It started out kind of strange, more like assisted stretching than what I would call massage, but was very relaxing. The therapist, a tiny woman with unexpected strength, used her body weight to stretch and knead my limbs, sitting on the floor with my legs out over her lap. It was a much more interactive massage experience. The "assisted" stretching was combined with pressure and kneading of my back and neck. It completely relaxed me and prepared me for the ultimate release. She had me sit up in a relaxed position while she stood over me and used her body to gradually but forcefully twist my back to each side. It required a bit of trust on my part so I didn't resist her but I was too relaxed to care.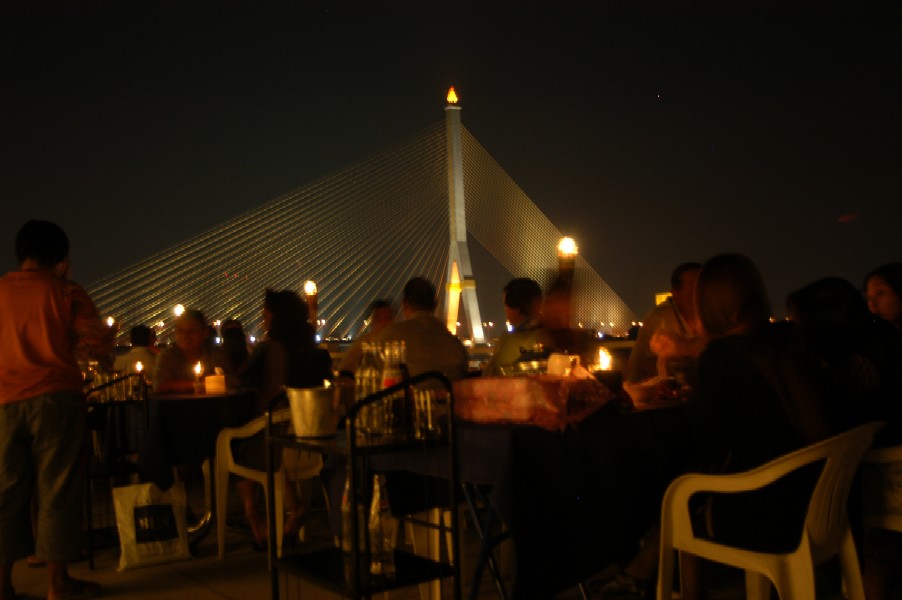 Each time she twisted my upper body the entire length of my spine cracked. It was totally liberating. As I walked back to the hotel I felt like a string was pulling me upward. After months of toting a heavy pack my back was finally free again!
Along Khao San Road Rob diligently researched a good travel agent to book our flight home. In spite of the tsunami there were still quite a few people visiting Thailand so we didn't waste much time trying to book our flight home. His research paid off and he found a great travel agent to work with in a tiny place in front of the D&D Inn. This guy worked hard to find us the right flight out of Bangkok, on the day we wanted, which wasn't easy since seats were going every minute. In an industry where there was plenty of wheeling and dealing our guy seemed like he was on the up and up. It was thanks to him that we got a flight home in time for a friend's wedding and to see my sister before she headed back to school. We were both relieved when we finally got it all sorted out. It was touch and go for a couple of days as we jumped for one option to another to get the right flight. In the end I forced us to take a flight through the Philippines because our first choice route through Taiwan was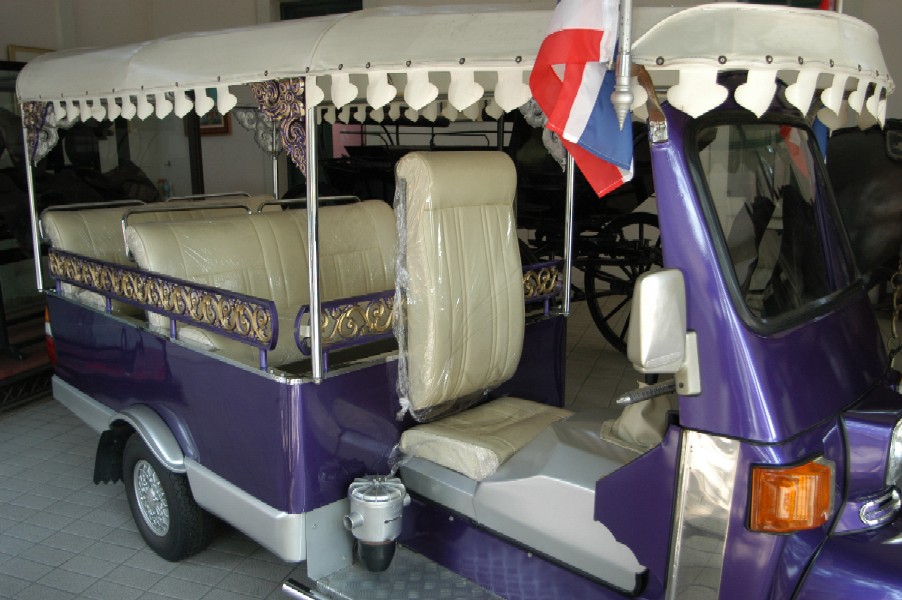 booked. But, right after we booked our tickets the Taiwan seats opened up! It was too late to make a change so through Manila we would go...
Amidst all of the tourist hustle around Khao San Road there was one area where everyone stopped to pause, stepping momentarily out of holiday mode to take a sobering look at the wall of faces posted on the corner of Th Chakraphong. They were missing persons fliers from the tsunami, posted by families and friends pleading for any information that might tell them what happened to their loved ones. There were photos of all kinds of people from all kinds of places, from babies to families, as well as descriptions of where they had been. The horror of it was almost numbing. It seemed like it couldn't have happened but seeing all of those individual faces made the tragedy seem so personal, in a way that mass media couldn't possible convey. We tried to be sensitive to situation ever since we arrived, carefully talking with the people we met to find out if they had suffered any personal loss. Bangkok was THE major city so surely people from all over the country lived there. But we hadn't met anyone who was from that region. They, like us, were sad but detached from what had happened, not insensitive but helpless. There was only so much that could be said about something so awful and then people just tried to focus on the future, on getting the country back to normal, and not thinking so much about the horror of what happened. What can you do but try to help those that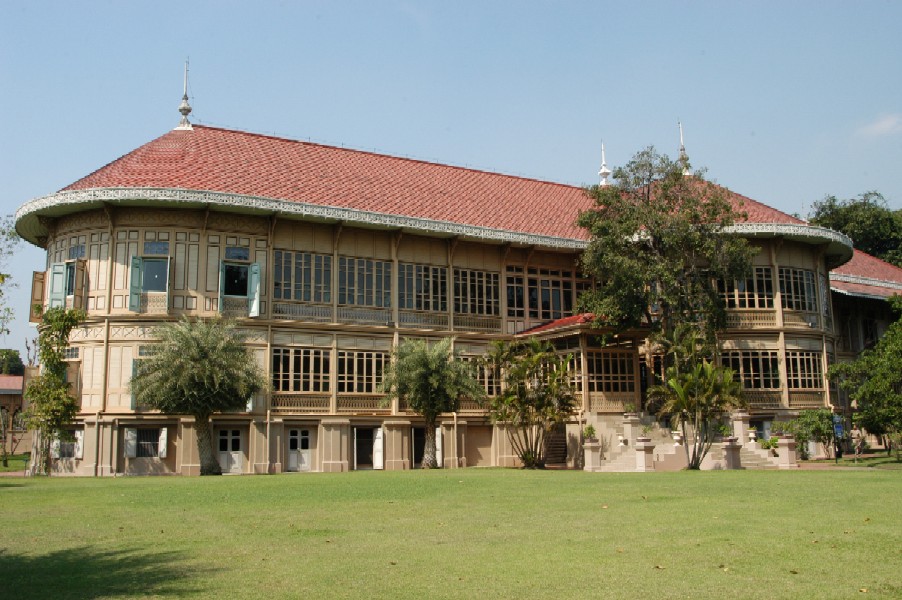 survived, pick up the pieces, and hope that something could be learned that would prevent it from ever happening again?
Hanging out around Khao San Road was not the only thing to do in Bangkok and we spent plenty of time just exploring the city. The trains didn't reach Khao San Road so we had to grab taxis, tuk tuks, or ferries to get around the city. It could be challenging to communicate with the taxi and tuk tuk drivers. Our attempts at Thai were rather futile. The tones we difficult to grasp. It got easier when we knew the city better and could point the driver in the right direction but we ended up in a few wild goose chases. One was in a tuk tuk and we were pretty sure he deliberately routed us the wrong way, but mostly it was just miscommunication. Since taxis were more comfortable than the tuk tuks and both cost about the same we took taxis more often. The tuk tuks, a uniquely Thai version of the Asian three-wheeler, seemed to survive off of the tourist population. The ferry or the train were the best ways to travel. Ferry "stops" were dotted along the river and the ferry's came along regularly. One route even had a guide who pointed out the sights. The palace and Wat Pho were visible from the river but one of the most dramatic views was Wat Arun (Temple of Dawn) on the west side of the river. Its white prang (Khmer-style tower) created a dramatic silhouette as the sun went down. We took the ferry from Banglamphu (the Khao San area) all of the way down to West Silom and got off next to the Oriental Hotel. There were some nice high end souvenir shops in that area, including a place called the Siam Bronze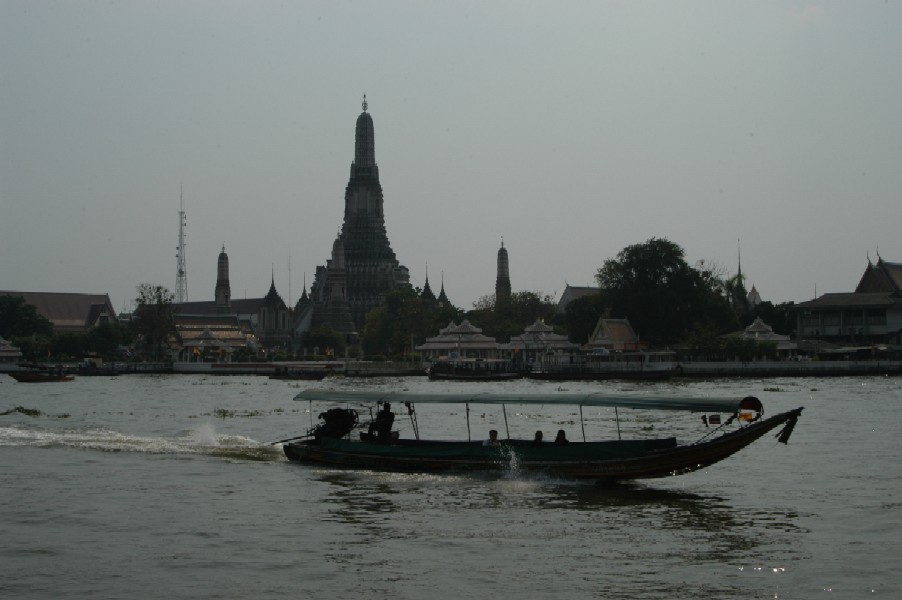 Factory. Thailand has the oldest bronze-working tradition and this factory procured its wares from the same craftsmen that made alms bowls for monks.
We also enjoyed riding the Bangkok Sky Train, a new addition to the city in 1999. Its two lines crossed the city from north to south and from east to west, just not as far west as Banglamphu. From its elevated rails we could view the modern frenzy of the city - tall buildings, busy roadways - all of the way out to the suburbs of this 8 million person metropolis. We used it to get around the center to do sine shopping. The Hotel Intercon had a surprisingly good selection of affordable quality items. Getting off the train at one of the downtown stations we were struck by the sight of everyone stopping dead in their tracks. They just froze, no matter where they were - just at the gate, buying tickets, etc. We were part way down some stairs and slowly came to a stop ourselves, wondering if there had been some sort of alert. Off to one side Rob spotted a young western woman and asked her what was going on. She said at 6:00 people stopped whatever they were doing and listened to the national anthem with the king. We could hear the anthem playing. It soon finished and everyone continued on their way. Even amidst the hustle and bustle of the city center the Thai people took time to pay respect to their king and country. King Bhumibol Adulyadej is the world's longest-reigning living monarch and well respected by his people. Any controversial statements about the royal family are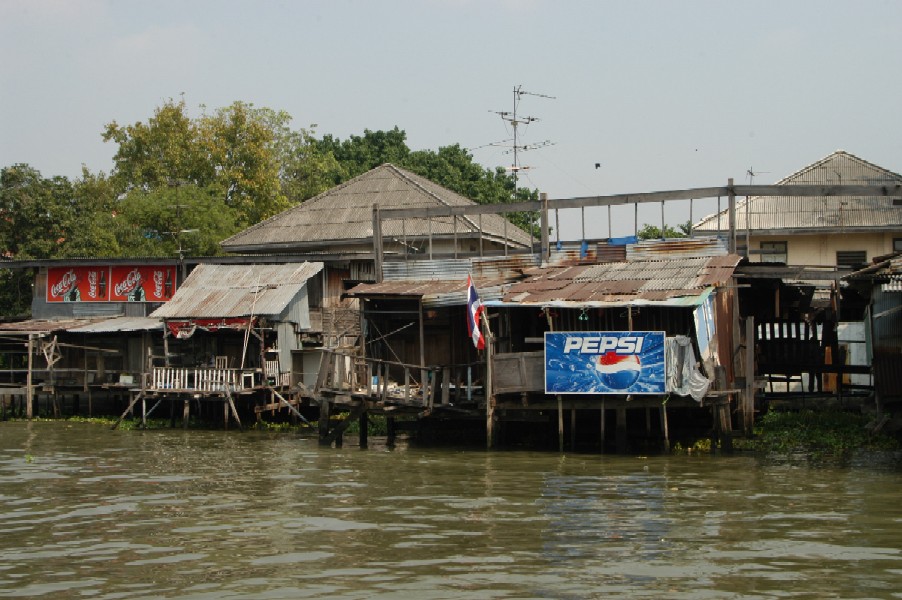 seriously looked down on by the Thai people.
On one afternoon we jumped off of the Sky Train to visit Patpong, the infamous center of Bangkok's more unsavory nightlife. My first visit to Patpong in 1990 had been a shocking experience. Thailand's association with sex entertainment and prostitution is no secret and I found most places that I traveled to be scared by its presence. In is legitimate form it isn't a comfortable thing to be around but stories of women being lured away from rural areas and coerced into prostitution bring it to a whole different level of perversion. While the human rights issue is still a big problem, Thailand has made progress in limiting the visible impact of the industry on visitors. New laws require bars outside certain areas, like Patpong, to close earlier so the go-go clubs are "corralled". We went in late afternoon so they outside stalls were just getting set up. It didn't look like much by day-light but I knew all of the creepy-crawlies still came out at night. I remember sitting in the nearby McDonald's watching an American sounding guy bargain with a pimp for a young woman. She was sitting right there and I felt so bad for her. The whole scene totally disgusted me. This time we just had a coffee at Starbuck's and watched the set up process. We didn't hang out until the action kicked in.
Walking around Bangkok was a more tiring process. The major streets weren't very pedestrian friendly -- but still better than many other East Asian cities -- and the weather was pretty warm. We did make one long stretch after visiting the Vimanmek Teak Mansion all of the way to the Sky Train. We had sidewalk the entire way but it was a busy street so it was really noisy.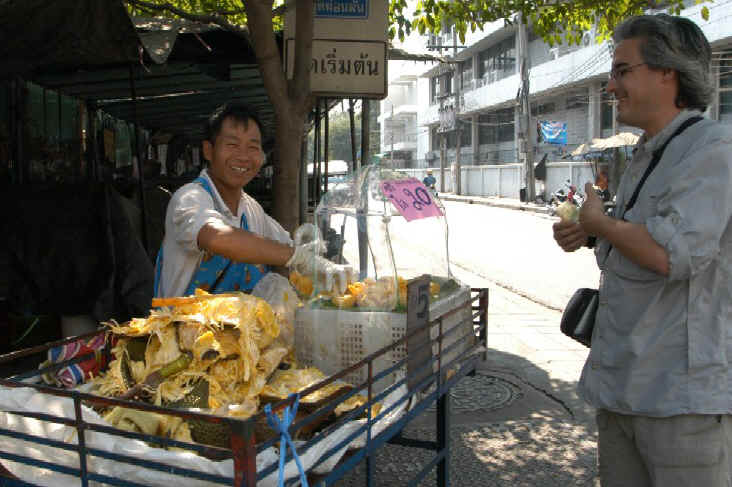 If we had known our way through the smaller back alleys I am sure it would have been a calmer walk but that would have taken more time than we had. We were fortunate enough to happen upon a man selling bags of jackfruit. He was extracting the large bulbs of fruit from the skin right on his cart. Jackfruit has a wonderful flavor that has notes of banana and pineapple but with the texture of neither fruit. We bought a whole bag. It was a refreshing break during our long walk.
Before the end of our time in Bangkok we did venture over to the National Theater to take in some Thai drama, a version called Lakhon Nai, traditionally performed in the palace, as opposed to Lakhon Nawk which was performed for the people. The costume's were exquisite but the progress was very slow and hard to follow when you didn't understand Thai. We were provided translations for the first couple of acts but slipped out after that.
Our absolute last destination for sightseeing in Bangkok was the Jim Thompson's House. Jim Thompson was an American architect from New York who had briefly served in the Office of Strategic Services (former CIA) in Thailand in WWII. After the war he returned to Thailand and became famous as the entrepreneur who made Thai silk popular around the world. But, in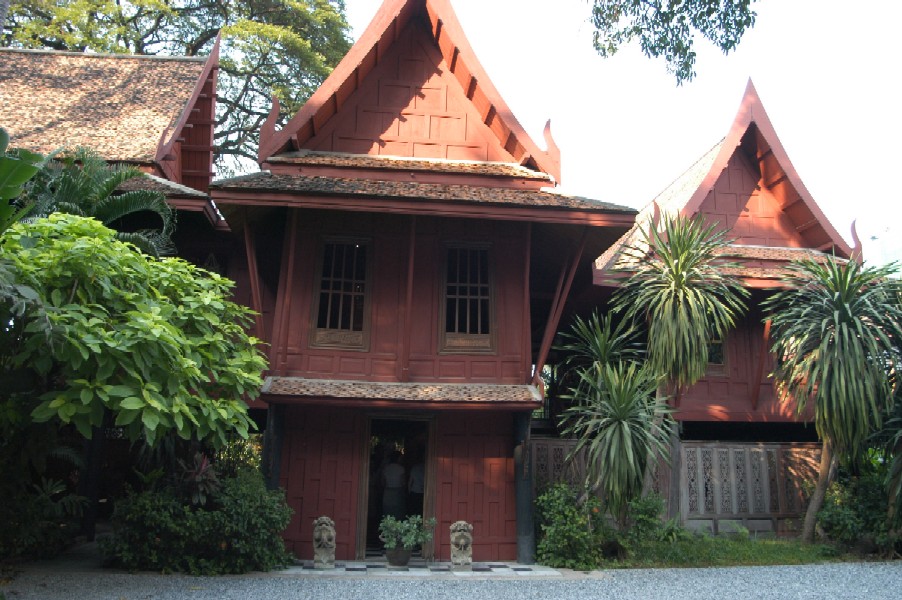 1967 he disappeared in a shroud of mystery. He went out for a walk in the Cameron Highlands of Western Malaysia and never returned. However, it is now believed that he may have been hit by a car. His house was constructed in central Bangkok, across the canal from where the silk weavers lived and worked. He was passionate about Thai art and culture and created his home out of various parts of traditional houses brought from central Thailand. He had them reassembled into one large house in 1959, imparting his own architectural style in the rebuilding process. In some areas he had the walls reversed so the smooth exterior faced inward. He put two game tables together to make a dining room table. We visited the house on a scheduled tour and it was a serene and beautiful place. They also had a tapestry exhibit, upscale gift shop, and a lovely restaurant.
When our time in Bangkok was up it was hard to leave. Our ten short days had been rejuvenating. If we'd stayed another week or so we might have felt up for traveling a few more months. But, we had put a stake in the ground and part of us was definitely looking forward to getting back home and on with a more normal lifestyle. That last taxi ride to the airport was a frenzied jaunt across the city. Our driver said the back roads were faster but more likely they were longer and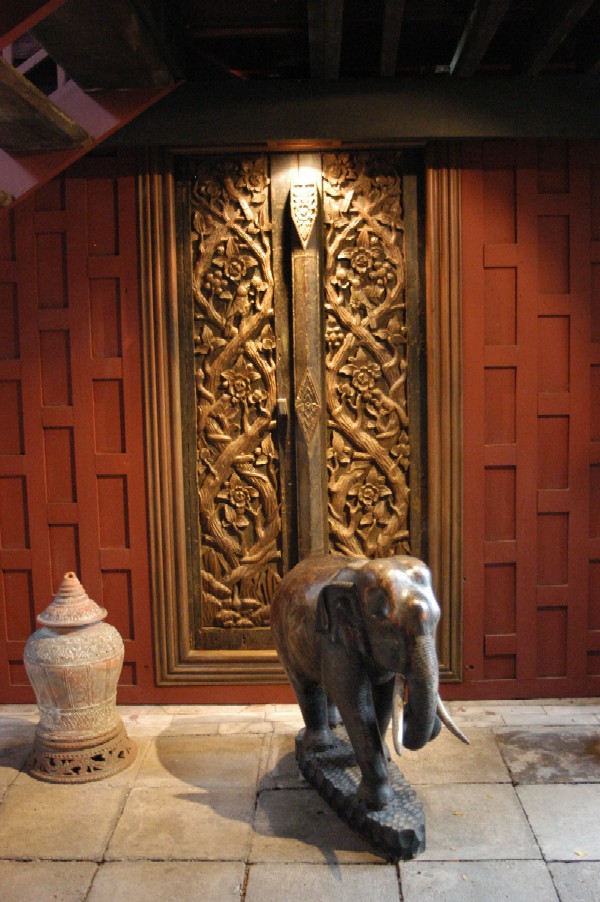 cheaper than the toll roads, which meant a better fair and no tolls. Anyway, we made it in plenty of time and, yes, there would be some very nice things about being home again!
January 14 - 15. BANGKOK to SFO Our flight back to San Francisco went via Manila. It was an uneventful flight but the transfer was a big long. They went through an excruciatingly thorough final security check right before the gate. They went through everything in everybody's bag and everyone had to take off their shoes. We looked ahead and were dreading the experience but when we reached the front they made just gave us an abbreviated search. It was a relief. We were usually singled out and sometimes it went to our advantage and other times not. In this case we were spared that one last invasive search process. We were home free!
SRI LANKA
Colombo
Oct 25
Oct 26
Oct 27-29
Nuwara Eliya
Oct 30
Oct 31
Kandy
Nov 1-5 (1)
Nov 1-5 (II)
Polonnaruwa
Nov 6
Sigiriya & Dambulla
Nov 7
Colombo
Nov 8
INDIA
Ft.Cochin
Nov 9-15 (I)
Nov 9-15 (II)
Nov 16
Nov 17-18
Madurai
Nov 19
Nov 20
Tiruchirapalli
Nov 21
Nov 22
Nov 23
Chennai
Nov 24
Nov 25-26
Nov 27-28
Ft.Cochin
Nov 29
Lakshadweep
Nov 30-Dec 4 (I)
Nov 30-Dec 4 (II)
Trans-India Train
Dec 5-7 (I)
Dec 5-7 (II)
Siliguri
Dec 8
Darjeeling
Dec 9
Dec 10-13
Dec 14
Sikkim
Dec 15
Dec 16-20
Dec 21-23
Dec 24
Dec 25
Darjeeling
Dec 26
Dec 27-Jan 2
Siliguri
Jan 3
Jaigon
(Bhutan)
Jan 4
Kolkata
Jan 5-6
THAILAND
Bangkok
Jan 6-13 (I)
Jan 6-13 (II)
Jan 6-13 (III)