November 1 - 5. KANDY "The Buddha's Tooth is Stuck in Kandy" (continued) We ended up staying in Kandy a couple of days longer than planned. We had some logistics to take care of like getting a flight to India, phoning home, catching up on email, and sorting out our Cultural Triangle ticket. The fact that we just loved the guesthouse made it easier to stay. No matter how many hassles we had in town we could always come back and enjoy a pot of tea on that balcony and just take in the view. Getting a ticket to India turned out to be more challenging that we thought since the flights into southern India were mostly booked. We kept trying different airports until we finally found availability on a flight into Kochin, in the southwestern province of Kerela. Making the long distance phone call home meant using a third-party telephone center and buying a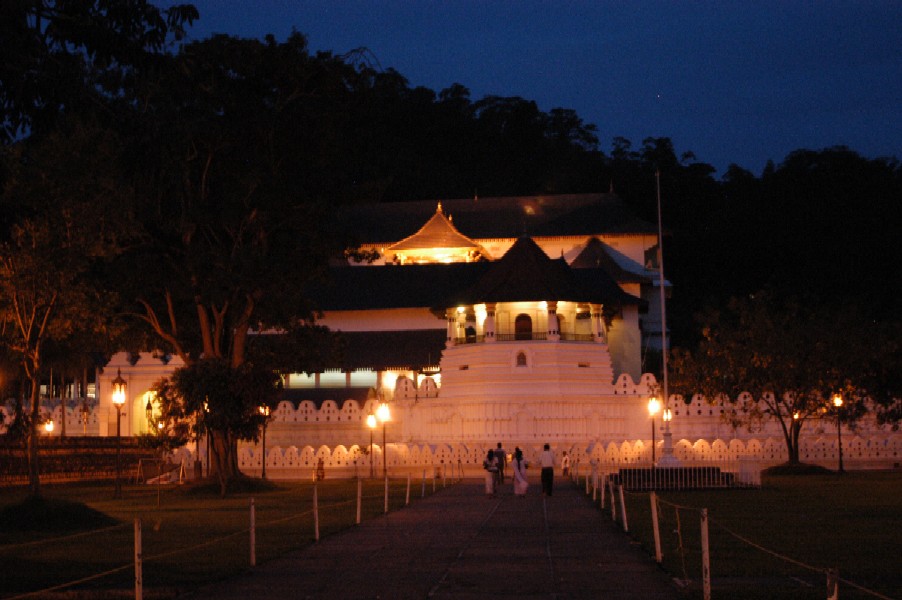 prepaid card. It was a real exercise in patience. After trying two different phone cards I finally got one to work but the booth I used was in the middle, separated from the other two booths by just at thin piece of plywood. The woman in the booth to the left had a screaming kid with her and the guy to my right was yelling into the phone so I could barely hear the other end of the line. It would have been comical if it hadn't been so exasperating. Fortunately, using Internet was easier.
We went around about whether or not to buy the Cultural Triangle ticket since there were only a couple of the sights that we planned to visit. The cost of the two sights we wanted to see, Polonnaruwa and Sigiriya, just about equaled the price of the ticket and we got the local museum and temples of Kandy included as well, or so they told us. We knew the Temple of Tooth was additional but the other temples in Kandy turned out to be open to the public anyway so that was a bit of spin by the people at the tourist office. The museum was worth a visit but in the end it all would have cost us less if we'd paid for everything separately. The other temples were rather uninteresting and we found ourselves aggressively hit up for money by the monks at the Pattini Devale. They asked him to sign a guest book and then asked "How much will you be donating?". They didn't ask the locals to sign the book, it was exclusively for foreigners.
One of the other main attractions in Kandy was a Kandyan dance performance, which we'd heard from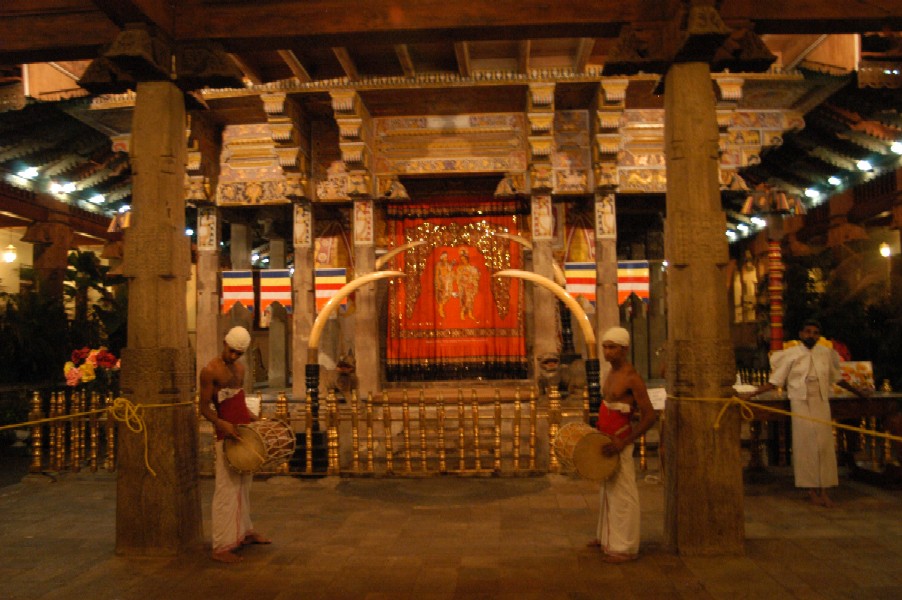 other tourists were quite good. We stopped at the Kandyan Art Association and Cultural Center one morning to look in their crafts shop. There weren't many artisans working but we watched one skilled man fashion a small elephant out of a flat piece of brass in a matter of minutes. The shop had a really nice selection of items with lots of brassware. The sales clerks were pushing the Cultural Center's dance performances as well and told us if we bought our tickets ahead that they would reserve us a seat. We figured it was a good idea and they actually let us walk out and put our names on the seats that we wanted. When we returned that night for the show we were stalked by a tout all of the way along the main road. Did we have a ticket?, he asked, but telling him we didn't need his help was of no use. Even after Rob confronted him several times he still followed us with a cocky attitude and as we neared the Cultural Center he ran ahead and started pointed to us. Apparently there was a kickback system set up and he was staking claim to us. He sold little rubber toys that were filled with water and he kept squeezing one of the frogs as he leaned on a post near the entrance, pointing gregariously to the entrance so people could see. Rob walked over to him one last time and squeezed his had with the frog in it until it popped. That finally got the message through and he left. But, our hassles weren't over. Once inside the theater we found our seats had been taken by a German tour group.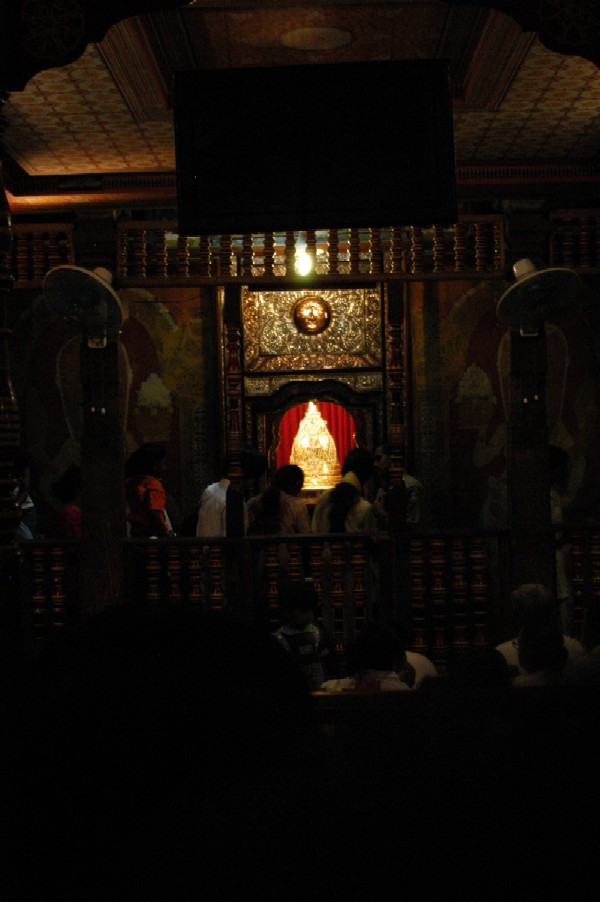 When I confronted them about our seats they just shrugged like it wasn't their problem. I saw the guy who had helped us pick out our seats earlier and asked him to sort it out but he just said, "Yes, sometimes people take the seats. There is nothing we can do about it." I reiterated their big sales pitch about buy tickets early and getting reserved seats but the guy just gave me a blank look. Finally I just demanded our money back. Up the hill from the Cultural Center there was a smaller Kandyan dance theater so we grabbed a tuk-tuk and tried to make that show but the times listed in the guidebook had changed and the show was already under way. In the end we just gave up. We never went back to take in a Kandyan Dance Show.
The souvenir shopping in Kandy was quite good, especially for antiques. We went through several of the shops before finding one shop run by a very nice woman and her elderly mother. We ended up buying an ola leaf scripture and an old oil lamp from them, both of which she assured us that we could take out of the country.
The best food we had in Kandy was definitely the curry at our guesthouse. We ate there several times and while it was always the same it was also always good. While we were in town we tried various snacks at some of the bakeries. It was always better to order something fresh and "to go" or we were served a plate stacked high was all kinds of things we didn't want. At the end you were supposed to just pay for what you had eaten. That was fine except that the same things got re-circulated from other tables before being eaten, often getting manhandled by who knew how many people before winding up on your table. It wasn't as though we had such high expectations of hygiene but when you watched it happen before your eyes it was just that much harder not to think about it when you were eating. Definitely the best place for fresh stuff was the Delight Bakers and Sweet Shop. We also have to confess to having eaten at both Piz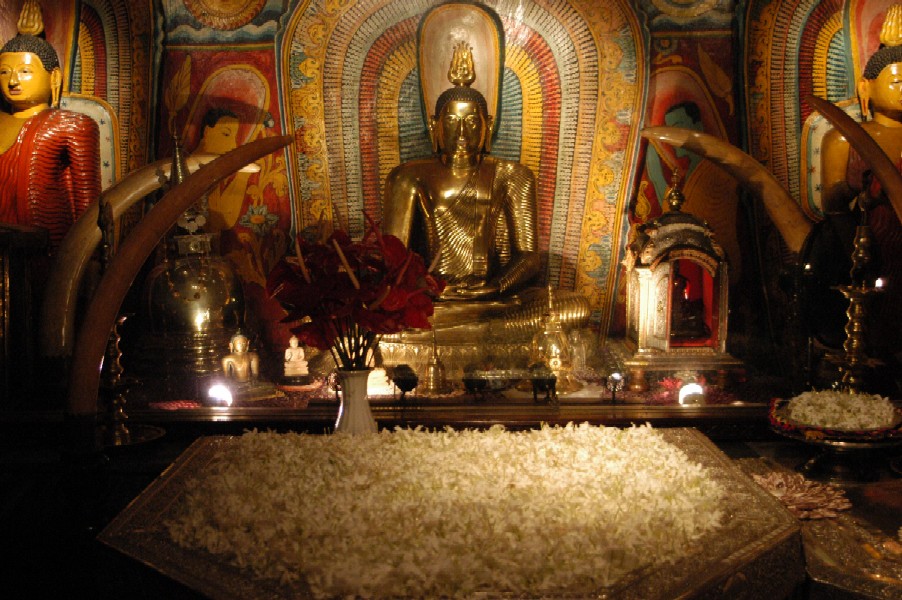 za Hut (just once) and KFC (several times) while we were in Kandy. At the end of the day they are pretty much always the same and that sort of predictability can be comforting. The Pub restaurant, with its large balcony overlooking Dalada Vidiya Road, was very pleasant as well and tried hard to cater to expats and tourist but always fell a bit below the mark.
We met several other travelers at the McLeod Inn and enjoyed some good chats. One British couple had spent the last year in New Zealand and were traveling their way home. They had spent one month in Japan so we had some good laughs comparing stories and talking about "Lost in Translation". I don't know how many times we had been asked if Japan was really like that movie. In recent months it seemed like whenever we told people that we had lived in Japan they asked about "Lost in Translation". Now that we had actually seen the movie we could concur that it was very much like the movie at times. It was like the world had finally seen another side to Japan than the stale salaryman image and were intrigued by contradictions the two stereotypes represented. We also met another couple of Brits that were volunteers in Sri Lanka. They weren't actually a couple but just traveling together. It was always interesting to hear impressions about a country from people who had really spent time there.
We spent many evenings sitting on that balcony, with others or just by ourselves, watching the sun go down and listening to the chanting emanate from the Temple of the Tooth. Looking out over the rooftops we were entertained by all of the toque macaques romping from building, hassling each other and looking for ways inside so they would thieve. We saw them all over town, actually, and they weren't the least bit afraid of people. Their funny flattop hairdos made them particularly comical. Even inside one of the temples we saw people leaving grain for the monkeys to eat. Then as the sky got dark the sides of the balcony area became a swarm of termites, fluttering around the lights, easy prey for the persistent geckos. We made the mistake one night of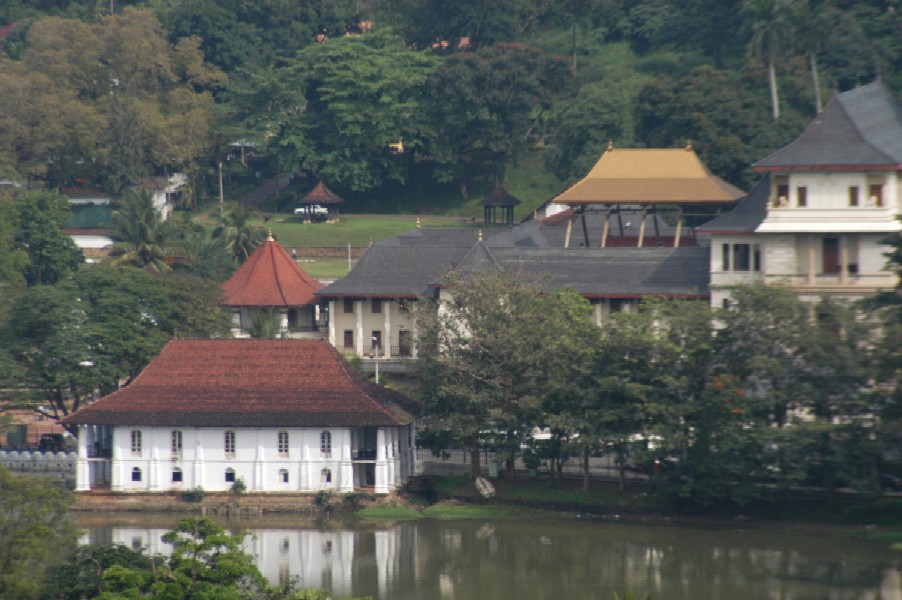 leaving the windows in our room open and found about a dozen batting around when we went to go to bed. Some nights it got a bit too buggy but most nights the termites came and either died or eventually went away. The bugfest also attracted our friendly neighborhood bat but his forays weren't limited to the balcony. While we were sitting in the common area the bat would swoop in through the open area at the top of the windows, circle the room, and then go back out. He did it over and over again, occasionally getting a bit low for my comfort but I got used to it. He was so repetitive and methodical that if his interior route hadn't been somewhat irregular, even dipping into the recess near our room, I would have sworn he was just some kind of mechanical rubber bat being flung around on a string. When the bugfest ended our bat went away as well.
It finally got to the point where we had to leave Kandy. We had our tickets to leave Sri Lanka and we still had our Cultural Triangle tickets to use. If we didn't get going we weren't going to fit it all in. So, we stowed our bags at the McLeod Inn and planned an action-packed two trip to the north, to visit Polonnaruwa, Sigiriya, and Dambulla.
SRI LANKA
Colombo
Oct 25
Oct 26
Oct 27-29
Nuwara Eliya
Oct 30
Oct 31
Kandy
Nov 1-5 (1)
Nov 1-5 (II)
Polonnaruwa
Nov 6
Sigiriya & Dambulla
Nov 7
Colombo
Nov 8
INDIA
Ft.Cochin
Nov 9-15 (I)
Nov 9-15 (II)
Nov 16
Nov 17-18
Madurai
Nov 19
Nov 20
Tiruchirapalli
Nov 21
Nov 22
Nov 23
Chennai
Nov 24
Nov 25-26
Nov 27-28
Ft.Cochin
Nov 29
Lakshadweep
Nov 30-Dec 4 (I)
Nov 30-Dec 4 (II)
Trans-India Train
Dec 5-7 (I)
Dec 5-7 (II)
Siliguri
Dec 8
Darjeeling
Dec 9
Dec 10-13
Dec 14
Sikkim
Dec 15
Dec 16-20
Dec 21-23
Dec 24
Dec 25
Darjeeling
Dec 26
Dec 27-Jan 2
Siliguri
Jan 3
Jaigon
(Bhutan)
Jan 4
Kolkata
Jan 5-6
THAILAND
Bangkok
Jan 6-13 (I)
Jan 6-13 (II)
Jan 6-13 (III)