December 8. SILIGURI NJP station was a fairly large station, for such a remote area, and surprisingly active for so late at night. It was past 1:00am and the station was full of people sleeping in chairs and on the ground. Tuk tuks were queued up in mass and bicycle rickshaws were making the rounds. Our guidebooks indicated there were some hotels near the station so we just set off on foot. Immediately we picked up a bicycle rickshaw, with an incredibly persistent driver. We not only didn't need a bicycle rickshaw but I could see no way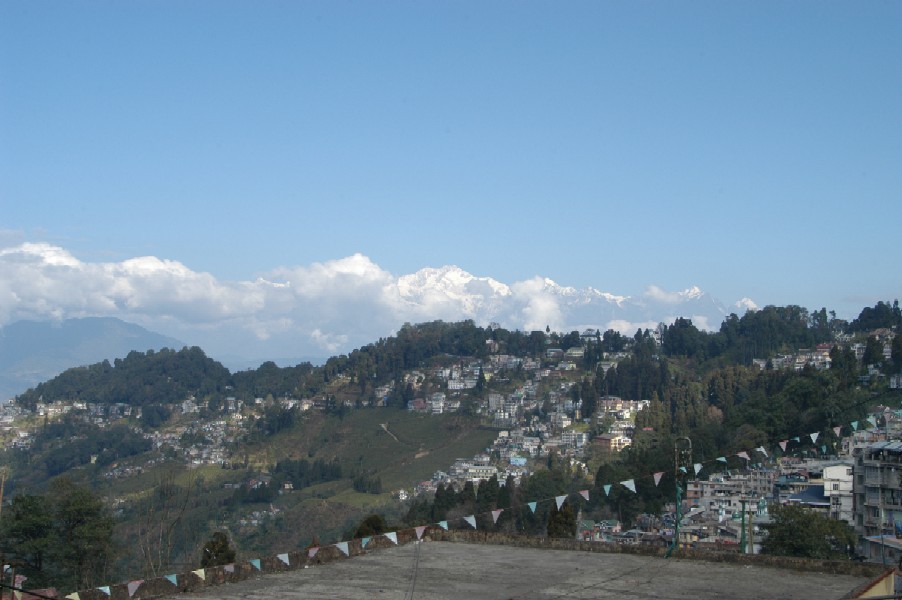 that we could even fit in the rickshaw with our bags. The driver was completely undaunted and just started stalking us on his bicycle, touting us to get in. We walked and walked and he followed along. We tried to get him to go away nicely in the beginning but as as he persisted we became more insistent that he GO AWAY. It was all just fun and games to him and he kept following us. I thought Rob was going to bust an artery. Being hassled was really that last thing you needed when it was the middle of the night after more than three days of boats and trains. We spotted some hotels and went to investigate so the rickshaw finally backed off. One hotel had a single bed available and the other just looked off putting from a distance. In both cases they looked like they might have been "professional" establishments anyway. We walked back to the station parking lot, picking up the rickshaw again, and made straight for the tuk tuks. The nearby town of Siliguri was where we could pick up transport on to Darjeeling so we decided to head over there and find a hotel. The tuk tuks gave us some hassles over price but we quickly settled on something and squeezed into one with our bags.
The streets were completely desolate with almost every building and house chained shut. The only sound we heard was the putt putt of our tuk tuk and all I could think about what how dodging the situation felt. If we had been back home I would have been sure we'd get mugged. We passed two of the hotels in our guidebook, both a bit farther from the station that we had expected, but we had the tuk tuk carry on to Siliguri. It was really one contiguous area so we couldn't even tell that we had left NJP when we arrived in Siliguri. All of the buildings were run-down and we never saw another soul on the entire ride. When the tuk tuk stopped we thought we were lost. Looking around there was nothing that looked open but apparently we were directly in front of the hotel we had asked to be taken to. It was chained up and dark. From the outside it looked like a house that should be condemned. Rob got out and went to take a closer look and a security guard emerged. There was some conversation between him and our driver but this whole time I was shuffling through the guidebooks looking for another option, bugs hovering over my head inside the tuk tuk. As it turned out there was another hotel down the street. We showed the driver our map and he sped a few hundred feet farther and stopped at the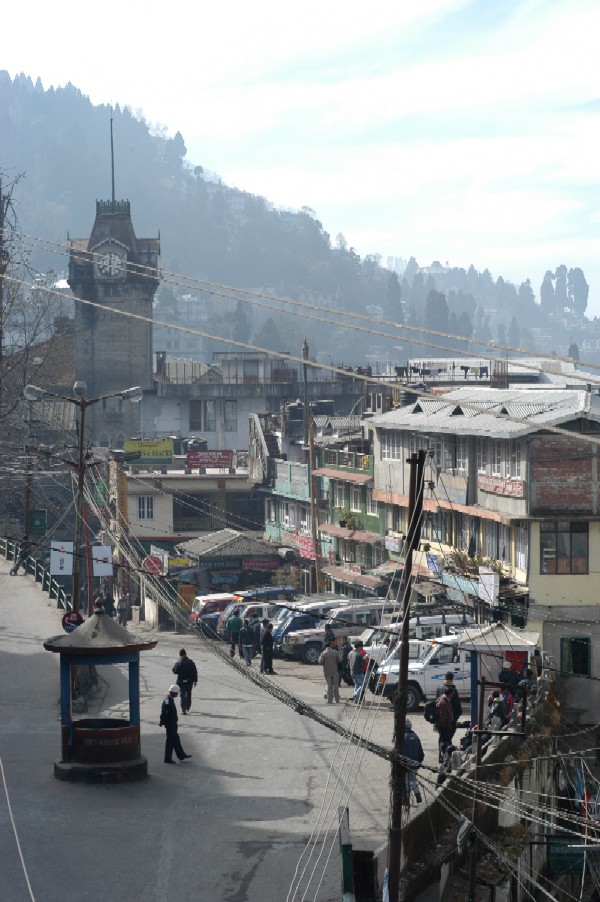 Hotel Vinayak. It was also chained shut but the building showed more promise, nothing fancy but newer and maintained. Our driver talked to a guard on the porch who directed to the side of the building. There the guard opened a metal gate but a chain kept it from opening all of the way so only a person could squeeze through. I stayed with the bags while Rob went up to look at a room. He returned quickly and said it looked okay so we got them to unlock the gate and let us in with our bags. We checked out a couple of rooms before deciding on one in the back because it didn't have carpeted floors. We showed and were in bed a quickly as possible.
Morning came quickly but we slept in before heading downstairs for some breakfast. Siliguri by day was a bustling and chaotic place. The shops opened up and people and cars packed the streets. Our plan was the grab a jeep and head up to Darjeeling, which was only a few hours away, but during breakfast I started to feel queasy. By the time the started to arrive I had to go back to our room and lie down again. Everything I had eaten during our three day boat and train odyssey started to run through my head. I hadn't had a gut problem since Ethiopia and I was hoping my luck would hold out. As it turned out I started to feel better in the afternoon but we still postponed our Darjeeling departure until the following day. Rob was able to go out and change some money since were running low and I rested up in the hotel room. The restaurant at the Vinayak had some pretty good food so we didn't have to go far to eat.
SRI LANKA
Colombo
Oct 25
Oct 26
Oct 27-29
Nuwara Eliya
Oct 30
Oct 31
Kandy
Nov 1-5 (1)
Nov 1-5 (II)
Polonnaruwa
Nov 6
Sigiriya & Dambulla
Nov 7
Colombo
Nov 8
INDIA
Ft.Cochin
Nov 9-15 (I)
Nov 9-15 (II)
Nov 16
Nov 17-18
Madurai
Nov 19
Nov 20
Tiruchirapalli
Nov 21
Nov 22
Nov 23
Chennai
Nov 24
Nov 25-26
Nov 27-28
Ft.Cochin
Nov 29
Lakshadweep
Nov 30-Dec 4 (I)
Nov 30-Dec 4 (II)
Trans-India Train
Dec 5-7 (I)
Dec 5-7 (II)
Siliguri
Dec 8
Darjeeling
Dec 9
Dec 10-13
Dec 14
Sikkim
Dec 15
Dec 16-20
Dec 21-23
Dec 24
Dec 25
Darjeeling
Dec 26
Dec 27-Jan 2
Siliguri
Jan 3
Jaigon
(Bhutan)
Jan 4
Kolkata
Jan 5-6
THAILAND
Bangkok
Jan 6-13 (I)
Jan 6-13 (II)
Jan 6-13 (III)