December 9. SILIGURI to DARJEELING The jeeps for Darjeeling left from the far end of Hill Cart Road. We were able to stuff ourselves into a shared tuk tuk van (larger than the normal tuk tuk) that was heading that direction. The jeeps were lined up in a parking lot along the road with a sign on top of the next jeep leaving and where it was going. There was a jeep for Darjeeling leaving soon but it looked a bit tight so we waited. The jeeps just left as they filled up so we bought out the whole middle seat of the next jeep scheduled to leave. Eleven passengers got packed into each jeep, plus the driver. Each of the three rows had four people making the front row particularly awkward. The driver sat as close to the door as he could and the gear shift ran between the knees of the person next to him. They were so close together that the driver only sat behind half of the wheel! It was only a few hours to Darjeeling but we weren't prepared for that kind of togetherness, not to mention that we were worried about our valuables (cameras, laptop, etc.) getting crunched. In the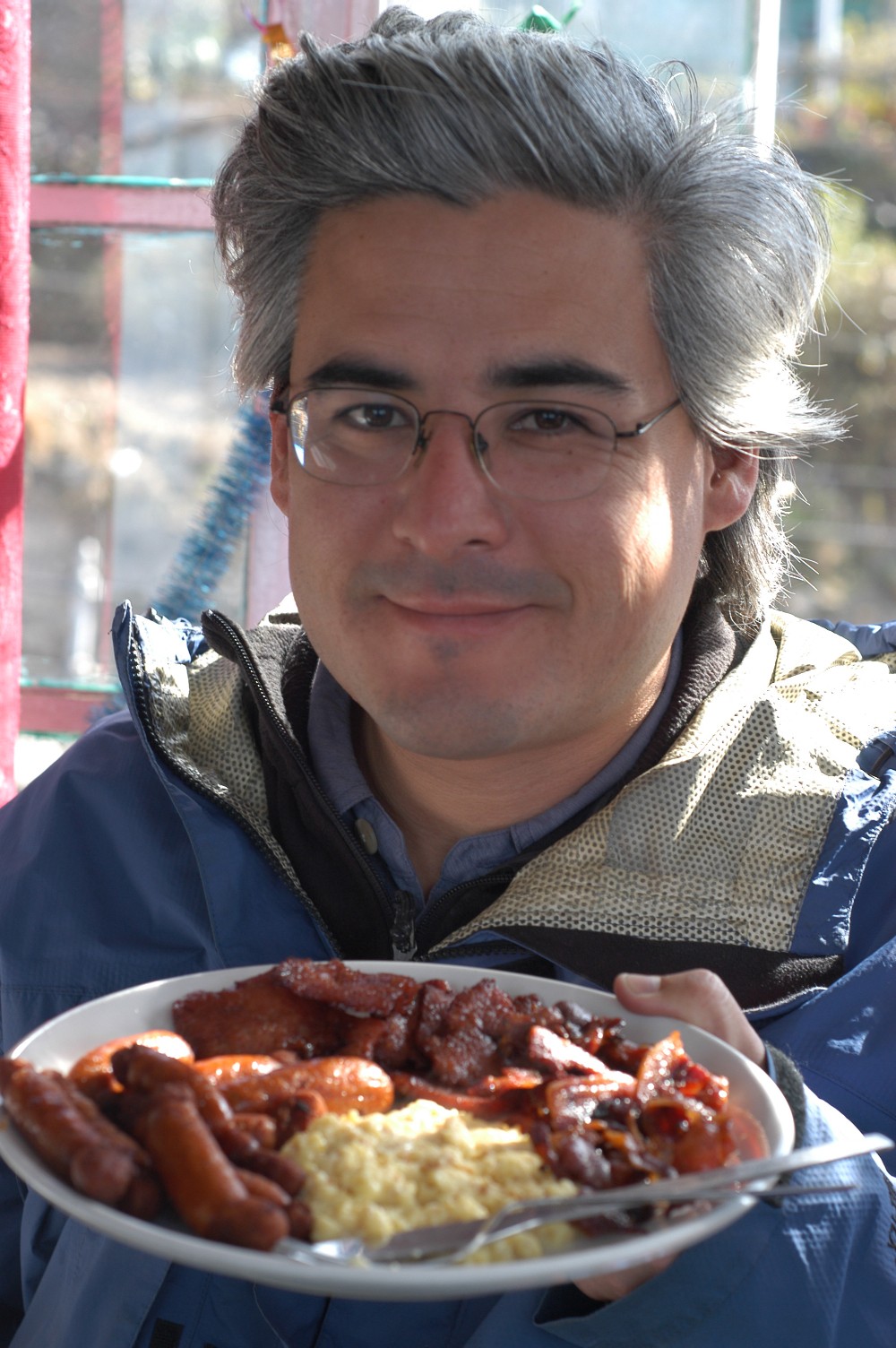 middle seat we had breathing room and put on backpack and our day packs between us. The other backpack went on the roof. Once the jeep filled up we were off.
About half of an hour out of town we came to a road block. We were in a small village and the tracks of Darjeeling's famous miniature steam train were running right along the highway. The train was built by the British and still survived as a form of transport, albeit slow transport. The highway was meant to follow the tracks up to Darjeeling but it appears some construction was in our way. The driver gave us two options, wait or pay extra and he would take us the long way around. We all chipped in the extra money and the jeep made a left and headed towards the Nepalese border. Siliguri was a flat area but soon we were climbing steadily in elevation, passing through colorful little villages along the border with Nepal. About half way to Darjeeling the driver stopped in one of the villages and gave us a chance to stretch our legs. The Darjeeling region of India is populated with many Nepalese people and even the look of this rugged little village reminded of my time trekking in Nepal, over ten years earlier. That trip still conjured up some of my fondest memories. Little wooden buildings lined both sides of the street, populated with chai cafes and snack bars. This village was an official border crossing between India and Nepal. Our jeep had nearly stopped in front of the gate. I had to go to the bathroom and kept asking shopkeepers where to go but nobody could give me an answer. It was too populated of an area to dive behind a bush so I ended up just holding it, regretting that I had ordered a cup of tea. While I was off on my bathroom hunt Rob went to chat with the border guards. Their booth was just behind the gate so he popped over and asked them about going to Nepal. They were easy going but advised him that this border checkpoint could only let Indian and Nepalese pass through. Still he was technically standing in Nepal while he talked to them.
We loaded back into the jeep with our bags of cheesy poufs and continued on our way to Darjeeling. We'd picked up a couple of additional passengers along the way, a mother and
child, who had wedged themselves in front where a passenger had gotten off. They were pretty cramped and Rob wondered if we should let them sit with us. We did feel a bit guilty about all of our space but if they sat with us more people would still get shoved in front anyway and the driver would make out while some seats got paid for twice. I tried to look at it like first class versus coach. We paid for more room so we shouldn't feel bad about it. The jeep made all of its money and the other passengers were traveling like they would normally anyway.
By the time we left the rest stop it was starting to get dark. The driving was a bit all over the place but the driver seemed to be in control of the situation. He made some moves that were bordering on reckless but we arrived in Darjeeling in one piece. It was still light enough for us to see the ramshackle city spilling down the steep mountain side. The streets were crowded and we had finally converged again with Hill Cart Road (the same name from Siliguri to Darjeeling), with the train tracks running along side us. We passed a few monasteries and then the toy train station before getting into the heart of Darjeeling. Gradually people started to get off. Jeeps were crawling all over the city and there was plenty of honking and breaking as we wound through town. The jeep station was on the far side of Darjeeling along the bottom of town. Since Darjeeling stood at 7000 feet, clinging to the steep Himalayan foothills, it was easier to talk of it in terms of top and bottom rather than compass directions.
It was almost dark out when we reached the jeep station. With our bags on we went in search of the first place we could make a phone call. We found one a little ways back along Hill Cart Road. I stayed with the bags while Rob went to call hotels. I had thought we would get some hassles but only one person casually asked me if I was looking for a hotel. Most people just busily passed by without giving us a second look. As a this big city for people living in the surrounding mountains, Darjeeling was a place where many people came to stock on supplies and trade goods. Rob easily got us a room at a hotel just up the hill. It was just a short zig and a long zag up the side streets to reach Hotel Seven Seventeen, a Tibetan run hotel with colorful traditional decorations and comfortable rooms. They didn't have a room with a view but we were given a quiet room on the street side of the fourth floor. It had hardwood floors, two heavily blanketed beds (it was cold), a charming bay window, a TV and bathroom. The restaurant downstairs served up some tasty momos and thukpa (Tibetan noodles). They even brought us hot water bottles to warm our feet at bed time.